Let's see, I introduced Restaurants, Merchandise and now Shops for the Disney Pic of the Week. I'm sensing another kind of theme myself here. Barrie? Lisa? Care to comment? Well, since I used the Epcot Pin Station for Merchandise, I'll stay in Epcot with a photo of the neon lighted MouseGear store which is the second largest shop on Walt Disney World property.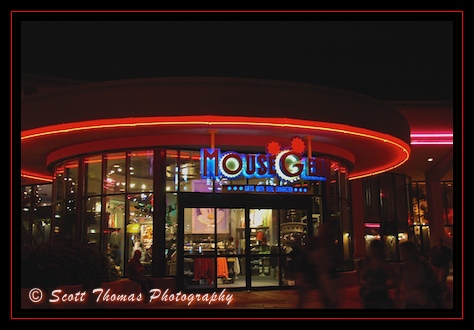 MouseGear is located in Epcot's Innoventions East.
Nikon D70/18-200VR, 1/15s, f/4.2, 900 ISO, +0.3 EV, 29mm Focal Length
Barrie and Lisa will be showing you their favorite Shops at Disney this Thursday and Saturday.