Symmetry in it's purest sense is an object which, if cut directly down the middle, would be mirror images of each other. It's one of the ways to break the Rule of Thirds correctly. Hope that doesn't confuse you. It's easy to find a symmetrical object but the images I've chosen to show you here are symmetrical but not mirror images. They are close enough to show you how to use symmetry in your photography.
The first is of the Swan Resort taken from a room in the Dolphin Resort. Like a lot of buildings, the Swan, itself, is symmetrical as is the landscaping and walkways leading up to and away from it. I think the surrounding foreground and background of the buildings and the Friendship boat dock add to the photo.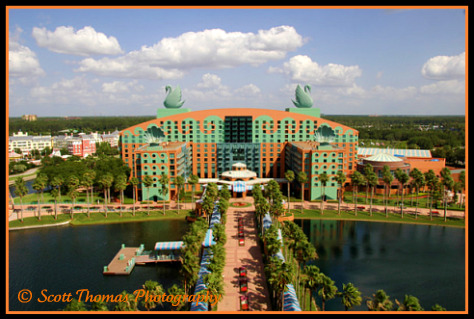 Nikon D70/18-200VR, 1/250s, f/8, ISO 200, EV 0, 20mm Focal length
The next one is from the Pop Century resort. The large Mickey Mouse phone is symmetrically placed between the resort buildings and the Fooseball men. This is not close to being perfectly symmetrical, yet a pleasing composition with the main subject in the center of the photo.
Nikon D70/18-70D, 1/320s, f/9, ISO 200, EV +0.3, 18mm Focal length
The last example was taken during the 2007 Epcot International Flower & Garden Festival. The Prince and Cinderella topiary was placed in the center of a sea of flowers flanked by trimmed flowering and green bushes and trees.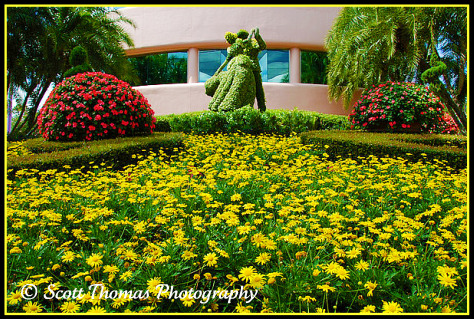 Nikon D70/18-2000VR, 1/160s, f/11, ISO 200, EV -0.3, 18mm Focal length
When taking these photographs, I kept telling myself I was breaking a photography "rule". That is the something I want you to take away from this article. It's okay to break rules in photography when it works (as in the above photos) and you know you are doing it. Just putting something in the middle of your viewfinder does not make it symmetrical.