On Sunday Lee and I were invited to tour the Disney Magic, which has
been here in California doing week-long Mexican Riviera cruises for the
last couple of months – it heads back to Florida on August 17.
Unlike a lot of my fellow AllEars staffers, Lee and I had never been on a Disney cruise, so going to the port and getting on the ship was a new
thing to us.
The port itself was pretty overwhelming – a huge building, very busy,
and a lot of people milling around, waiting to go aboard the ship. And
this is a facility that's only temporary for Disney – I can't imagine
what the terminal at Port Canaveral is like!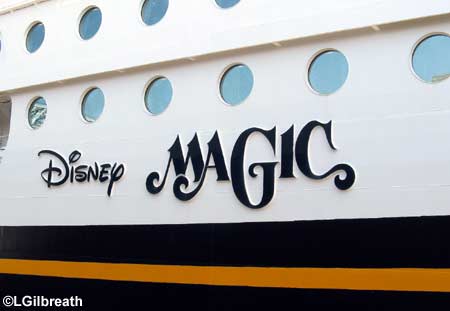 We boarded the ship at the vendor area rather than using the gangplank
that the real passengers were using. That was an experience in and of
itself – lots of security. Our bags had to be sniffed by one of the two
security dogs on duty. After we got through that we had to wait for a while
for some of the other tour members to arrive, so we watched the
dogs – their handler had them in a couple of large kennels when
they weren't working, but every once in a while he'd let them out to
play with a toy. The black lab was very cute – every time someone
showed up with a bag and set it down on the ground he got so excited,
and pawed at the gate of his kennel, and then he'd get really
disappointed if the other dog (German shepherd) was brought out
instead. These were not fierce scary dogs at all, but they had a job to
do, and it appeared they were quite good at it. Though we wondered what
would happen if for some reason somebody had a dog toy in their bag…
🙂
To board the ship we were required to carry an electronic ID card, so
the guard took our names and our ids, and then we went through a metal
detector and our bags went through an x-ray machine. Once we boarded
the ship they swiped our ID cards, and then we had to use hand sanitizer
at the station set up there – that is apparently a requirement for
anyone boarding the ship or whenever entering any of the restaurants.
There were about 11 tour members, and four different Disney employees,
including Jonathan Frontado, who is a Public Relations Manager for the
Disney Cruise Line, and had set up the tour.
Our first stop was Parrot Cay where, after sanitizing our hands, we
sampled the lunch buffet. Passengers were already on board the ship,
and some were in the restaurant, but it wasn't crowded. The buffet had
a very nice salad bar, plus cold cuts and cheese, and a selection of hot
entrees as well. And a very nice dessert bar. 🙂 If that was a
sample of the food that is available on a cruise, I can understand why
people gain so much weight on cruises!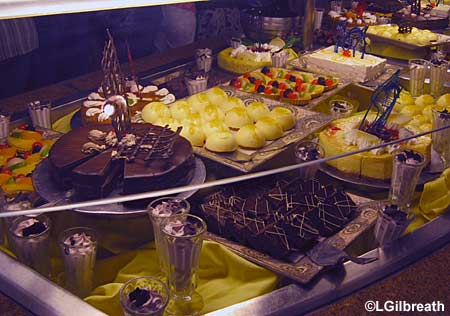 After lunch they split us into two groups – there were 6 in our group.
Valarie, who works for Disneyland Public Relations, was our tour guide.
More and more people were boarding the ship all the time, but since they
couldn't get to their rooms yet, they were congregating in hallways and
near the elevators – it got a bit congested sometimes. But since we were on
a tour they let us see a couple of the staterooms. The "outside"
stateroom was a Navigator's Verandah (Category 7) class of room, which has a large
glass door which opens onto a small enclosed verandah with a large
(open) porthole. It has a queen bed and a sofa which converts to
a twin bed. There are two bathrooms – one with the toilet and a sink,
the other with a sink and a bathtub/shower. (From what we were told,
apparently having a real bathtub is somewhat rare on cruise ships.)
The cabin is only about 200 square feet – pretty small compared to a
standard hotel room!
Across the hall we viewed an inside stateroom (Category 11 or 12) – this one also had a
queen bed and a twin bed sofa, but it only had one bathroom. With no
windows at all it seemed dark compared to the one we'd just been in.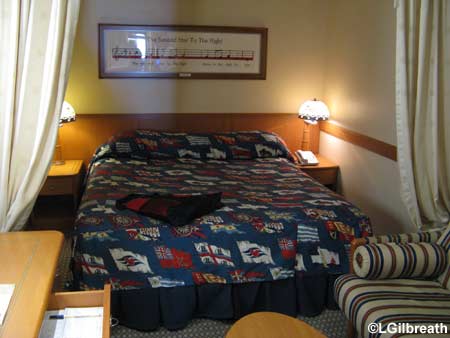 After that it seems like we must have visited all of the public areas
of the ship – the restaurants, bars, clubs, spa, and pool areas.
There's certainly a wide variety of activities and environments
available. I can see why Valarie told us that you spend the first
three days just learning your way around the ship! We spent a
fair bit of time in the Vista Spa – one of the attendants showed
us a couple of the treatment rooms, including one of the
"couples" rooms. We also spent some time in the Tropical Rain
Forest area, which has all of this lovely tile/mosaic work, and a
fountain, in addition to the fog showers and saunas – it also has
heated
tiled lounge chairs of various temperatures. They were quite
warm!
We also saw all of the "kid" areas. There's something for every
age – everything from a nursery for care of infants to 2-year-olds,
to the Oceaneer areas that have lots of activities and games for
older kids, to the special clubs for teenagers. Looked like fun
– I can understand why some people have written that their kids
really didn't want to spend a lot of time with their parents! 🙂
We also saw the huge (1,200 seat?) Walt Disney Theatre where the big shows,
like The Golden Mickeys, are performed as well as the movie theater
and Studio Sea.
The ship was beautiful – everything we saw was clean and obviously
well-maintained. The cruise that was leaving the day we took the tour
was the Magic's 10th anniversary cruise – it sailed for the first time
on July 30, 1998. After the Magic returns to Florida it will be going
into a three-week dry dock period where they will be doing some more
extensive maintenance, but it was hard to see that it needed too much
sprucing up! (I believe that the Deb and Steve
Cruise will be the Magic's final cruise before it goes into dry
dock.)
The tour was fun and interesting and we really enjoyed it – I'd like to
thank Jonathan and Valarie for inviting us and guiding us around.
Now, of course, we want to go on a Disney Cruise, which is something I hadn't really considered before. (Though I found out that Lee has thought it would be fun but didn't think I'd be interested.) One of our concerns was being confined to a relatively small area, and wondering if there would be enough to do – but that certainly doesn't seem to be a problem – more like there's TOO much to do, and not enough time! And, since we don't have kids, we weren't sure if there would be some separation, but it looks like there are a number of adult-only areas, including a pool on the ship and a separate area on Castaway Cay. And I found the spa VERY appealing – I could definitely spend some time there! 🙂
So now we're looking at
possible itineraries and trying to figure out what kind of stateroom we
want. There's so many decisions!!!! Looks a lot more daunting to me
than planning a WDW vacation, but maybe that's just because I haven't
done it before.
So help us out here…what's your favorite Disney cruise itinerary and
stateroom type?