AllEars® reader JeanineY is part of the NFFC trip to Tokyo Disneyland. She will be filing reports along the way.
First, a note about Jeanine's camera. As you saw in an earlier blog, her night photos of the parade were awesome!
I've had my camera for ages–it's a Sony F717 which came out right before all the digital SLRs came out. After probably hundreds of nightime parade photo attempts, I find the easiest thing for me is to leave it on automatic but turn off the flash. It looks like it took most of them at 1/30s, f/2.1, with an ISO of 320. I like it because it doesn't take a long time to start up and the autofocus is pretty good, but it's a little on the heavy/bulky side, and I wish it had better image stabilization.
And now, some final thoughts:
So, having made two successful trips to the Tokyo Disney Resort, I have a few observations to make. While they are all true according to me, remember that you would probably laugh at someone who had been to WDW twice and tried to give you recommendations, and that free advice is usually worth the price.
Should I Go? Isn't it just the same as Disneyland or the Magic Kingdom out here?
Yes, you should. While the general scope of Tokyo Disneyland is essentially the same as Disneyland or the Magic Kingdom, I think it's fascinating to see how differently it all runs, and how the different aspects of Japanese society affect it.
In general, it's cleaner than the parks here, the Cast Members are more abundant and more enthusiastic, the rides are better maintained, and the shows and parades are longer and more elaborate. Lines are long, but the people are more accepting of waiting and the lines move faster than you'd expect. There are more restrictions–people are not allowed to stand in front of people sitting for the parades, and people are not allowed to raise their cameras or children higher than their head–but these generally contribute to a better viewing experience for everyone.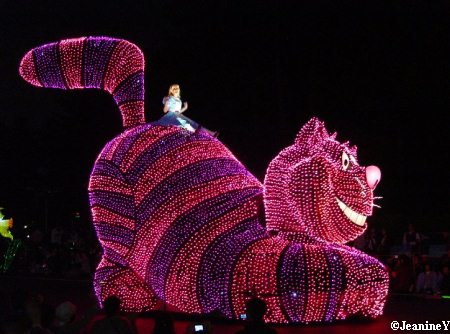 Then, if there was nothing else, DisneySea would be worth it. It is a gorgeous park with impeccable theming and really shows exactly what quality of work the Imagineers might turn out if they had adequate financial support.

But isn't Tokyo the most expensive place, ever?
Like any city, there are very very expensive hotels/restaurants/shops in Tokyo, and there are also very affordable places as well. While food found in hotel restaurants is likely to be overpriced, it should only serve as an incentive to explore the nearby small cafes, department stores, or food courts. One day we had some very respectable shrimp pitas for dinner obtained from a Starbucks for about $7. Other days we had bowls of udon for about $5.
Park tickets are actually cheaper than in the US, as a 4-day passport was $150, compared to DL's 4-day ticket at $185, or WDW's 4-day ticket of ~$250.
Although most of the hotels directly around the Tokyo Disney Resort are fairly expensive by my poverty-stricken standards, my understanding is that there are cheaper places only slightly further away and easily accessible by train. Having said that, I think if your goal is to go to the Disney parks, then one of the Disney Official Hotels is a good place to spend on, simply for the ease of getting to the park, the extra magic hour (you only get one) and the ability to buy your park tickets in the lobby.
Of course, if you've got the dime, the Miracosta or the newly built Disneyland Hotel look immensely worthwhile, and far more luxurious than the Grand Floridan. Prices appear to run around $310-$5k/night.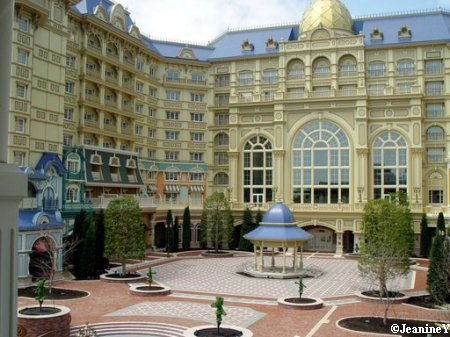 But I don't speak Japanese! I won't understand anything! No one will understand me! Woe!
While it is true that most of the shows are largely in Japanese, I think the average person likely to make the effort to go there will already know most of the stories involved, and what a Cast Member might be asking you at any given time (hint: "how many in your party?"). Maps and signs are almost always available in English, and in an increasing number of shows they offer small electronic devices that display English subtitles keyed to the timing of the show.
Most Japanese people have actually studied English at some point in time, but in general are usually reluctant to try to use it, due to an extreme sensitivity to embarrassment and error. Consequently, they may understand enough of what you're asking to try to help you in a non-verbal fashion.
While I think it is probably always appreciated when visitors make an attempt to learn a given country's language, I actually think it might be just as helpful and more easily accomplished to try to learn some of the writing. Japanese has 3 different writing systems–Kanji, which is made up of individual pictographs that have to be rote memorized by the thousands, Hiragana, which is a syllabary used for words in Japanese, and Katakana, which is a simplified syllabary used for foreign words. Since most of the writing around the Disney Resort is likely to be English, if you can make out the Katakana from a chart, you have a fighting chance of being able to read a lot of the Japanese you may encounter.
http://www.learnjapanesefree.com/katakana.html
Well that's fine and generalized, but how about some specific advice?
Ok. I was told prior to this trip that the flights, if they were going to go down, were likely to go down around 2 months before the date, which was about right. From LAX, a good price to Narita Airport used to be around $500, but in the last year or so, I've been unable to find flights less than around $650. If you can upgrade, I suggest doing so–it's very long flight and while a one-way upgrade may cost 25k miles and $300, the price of not arriving with puffy feet and backaches? Priceless.
Unless you manage it carefully, chances are your flight will arrive after 4pm, Tokyo time. This means that, barring better luck at the Customs lines than I've ever had, you'll miss the last direct shuttle bus from the airport to the resort. Your transportation options at that point will include: Trains–less expensive, but you'll have to transfer at least twice, making it a problematic plan if you've brought a lot of luggage. Japan still isn't particularly accommodating to the weak, and a lot of train stations still don't have abundant elevators or escalators, meaning you may have to lug your stuff up the occasional flight of stairs to get to different platforms. There's also the issue of whether you'll be up to trying to figure out the mechanics of the train system after 10+ hours of flying. Taxis–least effort, most expensive. The airport is about 30-60 minutes away from the resort, and I don't know what that would equal in taxi terms, but I'm pretty sure it's more than I'm hoping to pay. Having said that, the taxis are impeccably clean and honest, although on the small size–two groups of people with luggage would likely not be able to share one. The likely compromise–what the shuttle bus people will advise you, is to take the next shuttle bus to the closest hotel to the resort (the Brighton at this time) and then take a taxi the rest of the way. The taxi from the Brighton cost us around $20, and the "Airport Limo," or shuttle bus, cost $24. Going home, it should be possible to buy a ticket for the shuttle bus from the hotel directly back to the airport for the same price. As a rule, there is no tipping in Japan.
Is there stuff for me to buy?
Is there tea in China? There is an enormous amount of merchandise available, most of which appears fantastically cute. The Japanese have a fairly demanding gift-giving system which mandates an enormous amount of souvenir shopping. The main things they seem to sell are cell phone charms and tins of cookies and candies in decorative tins. Another big item is face towels, which are carried by most people in lieu of any proffered paper towels or paper napkins. What you usually won't find is a wide variety of t-shirts or pins which are apparently of limited interest to the local people.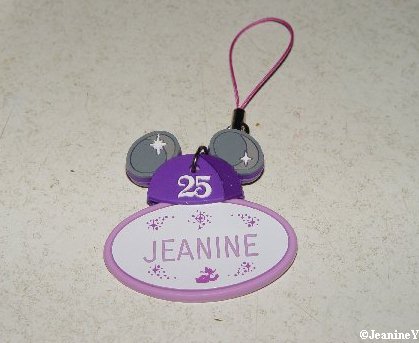 The merchandise changes rapidly and is not uniform everywhere. There is a large gift store right outside the entrance to Tokyo Disneyland called Bon Voyage that has a lot of park merchandise, but there is quite a bit that is not represented there. As I found out the hard way, once your tickets are up, there's no way to get in to buy any merchandise you might have wanted, that isn't outside the parks, without purchasing another ticket. Other people in the group found that merchandise they saw at the beginning of the week was completely sold out towards the end of the week and replaced with other merchandise. Lastly, the shops do not stay open for another hour or so on Main Street after closing, as they do in DL and WDW–a lot of them shut their doors right at closing, and most of them try to herd people down to the Emporium which seems to stay open for another 30 minutes. Moral: Buy whatever you want, when you see it. At most, you have 4 days to look at things, and you may not pass that way again.
My favorite souvenirs were generally the ones that came with food. Around the various parks, you can purchase little cakes or custards that come in small ceramic plates or cups that are usually themed to whatever the current celebration is at the time. Popcorn buckets are also a huge deal there, as a multitude of popcorn carts exist, each selling a different decorated bucket and flavor of popcorn (flavors are extensive and esoteric, ranging from "sea salt" to "strawberry" to "cappuccino" to "curry.") I find the buckets there amazingly efficient, with pop-up lids and coordinated straps, and resembling the generic flat-printed buckets in the US as much as a Fabergé egg resembles a real one. They're not cheap though–the bucket with popcorn might cost around $12, while refills cost $5. This doesn't sound terrible, except that you feel obliged to keep the bucket full as long as you're going to carry it around, and then at night, you have to reflect that you spent $25 in one day on popcorn.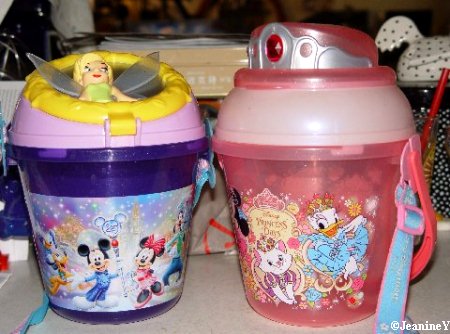 I'd really like to experience it, but I can't imagine going to Japan. It's too foreign and too big of a endeavor for me to think about right now.
The aspect of going there is probably not as daunting as you might think. It's a modern city, complete with the occasional McDonald's (although pronounced something closer to "Macu Donarldo") and KFC. There are certainly many cultural sites you may want to visit beyond Disney, but day or multi-day tours are easy to pick up through your hotel or even online. Just get your passport, book your reservations and go. It'll be fun. It'll be an adventure. Think of it this way: As Hillel the Elder says, "if not now, when?"