D23 Expo Reviewed
By Debra Martin Koma
AllEars® Senior Editor
Feature Article
This article appeared in the September 15, 2009 Issue #521 of ALL EARS®
(ISSN: 1533-0753)
So I'm back from the D23 Expo and you're probably wondering: How was it? What did I think? Was it worth it? Would I go again next year?
Let me see if I can answer all those questions.
First of all, how was it?
The short answer is that it was amazing. It truly was the most Disney I've ever seen gathered under one roof. As someone described it to me after the first day — it was like trying to drink from a fire hose. So much to do and see, you wanted to be in five different places at once. For the Disney fan, it was as they were touting it — the Ultimate Disney Fan Experience.
If you're a Disney collector, there was something there for you. If you're a Disney "geek" interested in the nuts and bolts of how things work, there were programs there for you. If you're a fan of Disney animation, there was something there for you. If you're a fan of the Disney theme parks, there was something there for you. If you like the Disney Cruise Line… well, you've gotten the idea by now, right? There was something for everybody, no matter what your level of Disney interest.
Laura Gilbreath and I have both written up recaps of the highlights of the Expo, along with video highlights by Lee Zimmerman, in AllEars.Net's Blog Central — for those details, please have a read here:http://land.allears.net/blogs
As you can tell if you read those blog entries, I loved loved loved the Expo. But I did have a few thoughts — not exactly harsh criticisms, but more suggestions for how it could have been better.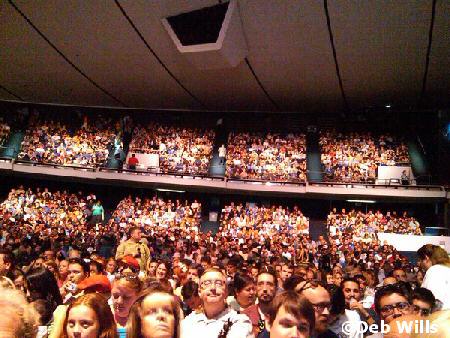 First, let's talk about the venue itself, the Anaheim Convention Center. It was huge! Certainly big enough to accommodate thousands upon thousands of Disney fans and all the exhibits. Despite the crowds (and although Thursday and Friday crowds were manageable, by the weekend they were enormous!), the space seemed adequate. I did feel, though, that in some cases the space was underutilized. The 4,000-seat arena, for example, sat empty a large amount of the time, when there were specific programs that could certainly have taken up that space. The upstairs meeting rooms, dubbed "Storytellers Theater" and "Stage 23" for the Expo, were comfortable, if often too small for the session being staged there.
The convention center's layout was easy to understand, although the distances between halls were sometimes daunting. The center was very well-lit, with lots of escalators and elevators, plus plentiful and clean rest rooms. A few more directional signs might have helped, but in general things were well-marked and easy to find, once you made the sprint from one end of the floor to the other, or from one floor to another.
All that said, however, I think the convention center was both perfectly located — what better place to hold the Expo than in the city in which it all started? — and the perfect location. There were ample food outlets both in and out of the center, and numerous hotels in and around the area. (The Anaheim Hilton right next door was the most convenient location, literally just steps away from the convention center's entrance.) The Anaheim Convention Center would remain my choice for any future D23 Expos held in California. (Of course, hope springs eternal that they will eventually hold one in the Orlando area!)
What about the programs? My main focus was, of course, on programs dealing with the theme parks. There was a fair number of park-related programs, and I attended as many of those as I could. But I'm also interested in some of the behind-the-scenes secrets, so I found myself in a few of the Imagineering sessions, as well as one dealing with theme park music.
Every program I attended was outstanding. I came away from each of them either entertained, educated, or enlightened — or a combination of all three. I honestly can say that each session was well thought-out, and the presenters were extremely interesting. I would highly recommend going to the D23 Expo for this reason alone. You have access to all sorts of information in these sessions. You can listen to, if not actually ask questions of, Imagineers who have worked on theme park attractions past and present, animators, musicians, artists, writers. As many of these programs as you can get into, you can experience all facets of Disney, right there in front of you.
But therein lies the rub. How many of these programs could you get in to see? It wasn't just that you couldn't be in two places at one time, to see two different programs. In many cases, the rooms just could not accommodate the number of Disney fans who wanted to attend.
This was probably the biggest issue we encountered over the course of the four days of the Expo — Disney's underestimation of the popularity of some of the programs. Programs like Legends of Disney Imagineering, with former Imagineers like Marty Sklar and X Atencio, and Imagineering Pixar in the Parks, with John Lasseter, were slated to be held in the Storytellers Theater, which according to the Anaheim Convention Center's site, holds about 800 people. But tell me — as someone who loves Disney World, you'd probably be most interested in going to those programs, right? Right. And so were hundreds of other people, who were unfortunately turned away due to space constraints. Along with this failure to anticipate the demand, there was also a shortage of counter-programming — that is, there would be one big event at a time, and if you were shut out, as so many were, there were not really any other programs to pick up the overflow.
In their defense, Disney did seem to try to adapt as the days progressed. Venues and times were switched around so that larger crowds could be accommodated. In some cases, they even offered the opportunity to view a simulcast of some of the sessions in another room. I thought this was a great alternative, and showed some real initiative and creativity in trying to fix the problems as soon as possible. But the fact remained that by Day 4 of the Expo, there were a number of very unhappy visitors who were getting cranky at being repeatedly shut out of the sessions they had queued for for so long. For example, I waited 90 minutes to get into the "We Make the Music" presentation on Friday. It was well worth the wait — an excellent program featuring a half-dozen composers who have written music for theme park attractions — but it made waiting another 90 minutes for the next program a rather unpalatable prospect. And I was turned away from more than a few programs I really wanted to see, most notably the special Muppets presentation that was held Sunday afternoon. (Though they did take my name and address, promising to send along a "cute We're Sorry gift.")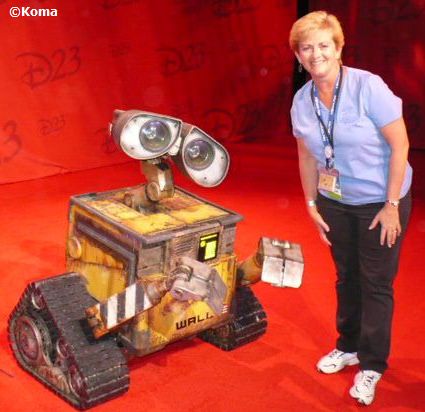 So, I've told you about the venue, about the programs… what about the main floor exhibits? I had mixed feelings, to be honest.
The Disney Parks and Resorts pavilion was fabulous — they had huge displays on Disney's California Adventure's new Cars Land, an impressive section on Audio-Animatronics, including fun meet and greet opportunities with Lucky the Dinosaur and Wall-E, and smaller displays on the coming attractions at Hong Kong Disneyland and the Disney Cruise Line. As someone who frequents Walt Disney World more often, however, I was disappointed in its obvious lack of representation. I understand that since the announcement about the Fantasyland expansion was not made until halfway through the Expo, they couldn't have anything out about that, but still — perhaps they could have featured some of the newer attractions that have opened recently in the World. Something on the American Idol Experience, or perhaps an exhibit on all the new Disney Vacation Club resorts that opened this year?
After you'd done the Parks and Resorts pavilion, the remaining exhibits were a little underwhelming. There was a lot to do and see, don't get me wrong — it's just that after you'd seen everything once, which took maybe two days, there wasn't enough to hold your interest for a repeat visit, as in the Parks and Resorts pavilion. The Dream Store, for example, was a little on the small side, I thought, and had limited merchandise. The Disney Interactive Group display was basically a bunch of games, which maybe would entertain some for a while, but they weren't really my thing. And the Disney Consumer Products exhibit was, in my opinion, at least, a little disappointing — maybe I was expecting them to hand out a few more giveaways, but such freebies were in short supply. Guess the economy is affecting them, as well. I liked the Lego exhibit — they had a very clever idea to let passers-by help construct a Lego mural that featured a portrait of Walt Disney by the end of its Day 4 completion. And the themed Christmas tree display was a lot of fun to look at. I'm afraid I was not the target audience for the Radio Disney/Disney Channel area, but they did seem to have a number of activities and celebrity appearances lined up, enough to satisfy the teenagers on hand (although I didn't really see many mingling throughout the Expo).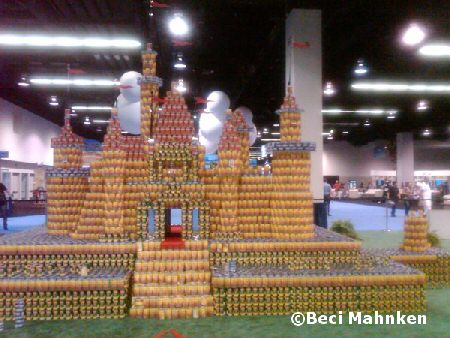 Something on the main floor that surprised me, pleasantly, were the volunteer efforts that Disney had going. Right when you entered, you were greeted by the construction of a donated canned goods sculpture — which turned out to be a castle by Day 4 of the Expo. Nearby, the Disney VoluntEARS had a different activity that visitors could participate in each day. One day it was planting a few seeds to encourage people to "grow green," another it was putting together a small "healthy snack pack" for children in need. When you completed one of these volunteer tasks, you were given a pair of VoluntEAR Mouse Ears — that was a cute giveaway.
The Collector's Forum was pretty impressive, I admit, but I really expected it to be larger. There was every sort of Disneyana trinket imaginable — comic books, pins and buttons, miniatures, jewelry… and every now and then you'd stumble upon something unexpected, like the booth for child actor Tommy Kirk (Old Yeller, The Shaggy Dog), now in his late 60s, who was there selling his likeness and autographs. There were also some Disney-related services represented, like travel agents (AllEars.Net's sponsor Mouse Fan Travel, for example). But somehow I was expecting there to be many more vendors on hand.
These criticisms aside, I want to say wholeheartedly that I would attend next year's D23 Expo if I have the chance. Although I was shut out of several programs that I dearly wanted to see, as I said previously, every single session that I was able to attend I enjoyed thoroughly. The opportunity to sit in the same room as some of Disney's legends — not only Imagineers who actually worked with Walt Disney, but with others who have captured the imagination of the public over the years — artists, actors, writers, musicians — was incredible. I can't believe that I was actually in the same room as Art Linkletter, Betty White, Robin Williams, X Atencio, Marty Sklar, Kelsey Grammer, Donny Osmond, among so many others! (Although NOT Johnny Depp, a mistake I will not forgive myself for for a long time! Why did I miss that session?) And the chance to hear these people talk about their experiences working for Disney in all of its many forms was priceless — in other words, well worth the price of admission to the Expo.
So yes, I think the D23 Expo was a success, and definitely worthwhile. I hope you enjoyed reading about it as much as I enjoyed reporting on it for you. And I'll be ready to do it all again next year.
=============================
SPECIAL THANKS TO OUR ROVING REPORTERS, who sent messages and photos via Twitter during the course of the four-day D23 Expo event: Cedric Ching, Beci Mahnken, Don Morin, Sara Varney, Jeanine Yamanaka, and Lee Zimmerman. Also thanks to Jack Marshall who uploaded all the photos so that they appeared in Deb's Blog each day!
=============================
RELATED LINKS
D23 PREVIEW: http://allears.net/btp/issue519.htm
Disney Press Releases from the D23 Expo: http://land.allears.net/blogs/dnews/
Other articles by Debra Martin Koma: http://allears.net/btp/dkoma.htm