General Info
Attraction Info
Parades and Shows
News
January
February/
March
Spring
April
May
June
July
August
September
October
November
December
OTHER THEME
PARKS
Limited Time Magic
Walt Disney World
The 2013 Disney Parks Celebration is Limited Time Magic!
Limited Time Magic features unexpected experiences with an extra sprinkle of Pixie Dust at Disneyland Resort and the Walt Disney World Resort that'll appear for a "limited time".
The Limited Time Magic may include special entertainment, events, souvenirs or surprises! The Limited Time Magic will change from week to week. Disneyland and Walt Disney World will usually have different magic celebrations (but some may be the same). Watch for announcements every Friday.
CURRENT and UPCOMING LIMITED TIME MAGIC
Monstrous 24-Hour "All-Nighter"
From 6:00 a.m. on May 24 to 6:00 a.m. on May 25, enjoy all the monster-themed madness inside Magic Kingdom park at Walt Disney World Resort in Florida, as well as Disneyland park and Disney California Adventure park in California. From special entertainment and monstrous merchandise to frightening food and boo-verages, this "All-Nighter" is shaping up to be one scary good time!
Everything kicks-off with special opening moments in front of the parks, leading up to park opening at 6 a.m., and then you're off and running for 24 hours of fun!
At Magic Kingdom Park, Mike and Sulley from this summer's new Disney-Pixar film "Monsters University" will pop in at the "Move It, Shake It, Celebrate It!" Street Party, and serve as Grand Marshals during a special pre-parade, complete with a cheer squad, flag corps and a marching band playing the MU Fight Song. You can catch this procession just ahead of each of that day's two performances of the "Celebrate a Dream Come True" Parade.
In Tomorrowland, the Rockettower Plaza Stage plays host to a "Monster Mania" DJ Dance Party from 4 - 9 p.m. and "Monsters University Movie Night" from 11 p.m. – 5 a.m., featuring back-to-back showings of the original "Monsters, Inc." and an opportunity to meet Mike and Sulley. Finally, you can dance the night away at Disney's Up All Night Dance Party at Cinderella Castle, keeping things lively from 2 – 5:45 a.m.
Spring Trolley Show on Main Street USA - March 3 - May 23
The citizens of Main Street, U.S.A. in Magic Kingdom park are bursting with excitement now that spring is in the air. Dressed to the nines in bright pastels and with a few new songs in their hearts, they arrive in town on a horse-drawn trolley adorned with colorful bouquets of flowers and ribbons. Put a little spring in your step and join in the celebration—another part of Limited Time Magic at Walt Disney World Resort.


2013 is the "Year of the Ear" at Disney Parks. Every month, Disney Parks will release new ear hats to add to your collection as part of "Limited Time Magic."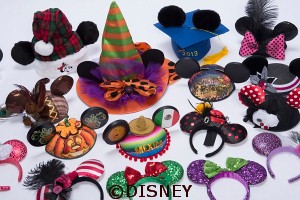 FUTURE LIMITED TIME MAGIC
JULY
Independence Week: It's red, white and blue as Disney Parks salutes America with a 4th of July Fireworks Party — for an entire week, with patriotic lighting bathing the Disney castles on both coasts. Mickey Mouse appears in his patriotic finest and guests will find special USA shirts, Ear Hats and other limited-edition souvenirs.
SEPTEMBER
Unleash the Villains: Friday the 13th in September 2013 is a special day, so Disneyland park and Disney's Hollywood Studios are staying open until the 13th hour (1 a.m.). Maleficent, Captain Hook, Jafar and other Disney Villains host a dance party, complete with limited-edition collectibles and other nighttime mischief.
DATE TO BE ANNOUNCED
Pirate Week: Why talk like a pirate one day when you could celebrate these scalawags all week long? The adventures of Jack Sparrow come to life like never before during a bicoastal buccaneer bash in which Disneyland and Walt Disney World become pirate-palooza: pirate bands, pirate meet-and-greets and more.

PREVIOUS LIMITED TIME MAGIC
Cinco de Mayo/Fiesta May 5-11, 2013

Limited Time Magic offerings for this week include a weeklong Cinco de Mayo celebration in the Mexico pavilion at Epcot. You can meet the Three Caballeros -- Panchito, Jose Carioca and el Pato Donald -- and join in with a variety of performances, from delightful marionettes and folkloric dancing to the incomparable Mariachi Cobre. San Angel Inn and La Hacienda join in the celebration by offering special Cinco de Mayo menus with authentic drinks, appetizers, entrees and dessert options to celebrate the occasion!
A fun-filled day that included special Jedi Training Academy shows (where adults were allowed to participate), a special Star Wars Dance Party with Jedi Mickey and many others and ended with the wonderful Symphony in the Stars fireworks show.
Check out our Videos from the Event!
Party for the Planet April 22-28, 2013
Come celebrate the 15th anniversary of Disney's Animal Kingdom park at "Party for the Planet"—an Earth Week event where you can meet some of your favorite Disney Characters, purchase collectable merchandise and try out some tasty sweet treats!
Disney Character Dance Party - The party kicks off with a week-long character reunion, where some rarely seen Disney Characters will be making cameo appearances in Mickey's Jammin' Jungle Parade at Disney's Animal Kingdom park. Stop by for a chance to see Lilo & Stitch, Flik & Princess Atta, Koda & Kenai, and Thumper & Miss Bunny as they march along, and then join them for a dance party hosted by DJ Dino-Mite in Dinoland, USA!
Jammin' Jungle Parade
DJ Dance Party


Commemorative Merchandise - Once the celebration's started, make your way to Creature Comforts where you can buy celebratory clothing, commemorative pins, limited edition Vinylmation figures and other once-in-a-lifetime merchandise you won't find anywhere else.
Can't make it to Florida for the occasion? Take advantage of a special opportunity to order an exclusive 15th Anniversary T-shirt online... but get yours fast—the T-shirt will only be available from April 22 to April 24, 2013!
"Dig Up" Something Delicious
The Earth Week celebration continues all across Walt Disney World Resort, where for a limited time, you can "dig in" to a duo of playful desserts. Head into Disney's Hollywood Studios or Kona Café at Disney's Polynesian Resort and try out the "Worm and Dirt Cupcake." Or, travel to Magic Kingdom park or Epcot for a delightfully delicious "Worm and Dirt Tart."
Remember, the Earth Week experience is only taking place for a limited time—don't miss your chance to celebrate the planet in the most magical of ways!*
April Strawberry Ears - While Supplies Last in April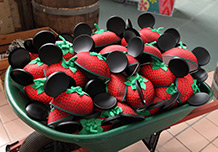 Celebrate Disney Fairies Week April 15- 21
It's Fairies Week at Walt Disney World Resort in Florida, and Tinker Bell's coming in for a landing. And wouldn't you know it, some fellow Disney Fairies are flying in for the occasion too! Head over to Tinker Bell's Magical Nook, where Tink will be joined by a few friends making surprise appearances. You could meet Iridessa, Rosetta, Silvermist, Fawn, Vidia… maybe even Terence, the Pixie Dust-keeper himself!
Go Vintage at the Disney Truck Stop - April 8-14
For one week only, the Disney Truck Shop will be parked along the Downtown Disney Westside route at Walt Disney World Resort, offering you the chance to pick up a limited release vintage-style tee. Available while supplies last, the tee has been inspired by the design and logo of the Disney Parks newest shop on wheels. So cruise over for this Limited Time Magic offer, and pick up some of your favorite souvenirs too—this is one ride you can't afford to miss!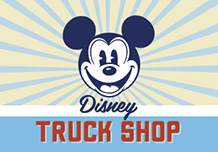 Spring Fling March 25 - 31
Mr. and Mrs. Easter Bunny will continue to greet guests at Bunny Lane (next to City Hall) in the Magic Kingdom. They will take part in an Easter procession down Main Street and be accompanied by butterflies, flowers and dancing hippos!
In Epcot, Mr. and Mrs. Bunny will make appearances at the United Kingdom pavilion. Easter egg hunts will be held there as well as in Future World
March MousekeEars - While Supplies Last in March
It's the Year of the Ear!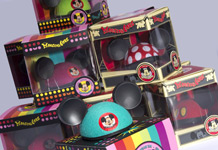 Character Egg Hunt - Epcot - March 18-24
Search for "hidden eggs" themed as Disney characters in Epcot, purchase a special Limited Time Magic Eggs-sperience map ($4.95) and find all the eggs. Once complete return to Port of Entry in Epcot for a surprise. Eggs-sperience maps can be purchased at Port of Entry, Pin Central, International Gateway or Heritage Manor (American Adventure).
For more details, check out our Blog with video and photographs!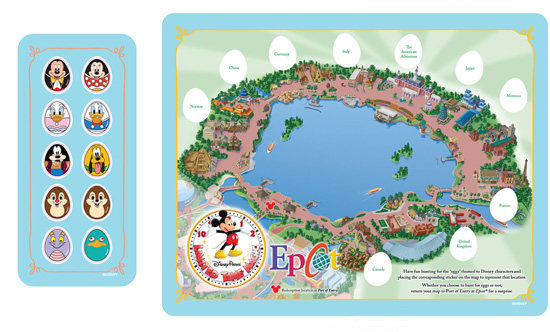 Beautifully Disney Cosmetic Line March 1 - 31
Discover the Beautifully Disney cosmetic line from Disney Parks—featuring the color palettes of some favorite Disney characters, elegant packaging and whimsical accessories designed to add an extra sprinkle of pixie dust to your morning routine. This new cosmetic line debuts with a special event at Tren-D in the Downtown Disney area from 11:00 a.m. to 3:00 p.m. on March 2, 2013. Join in the fun as color experts offer complimentary mini-makeovers. Plus, you can purchase the Wickedly Beautiful collection, a seasonal palette that—just like Limited Time Magic—won't last forever.
2014 Dated Art Winner Revealed March 1 - 8

Dapper Dans – The "Original Boy Band" - February 25 to March 3, 2013
The Dapper Dans tip their hats to a new kind of music that they discovered while "strolling through the park one day." Watch for this winsome quartet and their all-new medley that will have "Everybody" seeing "What Makes You Beautiful." But they won't be saying "Bye Bye Bye" to barbershop completely—after all, the Dapper Dans are the "Original Boy Band." Part of Limited Time Magic, this musical time warp is a can't-miss experience at Magic Kingdom park in Florida.

Presidents Day – A Weeklong Celebration - February 18 to February 24, 2013
Voices of Liberty, the a cappella group, is honoring Presidents Day for a limited time with musical performances at the America Gardens Theatre at Epcot. In this special presidential show—a Limited Time Magic experience—the Voices of Liberty will bring to life some inspirational moments from our nation's history with impeccable 8-part harmonies accompanied by memorable quotes from American Presidents like Theodore Roosevelt, Dwight D. Eisenhower, Ronald Reagan and Barack Obama. It's an a cappella hail to the chiefs of our country! Show Times: Noon, 1pm, 2pm, 3pm, and 4pm.

FEBRUARY 11 - 17, 2013
True Love Week : Celebrate romance and enchantment throughout Valentine's Week with special moments and entertainment geared to lovebirds. Disney Princes join their Princesses to meet park guests in special settings, prix fixe menus turn up at select restaurants and Valentine's collectibles will be offered for the week.

The weeklong event celebrates the love of friends and family, and invites couples to rekindle the flame. Here is the lineup:

-- Romantic Setting: Guests will feel the romance at every turn, as banners proclaiming True Love, heart-shaped signage and sweetheart-themed décor adorn the Magic Kingdom.

-- Blushing Castle: At dusk, hues of pink, red, lavender and blue bathe Cinderella Castle with themed lighting synced to a musical melodies adding to the ambiance.

-- Dinners for Two: Candlelit dinners for two with prix fixe menus at select restaurants during the most romantic week of the year. Specially created menus at Artist Point (Disney's Wilderness Lodge Resort); The Wave…of American Flavors (Disney's Contemporary Resort); Hollywood Brown Derby (Disney's Hollywood Studios); Yachtsman Steakhouse (Disney's Yacht Club Resort) make an ideal setting for a romantic evening. To book visit Disneyworld.com or call 407/WDW-DINE.

-- Valentine's-themed Takeaways: Limited-edition pins, plushes, newly-designed apparel and Vinylmations available at select merchandise locations.

-- Royal Gathering: The rare opportunity to get a photo with Disney Princes as they escort their Princesses to enchanting character greeting locations. In Town Square Theater you may find Mickey and Minnie, Aurora with Phillip or Rapunzel and Flynn. Mary Poppins joins Bert in Fantasyland, while Prince Naveen and Princess Tiana meet guests in the Enchanted Glade in Liberty Square.

Romantic Photo Locations in Magic Kingdom with your Sweetie:

-- Carriage Awaits: New Fantasyland invites lovers to create memories alongside Cinderella's Glass Coach situated by the new Castle wall for True Love Week.

-- Wishes Come True: Hearts and flowers enhance Cinderella's Wishing Well creating the perfect backdrop for a cherished moment.

-- Rose Walk: The Rose Garden in Central Plaza is all decked out with enchanting decor.
And more…
Romantic Touches: Long stem roses, chocolate covered strawberries, the finest champagne, or scattered rose petals create a romantic scene for lovebirds, all available through the Disney florist at www.disneyflorist.com.

Elegant Oasis for Relaxation: An aromatherapy couples' massage is just the escape after a day with the kids in the theme park. Couples' massages are available at the newly opened, full-service Senses, A Disney Spa at Disney's Grand Floridian Resort.

Perfectly Princess: Join your prince for the ultimate fairytale come true with a customized Disney wedding or honeymoon getaway. More than 1,000 couples get married, or renew their wedding vows in romantic settings in various locations throughout Walt Disney World Resort every year. Visit disneyweddings.com for more information.

FEBRUARY 1 - 4, 2013
Super Bowl Parade - There will be a super pre-parade celebration just ahead of the daily performances of the "Celebrate a Dream Come True" parade at Magic Kingdom Park. It'll feature Disney football star Goofy and some Central Florida youth football champions. You can also expect to see Walt Disney World Resort cheerleaders and two of the nuttiest referees this side of the 50-yard line and other character favorites.
There will be a special ticker-tape parade down Main Street, U.S.A., after the big game on February 4. Watch the Disney Parks Blog for more information on that parade.
Cosmic Ray's Starlight Cafe will have new menu items that commemorate the super Sunday celebration. Special "Soup-er Bowls" representing the teams will be available for one-week only, from February 1 – 9. Savor the Lobster Bisque and Tomato Basil Bisque only available as part of our "Limited Time Magic" celebration.

January 25-31, 2013
2014 Disney Parks Dated Art Program: Vote for one of three designs for special limited edition merchandise to be sold as part of the 2014 Disney Parks Dated Art Program.

January 21-27, 2013
Long Lost Friends Week: Long-lost Disney friends are returning to the Magic Kingdom Park for one week, January 21–27. Be sure to have your camera ready for a rare chance to possibly brush shoulders with classic characters like Clarabelle Cow and Horace Horsecollar; Robin Hood, Prince John, Sheriff of Nottingham and Friar Tuck; The Big Bad Wolf and Three Little Pigs; Scrooge McDuck and Ludwig Von Drake; and Geppetto, Pinocchio, and Jiminy Cricket.
Everyone is located in Town Square area in the Magic Kingdom. The Loud Speaker will announce when the Long Lost Friends are about to arrive. All the characters come out and then finish their 30 minute set at the same time. Times are not on the Times Guide.
You are not allowed to get character autographs. After you have your photograph with the characters the Character Handler (blue shirt) will give you an autograph card keepsake (see below).


January 11, 2013
The latest "extra sprinkle of Pixie Dust" begins Monday, January 14, at the Canada Pavilion in Epcot.
The forecast at Epcot this week is sunny with a chance of flurries. For one week only, January 14-20, there will be a magical Winter Wonderland location with falling snow where you and your family can meet and take photos with some of your favorite Disney characters. It's an all new character greeting location in the Canada Pavilion. Times for the Winter Wonderland location at Epcot are: 10:30 a.m. – 2:10 p.m. and 3:05 p.m. – 5:45 p.m. There's more to come. You can also find updates on Twitter using hashtag #LimitedTimeMagic and at LimitedTimeMagic.com.

December 28, 2012
Limited Time Magic begins in the Magic Kingdom's Tomorrowland's first ever "Bling in the New Year" dance party.
For an entire week, children of all ages can celebrate the start of 2013. You'll be able to watch live entertainment on Rockettower Plaza Stage, dance to great music and celebrate with some of your favorite Disney characters - all dressed in their New Year's best. And if you can't stay up until midnight, there will be a New Year's countdown every hour leading up to midnight. The celebration begins on December 30 and runs through January 5.