October 2018 Walt Disney World Bits and Bites
Feature Article
This article appeared in the September 25, 2018 Issue #992 of ALL EARS® (ISSN: 1533-0753)
Editor's Note: This story/information was accurate when it was published. Please be sure to confirm all current rates, information and other details before planning your trip.
= = = = = = = = = = = = = = = = =



STEP BACK IN TIME
= = = = = = = = = = = = = = = = =
by Joan L. Feder
AllEars® Staff Writer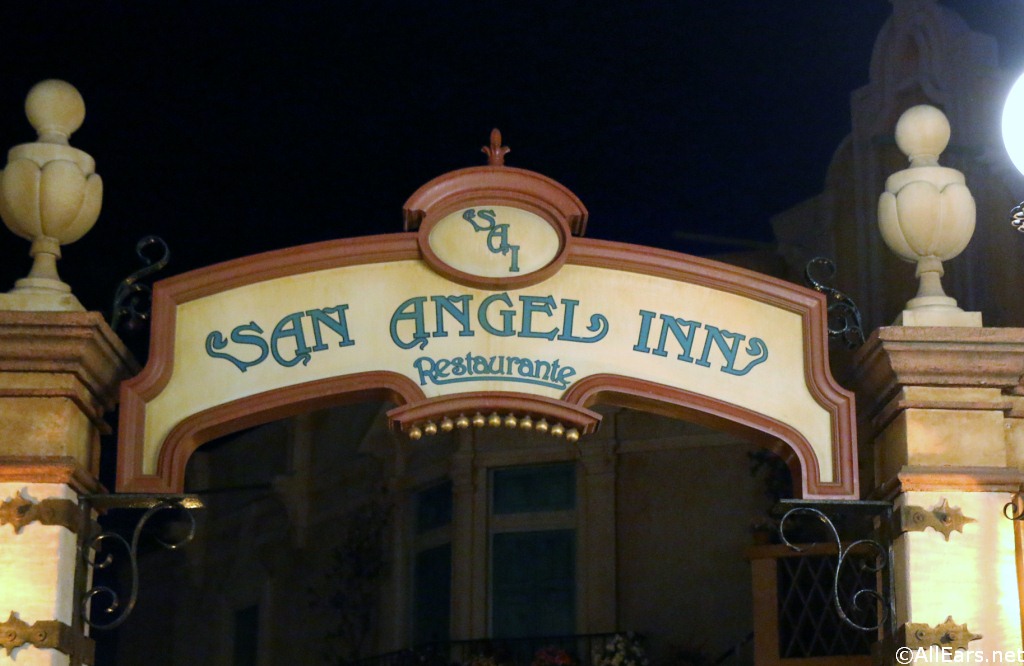 Join us on our monthly journey into the past as we explore the history of Walt Disney World and the Walt Disney Company. This time we take a closer look at Epcot's San Angel Inn Restaurante, which formally opened in late October 1982.
The official dedication and opening celebration for the Mexico Pavilion and the San Angel Inn Restaurante were on Thursday, October 21, 1982. The festivities took place on the steps of the 36-foot-tall pyramid, which is built to look like an Aztec/Mayan Temple. The ceremony included a speech by Disney Vice President Bob Allen, as well as mariachi music, dancing and fireworks.
The San Angel Inn Restaurante is unique for a number of reasons. First, is its setting. The interior of the Mexico Pavilion is dominated by the Plaza de los Amigos, which gives the illusion of an outdoor marketplace set in perpetual twilight. This means that at the San Angel, you can dine "al fresco" in the comfort of air conditioning. Its location is also unusual because it is one of only a handful of Disney restaurants that are part of an attraction. Taking a bit of its ambiance from the Blue Bayou in Disneyland, the Restaurante overlooks the path of the boats floating through the Gran Fiesta Tour Starring The Three Caballeros. Across the waterway, the theming continues with another temple/pyramid flanked by a smoldering volcano.
The history of the San Angel Inn Restaurante is also extraordinary in that it literally goes back hundreds of years! It was originally sponsored by its namesake, the San Angel Inn located in Álvaro Obregón, which is southwest of Mexico City. The original San Angel was built in 1692, and was intended to be a monastery. Instead it became a hotel, and in 1901, opened its San Angel Inn Restaurante, which is still in business today.
The food at Epcot's San Angel is somewhat atypical as well. The cuisine goes well beyond the Tex-Mex fare of most local Mexican restaurants. While it is somewhat Americanized (like all World Showcase eateries), it includes more authentic choices like Mole Poblano, Tostadas de Tinga and Carne Asada. For the over 21 crowd, there are a wide variety of margaritas that should not to be missed.
The San Angel Inn Restaurante is one table service credit on the Disney Dining Plan, and Advanced Dining Reservations can be made 180 days ahead. The twilight setting of the San Angel Inn Restaurante makes it one of the more romantic locations at Walt Disney World. Unfortunately, that also means that it is dark and a flashlight may be needed to read the menu. Some guests find dining at the Mexico Pavilion confusing since there are two table service restaurants with very similar names. How to remember which is which? Here's a trick: the newer La Hacienda De San Angel sits on the banks of the World Showcase lagoon (with views of IllumiNations), while the San Angel Inn Restaurante is "INNside" the pyramid!
= = = = = = = = = = = = = = = = =



HIDDEN MICKEYS ALERT
= = = = = = = = = = = = = = = = =
Steve Barrett, author of the Hidden Mickeys Field Guide books and webmaster of HiddenMickeyGuy.com, wishes to highlight a few Hidden Mickeys at Walt Disney World that are worth chasing down!
1. Disney's Animal Kingdom, Na'vi River Journey. Leaves with holes blanket the ceiling of the covered portion of the Standby entrance queue, so this Hidden Mickey is difficult to locate! The classic Mickey hole is about halfway along the inside queue, above a large lantern and next to a small rope tie, not far from the outer perimeter of the queue. (Thanks to Erin Merrill, and Jackie Kushnier.)

2. Winter Summerland. You can usually spot good classic Mickey Christmas ornaments in the decorations at the check-in area and in different spots at the end of the Winter and Summer Courses. This one hangs above the check-in counter. (Thanks to Bill and Kari Middeke.)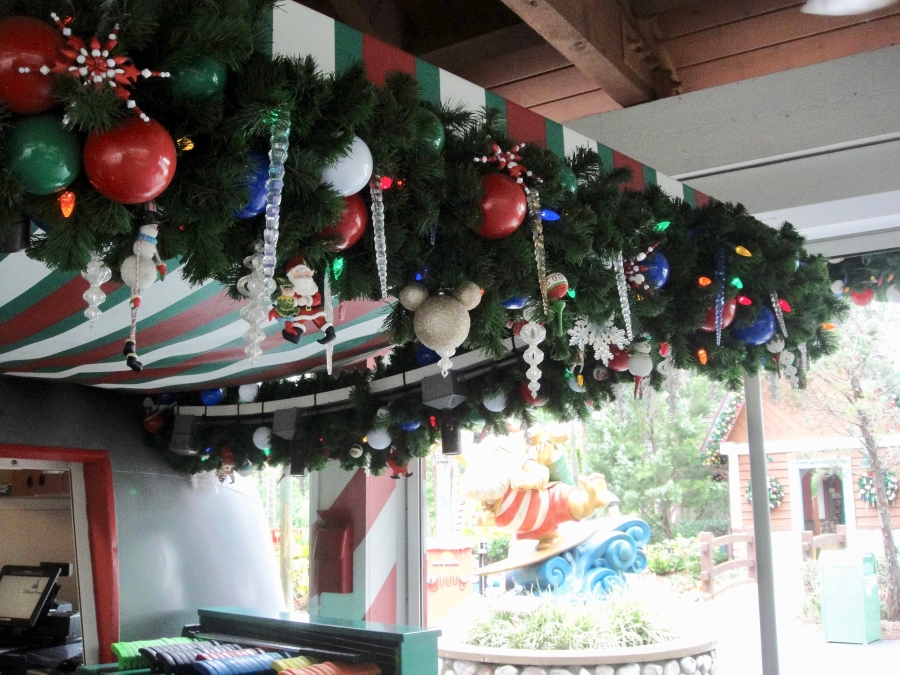 3. Disney's All-Star Music Resort. At the rear of the Food Court seating area, a classic Mickey atop a cactus is in a decorative pane perched on a seating partition. Find the Hidden Mickey cactus directly above the banjo. (Thanks to Martha Tischler.)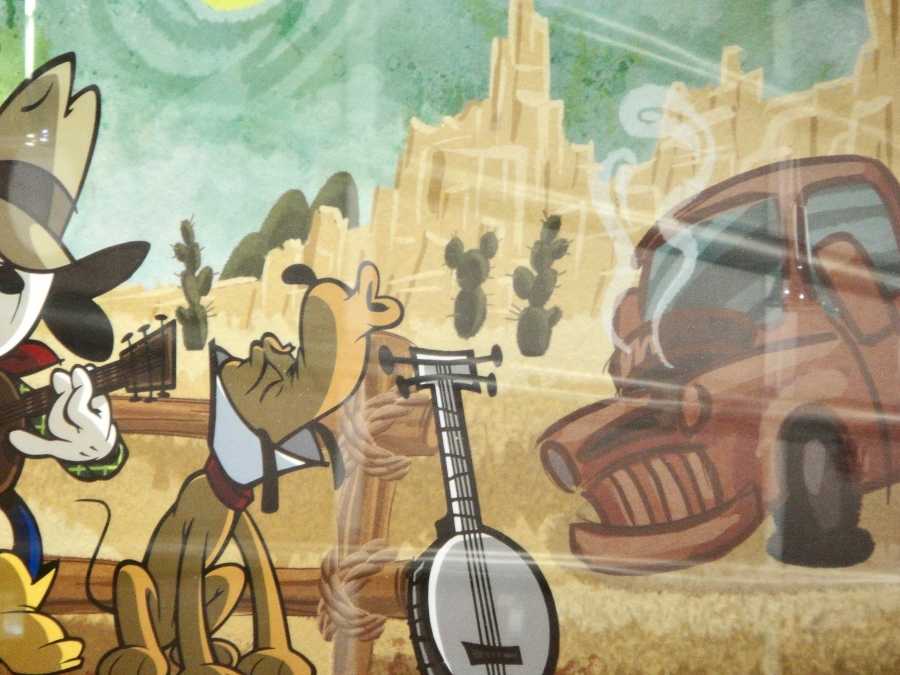 =-=-=-=-=-=-=-=-=-=-=-=-=-=-=-=
You can find an archive of past Hidden Mickey Alerts HERE.
And check out our latest Searching Disney with Steve blog, in which Steve is contemplating possible finds in the Magic Kingdom.
= = = = = = = = = = = = = = = = =



MONTHLY REMIND-EARS
= = = = = = = = = = = = = = = = =
Oct. 2, 4, 5, 8, 9, 11, 12, 14, 16, 18, 19, 21, 23, 25, 26, 28, 30, 31: Mickey's Not So Scary Halloween Party.
Through Nov. 12: Epcot's International Food and Wine Festival! This culinary extravaganza includes the nightly Eat to the Beat concerts.
Check our Events page for a full schedule of upcoming events.
-=-=-=-=-=-=-=-=-=-=-=-=-=-=-=-=-=-=-
OCTOBER REHABS AND CLOSINGS
Resort-Wide
Disney Skyliner construction:
Walt Disney World is in the process of creating a new transportation system, Disney Skyliner, which will give you a bird's-eye view of the resort while traveling via gondolas. During this time, construction noise will be seen or heard throughout the resort, but noise should not be heard from Disney hotel rooms between dusk and 9 a.m.

EDITOR'S NOTE: Check out our latest blog on the Skyliner construction.

The Walt Disney World Monorail system is undergoing ongoing refurbishment. As a result, normal service and/or routes may be modified. Alternative transportation options will be available during this time.
Star Wars: Galaxy's Edge —
Work is underway on the 14-acre Star Wars-themed land at Disney's Hollywood Studios that was announced during the 2015 D23 EXPO. It was recently announced that Galaxy's Edge will open at Walt Disney World in Late Fall 2019.
Liberty Square Riverboat closed for refurbishment on January 8, 2018. No reopening date has been announced.
Ferrytale Fireworks: A Sparkling Dessert Cruise is not operating through October 20, 2018.
The entire resort is undergoing a major room refurbishment that will continue until late 2018.
Art of Animation Resort is currently undergoing some general refurbishment projects. During this time, the resort will be in full operation with all amenities available, including dining, merchandise and recreation locations. It is possible that construction may be seen or heard, but noise should not be heard from guest rooms between dusk and 9 a.m. No end date for these projects has been announced as yet.
A small portion of Stormalong Bay Pool is closed now through Fall 2018 to make way for new cabanas. The remainder of the area will remain in full operation.
Through Fall 2018, Old Port Royale Food Court, Shutters at Old Port Royale, Cabana Pool Bar and Calypso Trading Post will be undergoing refurbishment. A variety of dining options will be available for all meals. Centertown will serve breakfast and dinner. Grab 'n' Go options will be available in three island markets: Aruba, Jamaica, and Martinique.
In addition, buildings in Barbados and Martinique islands have been demolished to make way for the new Disney Riviera Resort.
The resort room "hard goods refurbishment" at Coronado Springs has been extended to continue throughout summer 2019.
Pepper Market is undergoing minor refurbishments now through Summer 2019, but will remain in operation during this time.

The Dig Site, home to The Lost City of Cibola Pool, volleyball court, playground, Iguana Arcade and Siestas Cantina, is being refurbished now through mid-December 2018. While this work takes place, the resort's three leisure pools, dining and merchandise locations, and other amenities are available.
A new on-the-water bar and grill called Villa del Lago will open at Disney's Coronado Springs resort in 2019, along with the previously announced new 15-story tower that is currently under construction.
Disney's Old Key West Resort is undergoing a wholesale refurbishment, which is expected to be completed in 2019. You can see some photos of refurbished rooms HERE.
Tambu Lounge is closed for expansion and refurbishment work now through early November 2018.
Pop Century resort rooms are currently undergoing refurbishment, with work expected to be completed by Summer 2018. In addition, there are a number of other refurbishment projects going on around the resort, but all amenities are available.
The leisure pools at Alligator Bayou will be undergoing refurbishment through Fall 2018. During this time, while one pool is closed, the feature pool, Ol' Man Island, and four other leisure pools will be available.
Also, the rooms at Port Orleans Riverside are being refurbished now through early 2019.
The Yacht and Beach Club Convention Center is undergoing expansion and renovation throughout 2018. No end date has been specified.
World of Disney at Disney Springs Marketplace is being "reimagined" this year. Work is being completed in phases so guests can continue shopping during construction. Shops in Town Center at Disney Springs, such as Ever After Jewelry Co. or The Disney Corner carry select merchandise during renovations.
-=-=-=-=-=-=-=-=-=-
A complete list of known rehabs can be found HERE.
= = = = = = = = = = = = = = = = =



MAGICAL MOMENTS
= = = = = = = = = = = = = = = = =
Each month, we like to share a few heart-warming Magical Moments brought to us by the amazing Disney cast members!
Keli: My son is 13, growing like a weed and eating constantly. On our recent trip to Walt Disney World, I got him a donut sundae from the Plaza Ice Cream parlor and then we headed toward Adventureland. While we were in line to get his little sister a Mickey ice cream sandwich, and while he was still eating the sundae, he asked for popcorn. I couldn't believe it. I turned and said something to the effect of, "No. How many snacks can you possibly eat in a day?" When I placed the order for the ice cream sandwich a cast member handed my son a popcorn as a gift from Mickey. This made my heart smile. Kind people like this make our Disney trips special.
Sherrill D.: My husband's parents, sister and brother-in-law visited us for the first time in Florida, and purchased two-day park tickets. On the second day, my mother-in-law went into Club Cool for slushes for herself and my father-in-law, while the rest of us scattered to find our own snacks. When my mother-in-law returned to the rest of us outside seated on the bench with the slushes she said they had been "no charge!" I suspect the cast member saw her "1st Visit" and "Happily Ever After #54" buttons and decided to spread some Pixie Dust. Itwas a wonderful moment when she excitedly shared her story with the rest of us!
-=-=-=-=-=–=-=-=-=-=-=-=-=-=-=
EDITOR'S NOTE: Did you know that you can turn the tables and create a Magical Moment for your favorite cast member on Twitter? Simply send a tweet to @WDWToday with the hashtag #castcompliment and they'll make sure your cast member gets some special recognition for making your day Magical!
We just bet you have a story to tell about an unforgettable moment during your Disney vacation! Please send your favorite memory for inclusion in a future AllEars® via our Contact Us page. Thank you all for sharing!