June 2018 Walt Disney World Bits and Bites
Feature Article
This article appeared in the May 29, 2018 Issue #975 of ALL EARS® (ISSN: 1533-0753)
Editor's Note: This story/information was accurate when it was published. Please be sure to confirm all current rates, information and other details before planning your trip.
= = = = = = = = = = = = = = = = =



STEP BACK IN TIME
= = = = = = = = = = = = = = = = =
by Joan L. Feder
AllEars® Staff Writer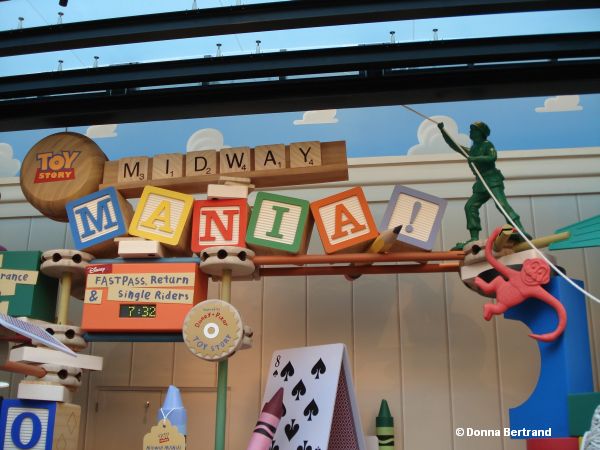 We hunt through our archives for this monthly featurette, which looks at the history of Walt Disney World and The Walt Disney Company. This month, as we anticipate the opening of the new Toy Story Land on June 30, we go back 10 years to the spring of 2008 and the opening of Toy Story Mania!
In 2005, Imagineers decided to add an interactive 3D game to Disney California Adventure, where guests would play traditional carnival games hosted by the Toy Story characters. Toy Story Mania! made history as the first attraction ever developed for two theme parks at the same time. The Disney's Hollywood Studios attraction opened May 31, 2008, followed by Disney California Adventure's on June 17, 2008 (Tokyo DisneySea's opened several years later).
At Hollywood Studios, Toy Story Mania! was built on part of the old Backlot Tour, and made to look like the exterior of the real Pixar Studios. Guests walked through the entrance and "shrank" to become the size of toys in Andy's room. The queue was lined with giant crayons, Viewmaster discs and old-fashioned board games. The ride's carnival barker was Mr. Potato Head, one of the most advanced audioanimatronics that Disney had created to date. Voiced by the late comedian Don Rickles, Mr. Potato Head's mouth formed words, he could remove and re-attach body parts, and his eyes looked directly at individual guests as he interacted with them. Riders in the Sky, the award-winning group that wrote the songs that Mr. Potato Head performed as part of the attraction, was the same group that wrote "Woody's Roundup" for the "Toy Story" feature films.
After grabbing 3D glasses, guests were loaded into ride vehicles, and headed to a pie-throwing practice round. Next came five mini-games: Hamm & Eggs, where hardboiled eggs knocked down barnyard targets; Bo Peep's Baaa-loon Pop, a balloon-popping game; the Green Army Men Shoot Camp where the goal was to break plates; followed by Buzz Lightyear's Flying Tossers where you threw rings around Little Green Men; and finally, Woody's Rootin' Tootin' Shootin' Gallery with suction-cup tipped darts aimed at a variety of western-themed targets. Each game had surprises including "Easter eggs" (hit the right targets to improve your score), and 4D effects like water sprays and air blasts. This attraction was so technically sophisticated that it required more than 150 computers to keep it running!
In May 2010, the ride was updated for the release of Toy Story 3. Lotso the bear was added to the practice round, and Buttercup to the Hamm & Eggs game. The second game, Bo Peep's Baaa-loon Pop, became Rex and Trixie's Dino Darts, and Trixie, Buttercup, Dolly and Mr. Pricklepants were added to the closing sequence. A third track opened in May 2016, which increased ride capacity, but meant Mr. Potato Head was removed from the queue to make room.
There will be more changes on June 30, 2018, when Toy Story Land debuts. Pixar Place will close, but guests will be able to join the Toy Story gang in Andy's backyard. Two new attractions will open: Slinky Dog Dash — a roller coaster that Andy built; and Alien Swirling Saucers, a play set Andy won from Pizza Planet, in which Little Green Men drive around avoiding "The Claw" looming overhead. Toy Story Mania! will get a facelift with a new entrance, and we hear that Mr. Potato Head will rejoin the queue.
RELATED LINKS:
Toy Story Mania attraction page
Walt Disney World Chronicles: Toy Story at Disney's Hollywood Studios
Disneyland Resort's Toy Story Mania attraction
= = = = = = = = = = = = = = = = =



HIDDEN MICKEYS ALERT
= = = = = = = = = = = = = = = = =
Steve Barrett, author of the Hidden Mickeys Field Guide books and webmaster of HiddenMickeyGuy.com, wishes to highlight his favorite Hidden Mickeys for you — one for each of the three Hidden Mickeys books that he updated in 2017.
1. Walt Disney World, Under the Sea – Journey of The Little Mermaid. Each year around noon on Mickey Mouse's birthday (November 18), sunlight shines through holes in the rock to form a classic Mickey on the wall of the inside entrance queue. Look for it at a large opening in the rock ceiling to your right and just past a carved wooden figure. Stay alert because Mickey might show up here at other times of the year! (This Hidden Mickey is a result of extensive research and planning by the Imagineers!)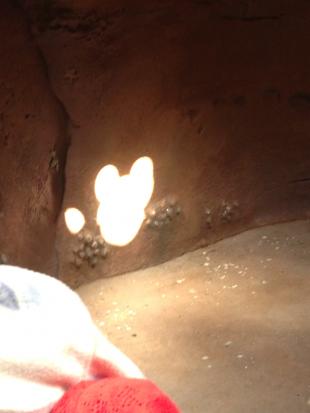 2. Disneyland Resort, Disney's Grand Californian Hotel. Check out the front of the main registration counter in the lobby and marvel at this magnificent (but tiny) rendition of Mickey Mouse conducting an imagined musical symphony for the dancing bears nearby. It's a small side view of Mickey sculpted in tile toward the middle of the long counter; he's conducting with a wand to the right of the white bear.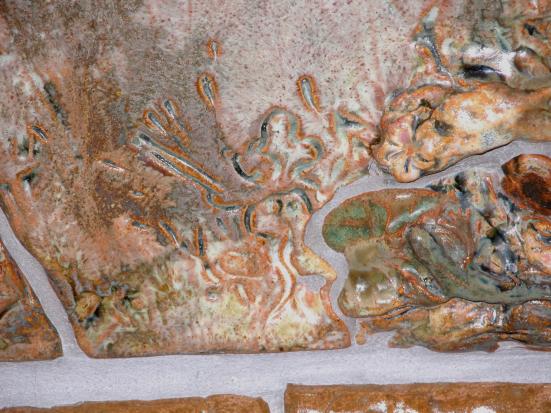 3. Disney Magic and Disney Wonder, Disney's Oceaneer Lab. At the rear corner of the room hangs a painting of a woman with her sword drawn. Her boot has slammed down on a dining table, causing a plate of food to fall toward the floor. Spot a tiny green classic Mickey made of peas at the right middle edge of the white plate.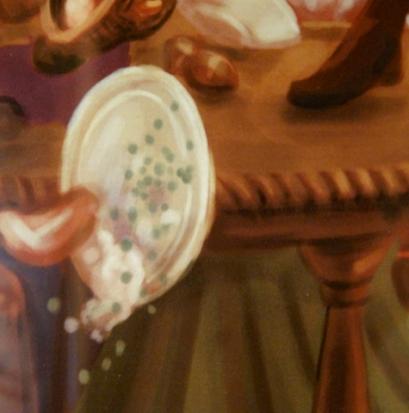 =-=-=-=-=-=-=-=-=-=-=-=-=-=-=-=
You can find an archive of past Hidden Mickey Alerts HERE.

And check out our latest Searching Disney with Steve blog.
= = = = = = = = = = = = = = = = =



SOUVEN-EARS
= = = = = = = = = = = = = = = = =
by Kristin B. Ford
AllEars® Staff Writer
We're just about one month away from the official opening of Toy Story Land, and Walt Disney World is trying to get us excited by revealing some of the merchandise that will be available. It's working for me!
The collection features several dated items to mark the opening of the new area at Hollywood Studios. An adorable girls' purple peplum T-shirt says "I played there" and shows Buttercup the golden unicorn. There are two unisex children's T-shirts: one in primary colors with an image of Slinky Dog wrapping around the bottom of the shirt and the other striped with patches depicting the Toy Story characters.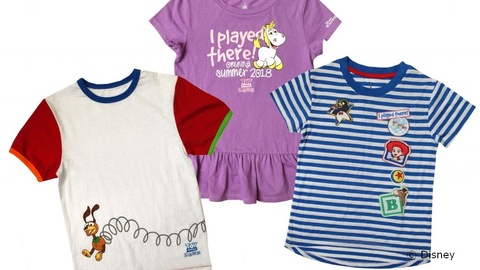 A unisex adult red T-shirt features a colorful assortment of Woody, Buzz, Jessie and other Toy Story characters. A Christmas ornament with the same design is available, and shoppers can look for a coordinating mug, as well. Plus — ooooh! — there's a ringer T-shirt featuring an alien and the saying, "The claaaaaw."
Annual passholders will be able to purchase a drawstring backpack with the name of the new area and "passholder" spelled out in primary-colored blocks. This shirt also has silhouettes of Woody and Buzz Lightyear. A cap shares the same block lettering.
Some of the cutest wearable items are the light-up alien headband, which has eyes that move, and a Slinky Dog with light-up rings that can perch on a guest's shoulders. There also is a soft headband with a plush Slinky Dog.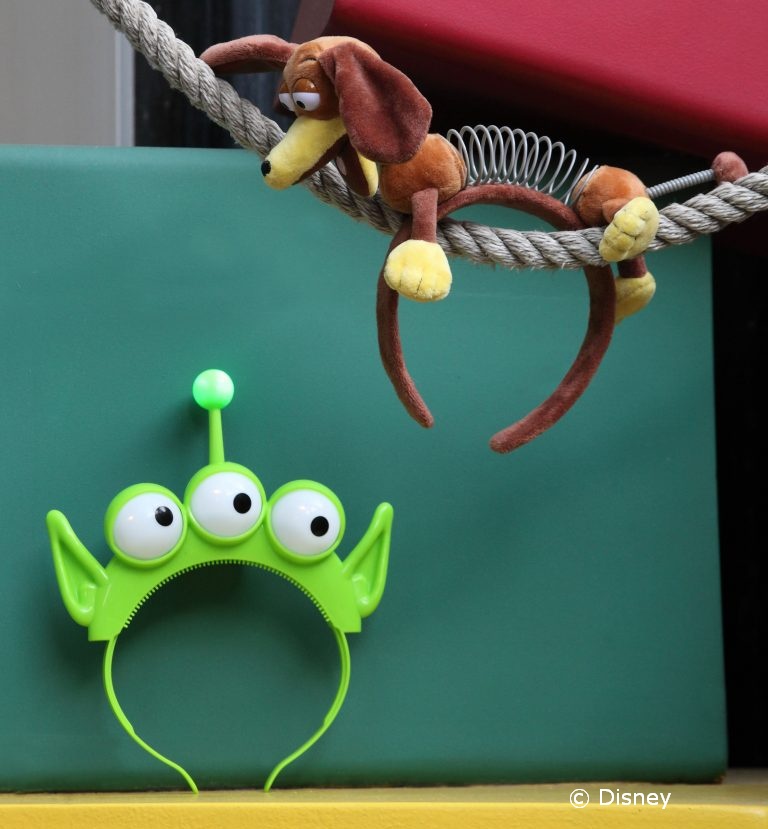 If my children were younger they would be thrilled with the ride replica toys. Choose from the Slinky Dog Dash coaster or three versions of the Alien Swirling Saucers — or collect them all!
I don't have prices on any of these items because they are not available at Walt Disney World yet. However, there is at least one item for sale now. A Toy Story Land MagicBand featuring Slinky Dog is available to annual passholders only until June 29. It costs $22.99 minus the passholder discount of 20 percent and can be purchased at Mickey's of Hollywood, Celebrity 5 & 10, Keystone Clothiers, Once Upon a Time and Walt Disney Presents. (There is another Toy Story Land MagicBand that is only being offered to guests in the UK and Ireland as part of a vacation package they can book now.)
A light-up tumbler with a domed lid (similar to the popular Enchanted Rose cup) with an alien and the claw inside is currently for sale at Pixar Fest in California. We've been told it will be sold in Orlando, as well.
Those visiting the Toy Story Land Mall Tour by BoxLunch have access to exclusive Toy Story Land merchandise now: three T-shirts, six limited release trading pins and a Pop! Funko Green Army Man. The next stops on tour are in Chandler, AZ; Bloomington, MN; Orland Park, IL; and Altamonte Springs, FL. (See my blog for more details on the tour.)
Although most of the official Toy Story Land goodies are not yet available, there is still plenty of Toy Story merchandise in the stores on Disney World property, on the Shop Disney Parks app and shopdisney.com.
Happy Shopping!
= = = = = = = = = = = = = = = = =



MONTHLY REMIND-EARS
= = = = = = = = = = = = = = = = =
Through Sept. 3: Incredible Summer at Walt Disney World. Highlights include Donald's Dino Bash at Animal Kingdom, Guardians of the Galaxy – Awesome Mix Live! concert series at Epcot (starts June 9), an Incredibles Dance Party at Magic Kingdom, H2O Glow Nights at Typhoon Lagoon (starts June 21) and more.
June 17: Father's Day. Watch for shopping and dining specials throughout the month, such as the "T-Bone & Tail" Father's Day meal at Paddlefish at Disney Springs — a 20 oz. T-Bone and cold water lobster tail with a classic bearnaise sauce for $59. Also, Amorette's Patisserie will offer dipped "Tuxedo" strawberries and special treats honoring Geppetto from "Pinocchio" from June 14 to 17.
June 30: Toy Story Land, including the two new attractions Slinky Dog Dash coaster and Alien Swirling Saucers, will open in Disney's Hollywood Studios!
Check our Events page for a full schedule of upcoming events.
-=-=-=-=-=-=-=-=-=-=-=-=-=-=-=-=-=-=-
Resort-Wide
Disney Skyliner construction: Walt Disney World is in the process of creating a new transportation system, Disney Skyliner, which will give you a bird's-eye view of the resort while traveling via gondolas. During this time, construction noise will be seen or heard throughout the resort, but noise should not be heard from Disney hotel rooms between dusk and 9 a.m.
Toy Story Mania will be closed from June 11-18. When the attraction reopens, you will continue to enter and exit the attraction on Pixar Avenue until Toy Story Land opens on June 30.

Star Wars: Galaxy's Edge — Work is underway on the 14-acre Star Wars-themed land at Disney's Hollywood Studios that was announced during the 2015 D23 EXPO. It was recently announced that it will open in Late Fall 2019.
Liberty Square Riverboat closed for refurbishment on January 8, 2018. No reopening date has been announced.
Kringla Bakeri og Kafe in the Norway Pavilion closed February 26, so that seating and overall shop space can be enlarged. While it's closed, a temporary kiosk called Midnattssol is open to sell the spot's most popular items (including School Bread). No reopening date has been announced.
Duck Pond Pool is closed for refurbishment through Spring 2018.

The entire resort is undergoing a major room refurbishment that will continue until late 2018.
Art of Animation Resort is currently undergoing some general refurbishment projects. During this time, the resort will be in full operation with all amenities available, including dining, merchandise and recreation locations. It is possible that construction may be seen or heard, but noise should not be heard from guest rooms between dusk and 9 a.m. No end date for these projects has been announced as yet.
Through Fall 2018, Old Port Royale Food Court, Shutters at Old Port Royale, Cabana Pool Bar and Calypso Trading Post will be undergoing refurbishment. A variety of dining options will be available for all meals. Centertown will serve breakfast and dinner. Grab 'n' Go options will be available in three island markets: Aruba, Jamaica, and Martinique.

In addition, buildings in Barbados and Martinique islands have been demolished to make way for the new Disney Riviera Resort.
The resort room "hard goods refurbishment" at Coronado Springs has been extended to continue throughout summer 2019.
Disney's Old Key West Resort is undergoing a wholesale refurbishment, which is expected to be completed in 2019. You can see some photos of refurbished rooms HERE.

Turtle Pond Pool, Turtle Shack Snack Bar and Flying Fish Gameroom will be unavailable until early July due to refurbishment. The resort's Sandcastle Pool, which features a waterslide, kiddie pool and a variety of dining and recreation locations, will be open.
Pop Century resort rooms are currently undergoing refurbishment, with work expected to be completed by Summer 2018. In addition, there are a number of other refurbishment projects going on around the resort, but all amenities are available.
Rooms at the resort are undergoing refurbishment, including a soft goods refurbishment, through Summer 2018.
The leisure pools at Alligator Bayou will be undergoing refurbishment through Fall 2018. During this time, while one pool is closed, the feature pool, Ol' Man Island, and four other leisure pools will be available.

Also, the rooms at Port Orleans Riverside are being refurbished now through early 2019.
The Yacht and Beach Club Convention Center is undergoing expansion and renovation throughout 2018. No end date has been specified.
Portobello Country Italian Trattoria at the Disney Springs Landing closed last year. Terralina Crafted Italian is due to open on that site in Spring 2018.

World of Disney at Disney Springs Marketplace is being "reimagined" this year. Work is being completed in phases so guests can continue shopping during construction. Shops in Town Center at Disney Springs, such as Ever After Jewelry Co. or The Disney Corner carry select merchandise during renovations.
FriendShip Boat Service
FriendShip boat service between Epcot area resorts and Epcot is suspended through June 7, while required repairs and maintenance on the bridge near the Walt Disney World Dolphin and Swan is performed. The boat service will also be suspended through June 21, 2018, between Epcot area resorts and Disney's Hollywood Studios. Resorts affected include Disney's BoardWalk Inn and Villas, Disney's Yacht and Beach Club Resorts including the Beach Club Villas and Walt Disney World Dolphin and Swan Resorts. During this time, bus service will be provided and the walking paths will remain open.
-=-=-=-=-=-=-=-=-=-
A complete list of known rehabs can be found HERE.
= = = = = = = = = = = = = = = = =



MAGICAL MOMENTS
= = = = = = = = = = = = = = = = =
Each month, we like to share a few heart-warming Magical Moments brought to us by the amazing Disney cast members!
Bev: During our recent weeklong vacation at our favorite spot on Earth — Walt Disney World — we stayed at Coronado Springs for the first time. My husband and I stayed at the parks while our daughter and two granddaughters went back to the resort for a break. When they got back to the resort, the older granddaughter said she wasn't feeling well and opted to stay in their room, while our daughter and younger granddaughter went to dinner at Maya Grill (they loved their meals, by the way). Served with the meal was a light, crispy bread. Our daughter asked the server if she could get some of this bread to bring back to her daughter who wasn't feeling very well. The server (they think his name was Boris) immediately asked if he could send some chicken soup up to the room, on him. Our daughter said her daughter was a vegetarian, and he said he would get the soup made without chicken. He was as good as his word. The soup was delivered to the room and was perfect. This Disney server went above and beyond and it was so much appreciated. This is one of the reasons why we keep going back!
Judy: On the last day of our 14-day trip, we hunted for the Mouseketeer hat pin for my husband at Epcot. We asked a cast member if she knew where we could find one. We did see one at Disney Springs, but we couldn't get back over there to get it. We roamed around the store and started heading out. The cast member stopped us and with excitement she said that she was given THE pin from someone who wanted to trade. She gave us the pin — FREE! We were elated and I started to cry. I went back and thanked her and told her that she made our day. My husband just had 10 weeks of radiation treatments for prostate cancer, and this trip was scheduled long before we ever knew that he had cancer. Disney World is the only place we go to for vacation. We try to make every day count as special. This act of kindness was incredibly special to us! Thanks to the kind cast member at MouseGear for showing us how much Disney cares to make a magical moment for guests!
Sue P.: Before arrival at Disney World my daughter informed my grandson, who was nearly potty-trained, that Mickey had a surprise for him for his nearly successful training. When I checked us in at the BoardWalk I told the cast member at the front desk and asked if a few balloons could be placed in our room while we were at the parks. When we returned we were all amazed by what we saw. Placed on the bed was a stuffed Mickey surrounded by balloons. On the table was a tray of milk and cookies and a congratulatory card. My grandson was thrilled and the "nearly" part was over because now Mickey knew. This was just one of our magical moments due to the kindness of the cast members and why we keep coming back.
-=-=-=-=-=–=-=-=-=-=-=-=-=-=-=
EDITOR'S NOTE: Did you know that you can turn the tables and create a Magical Moment for your favorite cast member on Twitter? Simply send a tweet to @WDWToday with the hashtag #castcompliment and they'll make sure your cast member gets some special recognition for making your day Magical!
We just bet you have a story to tell about an unforgettable moment during your Disney vacation! Please send your favorite memory for inclusion in a future AllEars® via our Contact Us page. Thank you all for sharing!
-o-o-o-o-o-o-o-o-o-o-o-
Editor's Note: This story/information was accurate when it was published. Please be sure to confirm all current rates, information and other details before planning your trip.