July 2018 Walt Disney World Bits and Bites
Feature Article
This article appeared in the June 26, 2018 Issue #979 of ALL EARS® (ISSN: 1533-0753)
Editor's Note: This story/information was accurate when it was published. Please be sure to confirm all current rates, information and other details before planning your trip.
= = = = = = = = = = = = = = = = =



STEP BACK IN TIME
= = = = = = = = = = = = = = = = =
by Joan L. Feder
AllEars® Staff Writer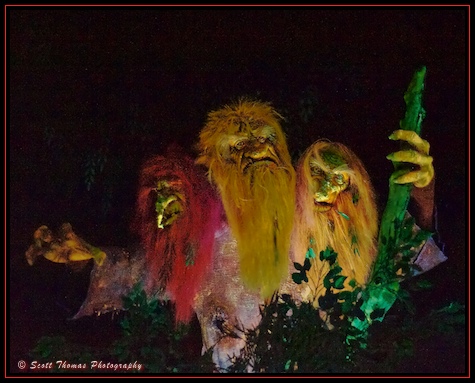 We hunt through our archives for this monthly featurette, which looks at the history of Walt Disney World and The Walt Disney Company. This month we go back "over the falls" to the opening of Maelstrom in Epcot's World Showcase.
From the beginning, Imagineers planned a thrilling boat ride for Epcot's Norway Pavilion. Originally, guests would be given rain slickers to protect them while they braved a violent storm crossing the North Sea. That idea was quickly deemed impractical, so instead they decided to build a ride about trolls. This made the corporate sponsors of the pavilion unhappy, because they wanted the ride to showcase Norway's culture and history. To get the necessary financing, they required that the attraction include specific topics like Vikings, polar bears and an oil rig. Finally, everyone agreed on a time travel theme, starting with Vikings and progressing to the present.
Disney announced that its newest attraction "SeaVenture" would open in 1986. That's right, SeaVenture; that was the name posted on the construction site until just before opening. The Norway Pavilion opened on June 3, 1988. The Crown Prince and Princess (now King and Queen) of Norway attended the premiere, but Maelstrom was not ready. It did not debut until July 5, 1988, but it was worth the wait.
The adventure began in the waiting area, dominated by a giant mural that foreshadowed the voyage ahead. Riders boarded their Viking ships and headed into a dark tunnel, up a steep hill. A beacon of light shone on the boat, and a voice assured travelers that: "You are not the first to pass this way. Nor shall you be the last. Those who seek the spirit of Norway face peril and adventure — but more often, find beauty and charm." The ship floated past Vikings, into a swampy marsh. There an angry three-headed troll loomed over the ship, banishing the boat "Back! Back! Over the falls!" They cast a swirling fiber-optic spell over the vessel, which sped backward. After passing polar bears and enchanted trees, the back of the boat jutted out through the facade of the attraction, hovering at the edge of a waterfall. A friendly troll saved the ship, shifting it to the right. The boat plummeted 28 feet into the North Sea, barely missing an oil rig, and docking in a quiet fishing village. After getting off the boat, and a short (though seemingly eternal) wait, guests could watch a five-minute film about the Spirit of Norway.
Maelstrom made history when it opened. It was the first thrill ride at Epcot, and it was the first flume ride that went both forward and backward. Many people loved it and were unhappy when Disney announced that Maelstrom would become an attraction based on the blockbuster film, Frozen. Die-hard fans felt that an attraction set in an imaginary country conflicted with World Showcase's theme and purpose. Despite the outcry, Maelstrom closed forever on October 5, 2014, and we now can enjoy Frozen, ever after.
RELATED LINKS
Walt Disney World Chronicles: The History of the Norway Pavilion
= = = = = = = = = = = = = = = = =



HIDDEN MICKEYS ALERT
= = = = = = = = = = = = = = = = =
Steve Barrett, author of the Hidden Mickeys Field Guide books and webmaster of HiddenMickeyGuy.com, wishes to spotlight a few Hidden Mickeys at the Walt Disney World Resort Hotels and at Disney Springs.
1. At the Polynesian Village Resort, look for a faint white design around the three dials on the dashboard of the Sea Raycer boats. The photo shows the display boat that sits on the marina walkway. You can see Mickey's face and ears behind the dials; his mouth and smile are below the larger central dial! Many, but not all, of the Sea Raycer boats at the Polynesian Village Resort marina have the Mickey face image behind the dials. Most Sea Raycer boats at the Contemporary Resort marina also have the image, as do many of the boats at other WDW Resort Hotel marinas.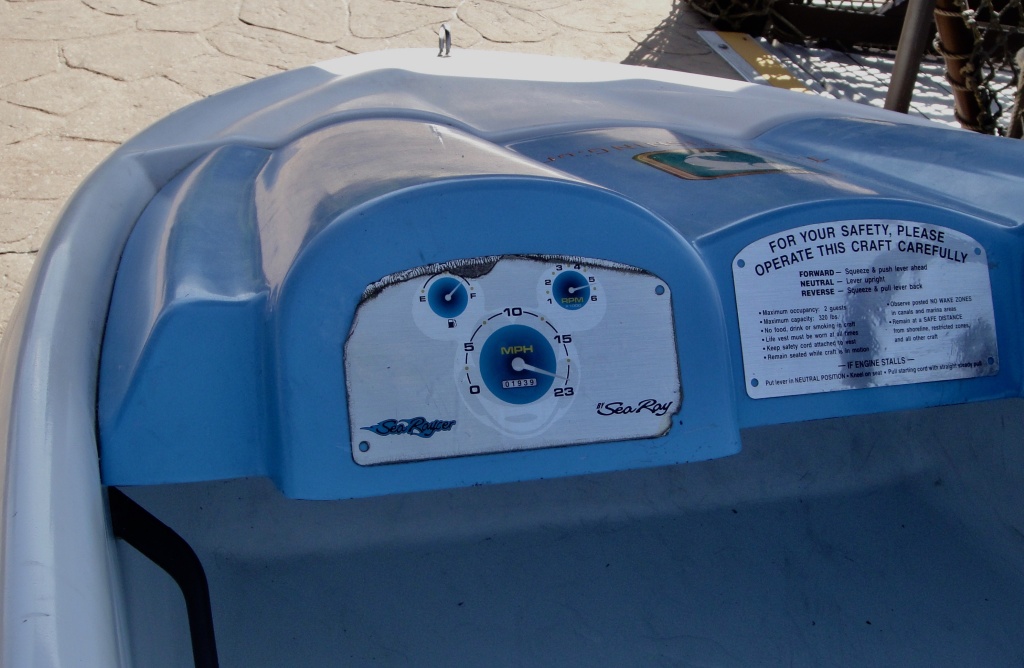 2. At the Contemporary Resort, stroll inside Fantasia Market on the fourth floor. Subtle classic Hidden Mickeys are scattered around in the carpet. (Thanks to the Graebner Children.)
3. In Tren-D store at Disney Springs Marketplace, always check the mannequins. Although the images change at times, you'll usually find at least one mannequin with a Hidden Mickey facial freckle.
=-=-=-=-=-=-=-=-=-=-=-=-=-=-=-=
You can find an archive of past Hidden Mickey Alerts HERE.

And check out our latest Searching Disney with Steve blog.
= = = = = = = = = = = = = = = = =



MONTHLY REMIND-EARS
= = = = = = = = = = = = = = = = =
Through Sept. 3: Incredible Summer at Walt Disney World. Highlights include Donald's Dino Bash at Animal Kingdom, Guardians of the Galaxy – Awesome Mix Live! concert series at Epcot, an Incredibles Dance Party at Magic Kingdom, H2O Glow Nights at Typhoon Lagoon and more.
JULY 3-4: Fourth of July activities around the World, including Disney's Celebrate America! A Fourth of July Concert in the Sky at the Magic Kingdom; Disney characters dressed in Independence Day attire at Epcot's American Adventure; and a Fourth of July 5K Run, Golf Cart Parade and Beach Bash at Fort Wilderness.
Check our Events page for a full schedule of upcoming events.
-=-=-=-=-=-=-=-=-=-=-=-=-=-=-=-=-=-=-
Resort-Wide
Disney Skyliner construction: Walt Disney World is in the process of creating a new transportation system, Disney Skyliner, which will give you a bird's-eye view of the resort while traveling via gondolas. During this time, construction noise will be seen or heard throughout the resort, but noise should not be heard from Disney hotel rooms between dusk and 9 a.m.

The Walt Disney World Monorail system is undergoing ongoing refurbishment. As a result, normal service and/or routes may be modified. Alternative transportation options will be available during this time.
Star Wars: Galaxy's Edge — Work is underway on the 14-acre Star Wars-themed land at Disney's Hollywood Studios that was announced during the 2015 D23 EXPO. It was recently announced that Galaxy's Edge will open at Walt Disney World in Late Fall 2019.
Liberty Square Riverboat closed for refurbishment on January 8, 2018. No reopening date has been announced.

Ferrytale Fireworks: A Sparkling Dessert Cruise will not be operating July 1 through October 20, 2018.
Kringla Bakeri og Kafe in the Norway Pavilion closed February 26, so that seating and overall shop space can be enlarged. While it's closed, a temporary kiosk called Midnattssol is open to sell the spot's most popular items (including School Bread). No reopening date has been announced.
The entire resort is undergoing a major room refurbishment that will continue until late 2018.
Animal Kingdom Lodge – Jambo House
Simba's Cubhouse will close permanently as of July 31, 2018.
Art of Animation Resort is currently undergoing some general refurbishment projects. During this time, the resort will be in full operation with all amenities available, including dining, merchandise and recreation locations. It is possible that construction may be seen or heard, but noise should not be heard from guest rooms between dusk and 9 a.m. No end date for these projects has been announced as yet.
Sandcastle Club will close permanently as of July 31, 2018.
Through Fall 2018, Old Port Royale Food Court, Shutters at Old Port Royale, Cabana Pool Bar and Calypso Trading Post will be undergoing refurbishment. A variety of dining options will be available for all meals. Centertown will serve breakfast and dinner. Grab 'n' Go options will be available in three island markets: Aruba, Jamaica, and Martinique.

In addition, buildings in Barbados and Martinique islands have been demolished to make way for the new Disney Riviera Resort.
The resort room "hard goods refurbishment" at Coronado Springs has been extended to continue throughout summer 2019.
Disney's Old Key West Resort is undergoing a wholesale refurbishment, which is expected to be completed in 2019. You can see some photos of refurbished rooms HERE.
Tambu Lounge will close for expansion and refurbishment work on July 4, 2018. No projected reopening date has been announced.

Lilo's Playhouse will close permanently as of July 31, 2018.
Pop Century resort rooms are currently undergoing refurbishment, with work expected to be completed by Summer 2018. In addition, there are a number of other refurbishment projects going on around the resort, but all amenities are available.
Rooms at the resort are undergoing refurbishment, including a soft goods refurbishment, through Summer 2018.
The leisure pools at Alligator Bayou will be undergoing refurbishment through Fall 2018. During this time, while one pool is closed, the feature pool, Ol' Man Island, and four other leisure pools will be available.

Also, the rooms at Port Orleans Riverside are being refurbished now through early 2019.
The Yacht and Beach Club Convention Center is undergoing expansion and renovation throughout 2018. No end date has been specified.
World of Disney at Disney Springs Marketplace is being "reimagined" this year. Work is being completed in phases so guests can continue shopping during construction. Shops in Town Center at Disney Springs, such as Ever After Jewelry Co. or The Disney Corner carry select merchandise during renovations.
-=-=-=-=-=-=-=-=-=-
A complete list of known rehabs can be found HERE.
= = = = = = = = = = = = = = = = =



MAGICAL MOMENTS
= = = = = = = = = = = = = = = = =
Each month, we like to share a few heart-warming Magical Moments brought to us by the amazing Disney cast members!
Kathi F.: Recently, I was on a hunt for the Passholder Party for the Planet T-shirt at Animal Kingdom. I first inquired at Discovery Trading Co. A cast member checked in the back. She was informed that all remaining stock went to Island Merchantile. She introduced me to Wayne, who offered to accompany me. We dodged a few raindrops, running to the shop where Wayne disappeared to a back room. He emerged, having been told all their merchandise was returned to Discovery Trading Co! We ran back where Wayne checked again. He resurfaced with 10 shirts — two of each size, not knowing how many I wanted! I burst into tears. I explained to Wayne that this was a very emotional weekend for me… my first Mother's Day without my mom who passed away five months prior, and my birthday was the next day. I wondered out loud if it gets any easier. Wayne replied, "NO! It's my 8th without my mom and it's still so hard." We swapped "Mom" stories, a few laughs, a few tears and a fierce hug. It meant so much to me that Wayne cared enough to take the time to share something special with me. He made a difficult day a little bit brighter.
Melanie G.: I need to give recognition to the cast member that sprinkled some pixie dust on my family's vacation. Spring break of 2018 my husband and I surprised our two daughters with a trip to our second home — Walt Disney World. Our family has been fortunate enough to visit the Most Magical Place on Earth faithfully twice a year. However, 2017 proved to be a year of hardship for us… Finally being able to go back to Disney World was going to be the perfect way to bring a rainbow to the end of our storm. We booked five nights at the Pop Century and anticipated the surprise with much excitement. Upon check-in a cast member by the name of Anthony asked if we were celebrating anything during our visit. After a minute of thinking about the past year's events I told him we were celebrating life. I shared our story with him and he told me that he thought Mickey would like to show some gratitude to my husband (a police detective) for protecting the citizens of our community and putting his life on the line. He upgraded us to a newly refurbished preferred room, which was a pleasant surprise and greatly appreciated. However, his next act was a bit more meaningful. He asked where my husband was while I was checking in… Anthony came from around the counter approached my husband and personally thanked him for his service. His gesture of kindness and relatability is the epitome of Disney service. He truly made it a memorable vacation for my family. We will forever be grateful. This is why we love our Disney!
-=-=-=-=-=–=-=-=-=-=-=-=-=-=-=
EDITOR'S NOTE: Did you know that you can turn the tables and create a Magical Moment for your favorite cast member on Twitter? Simply send a tweet to @WDWToday with the hashtag #castcompliment and they'll make sure your cast member gets some special recognition for making your day Magical!
We just bet you have a story to tell about an unforgettable moment during your Disney vacation! Please send your favorite memory for inclusion in a future AllEars® via our Contact Us page. Thank you all for sharing!
-o-o-o-o-o-o-o-o-o-o-o-
Editor's Note: This story/information was accurate when it was published. Please be sure to confirm all current rates, information and other details before planning your trip.