Many Disney World fans will argue with me over which quick-service establishments in the Magic Kingdom are the best. Lots of people vote for Pecos Bill Tall Tale Inn and Cafe.  It's understandable, because this spot has so much to love, from plentiful seating areas to tasty Tex Mex cuisine — and let's not forget about that toppings bar.
But for our money,  Columbia Harbour House is the quick-service restaurant that has it all. We think it has a number of advantages over Pecos Bill, and we'll tell you why!
Seating
There's lots of ground floor seating in Columbia Harbour House, but when you walk in you might notice a set of stairs. Venture upstairs to get a table near the window, where you can people-watch as guests stroll through Liberty Square. You'll also have a nice view of the Liberty Square Riverboat.
With the tasteful decor, you might feel like you're at a seaside refuge for retired sailors. The decor will take you back in time to the colonial days. Dark wood, floral curtains, and lantern-styled wall sconces give you an Early American feel. Nautical items, like a ship's wheel, ropes, and artwork are mixed in with touches you'd find in a historical home, like dishes and floral arrangements.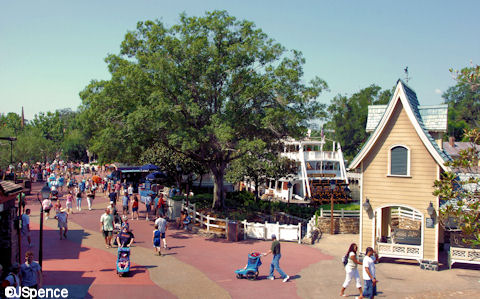 As an added bonus, you'll find electrical outlets in some of the walls, offering you a chance to recharge your mobile devices as well as your body and spirit!
Menu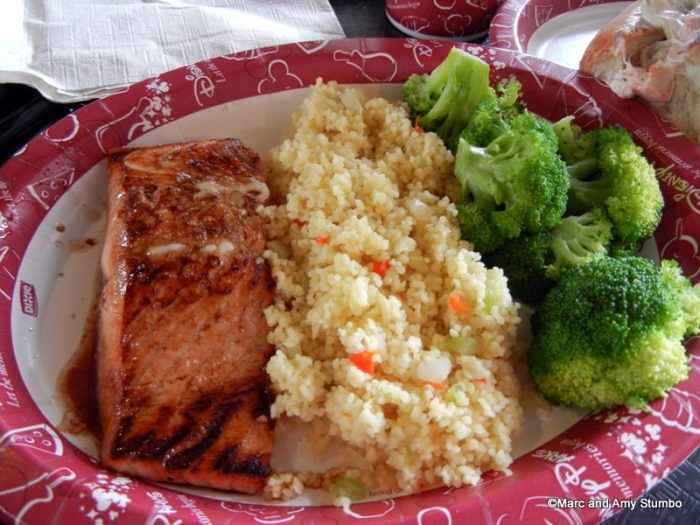 You'll find some decidedly different dining options at Columbia Harbour House. The menu does change on occasion, but you can always find items from the sea as well as chicken dishes — that is, not your typical burgers or pizza. Currently, you can order a chicken pot pie or choose from shrimp, lobster, tuna, or salmon items, plus there's the popular vegetarian offering — the Lighthouse Sandwich, featuring yummy hummus, tomato and broccoli slaw on multigrain bread. When you're having trouble deciding what to get, there are combo platters that give you variety in your meal. If it's a cool day out, you might want to pick from a sizable list of soups. And don't forget to save room for dessert, because there's almost always cobblers or pie to chow down on.
Why We Still Love Pecos Bill's
The interior of Pecos Bill Tall Tale Inn & Cafe immerses you in the days of the Wild West, but sometimes it's a little TOO wild. We have to admit, the restaurant gets very crowded and can be very loud. Perhaps it's because there aren't many materials used in the decor to absorb the sounds of guests, but everything seems to echo.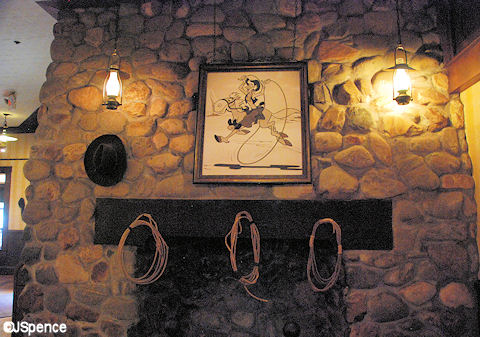 Still, the menu is filled with some different Mexican-inspired items, like fajitas, tacos, and rice bowls. There are also some typical burgers and chicken dishes. The saving grace that keeps Pecos Bill Tall Tale Inn & Cafe in our number two spot is the toppings bar. We love doctoring up our dishes exactly the way we like them!
What Do Our Reviewers Have to Say?
We took a look through our Rate and Review section to see what AllEars.net readers had to say about both of these quick-service establishments and which they preferred.
For Columbia Harbour House, reviewer Sand935 says, "Like eating here. I can't eat fried foods and Harbour House has a good selection of things that I can eat. Love the salmon."
Reviewer LifewithJayne said, "I heard so much about how special this place was and we finally tried it. Food was good, service was quick, and that upstairs seating is a hidden diamond."
Columbia Harbour House gets an 8.7 out of 10 overall rating from our readers. In fact, 98 percent of the reviewers would recommend Columbia Harbour House.
In regard to Pecos Bill Tall Tale Inn & Cafe, reviewer Jason V said, "Best quick service food regarding the portions you get and the price you pay. Mexican-style food with nothing very unique, but the food is very good, cheap for Disney and large portions. They have the condiment bar which is large and no extra cost."
And wdwfam9 says, "Toppings bar is worth the overcrowdedness here! This was a good QS, not the best, but it got the job done."
Pecos Bill's earns 7.1 average (out of 10) from our readers, with 85 percent recommending it.
Which is YOUR favorite? Tell us in the comments below or leave a review for Columbia Harbour House or Pecos Bill Tall Tale Inn & Cafe. You can also find out more about Columbia Harbour House, see photos and the full menu on our info page. Or follow the link to our info page for Pecos Bill Tall Tale Inn & Cafe to discover more and read through the full menu there.
Remember! When you're in Disney tag  @allearsnet in your photos!
Be sure to check out our YouTube Channel for reviews, news, information and more! 
Subscribe to the AllEars® newsletter so you don't miss the latest Disney news!