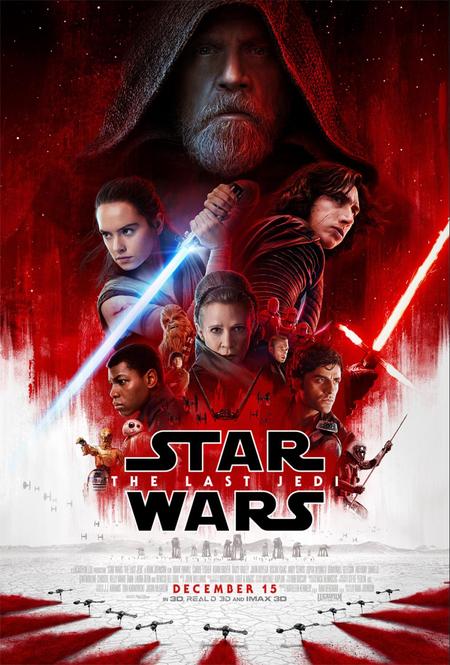 This week the eagerly-anticipated second chapter of the third trilogy in the Star Wars saga opens–"Star Wars: The Last Jedi."
[All non-attributed photos and video courtesy of Disney.]
On hand recently (accompanied by their Praetorian Guard and droids) to talk about the latest entry in the media phenomenon that is Star Wars were the main members of its extensive cast: John Boyega "Finn,"Daisy Ridley "Rey," Andy Serkis "Supreme Leader Snoke," Adam Driver "Kylo Ren," Mark Hamill "Luke Skywalker," Oscar Isaac "Poe Dameron," Laura Dern "Vice Admiral Amilyn Holdo," Gwendoline Christie "Captain Phasma," Domhnall Gleeson "General Hux," Kelly Marie Tran "Rose Tico," and Director Rian Johnson.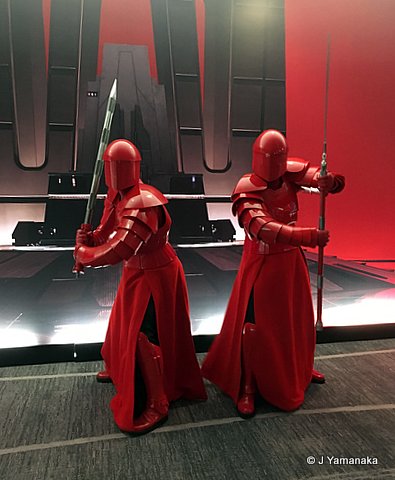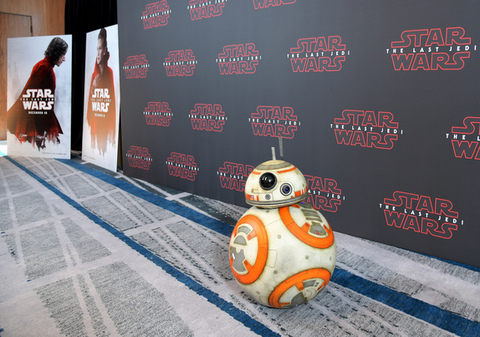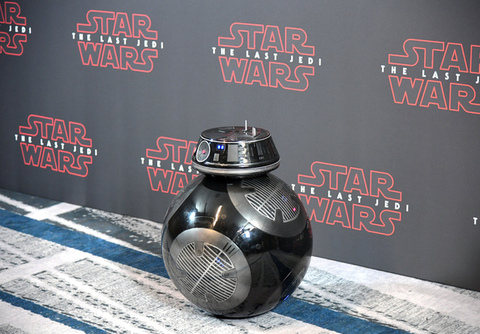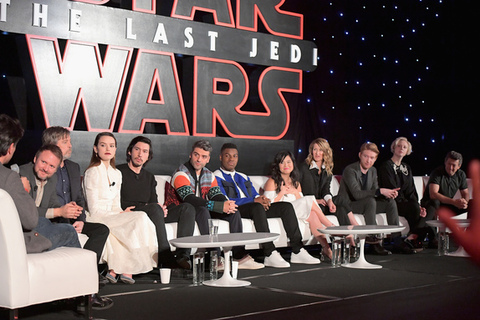 Select moments from the press conference video above: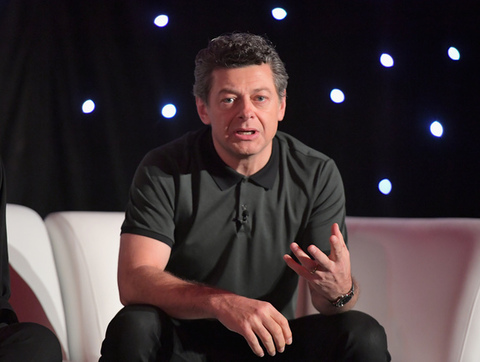 Serkis on how "The Last Jedi" distinguishes itself: "I was blown away when I saw the movie. I just was so caught up with it, not least because it was really intimate and very emotional and I wasn't expecting that at all. I mean, I knew obviously that it was going to go that way, but it was very, very powerful and it touches you and what Rian's done incredibly is make this dance between…these great kind of epic moments and hilarious antics, you know, literally flipping on a dime and then going right into the heart of these beautiful characters."
Driver and Gleeson on Hux and Ren's relationship: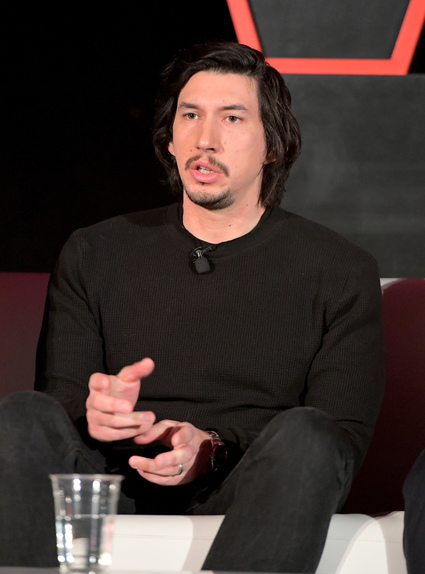 Driver: "I think…definitely there's a competition and it's maybe yet to be discovered where that comes from. If anything I think that's more of a testament to kind of what everyone has been saying of Rian's inability to not mind a character in every moment…So I love playing those scenes, especially with Domhnall, 'cause he's a great actor and there's nothing…taken for granted where, you know, oh, this happens and it moves on. If anything, Rian slows the pace and there's not a moment that's taken for granted. It's always broken up into little pieces and the story in our mind comes first before an explosion."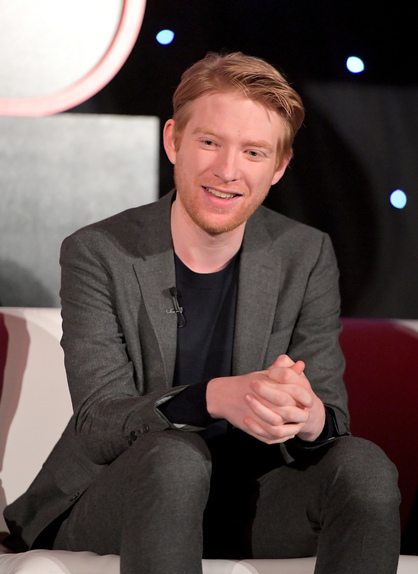 Gleeson: "I think it's funny, you know, like there's just such a huge amount of drama going on in that group of people but then also just a huge amount of bitchy infighting as well, which I think is really fun to see them kind of really hurt each other from the inside as well as from the outside. You know, the united front thing is difficult for them sometimes."
Tran and Dern on representing women in Star Wars: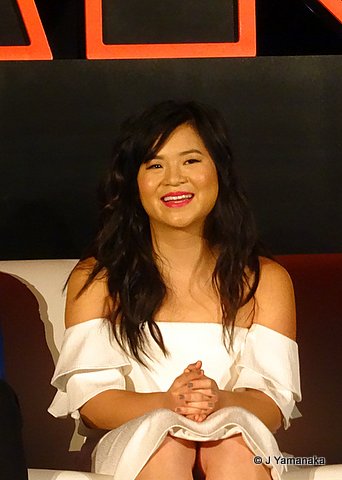 Tran: "…It feels like both an honor and a responsibility at the same time. I feel like from the beginning when I initially found out I got this role, I just felt like I wanted to do the whole thing justice, and I'm so excited that guys, the girls in this movie kick some butt! Every single one is so good, and I can't wait for everyone to see it."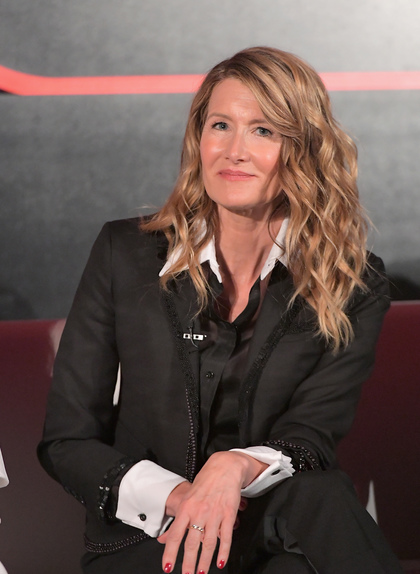 Dern: "I just want to pay tribute to Rian for being one of the most brilliantly subversive filmmakers I've ever been able to bear witness to…in the case of the look of my character, I was moved by the fact that he really wanted her strength to first lead with a very deep femininity. To see a powerful female character also be feminine, is something that moves away from a stereotype that's sometimes perceived (that) strong female characters must be like the boys. I thought that was a really interesting choice to get to witness."
Johnson on the perils of meeting your heroes in Star Wars: "You know, I think these movies to some extent are always about…to really boil it down, you know, if you look back at Lucas…famously drawing from The Hero's Journey myth that Joseph Campbell wrote about…the hero's journey is not about becoming a hero, it's not about becoming Hercules, it's about really adolescence. It's about the transition from childhood into adulthood, and finding your place in the world, and having these new powers that you're feeling inside yourself for the first time. You don't know what to do with them, you don't know who it is you're going to get help from, who's going to be unreliable, who's not. Navigating those very tricky waters that we all have to navigate–that's why it's so universal. So part of that is, you know, your relationship to heroes and people you thought were your heroes, people you don't expect to become your heroes. And that's definitely something that plays out in this film."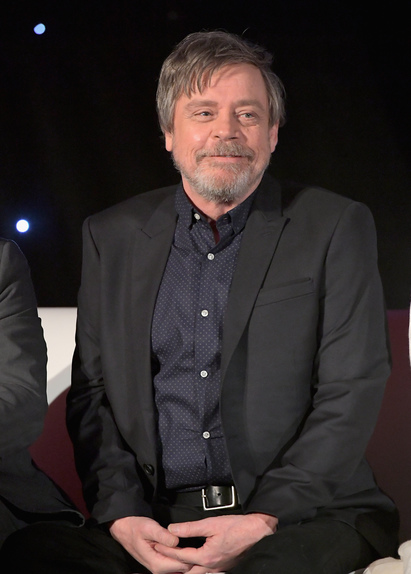 Hamill on returning to Luke Skywalker: "I don't think any line in the script epitomized my reaction more than 'this is not going to go the way you think.' And Rian pushed me out of my comfort zone, as if I weren't as intimidated and terrified to begin with, but I'm grateful, because you have to trust someone and he was the only Obi Wan available to me, not only in my choices as an actor, but my choices in sock wear."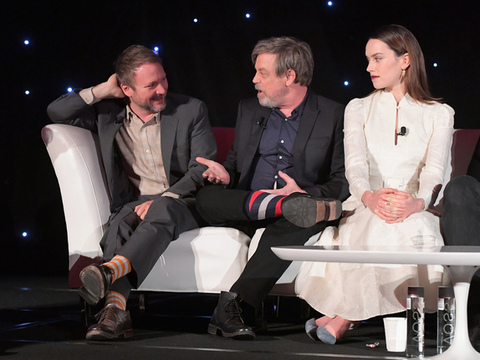 Boyega, Isaac, and Ridley on their characters after Han Solo's death: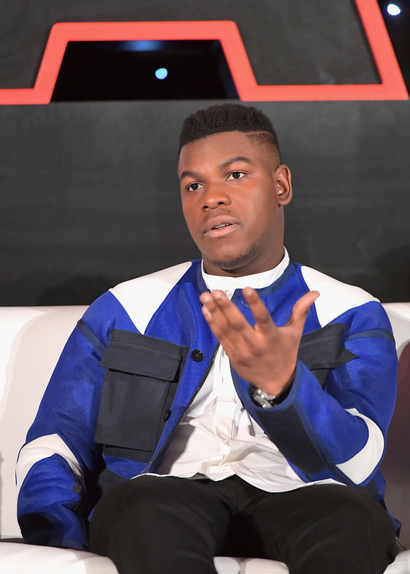 Boyega: "I think we're just keeping it moving, to be honest with you, man. It's true, the pressure's on man, you know, there's no time. I think that's the one thing that's unique to me about watching this movie was just the commentary on war. I think there hasn't been a Star Wars movie yet that has explored war in the way 'The Last Jedi' does. It's very messy, the categorizing of good and evil is all mixed together, so you know, in terms of Han, there's no…you know, I'm sure we all feel sentimental if someone was to sit Finn down or sit Rey down, but Rey's off training, she's got stuff to do. I've got back injury, I've got stuff to do. I can't think about Han at the moment. He died."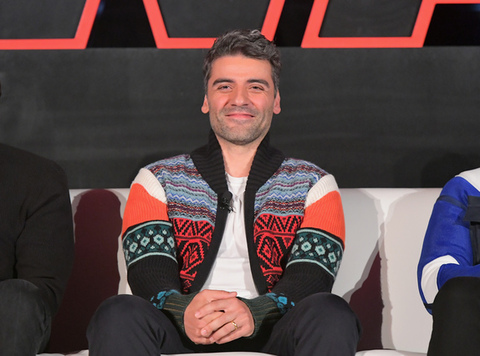 Isaac: "I mean, I think it's reverberating but he's right. You know, it's a dire situation, it's critical. The Resistance is on its last legs. You know, they're trying to survive. First Order's right on top of us. You know, it is like war, where you go to just keep moving to try to survive, and so you feel, I think, the momentum of everything that happened in 'The Force Awakens' just pushing and getting to a critical mass in this film."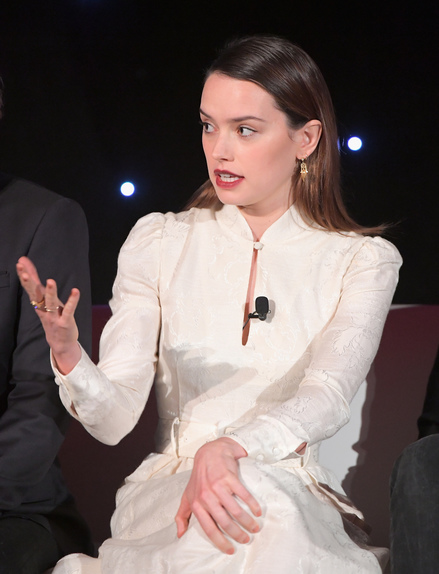 Ridley: "I will interject there, and I think this is the beauty of having storylines that are sort of happening in tandem and affecting each other, 'cause I would say that Rey at least is very much affected by it…Rey, as a character, has been alone for a really long time and she's really open to love and friendship, so Finn and BB-8 come along and it's like this amazing adventure. And then Han, like without trying to…she seeks something from him because there's an intimacy and there's a sort of figure of something she's never dreamed of for her, that gets, you know, snatched away…
"So for Rey at least there is some time. Everything's moving forward, but she has some time to ask questions and wonder what it is that would have led someone to do something like that, and also how that directly affects the world around her…and then you know, she's worried about Finn at home, so I would say she's maybe a little more affected, at least emotionally on screen, than the others."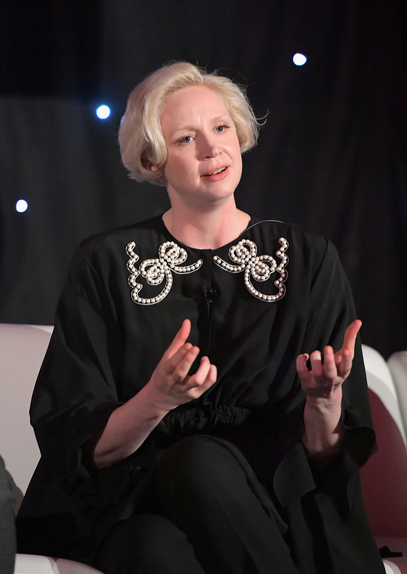 Christie on what Carrie Fisher as Leia meant to her: "Well, she was very significant because I was first shown 'A New Hope' when I was six, and I remember thinking, wow, that character's really different. I watched TV and film obsessively from such a young age but it stayed with me throughout my formative years, of she's really interesting, she's really smart, she's really funny, she's courageous, she's bold, she doesn't care what people think, and she isn't prepared to be told what to do. And she doesn't look the same as a sort of homogenized presentation of a woman that we had been used to seeing–so that was really instrumental to me, as someone that didn't feel like they fitted that homogenized view of what a woman was supposed to be, that there was inspiration there, that you could be an individual and celebrate yourself and be successful without giving yourself over, without necessarily making some sort of terrible, huge compromise. So it was a big inspiration for me. And you know, to play a character as well from what we've seen in 'The Force Awakens'…I was very excited when I was shown just the basic element of the costume, and here we were seeing character whereby a woman wasn't–her femininity was not delineated in terms of the shape of her body, in terms of her physical attractiveness. Those elements, that weird random group of elements which we're born with in some kind of odd lottery and then we're judged on in society. And I was just delighted to be able to have that opportunity."
"Star Wars: The Last Jedi" will open in theaters December 15, 2017.