Expo time has arrived! That once-every-two-year weekend where D23 throws a huge celebration of all things Disney for just you and around 65,000 of your closest friends. I covered some of the major presentations earlier (Animation, Live-Action Studios, and Video Games) so we're now down to a summation of the rest of what the 2017 D23 Expo had to offer, and some quick thoughts on each.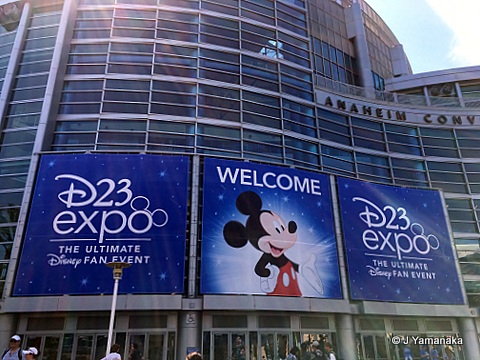 [Unattributed photos and video courtesy of Disney.]
So the first panel I saw on Friday, the start of Expo, was the Disney Legends Awards Ceremony. Receiving awards this year were Carrie Fisher, actress/author; Clyde "Gerry" Geronimi, animator/supervising director; Manuel Gonzales, cartoonist; Garry Marshall, TV producer/movie director;
Mark Hamill, actor;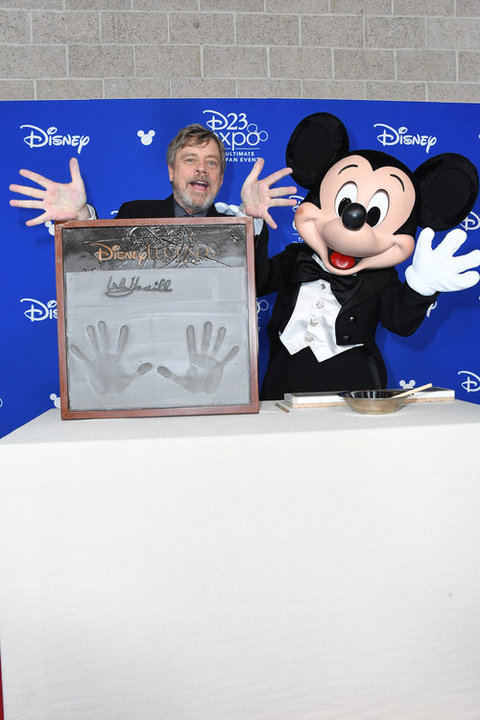 Wayne Jackson, Walt Disney Imagineer;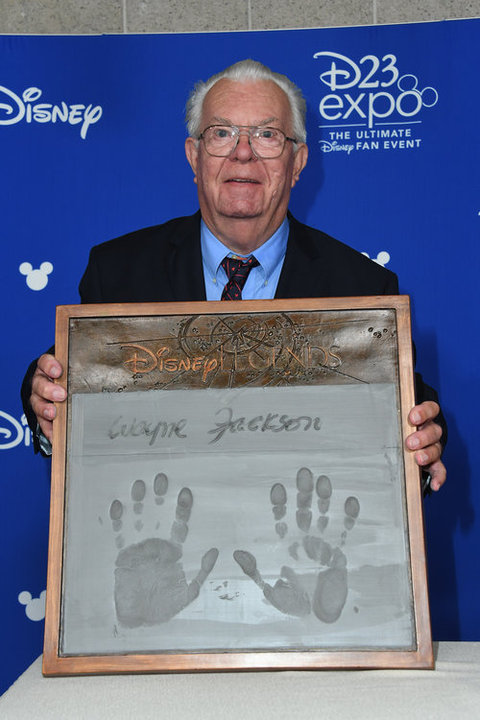 Stan Lee and Jack Kirby, co-creators of myriad Marvel characters;

Julie Taymor, filmmaker and musical theater director;

Oprah Winfrey, producer/actress/talk show host/philanthropist;

and Whoopi Goldberg, actress/comedienne/producer/talk show host.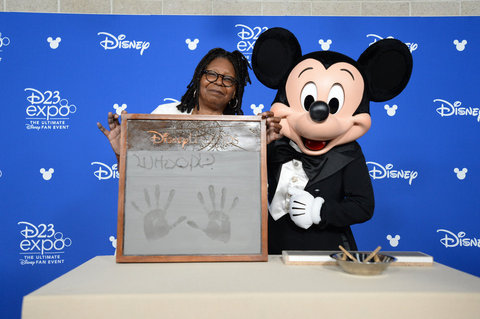 The ceremony was a nice acknowledgement of all the contributions the various Legends have made to the Walt Disney Company. In between awards, there were a number of performances including the Cadaver Dans, and what appeared to be an interpretive dance number of all the recipients.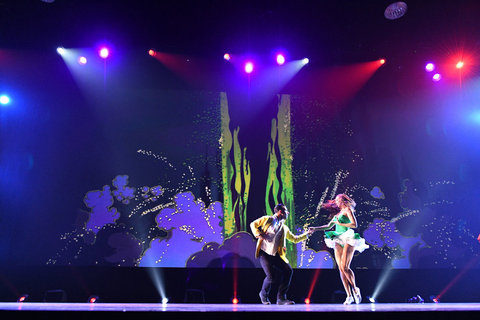 The Good: It's always nice to see people finally get recognized for a career-worth of hard work, especially Jackson and Geronimi who have really put time into the Disney Company.
The Bad: Since these ceremonies became public, it seems like there's been some tendency for them to pick some recipients because they're celebrities and will make a good showing, rather than because of any long Disney history. I'd rather see fewer Legends recognized each Expo, if that would allow them to choose people who have been a significant part of Disney.
The Meh: While all the interstitial acts were the usual Disney quality (most of them courtesy of ABC's "Dancing With The Stars") the concepts behind them were often puzzling. The long interpretive dance number was particularly confusing, as initially it seemed like they were just going to dance versions of all the Marvel super heroes, but then became evident they were going to dance interpretations of most of the award winners' oeuvres. It's a difficult thing, as the Legends awards are given out to performance and non-performance fields and someone may have done significant work in, say, accounting, but have nothing showy with which to excite a crowd.
In between panels I was able to take a quick run-around the show floor and took a quick peek at the Parks and Resorts booth with its impressive Star Wars Land model.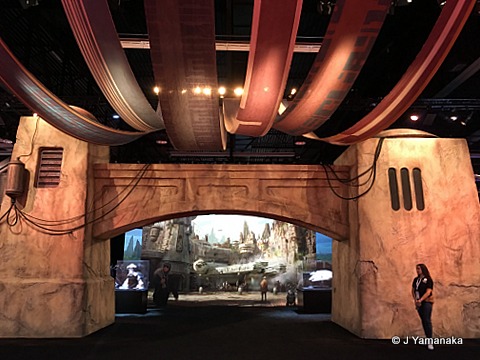 Also taking in (and showing off) the sights was Chief Creative Officer John Lasseter.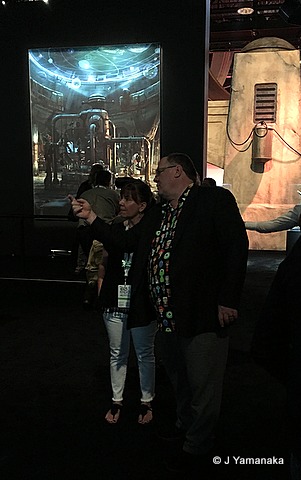 Thoughts: I only got a quick gawk at this booth, but my impression was that the model was great…but that's almost all there was. Compared to the much more elaborate booth they had for Shanghai and Pandora in the past, this seemed like a small version of something you'd see in Launch Bay. I believe they occasionally had someone wander around doing a spiel, but they weren't doing it when I was by and no one working the booth had much of a capacity to answer questions, either because the information was restricted or just absent. It was also a little disappointing that Imagineering didn't have a booth at all this year, when theirs has traditionally been the highlight of the whole floor.
Right next door was the terminally adorable joint Pixar and Walt Disney Animation booth.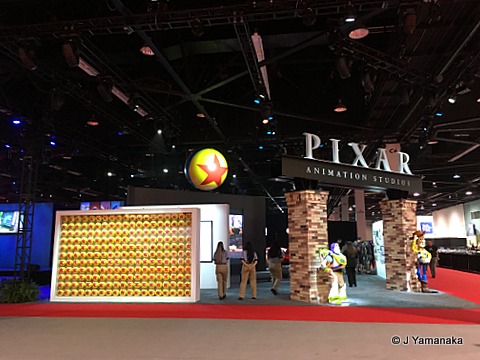 Within, they had a number of photo-ops…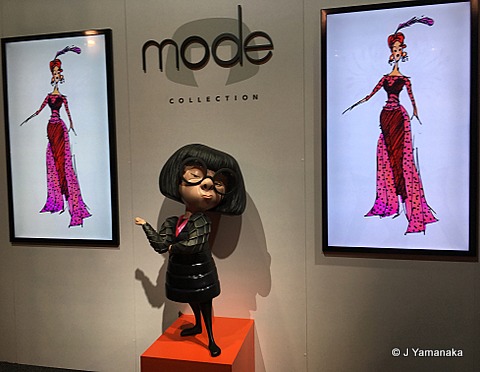 Displays of exclusive film crew t-shirts (I want them)…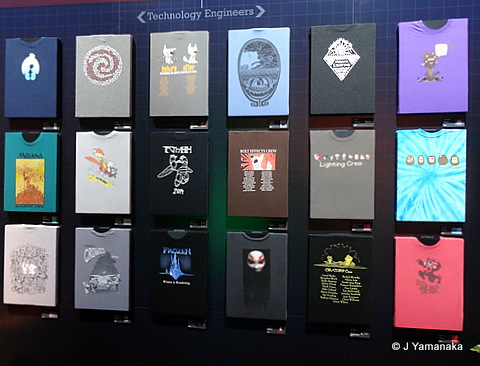 And a variety of what sounded like great presentations in their small stage that, unfortunately I was never able to make.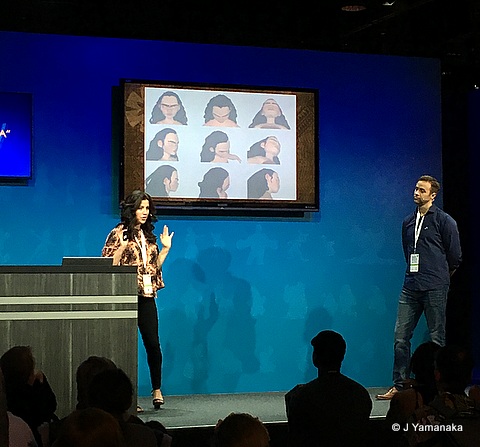 "Animating Moana," with Hyrum Osmond and Amy Smeed
There were also a number of animator signings that were held throughout the weekend, the only one of which I was able to catch was Brad Bird and Nicole Paradis Grindle, Director and Producer respectively of the in-production "Incredibles 2."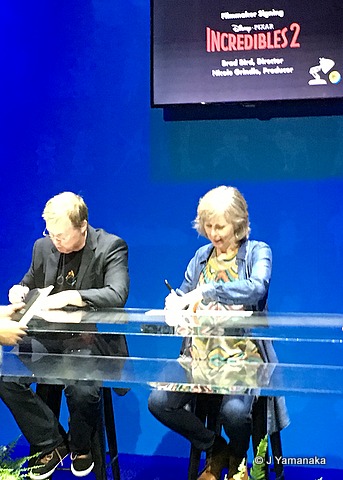 Thoughts: I love this booth, even though the facade and stage set up is basically identical to last time, and a lot of the art on exhibition has been shown at different events throughout the last two years. I always wish I had more time to go to the presentations and signings they have here because historically I only ever manage to stumble my way into one signing per Expo.
While the programming here was great, the logistics of getting into the programming were often pretty rough. There were a lot of instances where a random line would form way in advance of an event, and if you asked the CMs, they would hedge on whether they were planning on acknowledging the line or not. Ultimately, they would just start handing out tickets at an opening of the roped-off queue and whoever happened to be standing around there in a crowd at that time got one until they ran out. There really needs to be a more formal organization in advance, I think, because getting crushed forward by a mob of people towards the Brad Bird ticketguy (who was constantly yelling "NO PUSHING! I'LL CANCEL THE WHOLE THING IF THERE'S PUSHING!") was a little nerve wracking.
What I do love however is the way they give you artwork for the artists to sign. At one of the last conventions I attended, they provided exactly nothing for people to sign, which means that people got to bring their own items, which then leads to people showing up with wheelbarrows of items probably headed straight to eBay for signatures. On the other hand, if you are perennially unprepared like me, you never have anything–even paper–on hand for people to sign, so that's fun too. The way Disney does it keeps it much more organized and the line moving much more fluidly.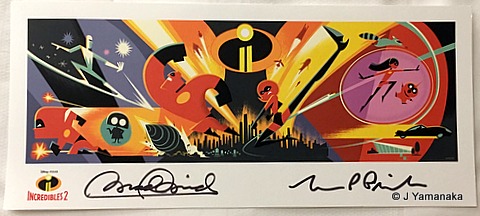 The last panel of the day I saw was "Melodies in Walt's Time: The Music of Disney Live-Action Films." This was a celebration of Walt Disney's live-action musicals of the 1960s, hosted by Whoopi Goldberg and accompanied by a 20-voice chorus.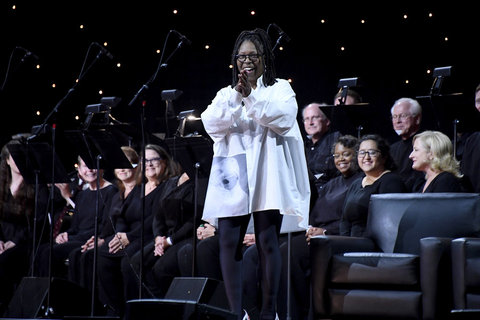 After going through a selection of songs from a number of films such as "Mary Poppins," Summer Magic," and "The One and Only, Genuine, Original Family Band," with guests Leonard Maltin and Karen Dotrice, the last half of the program went in depth with "The Happiest Millionaire" as Lesley Ann Warren and Joyce Bulifant talked about the filmmaking process.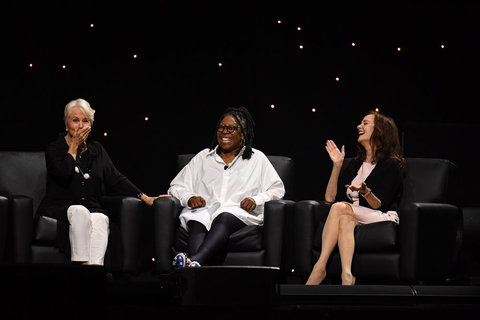 At the end, Richard Sherman came out as well, to enjoy the audience's accolades for so many film scores of fabulous music.
Thoughts: This was kind of a peculiar panel, and not quite what I had expected. The first 45 minutes or so went about how I had thought, with Leonard Maltin and Whoopi and various celebrities discussing different films and the chorus singing songs from them. The last half, however, was almost completely just conversation about "Happiest Millionaire," that was moore or less identical to the Disneyana event held back in February. With all the Sherman songs performed throughout the night, it seemed like an obvious choice to have Richard Sherman (who has done whole concerts by himself at past Expos) come out and perform or at least join in the discussion, but he was saved for basically a curtain call at the end. The chorus was great and the soloists did a nice job, but both were underused in the last half as well. On the whole, a good panel if you didn't attend the Disneyana event, but I think the topic really has greater potential than what was done here.