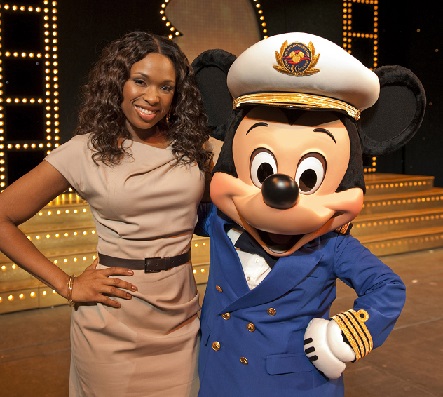 Singer and Academy Award-winning actress Jennifer Hudson, a former Disney Cruise Line cast member, poses with Mickey Mouse on board the Disney Dream. [Disney Cruise Line]

The presentation of "Hairspray: Live" last December was a pre-holiday gift to television viewers, as well as fans of the smash Broadway hit musical.
The broadcast showcased the considerable talents of a number of actors and singers, among them Derek Hough, Ariana Grande, Martin Short, Maddie Baillio … and the incomparable Jennifer Hudson.
During a trans-Atlantic cruise on the Disney Magic in the fall of 2015, I had the pleasure of attending a presentation by Ed Whitlow, a long-time Disney cast member who helped guide Ms. Hudson from Disney Cruise Line performer to American Idol contestant to Academy Award winner.
Jennifer began her meteoric rise as a cast member aboard the Disney Wonder. Whitlow, a veteran cruise performer and director, said "I first met Jennifer in Chicago. She was quite green, raw, but amazingly talented … a truly gifted singer. A lot of people don't know that Jennifer got her start as a cast member on the Disney Wonder."
Whitlow remembers that Jennifer left her greatest impression on guests during performances in shows themed to Hercules and The Lion King. "When she sang 'The Circle of Life,' it literally stopped the show," Whitlow said. "I told her that if she wanted to advance her career, that she had to get on television."
So Jennifer set her sights on the then-mega hit American Idol. The day she got off the Wonder at the end of her contract in 2004, Whitlow [at the time, he was serving as her manager] and Jennifer drove up to Atlanta to try out for the show, which was in its third season. She made it through the arduous audition process and, although she would only finish seventh that season, she had made an indelible impression.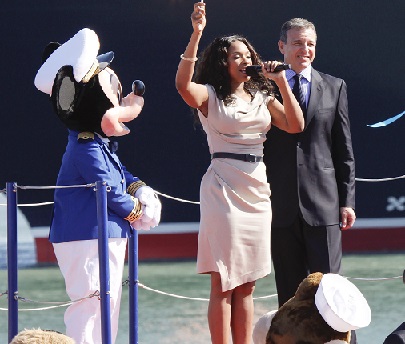 A beaming Jennifer Hudson performs during christening ceremonies for the Disney Dream. Ms. Hudson had the honor of being named the Dream's Godmother. with her are Mickey Mouse and Disney CEO Bob Iger. [Disney Cruise Line]

"The director of the movie Dreamgirls [Bill Condon] saw her and gave her a call, asking her if she would do a screen test for the part of Effie in the movie. She flew up to New York and did great. But we didn't hear anything for months. I was walking around a Walgreens in Florida one day when I got a call. 'Can you and Jennifer come to Los Angeles for another screen test?' I said, 'When?' The answer was, 'Tonight.'
"We got on the first plane we could, showed up at the studio and before you knew it, she was on stage, singing." The problem was, her first performance wasn't very good. "The director asked me to go out and check with her and make sure she was OK." Whitlow said. "'You realize they're filming, right?' I asked her. 'Are you ready?' 'Oh, yeah,' she said, 'YOU better get ready.'"
On the next take, "She blew the roof off Paramount Studios. Obviously, she got the part and that led to a lot bigger and better things … like an Academy Award and a Golden Globe. It was so special. And to think, she started at the Disney Cruise Line, doing all the things the others crew members do, like safety drills and eating in the crew mess hall."
The topper for both Ed Whitlow and Jennifer Hudson came in late 2010. "I got a call from [Disney chairman and CEO] Bob Iger, asking me if Jennifer would be the godmother of the Disney Dream [which was christened in January of 2011]. Needless to say, she was thrilled. The entire experience with Jennifer, watching her blossom into a superstar, is something I'll never forget."
Jennifer Hudson used a stint as a cast member on the Disney Wonder as a springboard to success. [Disney Cruise Line]

Whitlow began his talk with an overview of DCL entertainment. "We have a team of 15 people and we train about 320 cast members in our facility in Toronto," he began. In all, he and his staff put together eight casts a year who appear in shows on DCL's fleet: The Magic, Wonder, Dream and Fantasy. "The entertainment on the Disney Cruise Line is something we're really proud of," he added.
Whitlow then delved into his own career journey, which he said began at the age of 3. "By 7, I was performing on the beauty pageant scene," he said. On the screen above, there was a photo of him on stage at a pageant, belting out "There She Is, Miss America."
"Little did I realize back then that it all would lead to this wonderful career," he added.
Whitlow said he landed his first important job as a performer at Tokyo Disneyland. From there, he went to work "for another cruise line. But I got a call from Disney saying that they were starting up the Disney Cruise Line and asked me if I would I be interested" in joining the cast. He was a member of the very first cast on-board the Disney Magic during its debut season in 1998. "Does anyone remember "The Voyage of the Ghost Ship"? I was in that cast," he said. "I loved being a performer, but my decision to go behind the scenes as a producer was the greatest thing I could have ever done."
Performing on a cruise ship is not without its challenges, he added. "When you're on stage during rough seas, it really stretches your dancing muscles. We actually have different versions of dance numbers depending on the weather. For example, six tumbles during a routine might be reduced to three if it's rough. It's challenging, no doubt." He recounted how, while performing a number on roller skates during a Norwegian Cruise Line performance of "Starlight Express" years ago, the ship was rocking so much, "I skated right off the stage!"
He detailed the arduous journey from performer to choreographer to producer and the level of talent he's seen over the years. "Some cast members come to us with Broadway credits. Others get Broadway credits after performing on the Disney Cruise Line." To back up that statement, he said that five current members of the Broadway hit Beautiful earned their theater stripes as DCL performers.
He discussed the always nerve-wracking audition process. "Auditioning for a show is really quick. Those who rise to the occasion usually get the job. During auditions at Disney, we try to make it an experience, more than just 20 seconds. We're looking for something special, a spark, in each performer. Once you get the job, you are working hard, pushed to be better, forced to step out of your comfort zone," he said.
The latter stages of Whitlow's presentation included insight as to what the folks at Disney are looking for when they cast their wide net in search of talent:
"Triple threats. People who are actors, singers and dancers."
The importance of the script: "It's the heartbeat of what we do."
And the burden carried by a director: "The director is the owner of the vision of the show."
For more Disney-themed gems like these, check out my latest book, An American in Disneyland Paris [Theme Park Press].