Following the success of the new Frozen – Live at the Hyperion Theater show, and the corresponding demand for seats, Disney was quick to introduce three dining packages which offer premium viewing experiences. At various price points.
The most inexpensive option is the Frozen-Pre-Show for $49/person. It starts 90 minutes before show time in Stage 17 in the Hollywood Backlot and includes:
— Event credential lanyard with collectible pin
— Frozen shave ice treat
— Beverage station with soft drinks, beer, and wine
— Three photo op locations, one with a character
— Crayons and coloring sheets for the kids (or kids at heart)
— Gallery of original art designs
— "Magical Snow Moment"
— Priority admission to the Orchestra section of the Hyperion Theater and choice of seats
The latter is the most important feature, I think.
The Frozen Pre-Show Plus Lunch Package includes all of the above plus a four-course lunch at the Carthay Circle Restaurant. It is $99 for adults and $79 for kids 3-9, plus tax and gratuity. (Annual Passholder discounts apply.)
And the final package is the Frozen Signature Dining and Behind-the-Scenes Package. This one is $299/person. In addition to the pre-show, guests receive a guided tour after the show where they will be taken on-stage behind the curtain for a look at some of the show's costumes. They can also have their photo taken on-stage. In the evening they will sit down for a five-course meal at the Carthay Circle Restaurant.
The Pre-Show and Lunch packages can be booked on-line, but the Behind-the-Scenes package can only be booked by calling Disney Dining. At this point it appears that the packages will no longer be offered after September 5 – they are not available for booking on the on-line dining site after that date.
On a recent visit we tried the Lunch package. It seemed like not such a bad deal considering what the price of a four-course meal would be at the Carthay Circle Restaurant.
I made reservations several weeks in advance but that wouldn't have been necessary – there was still availability for both the lunch and pre-show packages the same day. (The Behind-the-Scenes package is not available on-line, so I was not able to check availability for that one.)
Our lunch reservation was at 11:30, which was when the restaurant opened. There were a few other Frozen lunch diners, but most of the people around us were doing the World of Color package instead. (That one is $43/$23 for lunch.)
We received a very different menu, though. Unlike the World of Color menus, the Frozen menu is customized for Frozen and features items that are not on the regular Carthay Circle menu.
The appetizers and dessert are set, and there is a choice of entree. Soft drinks, coffee, or tea are included in the price.
I started off with a cocktail (extra charge for that) called a Sparkling Mare. Iron Horse sparkling wine, Elderflower liqueur, and Aperol Orange. It was very good – maybe just a touch too much of the orange.
Our meal began with a bread service. It was a whole wheat bread – warm and very good.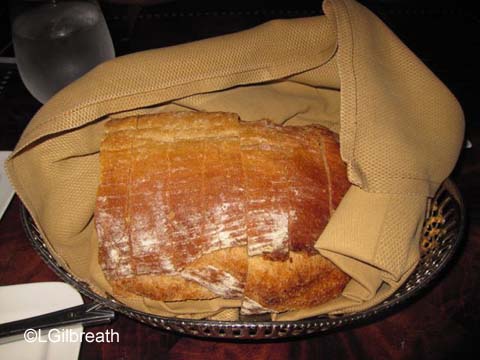 "Act One" of the Frozen menu is Stone Trolls – a Norwegian meatball inside a baby Portobello mushroom, topped with lingonberry jam. I thought it was a very clever idea. Lee said it was pretty good.
Since I can't eat beef, our server brought me the opening course from the Kid's menu instead: Watermelon with Mango Sorbet. Not as interesting as the other, but it was fine. I was surprised that the sorbet held up on a skewer – it actually didn't disintegrate instantly. It was small, but tasty.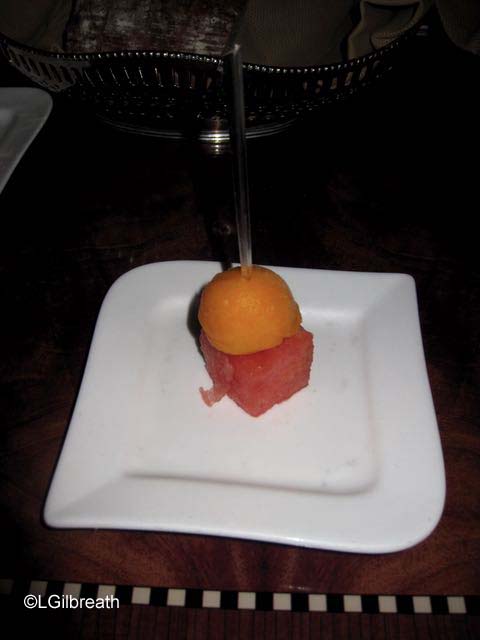 "Act 2" was a combined soup and salad course, featuring Carthay Circle Citrus Salad and Summer Yellow Tomato "Sopa de Ajo". The soup was similar to tortilla soup, with thin crisp tortilla strips and some chunks of avocado, chicken, and tomatoes. It was not overly spicy – really delicious. I would've enjoyed a larger serving!
The salad was not as successful. I forgot to request the dressing on the side as I usually do and thought it was overly dressed, though at least it was a relatively light dressing. It had pieces of strawberry and green beans in it in addition to the greens. It also had pieces of orange – with the peel still on them. We asked our server about the oranges and she said it was the chef's intention that the peel be eaten too. I tried it but found it bitter and not a pleasant taste in what was otherwise a nice salad.
We had a choice of three entrees. I selected the Sustainable Fish of the Day with summer peach almond gazpacho. The fish was halibut (l got one of the last servings of that – later diners received swordfish), and it was hands down the best entree I have ever had at the Carthay Circle Restaurant. The sauce was so flavorful – I can't even tell you what all of the flavors were, just that they were delicious. Lee had a bite and said the fish didn't seem like fish at all – much more meaty. The peaches had a nice sweetness but didn't overwhelm the dish. Underneath the fish there were some pea pods and red onions. It was all excellent.
Lee ordered the Herb Crusted Petit Filet of Angus Beef with blue cheese risotto, spinach, and wild mushrooms. He ordered it medium, but it was a little past medium. Still nicely prepared and he cleaned his plate.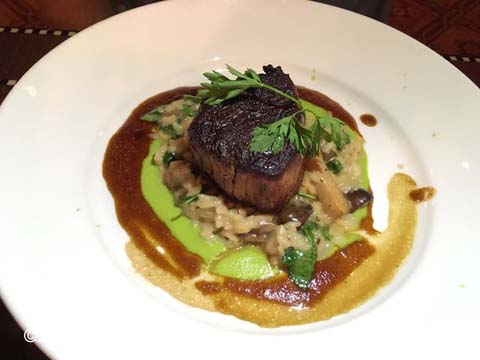 The third entree is Roasted Breast of Chicken with heirloom tomatoes, avocado and poblano-lime vinaigrette. That sounded really good also – tomatoes and avocados are two of my favorites.
The dessert is called Olaf's Summer Dream Vacation. (This same dessert is served to the kids, also.) As you can see – it's Olaf. And it's entirely edible.
Olaf's body is made of two cream puffs, with chocolate arms and a white chocolate head. The "icebergs" are made of meringue – very light, but crunchy. We found the cream puffs were a little bland – I think if they'd used some coconut on the outside they would have been much more flavorful and interesting. Still, the dessert was really adorable – and it was a lot of dessert.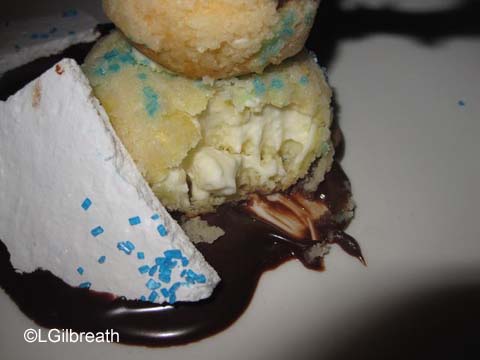 As I mentioned earlier, soft drinks, coffee, or tea are included in the package. We had alcoholic beverages and water with our lunch, so choose coffee and tea with our dessert as our included beverage. They brought me my own individual tea pot so that I could serve myself. I had Mad Hatter Tea, which was very good initially, but after it had steeped for about 10 minutes the tea that was still in the pot started to get bitter. I'll have to keep that in mind should I order it in the future.
When I saw the size of the first two courses I was concerned that the meal might be a little skimpy, but the entree and dessert more than made up for it and we went out of there quite pleasantly full.
I should mention that we had a really wonderful server (Beth) and assistant server (David). Beth brought us a menu signed by the chef, and she and David signed it, too.
Before we left Beth brought us our Frozen Pre-show tickets and told us where we should check in. There seem to be two pre-shows each day, and we had the second one. Our pre-show experience would begin at 2:35.
About 2:30 we went back to Stage 17 in the Hollywood Backlot (between Sunset Showcase Theater and Monsters, Inc.). Cast members were already checking people in.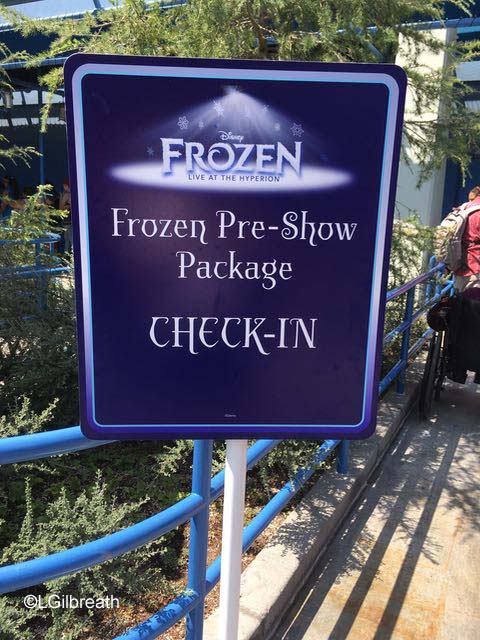 Unfortunately we were told that the 4:00 show had been canceled, so we would be seeing the 5:50 show instead. ("This has never happened before!") But our pre-show would still be from 2:40-3:40.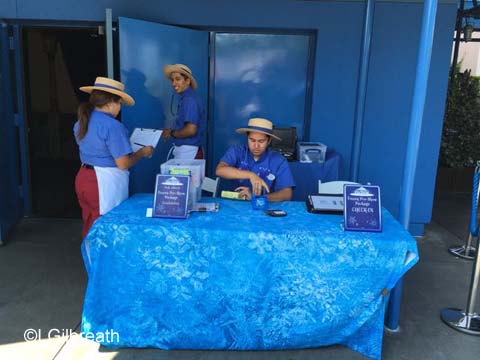 We received drink coupons which would allow us one alcoholic beverage each – the choices were red wine, white wine, and Stella Artois.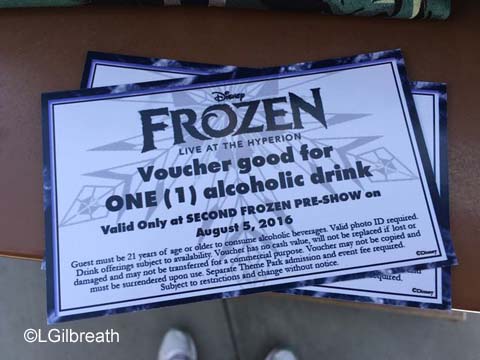 When we turned in our tickets we received a wristband and a lanyard credential with a "Frozen – Live at the Hyperion Theater" pin on it.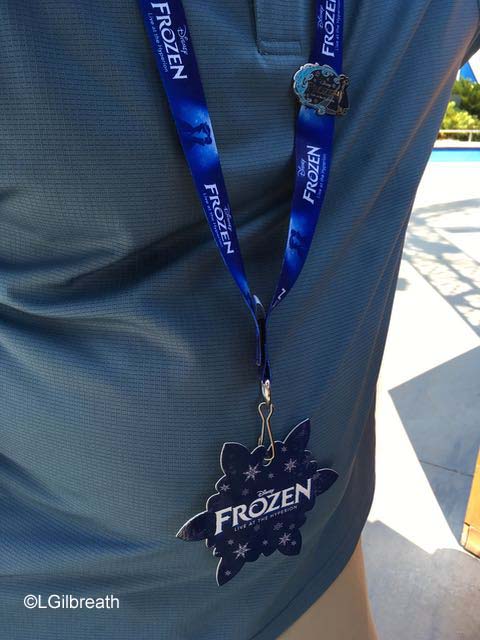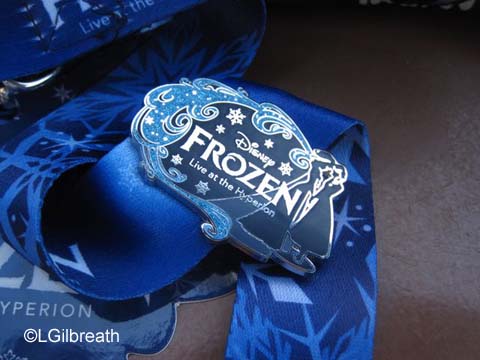 We came back at 2:40 but it was closer to 2:45 by the time we were allowed in the building. Both the wristband and the lanyard were required for entry. The pre-show takes place in Stage 17, between the Sunset Showcase Theater and Monsters, Inc. It's the same place that the "Olaf's Snow Fest" took place, and it's still decorated to look like Arendelle on a wintry day. No snow hill, though. 🙂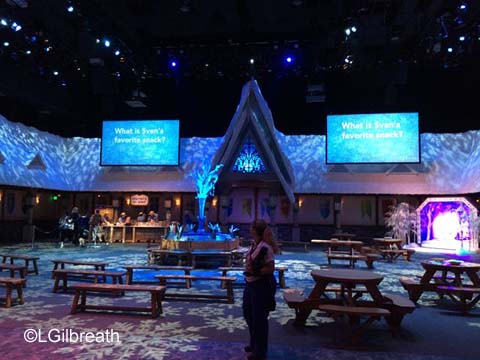 There are three different photo backdrops, each staffed by a PhotoPass photographer.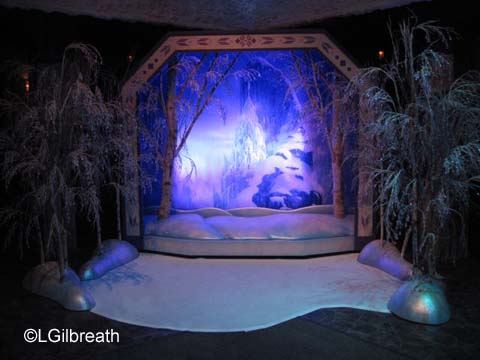 After about 15 minutes Olaf came in to pose for photos. He was there about 30 minutes, I think. There weren't that many guests, so he spent a lot of time interacting with the photographers.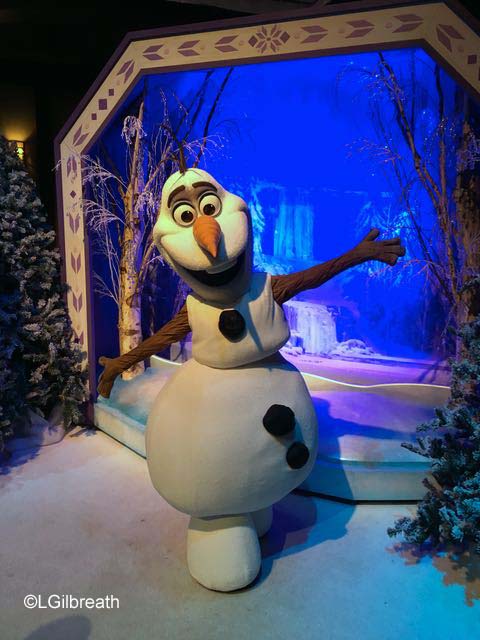 There were some tables set up with crayons and coloring pages featuring Frozen characters.
Along one side of the room was a display with information on the making of the musical – who was involved, costumes, etc.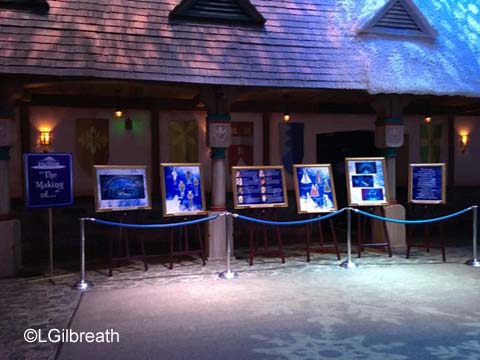 Refreshments were included. Kristoff's Ice Shack served shave ice. You could have as many as you wanted.
There were three different versions – this one is Elsa's Blue Winter Blast, with blue raspberry flavor.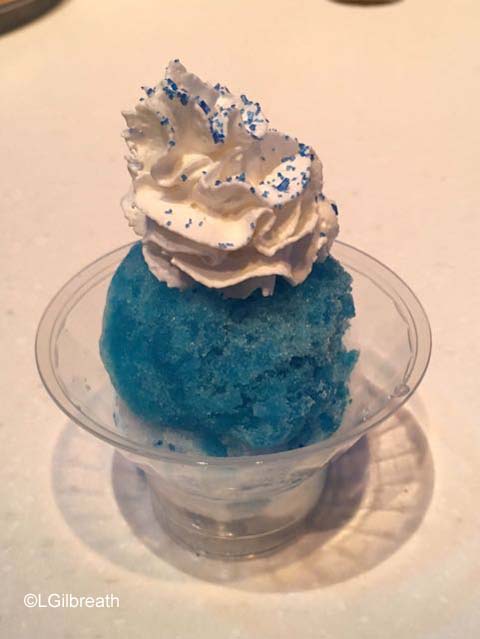 There's also Olaf's Summertime Dream, with orangesicle, and Sven's "Root Deer" Float.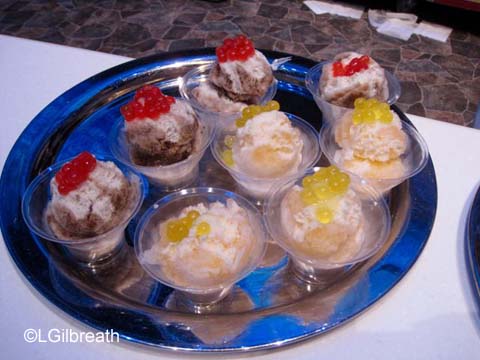 Oaken's Tavern served freshly-popped popcorn in small bags. We were encouraged to take bags of popcorn with us when we left. This is also where the adults could redeem their beverage coupons for wine or beer.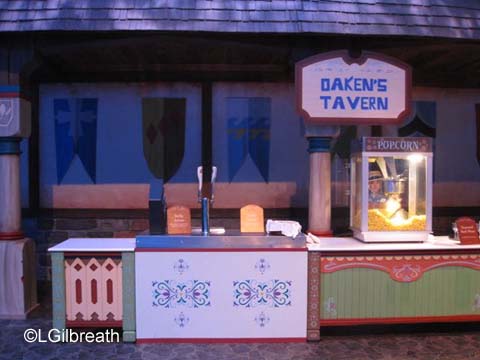 Sparkling cider was also available at Oaken's – no coupon required for that.
This pre-show was pretty lightly attended – there were almost as many cast members as guests. And to be honest, even though we only had an hour there really wasn't that much to do – get shave ice, popcorn, and a beverage and have photos taken. There were a number of people (adults, too) who engaged in the coloring activity. If it had been a hot summer day it would have been a nice place to just get out of the heat for a while.
There was supposed to be a "Snow Moment" that concluded the pre-show, and signaled that it was time to walk to the theater. Though because we weren't walking to the theater the cast members weren't sure if we would still experience that. ("This has never happened before!")
But at 3:35 there was an announcement about Elsa's winter magic or something like that, and it started to snow. It only lasted a minute or two, but it looked pretty good.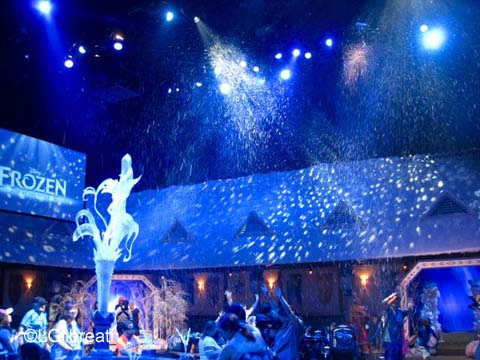 Once that finished we were encouraged to exit the building. Normally we would have been walked over to the side entrance of the Hyperion, but instead we were reminded to meet over by the red truck by 5:30.
We returned as scheduled and waited along with, oh, maybe 50 other people to be admitted to the theater. We were on the opposite side of the theater from where the crowds of guests were waiting in the queue. I had an idea of where I thought we wanted to sit but I asked one of the CMs what he would recommend – and that was the same area that he recommended.
We were admitted to the theater first, and had our choice of seats in Orchestra. Well, almost our choice – there were about 20 seats that were reserved for VIP guests. In the Orchestra section there is a section of seats that's a couple of steps up behind a wide aisle. It's not under the Mezzanine, so there's an unobstructed view of the higher show elements. And the extra elevation meant my view wasn't blocked by a taller person in front of me. And what do you know…the very center of the first row in that section was blocked off for the VIP seats. 🙂 We sat right next to them, though, so we were almost center stage in that first row. And they were GREAT seats.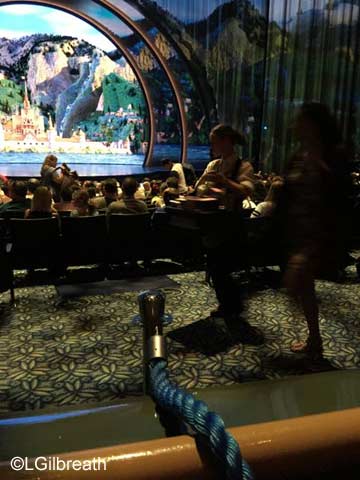 After we were seated the parties with wheelchairs/ECVs were admitted, and then the rest of the guests came streaming in. While that was happening there were vendors in the aisles selling popcorn and candy – that only seems to take place in the Orchestra section. There were quite a few people buying it, too.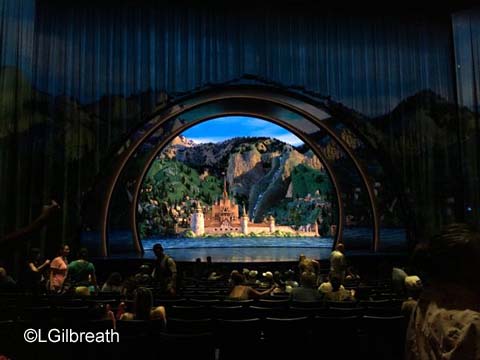 And somewhere in there the VIP guests, who had at least two tour guides with them, were seated. I believe that they were the guests who had purchased the "Behind-the-Scenes" package, but I'm not sure.
The show itself was wonderful. It went off more smoothly than the two that I'd seen before. We missed a line or two of Anna's because her mike didn't get turned on. And the "troll" that's supposed to roll across the stage during the Elsa's Palace – Troll home scene change didn't appear. That scene change also seemed longer than usual. I've seen the show three times, and I've seen three different Anna and Elsas, three different Olafs, three different Svens and three different sets of parents, but I've seen the same Wesselton, Hans, and Kristoff each time.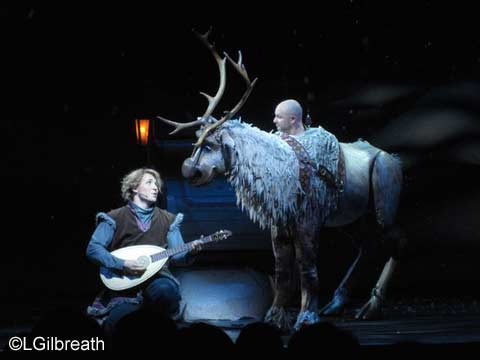 I mostly enjoyed our Frozen package experience. The show cancellation was obviously unforeseen – but at least Disney tried to do the right thing and we were still able to see the later show. Lunch was really good, and exceeded my expectations. I was a bit disappointed in the pre-show aspect, but I'd been warned in advance that it was underwhelming.
If you're really a big fan of Frozen, and want to make sure that you have really good seats for the show, then you might want to consider one of the pre-show packages. That benefit of "choice of seats" in the Orchestra section is very nice. It also means you avoid waiting in line outside for a long time to try to get decent seats which is the way the current Fastpass system operates.
I was surprised that there weren't more people. But at $49/person for just the pre-show and $99 for the lunch package, that's a lot to add on if you've already paid over $100 for a park ticket. It's probably more attractive to Annual Passholders who aren't purchasing separate admission.
I personally think that if they did away with the pre-show aspect and offered a dining package (which still included the priority seating) for the same price as the World of Color packages that it would be much more successful.