Lee was finally able to join me on Thursday night. I had moved to Kidani Village earlier that day. Unfortunately by then the cold had really taken hold of me and my appetite was not every good – for a number of meals I just wanted fruit or yogurt. So there's not going to be quite the dining variety in this part as there was in the earlier part of the trip.
Friday evening we had dinner at The Mara at Animal Kingdom Lodge. I just got a Chef Salad out of the Grab and Go area. It was actually a really good salad with nice fresh greens and turkey, ham, hard boiled eggs, two kinds of cheese, onions, tomatoes, olives and lentils. I couldn't eat it all.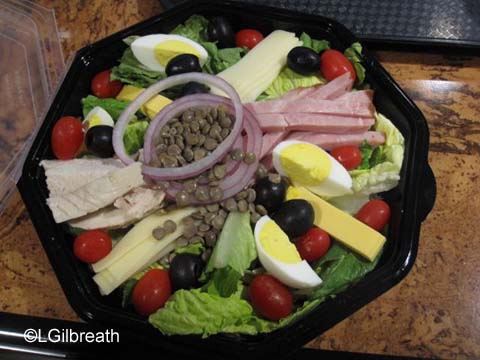 Lee had the BBQ Chicken Flatbread with chicken, BBQ sauce, onions, cilantro, and corn. He's a flatbread aficionado, and he enjoyed it.
Saturday morning after the 10K we went into the Studios. Apparently there's no place to get a quick service hot breakfast in the Studios any more. The Starbucks there has some hot sandwiches, and that's where we ended up. We split the egg and bacon sandwich. It was fine, but nothing special.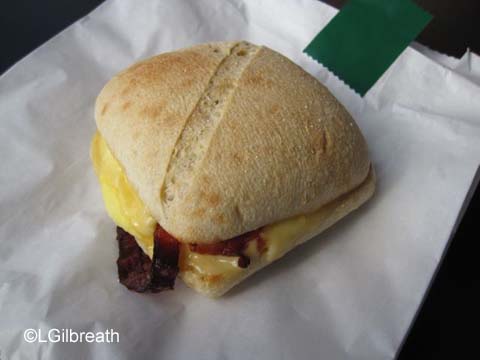 That night, before the half marathon, we had an early dinner at Sunshine Seasons in The Land pavilion. I still wasn't real hungry and I really wanted some soup, so I had the Roasted Tomato Soup, which was topped with goat cheese. It was very good.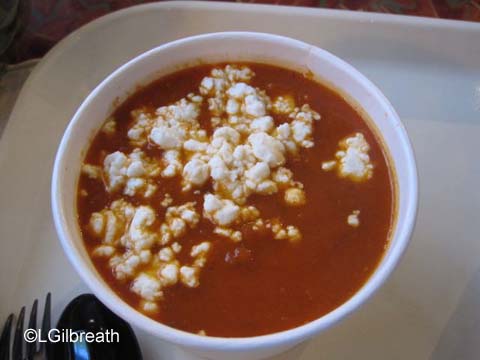 I needed a little more food so I ordered the Kids Salmon – it came with choice of side (mashed potatoes) and beverage (bottle of water). It was just the right size and nicely prepared.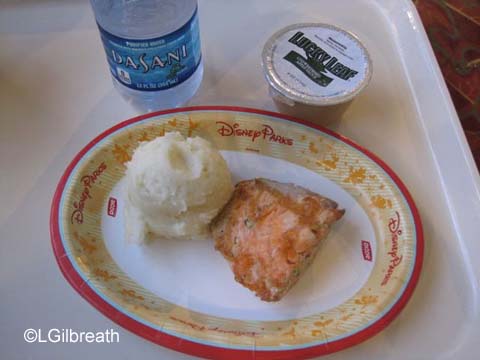 Lee tried the Chicken Corn Chowder soup, which he really liked.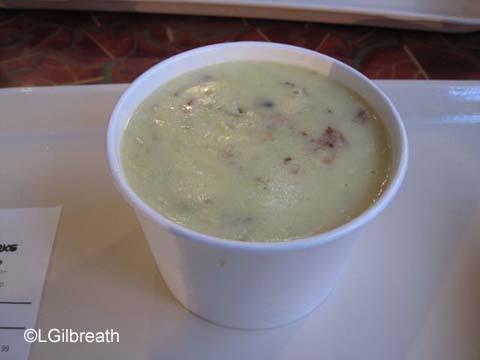 He also ordered the Mongolian Beef with fried rice. He enjoyed that as well.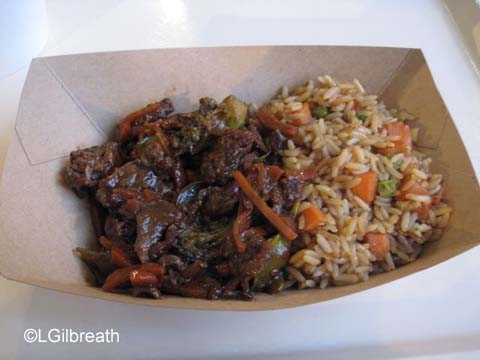 Sunday after we finished the half marathon we had lunch at Sanaa. Our reservation was at 11:30 (when the restaurant opened) and we had one of the window tables with a view of the savanna. We saw giraffes, zebras, wildebeest, Ankole cattle, and birds.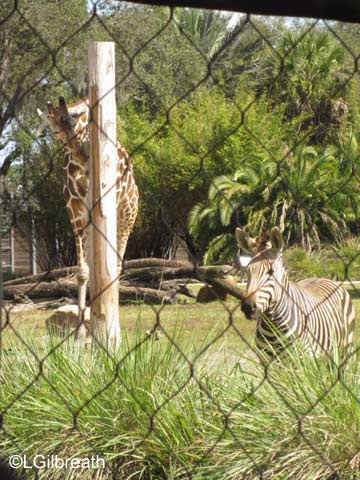 We started with a couple of specialty cocktails. The one in front is Lee's – I don't remember the name, but it was basically a pina colada with strawberry. I had the Kande Coconut Cooler. The description said it was "a refreshing combination of Starr African Rum, coconut, vanilla ice cream, and orange juice." I got the orange juice and the rum, but I didn't taste coconut or ice cream. Not what I expected, and I was disappointed.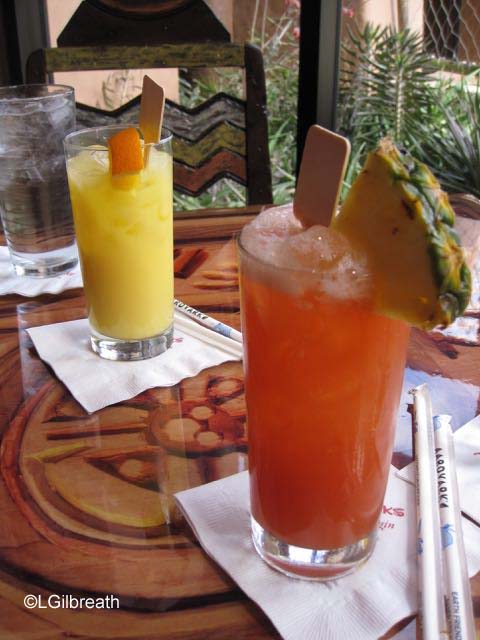 I don't think you can go to Sanaa and not order the Bread Service! Though with just two of us it was an awful lot of bread. All good, though. We ordered just three of the accompaniments rather than all nine: Mango chutney, roasted red pepper hummus, and tamarind chutney.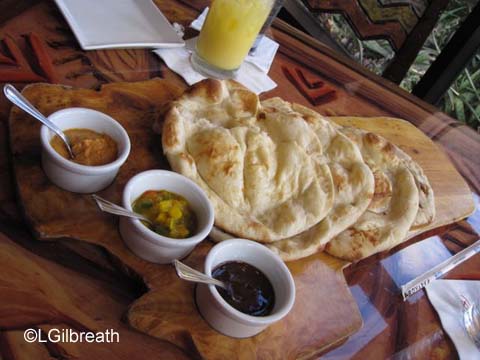 Lee ordered the "slow cooked in gravy" selection, which they call "Potjie Inspired" now. He chose the Goan Seafood Curry and Braised Beef with rice. He said the beef was really excellent – melted in the mouth. He enjoyed the curry, also.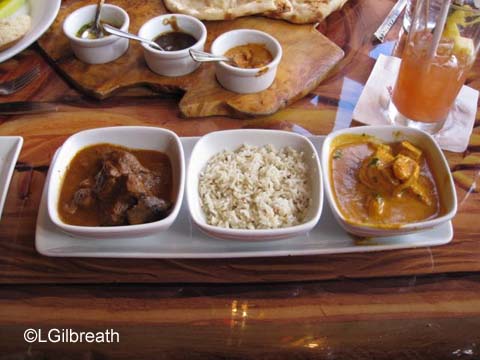 I tried the Kenya Coffee BBQ Sandwich – pulled pork with warm root vegetable slaw served with housemade chips. The pork was very good – I could definitely taste the coffee flavor, but it wasn't overwhelming. The vegetable slaw was nicely vinegary. It was very good.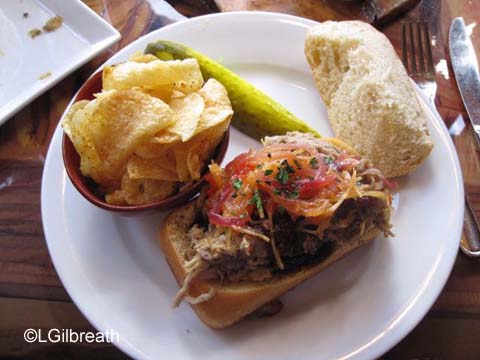 That evening we joined a group of friends for dinner atThe Boathouse in Disney Springs. We'd never been there before. On the expensive side, but a very nice experience.
I started with the Chopped Salad – romaine & iceberg, poached bay shrimp, peppered salami, hearts of palm, red onions, olives, pepperoncini, and smoked mozzarella topped with an herb vinaigrette. I ordered the small salad, but it was a lot bigger than I expected. Lee had some of it, too.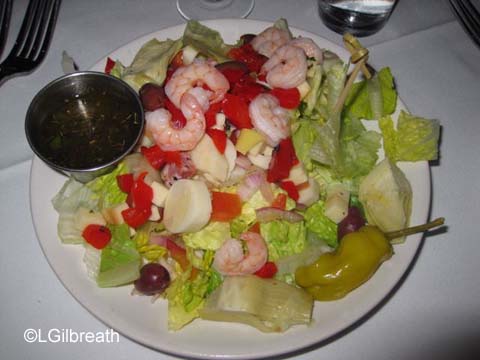 For an entree I tried Grilled Fish Tacos – jerk spiced, with vegetable slaw, avocado, and serrano-chili cream. I can't remember what type of fish it was -it varies depending on what's fresh that day. They were very good – the jerk spice wasn't too strong.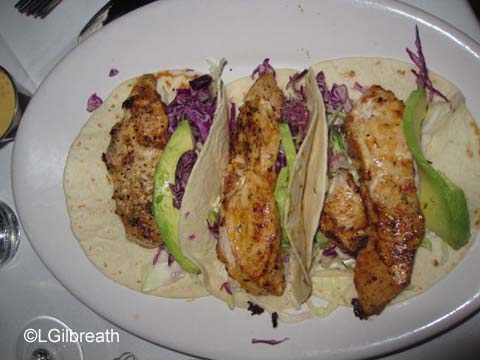 Our friend Phill highly recommended the steaks at The Boathouse, so that's what most of the table ordered. Lee had the 8 oz Filet Mignon. The server scared him a bit with his descriptions of "medium" vs "medium well", and Lee ended up ordering it medium well – in hindsight medium would have been better. He still really enjoyed the steak.
The steaks (most of the entrees for that matter) don't come with any accompaniments, so Lee ordered a side of Roasted New Potatoes to go with it. They were very good – a nice crisp on the outside, but still fluffy inside.
He also shared some of the Mac N' Cheese side that Anna ordered. All of the sides are plenty large for sharing between at least three people.
I've heard about The Boathouse desserts, and wish we'd had the opportunity to try one of them, but we were just too full.
The next day we were in Animal Kingdom at lunch time. I wasn't very hungry, and just got a fruit and cheese plate from the Harambe Fruit Market. This hit the spot nicely.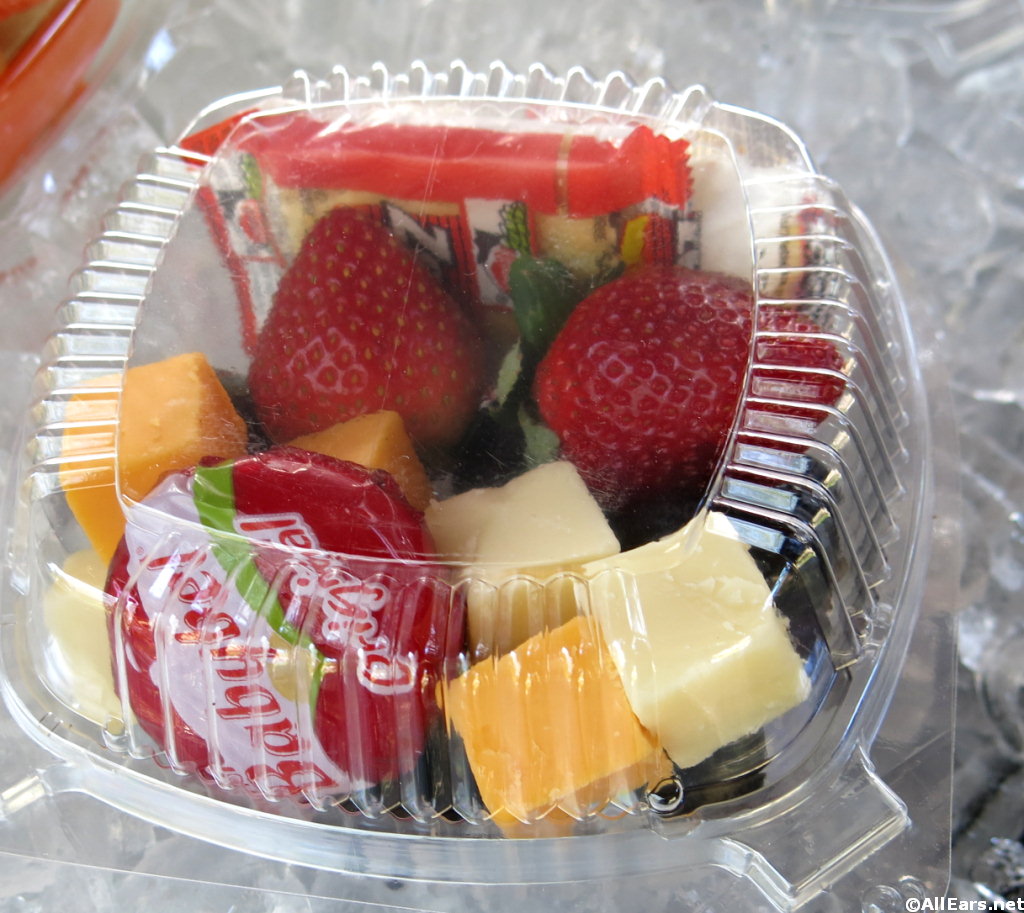 Lee wanted something more substantial, and we went to the Harambe Market. I really like the looks of this area – very well-themed. And there's quite a variety of foods available at the individual stands, a nice change from normal theme park offerings. But it's very popular and I couldn't find a table for a while, until I saw a couple of girls who were getting ready to leave.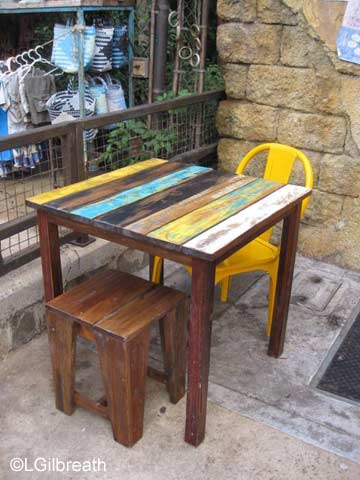 Lee tried the Boerewors Sausage fried in curry batter. A more interesting variant of a corn dog. 🙂
He also got an African Milk Tart for us to share. This was coconut custard in a chocolate tart shell dusted with sugar and five spice powder. It was pretty good, though I would've preferred a much strong coconut flavor – it was pretty light.
That was our final meal on Disney property. After that we spent some time at Universal Studios. We stayed two nights in the Cabana Bay Resort, and ate one dinner and one breakfast in their food court. I thought it was decent, and the food prices were about the same as Disney. The one morning I enjoyed their "Make-your-own Yogurt Parfait" bar. I was impressed at the variety of fresh fruit – four kinds of berries as well as mango and other toppings. It was sold by weight. Lee had a steak with chimichurri sauce the one night that was very good.
We ate our other meals in the parks or in CityWalk. The only meal I took photos of was our lunch at The Leaky Cauldron in Diagon Alley (Universal Studios) on our final day. I ordered the Ploughman's Lunch, which came with several kinds of cheese, Scotch Egg, cornichons, a pickled beet salad, mixed green salad, grilled tomatoes, and bread. I also ordered a cup of split pea soup with it. The soup was very good. The rest of it was ok – the salad, bread, and cheese was good, but the rest – definitely not to my taste. 🙂 I LOVE tomatoes, but grilled tomatoes – ick. It was interesting to try something different, though.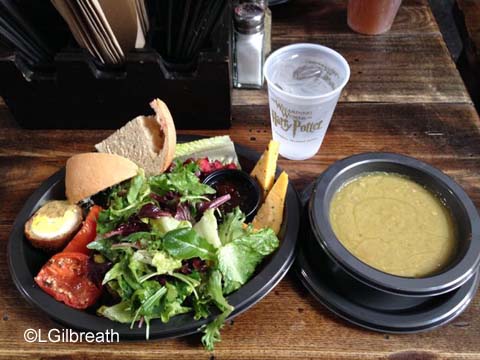 Lee had the Mini Pie Combination – I think it was shepherd's pie and a seafood pie – served with salad. He said they were both very good.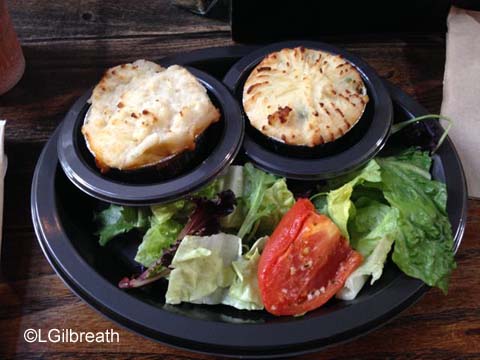 The day before we had gone to Schwab's in Universal Studios and had ice cream. Lee had a chocolate shake that was very good – made the old-fashioned way, and not just out of a machine.
And of course it's not a visit to The Wizarding World of Harry Potter without some butterbeer! 🙂 Lee likes it, but I think it's too sweet. My favorite is the pumpkin juice. If you go into the Hogs Head Bar adjoining The Three Broomsticks, you can get a pumpkin fizz – pumpkin juice with soda water. That's my favorite.
I also tried a Cauldron Cake from Honeydukes. It was not bad – but the Triple Chocolate Cupcake I had at Be Our Guest was better.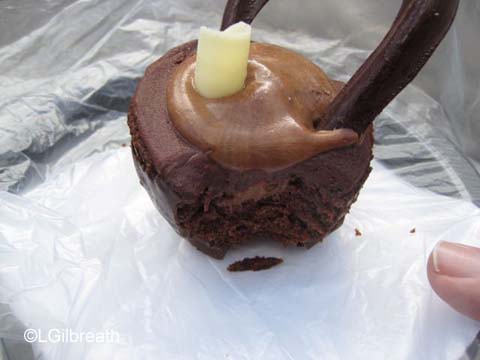 We'll be back at WDW in April for the Stars Wars – The Dark Side half marathon weekend – I'm looking forward to being in better health then and enjoying my food a lot more than I did on this trip.
Thanks for reading!