I do not own a Macro (or Micro in Nikon speak) lens and have never brought one to Walt Disney World. It would be interesting to explore Disney through such a lens. Imagine the detail you could find with one.
Like last week, you can get a Macro like image by cropping which is what I did below with the butterfly I found one day in Epcot's World Showcase. With insects, you have to be patient and wait for them to stop moving long enough to get a good, sharp image.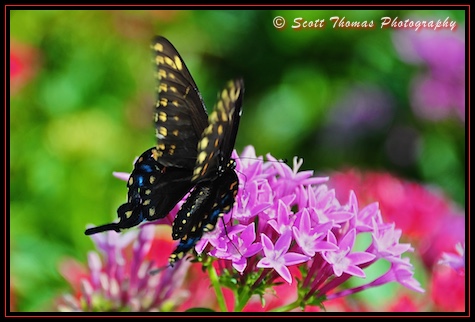 Butterfly on a flower bush in Epcot's World Showcase.
Nikon D700/28-300VR, 1/200s, f/7.1, ISO 200, EV 0, 300mm focal length, cropped.
In the past on my personal photography blog, I have explored a few ways to create Macro images: Close Up Photography 101
I rented a true Macro (Micro) lens once, too: Weekend with Macro
Here are more Macro tips: Quick Overview of How to do Macro Photography
Many smartphones and cameras today have Macro capabilities and settings. Check to see if your's does.
Deb will share her peek at a small world tomorrow.