Last day of the Expo! One more turn around the floor before the crowds hit.
[All photos and video, unless otherwise attributed, are courtesy of Disney.]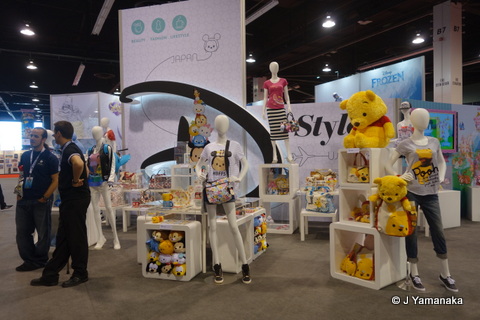 Over in the Disney Consumer Products Pavilion, new merchandise, some of which I've only seen at the Disney Stores in Japan, was displayed with a heavy Tsum Tsum emphasis.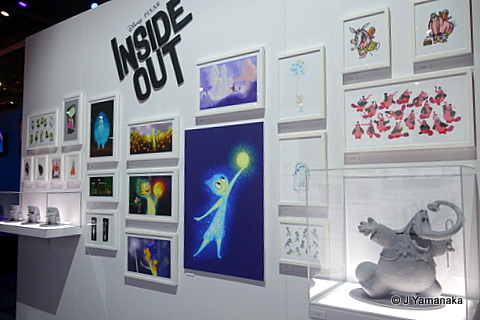 The Pixar section of the Walt Disney Studios booth had an exhibit of concept art and sculpts from their latest film "Inside Out."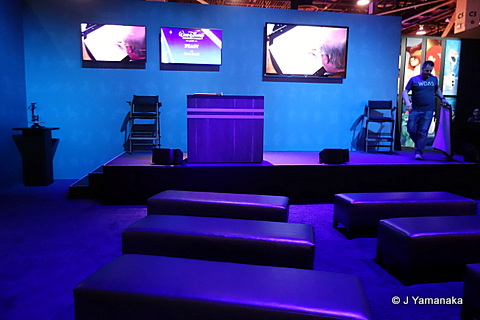 Also in the WDS booth was a small area set up for animators to give talks and demos throughout the day. It was a huge disappointment that I never was able to get over there while they were going on, because their schedule sounded fantastic.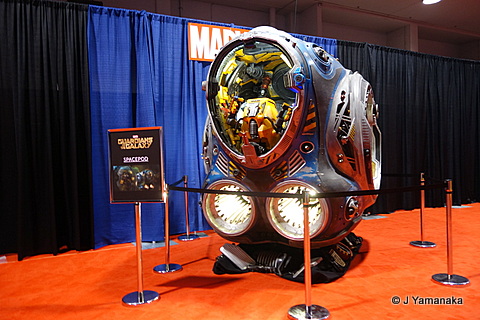 Photo ops abounded, from the spacepod in "Guardians of the Galaxy"

…to Baymax, in San Fransokyo.
At this point, I had wanted to try to get into the Disney Store booth, because I have a minor Tsum Tsum problem (I can stop anytime I want! You don't know me! You're not my real Mom!) Bearing in mind that this was the only booth I wasn't able to ever get into last Expo, I headed over just as the floor opened to Gold/Silver members. What I found was this line–which didn't look that bad.

…Except those were actually the people with the Sorcerer's package, some of whom had been waiting something like an hour or so for the store to open. On the other side of the walkway, there was a corral probably 2-3x larger, that had another hour or two worth of line already in it, waiting to go in after the Sorcerers.
So it didn't happen. I did eventually get to walk in and look around, but I had to promise not to buy anything.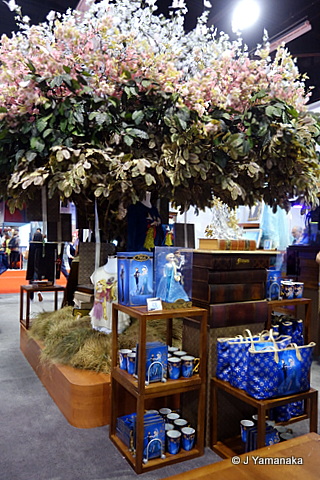 The tree in the center was designed to show the dualism of the limited edition Hero/Villain Disney Fairytale Designer doll pairs, with Happily Ever After on top, and Happily Evil on the bottom.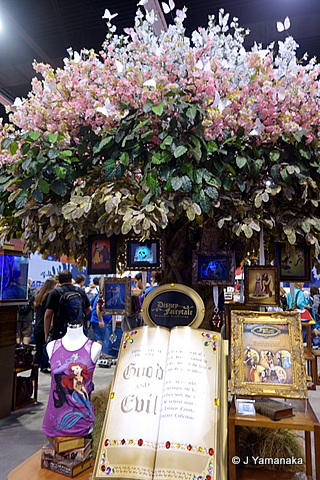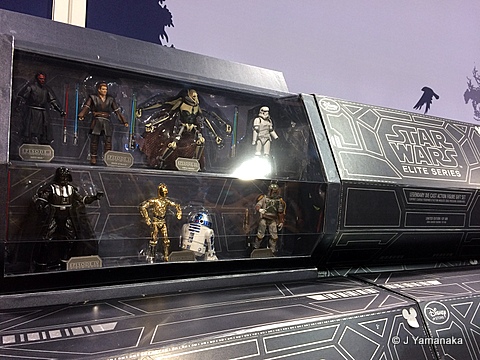 There were Star Wars action figures, of which the C3P0 and R2D2 were exclusive to Expo shoppers.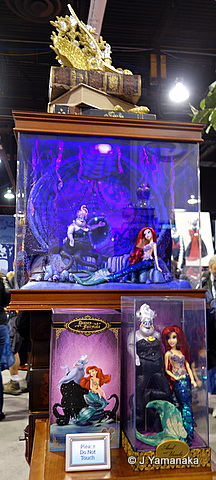 At least the Peter Pan and Captain Hook dolls looked like they were fighting. The girls all just looked like they were pretty much snuggling up to their villains, which was particularly disturbing for Elsa and Hans.

So close, and yet so far. The cast member I spoke with thought that the goat was Expo exclusive.
At this point, by the time I stopped sobbing, it was time to go up and try to see some panels. By and large, the morning panels were almost always partially empty, likely due to the fact that a lot of people were still outside waiting to get let in.
There were actually a ton of panels I wanted to see at the same time, and yet I also was going to have to leave early to get checked in to the Hall D23 panel right after, so I basically ran along the second floor, popping in and out of each panel that was going on in the time I had.
Disney Artist and Historian Stacia Martin did her usual charming job with "Sounds Delightful: Disneyland Edition," in which she played seldom heard vinyl recordings associated with Disneyland to celebrate its 60th anniversary.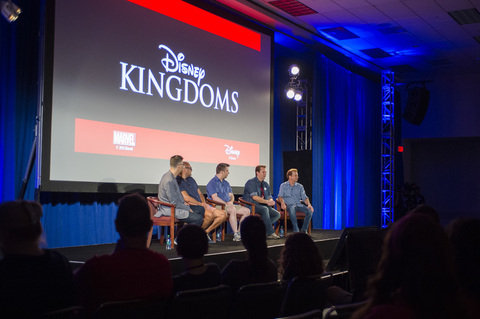 Down the hallway, "Disney Kingdoms" was doing an expanded version of their panel from SDCC (which I wrote about here) with writer Jim Zub, Josh Shipley and Thomas Morris from Disney, and Bill Rosemann and David Gabriel from Marvel.
Next up was "It's Game Time: Disney Interactive Takes the Stage."
Jimmy Pitaro, Co-Chairman of Disney Consumer Products and Interactive Media and President of Disney Interactive, started off the presentation with "Kingdom Hearts III."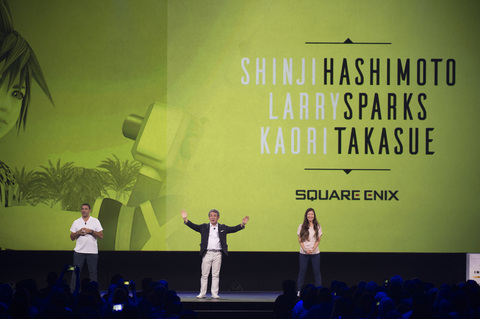 Square Enix's Shinji Hashimoto (Kingdom Hearts Executive Producer) took the stage to make some special announcements, the first of which was that "Kingdom Hearts III" will have a world based on "Big Hero 6."

Video by Kingdom Hearts
Projected plotline involves the Powers of Darkness taking control of the original Baymax left in the portal.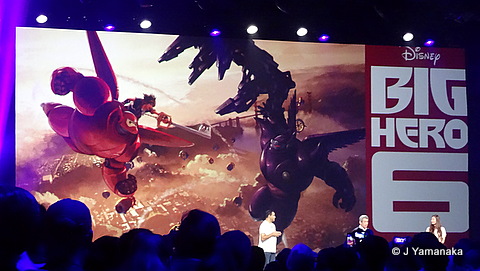 The presentation ended, with the appearance onstage of Baymax!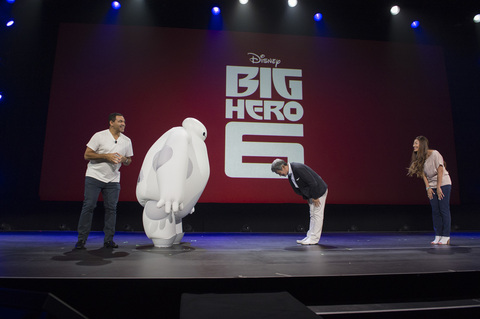 Mobile gaming was up next, with the announcement of a new game, "Disney Magic Kingdoms."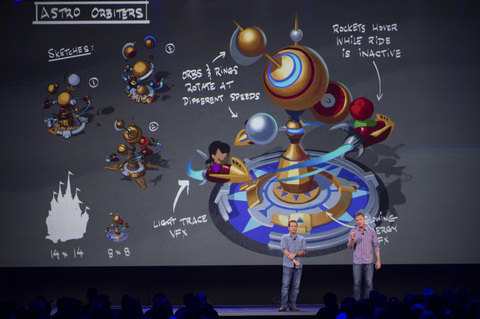 Disney Interactive's Scott Humphries and Executive Creative Director for Walt Disney Imagineering Tom Morris introduced the game, which will allow players to create their own version of Disneyland, complete with castle and iconic attractions, while overcoming evil plots carried out by Disney's classic villains.

Video by theroarbots.
The "Playmation" system was presented by Afsoun Yazdian, director of product management for Playmation.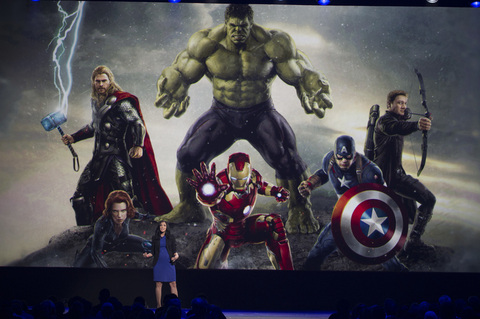 Billed as "physical play for a digital generation," the system includes wearable gear that can interact with a toy base, other player's gear, and a mobile app to send you on missions with the Avengers as Iron Man or the Hulk.

Video by Playmation
Bandai's Denny Chiu showed off "Star Wars Battle Pod," a new arcade game with a 180 degree dome screen that puts you into some of the most iconic battles of the Star Wars films.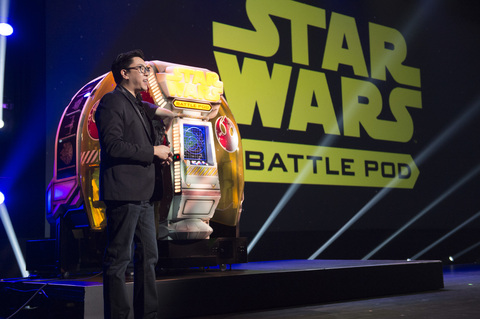 [I was actually able to play this at the Disney Interactive booth–it was an impressive action simulator, and the wrap around experience looked and sounded great. I'm pretty sure I failed the mission however, so the Force may actually be not that strong with me.]

Video by Bandai
On to "Star Wars: Battlefront" with EA Star Wars GM Justin McCully.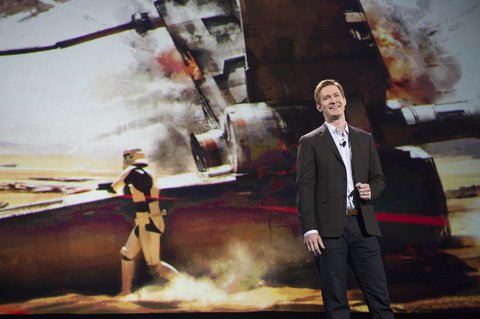 [I previously blogged about this game here]
Special limited edition PS4 bundles inspired by Darth Vader will be available for both "Battlefront" and "Disney Infinity" November 17.
To finish off the panel, John Blackburn, SVP/GM for Disney Infinity, and John Vignocchi, VP of Production, took the stage to present "Disney Infinity 3.0."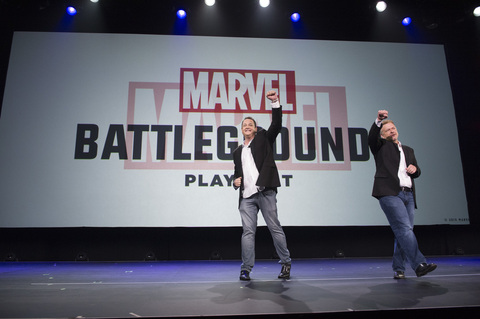 Among other things, they debuted the new trailer for the "Twilight of the Republic" playset that comes with the 3.0 Starter Pack.
The next in the Star Wars trilogy of playsets will be "Rise Against the Empire," featuring the cast of Episodes IV-VI, which will release September 29, 2015 (PS3 and PS4 owners can get it now.)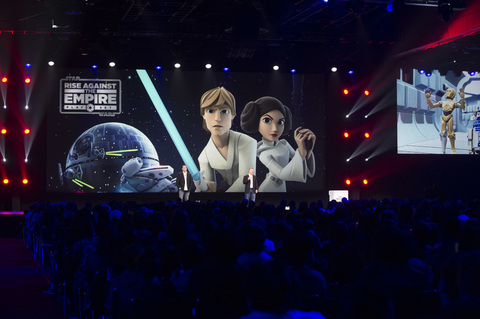 The new Marvel playset in the works is "Marvel Battlegrounds," and will be the first to have four-person simultaneous play. Any Marvel characters will be playable with it, including the newly-introduced Hulkbuster and Ultron, and it will have an original story and unique gameplay.
New characters to "Disney Infinity" are Peter Pan, Olaf, Mulan, Mickey, Minnie, Sam and Quorra from "Tron Legacy," Spot from "The Good Dinosaur," and Judy and Nick from "Zootopia."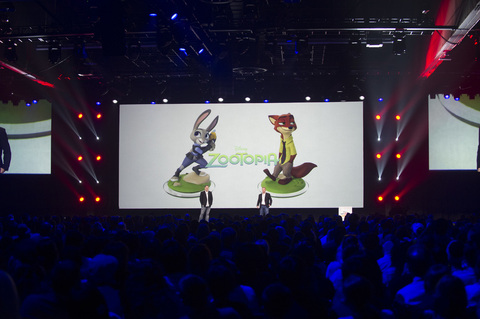 Sora's keyblade will be the Ultimate Unlock for 3.0, joining Luke's lightsaber and landspeeder as a playable object earned when the player owns and levels up every Disney Infinity character. Everyone in the audience also received an Expo-exclusive power disc that gave Mickey the King Mickey outfit from Kingdom Hearts.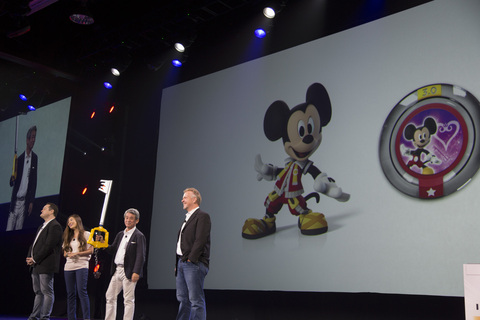 Finally, to end the panel, "Star Wars: The Force Awakens" stars Daisy Ridley and John Boyega took the stage to introduce their figurines (which they voiced) for the third of the Star Wars playsets, "The Force Awakens."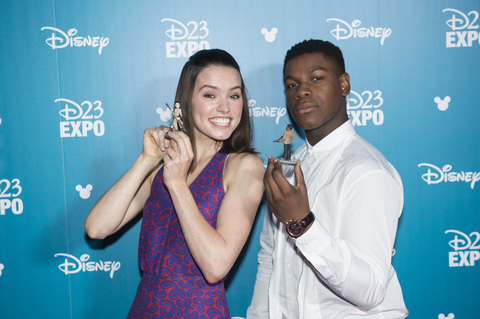 …And that was just the morning! Next time we'll revisit the last afternoon, and sum up.