As Scott mentioned yesterday, for the next few weeks we will be focusing on COLORS! It has been interesting to look through my photos for those that represent the various colors.
For this week's color of RED, I return to Tokyo and the Legend of Mystica show at Tokyo DisneySea. This is probably the most amazing water show I have ever seen at a Disney Park. The Disney characters unlock the gateway to the world of Mythica and meet fabulous creatures such as dragons and unicorns. It takes place in the Mediterranean Harbor. There are several locations along the harbor that a float pulls up and entertainers come onto a platform on the land and perform part of the show. And, just when you think there can't be any more.. even more floats come out on the water!!!
I happened to be in Minnie's section and she's my Disney Pic of the Week for RED.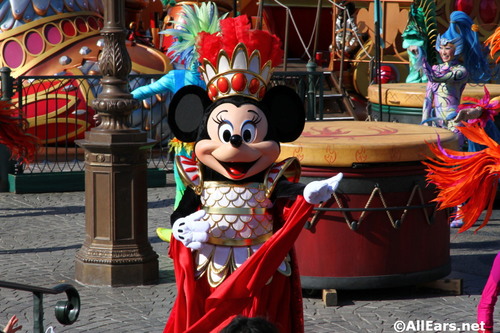 If I have raised your curious now take a look at this magnificent show.