Today, photo editing software comes in three flavors: Expensive, Cloud based subscriptions and bits and pieces (aka apps). The exception would be Adobe Elements. An excellent choice as it has most of the photo editing capabilities of Photoshop. I am still considering my next move in photo management software. Apple's Aperture 3.x software is no longer being supported by Apple and it will be interesting to see for how long Aperture will continue to run as OS X continues to evolve. Currently, the new Photo App does not meet my needs (though it may yours).
Thankfully, there are companies who thrive on creating add-ons to programs like Aperture, Lightroom and Photoshop. Macphun is one such company which I highly recommend if you are a Mac user. Over the last few years they have put together a very impressive list of photo applications. If they ever come out with the missing photo management piece, that could be my solution going forward. For right now, I use Macphun's applications as external tools to Aperture.
Today I want to show you how I used two of them, Intensify Pro and Noiseless Pro, to edit a photo. I use the Pro versions as they support running directly out of Aperture (or Lightroom or Photoshop). The do create a different version of the image so as not to destroy the original and then put it nicely back into your editor's library. In the case of Aperture, it creates a Stack or Set with the original photo.
As I was walking towards Spaceship Earth in Epcot after sunset one evening, I noticed this composition. I did not have a tripod with me so I did the best I could hand held. The original photos lacks punch and is very dull.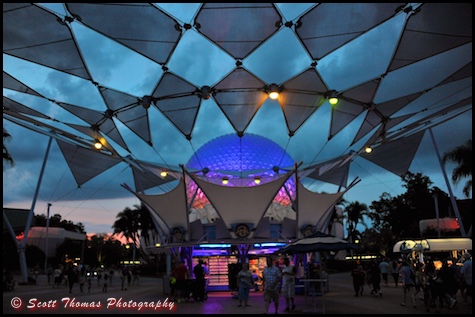 Original (unedited) version of Spaceship Earth.
Nikon D700/28-300VR, 1/125s, f/3.5, ISO 2800, EV -0.6, 28mm Focal Length
Of of the main reasons I use Macphun's products is they save me a lot of time. When I open an image for editing in Intensify Pro, I get a series of Pre-Sets or Filters which I can select and see how each affects the image. Once I find one I like, I can change the pre-set's effects between 0 (no affect) to 100 (full effect). I found myself using some pre-sets more than others so I can select them as Favorites and quickly get to them in a separate selection tab. Favorites is something found in each of Macphun's products. For the Spacehip Earth photo I went with one of my Favorites, HDR Soft. I backed it up to 80.
After saving it back into Aperture, I found the noise or grain got enhanced by Intensify Pro. Never fear as Macphun recently came out with a superb noise reduction product called Noiseless. I really like how you can easily select between the different noise reduction settings. The before and after split screen view quickly shows you the effects of the selected setting on the image. For this image, I used the Medium setting at 90.
Back in Aperture, I finalized the image by opening up the shadows and reducing any hot spots (blown out highlights) before adding a final sharpening.
Here is the result.
Edited version of Spaceship Earth.
Nikon D700/28-300VR, 1/125s, f/3.5, ISO 2800, EV -0.6, 28mm Focal Length
Macphun currently only has applications for Macs and iOS products. They are easy to use, save a lot of time and are not expensive.