Continuing with the various goings-on at SDCC, Phineas and Ferb had a panel on their upcoming season, including the creators, Swampy Marsh and Dan Povenmire, and voice actors Vincent Martella, Alyson Stoner, Olivia Olson, and Dee Bradley Baker.
They spoke briefly on the show's casting and development, and then went on to discuss their recently completed Star Wars crossover episode.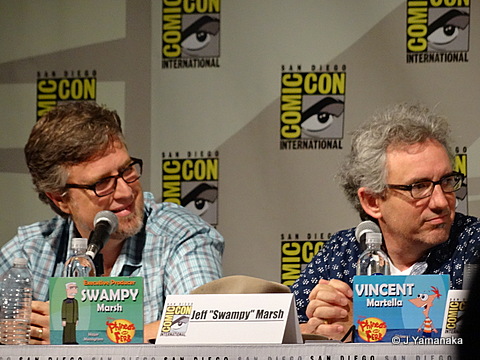 Upcoming episodes they mentioned included one written by Damon Lindelof of "Lost" fame; a zombie episode "Night of the Living Pharmacists;" "Tales from the Resistance," a return to the 2nd dimension; and a teen-aged version set ten years in the future, for which they ended up hiring a fan artist based on her deviantART to work on the character design:
http://kicsterash.deviantart.com/art/Today-is-Gonna-Be-a-Great-Day-341545978
"Penn Zero: Part-Time Hero," a genial-appearing series slated for Disney XD in 2015 was also previewed during the panel, in the form of a "first look" clip now online at USA Today:
http://www.usatoday.com/media/cinematic/video/13914981/exclusive-clip-penn-zero-part-time-hero-first-look/
ABC TV had a number of panels on their popular genre shows–so popular that I wasn't able to get in any of them. Fortunately, like most SDCC panels, they are searchable on YouTube, and trailers for the upcoming seasons were shown at the Exhibit Hall, in their ABC Castle booth.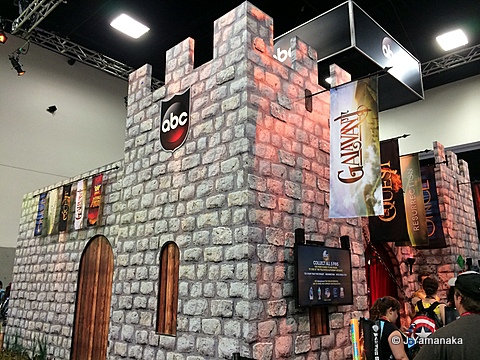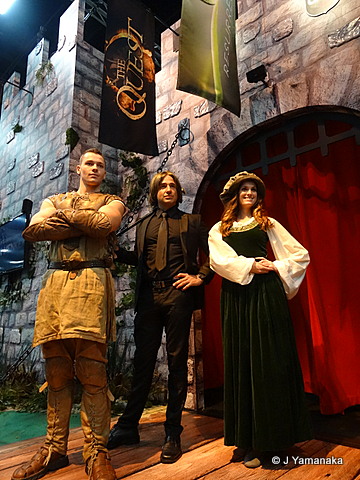 In this booth, if you were patient and waited the ~45-90 minutes required, you were able to go in and watch a prolonged (and mildly risqué) trailer for the new series "Galavant," with music and lyrics by Alan Menken (Disney Legend) and Glenn Slater ("Tangled.")
(Actually, they wanted you to sing along with the trailer, which seemed kind of demanding, since no one had heard the song before. Pass.)
After that, guests were free to visit Mr. Gold's pawn shop (from "Once Upon A Time,") and select a magical object that yielded a pin from a specific show. If you went through the whole process or were adept enough at trading, you could accumulate all five or so pins, which would entitle you to a ticket to the Once Upon A Time autograph session on Saturday.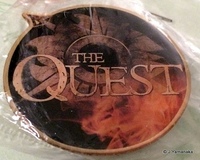 The pin I got referenced "The Quest," a new reality TV series currently airing on Thursdays that takes place in a fantasy-medieval setting.
Of all the shows they previewed, I actually found most of them fairly interesting, although given that I had to listen to them played over and over again for the hour I spent in line, it could be Stockholm Syndrome.
"Once Upon A Time" promotion mostly revolved around the upcoming season's tie-in with the blockbuster "Frozen" franchise, as revealed in the end of last season.
The show's presence didn't stop on the floor either, as themed pedicabs were available outside the convention center.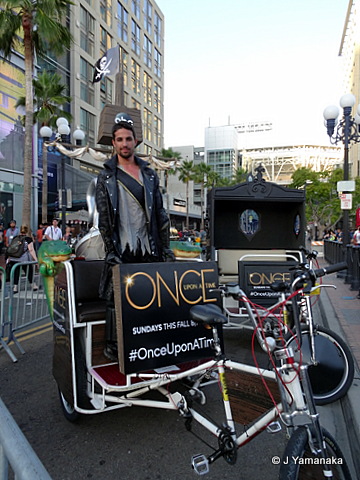 Why, even Petco Park wasn't immune to Elsa's icy blast.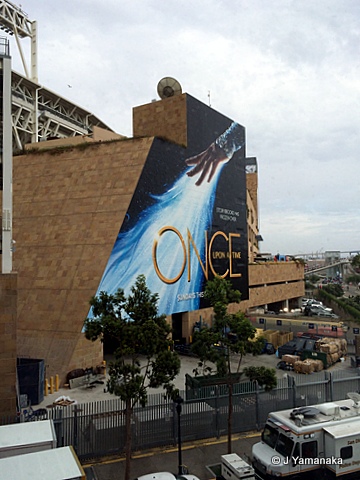 Next time: "Make Mine Marvel."