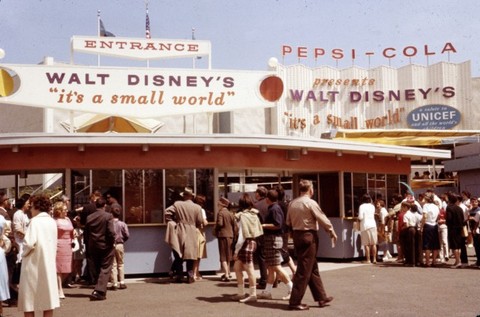 On April 10th, Disney Parks celebrated (a few days early,) the 50th anniversary of "it's a small world's" debut at the 1964 New York's World Fair. As a part of the event, Richard Sherman, who with his brother Robert Sherman composed the song "It's A Small World," led a sing-along cavalcade of it down Main Street USA.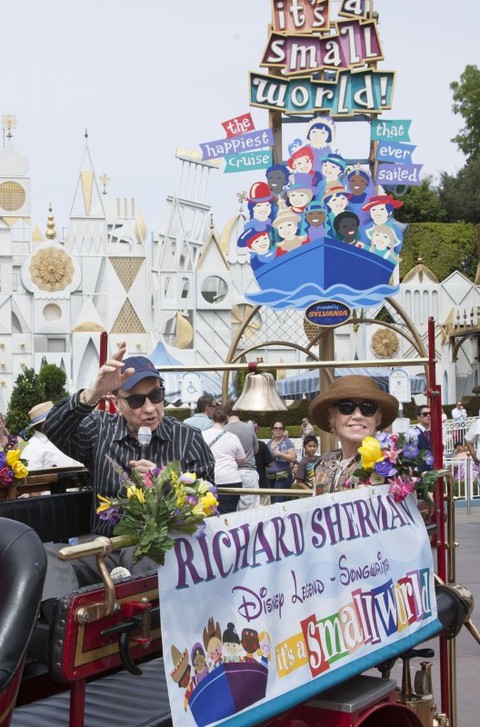 [Fun fact: With all the parks world-wide, the Sun never sets on "It's A Small World"–the tune is always playing in one of the rides around the clock.]
Imagineer Kim Irvine, Art Director for Disneyland Park, Walt Disney Imagineering, was also on hand for the festivities. She oversaw the 2008 refurbishment of the ride at Disneyland that saw the addition of established character dolls and the North American room.
Some quotes from Disney Cast Members past and present concerning "it's a small world:"
Kim Irvine: "I think that when adults enter Disneyland, they feel like kids again…Everyone is happy together. Strangers smile at one another. And that is what 'it's a small world' represents. It makes us feel good."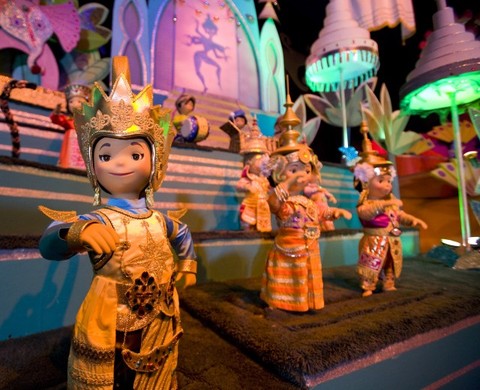 Alice Davis, Disney Legend and Imagineering Costume Designer for "it's a small world:" "I asked Walt how much I could spend and he looked at me and cocked his eyebrow, like he did sometimes, and said, 'We don't think like that here. I want you to do whatever it takes to make these look like dolls every woman in the world would want to have.'"
Bruce Vaughn, Chief Creative Executive, Walt Disney Imagineering: "'it's a small world' is an attraction about global harmony, celebrating the beauty of people coming together. Its enduring song is literally the soundtrack to the ideals of peace, unity and friendship, while the colorful cast of international dolls captures the essence of childlike wonder and optimism."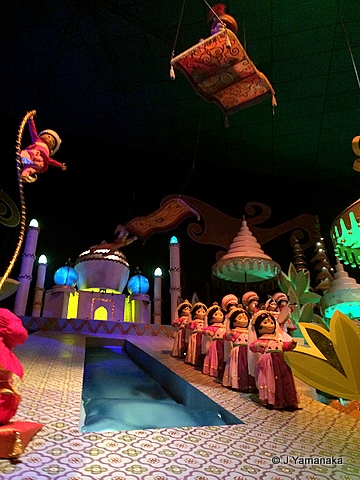 Richard Sherman: "When Robert and I sat down to write this song, we were given very explicit instructions: A simple song that would convey the message that we have a very small world to live on, we all have the same problems, the same joys, the same sorrows–we share these things. Let's learn how to live together, respect each other and give each other room to just get along. Those were our instructions; Walt gave them to us directly, and so we were very, very moved by those thoughts."
Good Morning America celebrated with this video segment on the history of the attraction, including a big, world-wide sing-a-long of the famous song.
Disney Parks has also posted the video of the Google+ Hangout Richard Sherman did that day, which took place in front of iasw. It's on the long side, but Richard Sherman is always worth it.
Of course, while we acknowledge the 50th anniversary of it's a small world, we also commemorate the other attractions that also debuted at the World's Fair on April 22, 1964: "Progressland," aka "Walt Disney's Carousel of Progress;" "Great Moments with Mr. Lincoln;" and the Primeval World diorama from "Ford Magic Skyway."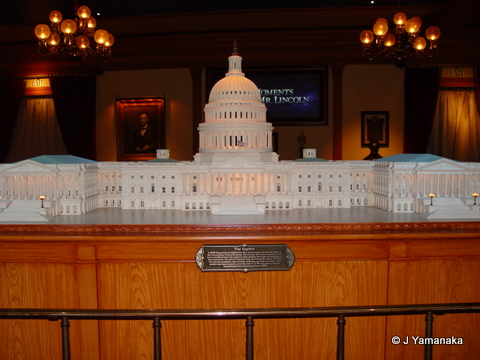 Here's to 50 more turns around the sun with all these wonderful attractions!
Check out our Walt Disney World Magic Kingdom Celebration Blog!

More information about the anniversary events can be found at SmallWorld50.com