A Disney Fan's Adventure of a Lifetime
Several members of the AllEars team spent most of March visiting Disney destinations far from home. We visited Hong Kong Disneyland, Tokyo Disneyland, Tokyo Disney Sea, and Aulani in Hawaii. Along for all or part or this journey were AllEars' Deb Wills, Laura Gilbreath, Lee Zimmerman, Jeanine Yamanaka, Linda Eckwerth, and Deb Koma, and friends Jack and Pete.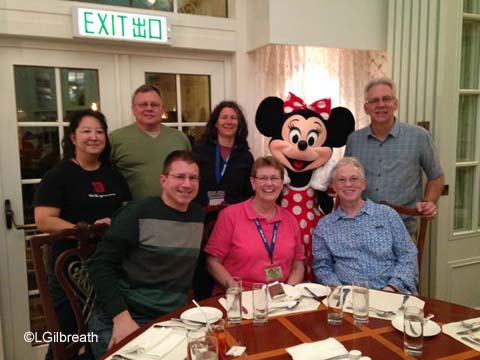 Part 4 – Hong Kong Disneyland Dining and Resort Hotels
I'm afraid this dining write-up isn't going to be as thorough as I would like…unfortunately we didn't get a chance to experience many of the dining opportunities that are available in Hong Kong Disneyland. With the relatively short park hours the only meals we ate in the park were two lunches and a couple of snacks.
That was disappointing because one of the things I noticed just in looking at the park map and wandering around the park was the wide variety of food choices that were available. I know when I think of "Asian" food Chinese is the first type of cuisine that comes to mind, followed by Japanese and Thai, but there are a lot more Asian cuisines than that.
Disney considered that in their design of the park, as Joe Lanzisero told AllEars:
"I think most of the cultural references and things that we do to address culture are in the way of food. I think especially more in Asia than anywhere else. We have a lot of Chinese food, we have Indian food, Malaysian food."
Jenny Dam also commented on this:
"The Resort's chefs understand food and beverage is a significant part of the Disney experience. In addition to the rich array of meal options, including Indian vegetarian dishes, starting from 2012, Disney has introduced Halal certified cuisine to cater to the diverse needs of our guests."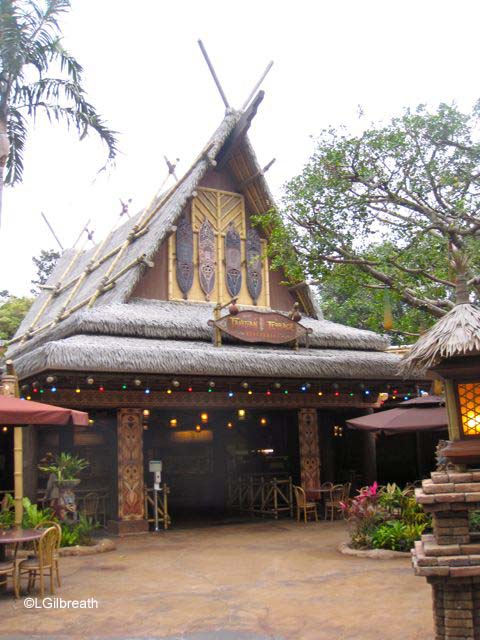 Both Tahitian Terrace in Adventureland and Explorer's Club in Mystic Point are Halal-certified by The Incorporated Trustees of the Islamic Community Fund of Hong Kong. The certification applies to the meat items served in those restaurants.
I saw a number of vegetarian dishes on various menus – vegetable stir fries, Indian lentils, Thai curries, vegetable skewers and tempura. And yes, unusual "what is that?" types of items, like conpoy (dried scallops) and nasi goreng (Indonesian fried rice).
Deb has a shellfish allergy and was very concerned eating in Asia. Since many folks spoke English in Hong Kong, it was fairly easy to convey the allergy. She stuck with things like Wagyu Beef Burgers (very good) and salads; when in doubt she brought meal bars from home.
For lunch on our first day in the park, after long traveling days for most of us, we opted for some old-fashioned American comfort food at The Main Street Corner Cafe. I know, not exotic, but we were tired and just wanted something easy and familiar.
But even so, this menu still had a very international flair – the hamburgers were made with Wagyu beef (though there was also a beef tenderloin from Nebraska), there was also risotto, Caribbean prawns, baba ganoush and several other Mediterranean dishes. In addition to more traditional offerings like Cobb and Caesar salads, a Reuben sandwich and penne and meatballs.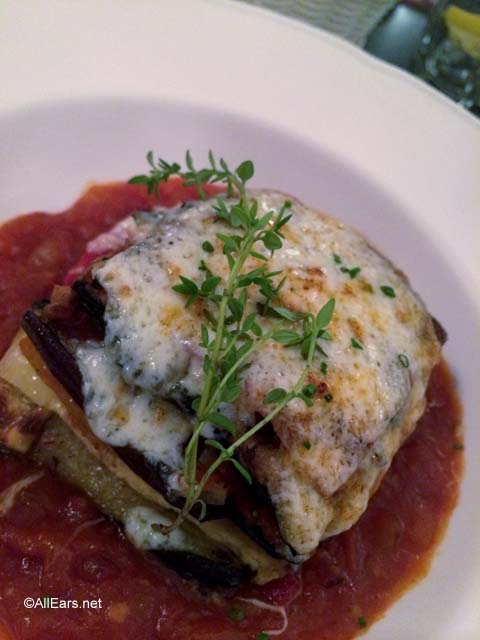 Between the seven of us we tried a variety of offerings. I had the tomato soup and the BBQ chicken wings, Lee had the pork ribs, which were falling-off-the-bone-tender, and others had the vegetable lasagna (photo above), Wagyu hamburger, and Singaporean seafood laksa (photo below).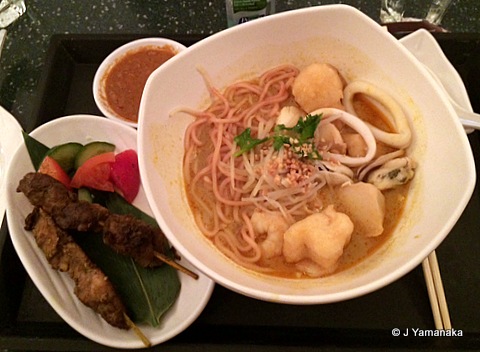 I would say that what I had was good but not great. Jack said his meal (he had the burger) was ok at best. The food prices were expensive compared to here – about $22 for a hamburger and fries! One thing I noticed in both Hong Kong and Japan was that my food was usually not hot when served. Sometimes just barely warm. Even at buffets the food wasn't kept particularly warm.
In general the portion sizes were also smaller, though that's not necessarily a bad thing. But what was hardest for us, and where we most noticed it, was beverage sizes. A regular sized coffee was only 6 ounces! Soft drinks were served in 8-10 oz cups. And refills were not often offered. Decaf Coke was a bit hard to find but don't even try to find decaffeinated coffee.
For our lunch on day 2, Hong Kong Disneyland provided us with their Plaza Inn Lunch Special. The Plaza Inn offers "elegant Asian dining in a grand Victorian setting." It's really a beautiful restaurant – from the outside the look is similar to the Plaza Inns at Disneyland and Magic Kingdom, but inside it is very different.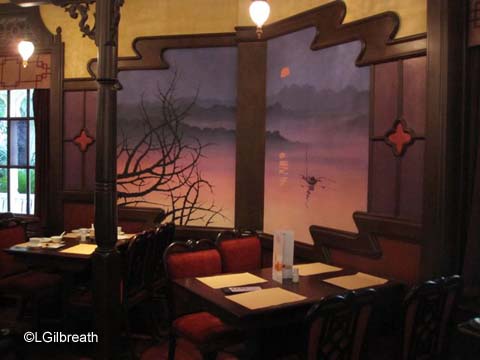 We were seated in a private room that was very elegant – I didn't feel as though I were in a theme park at all! The restaurant had been notified in advance of Deb's shellfish allergy and prepared a special meal for her that was very good.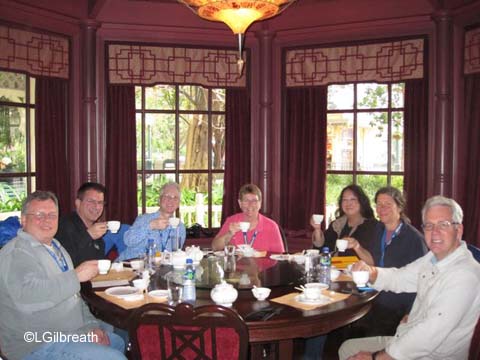 Our meal was multiple courses. It began with a selection of dim sum (steamed dumplings), with shrimp, pork, bamboo/vegetables, and scallop/shrimp/chive dumplings, plus spring rolls: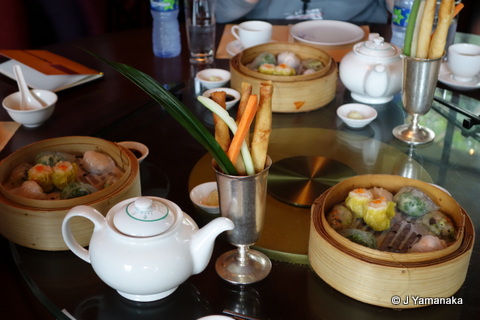 A barbecued meat platter followed, with pork, chicken, and duck:
Sauteed beef loin and mushrooms: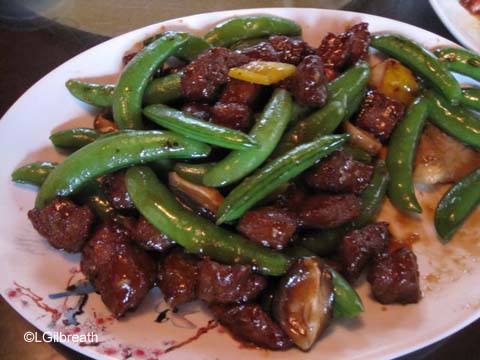 Poached vegetables:
Fried rice with shrimp and pork: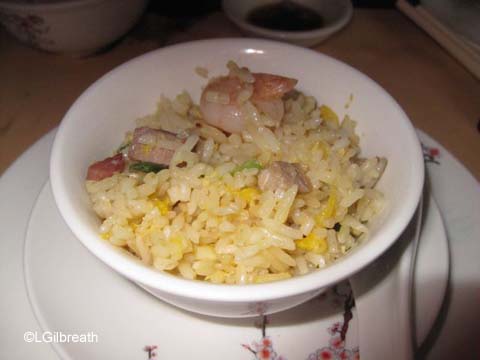 Deb's Steamed Vegetable Rice in Pumpkin: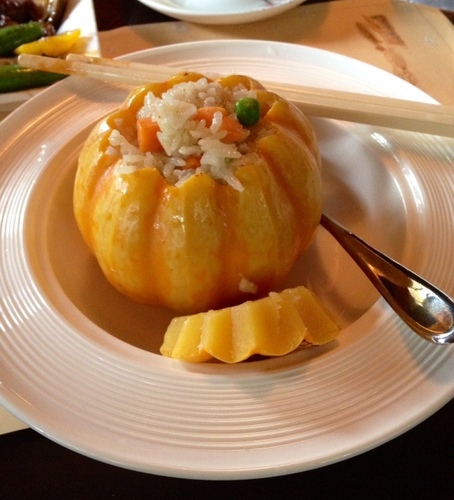 Dessert was mango Mickey pudding.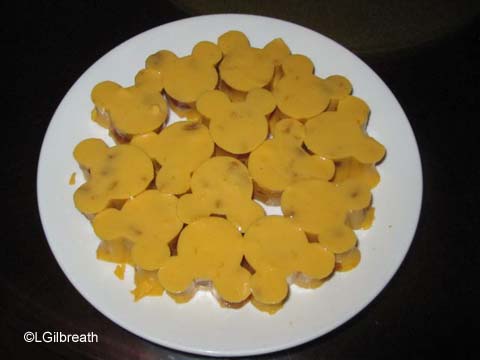 This was definitely my favorite meal in Hong Kong. I didn't find it to be exotic (no chicken feet or mystery meats), but some members of our group did not find it as appealing as I did. It was served family style, so portion size wasn't really an issue, and I was quite full when we finished. There were pots of hot green tea on the table so we could serve ourselves.
The only snack that Lee and I managed to sample in the park was popcorn. Flavored popcorns are very popular in the Asian parks (especially in Tokyo), and we tried the honey mustard popcorn sold in Grizzly Gulch. It was very good.
One of the snacks that intrigued me, but that I did not get a chance to try, was Mango Dole Whip (available in Toy Story Land). Jack tried it and loved it. Two toppings were included in the price and he chose almonds and "mango bursts." Pete also tried it and thought it was ok – but admits he is not a big mango fan.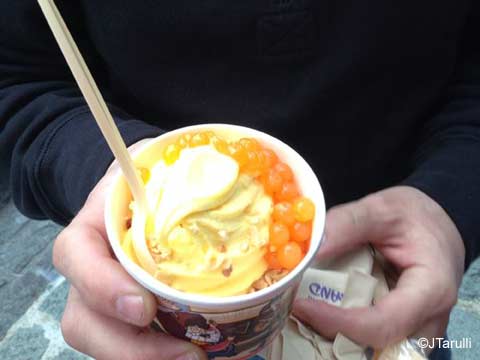 The park opened at 10:00 every day – too late for us to have breakfast there, so we all ate at our respective Disney hotels.
Jack tried Walt's Cafe at the Hong Kong Disneyland Hotel. "By far my favorite meal and [restaurant] was Walt's for breakfast. High marks, 9 out of 10: eggs were over hard and not easy as ordered. Fantastic charm and great buffet. Cost was about $40 US, but a great way to start the day."
Lee and I ate at Hollywood & Dine, the quick service location at Disney's Hollywood Hotel, on two mornings. This had a very limited selection – just a few hot dishes and some grab-and-go items.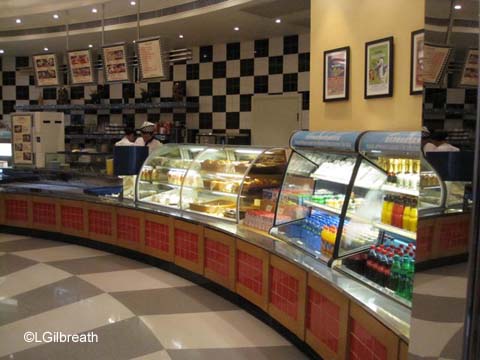 It looked like a cafeteria, but instead of going through the line and picking up your food and then paying for it, you picked up any grab-and-go items, then told the cashier what you wanted to order from the food counter (which includes bakery items as well as beverages and hot foods), and paid for everything. Since there was no menu on the cashier side it wasn't at all obvious what food choices were even available. I found it confusing and not very efficient.
I stuck with yogurt, tea, and a croissant (which were really good – slightly warm and seemed freshly baked) both mornings. Lee had the Western breakfast the first morning, with eggs, bacon, toast and coffee, but the second morning he tried the Asian breakfast. That was fried noodles and a bowl of congee – which is rice porridge (sort of like oatmeal) with a little bit of meat and some greens. He enjoyed it.
We never had time to eat dinner in the parks, so our dinner choices were very limited. The Disney hotels are off by themselves – there is nothing else in the area, so we were a captive audience. Most of us ate dinner at Enchanted Garden both nights – that's the buffet restaurant at the Hong Kong Disneyland Hotel.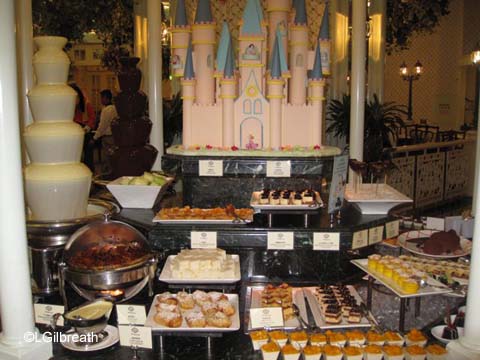 The majority of the hotel guests are Asian, so the buffet menu reflected that, with selections like sushi, a raw bar, stir fry, tempura, noodles, and dim sum in addition to what we would consider more traditional buffet offerings like pasta, baked fish, and carved meat. A couple of soups, but a limited selection of salads and fresh fruits. I was surprised at the wide variety of dessert options, and a couple of the ones I tried were really very good.
I was less impressed by the rest of the buffet, and most of what I sampled was just ok. Jack had this to say about it: "I think the biggest disappointment of all was dinner, both nights, at the Enchanted Garden. Didn't care for it at all. I was initially amazed by all the food choices…..only to be disappointed by either what was there or the quality of what I did eat."
I noticed that they didn't replenish the dishes very regularly – one evening I checked twice and neither the tempura nor dim sum had been refilled, and other dishes were running low, also. It was on the expensive side – about $50 (US) per person.
Part of the expense is because it's a character meal. The characters did a really good job of making the rounds – we saw Minnie, Goofy, Pluto, and Mickey. Each evening a couple of them returned for a second visit. They were very attentive and Minnie and Goofy insisted on getting photos with the group and every individual or couple. They were very cute.
Deb and Linda had dinner at Walt's Cafe one night. Linda commented: "Walt's Cafe was good. I had a noodle dish. While it wasn't what I thought I was ordering, it turned out to be very good."
Deb tried the Cobb Salad and liked it.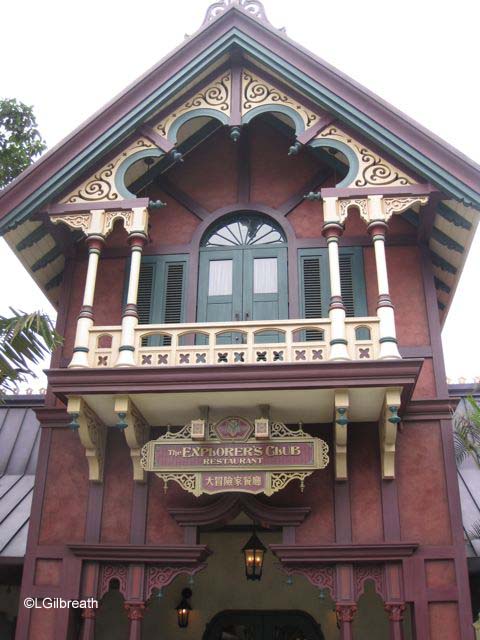 As I mentioned earlier, we didn't have a chance to even see many of the restaurants in the park. But one that we took the time to walk through was The Explorer's Club, the new restaurant in Mystic Point. It's a counter service place with all kinds of different Asian foods: Korean, Japanese, Southeast Asian, and Indonesian. The menu items include Bento Box with Baked Salmon, Korean Ginseng Chicken Soup, Hainanese Chicken Rice, Malaysian Style Fried Noodle with Seafood, Javanese Vegetable Curry, and Indonesian Style Fish, to name a few.
And the restaurant itself? Wonderfully detailed – but it's in Mystic Point, so I guess that's to be expected! The restaurant has five themed rooms: Egypt, Russia, Morocco, India, and China. Each room contains artifacts from Lord Henry Mystic's collection, and
each is decorated differently, with different tabletop designs. I believe the chairs were different, also. There are notes from Lord Henry in each room saying something about some of the artifacts there – some of them are rather comical.
Inside the restaurant's entrance hall, fans of the former Adventurer's Club at Downtown Disney will find some familiar objects from the Mask Room, along with this note from Lord Henry: "These masks are on loan from my personal collection in the manor house. If truth be known, they give me the willies. I believe I caught them looking at me late one night while dozing over my desk. Since then, I prefer to display them here."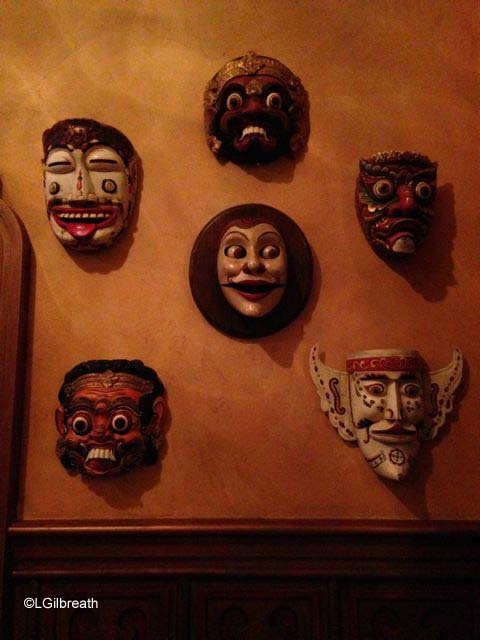 We have an entire video on the Explorer's Club Restaurant, also:
A few other restaurants that we have a bit of information about…
Tahitian Terrace offers "Regional Asian" cuisine, including vegetarian Indian dishes, Malaysian chicken and Thai curry selections.
The Lucky Nugget had a couple of interesting items – Mickey-shaped pasta salad, and Caesar salad with Mickey-shaped croutons!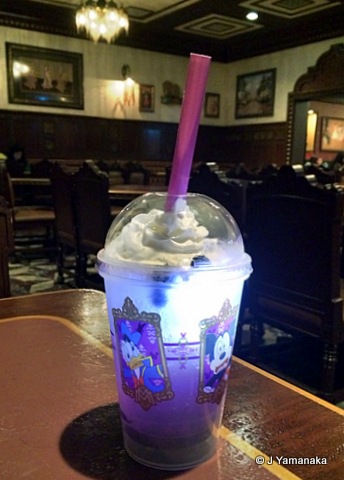 Several of the counter service restaurants offer a specialty non-alcoholic beverage. Among others, Lucky Nugget has the Grizzly Geyser and the Explorer's Club serves the Blueberry Myst (pictured above).
The dining options at Hong Kong Disneyland received mixed reviews from our group of travelers.
From Jack: "I think the one notch down in my book for Hong Kong was the food……I was not a fan of just about any place I ate."
Linda said: "I had no problem with the food in Hong Kong. My favorite meal was the dim sum at the Plaza Inn. I liked everything but the dessert. My second would be the vegetable lasagna [at Main Street Corner Cafe]. I wasn't thrilled with the buffet at Enchanted Garden. It had a lot of offerings, they were tasty and I did not go hungry by any means. I am just not keen on buffets."
From Lee: "I really enjoyed our dim sum lunch. I thought there were many interesting options for snacks and dining in the park and I was disappointed that I did not have the opportunity to try more of them."
From Deb: "I quickly learned that I was going to have to eat more carbs than I typically do since my other options were limited. I certainly didn't starve by any means. The food was ok and I could find things to eat. Nothing tastes like it does at home though.
The Resorts
There are two hotels at Hong Kong Disneyland: Hong Kong Disneyland Hotel and Disney's Hollywood Hotel. A third hotel, with 750 guest rooms, has been announced.
Lee and I stayed two nights at the Hollywood Hotel. The resort has a 1920s Hollywood art deco theme. We found it to be stylish – a bit understated and not overly glitzy. It's a full-service hotel with interior hallways, and extensive grounds. In-room amenities included a refrigerator, safe, and a very nice beverage service area with both a hot water pot and coffeemaker, and supplies for both.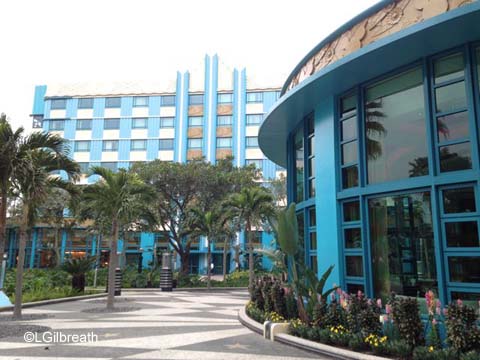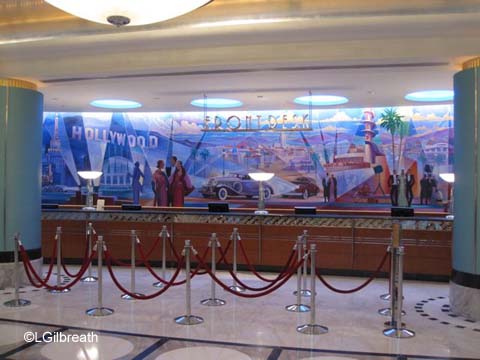 There's a nice pool area outside though it wasn't pool weather while we were there.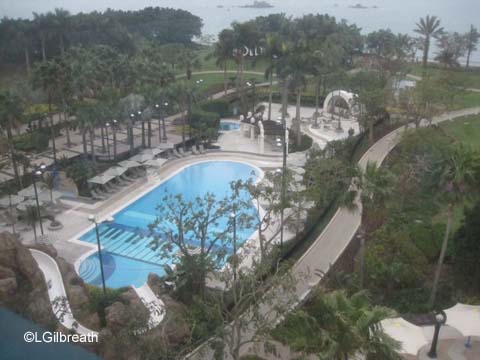 The grounds are pretty extensive with some fun photo opportunities, like the big HOLLYWOOD HOTEL letters and some vintage cars and interesting signs.
There are two restaurants: I've already written about the quick service restaurant, Hollywood & Dine. There's also a Chef Mickey, which is a character buffet.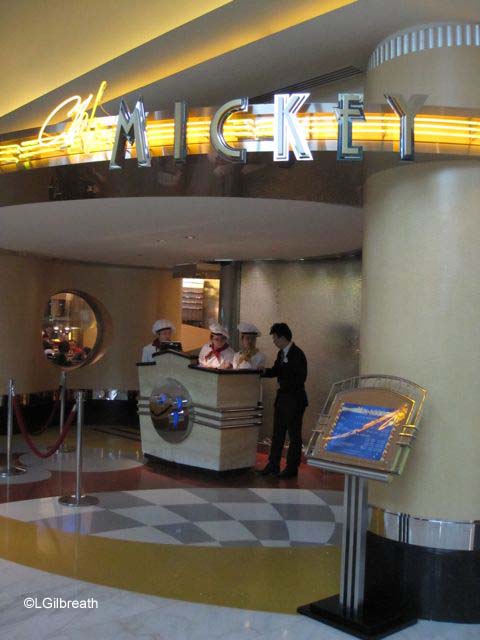 Our room was on the 8th floor (the "lucky" floor! 🙂 ) It was larger than I had expected, with two double beds and a nice-sized bathroom. Quite comfortable. We had a guaranteed non-smoking room, though I did not really notice that smoking was much of an issue. There was complimentary wi-fi in our room, which we found to be pretty fast and responsive. Slippers (which we could take home with us) were provided.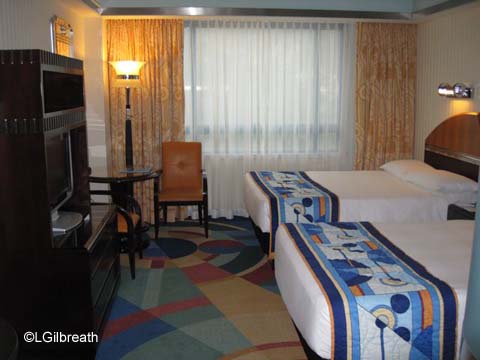 One different thing about the hotels in Hong Kong: we did not receive a personalized "souvenir" type room key, nor could we use our room key for charging. We had a hotel id card, but it was only good within the hotel.
Photo montage video:
The rest of our group stayed at the Hong Kong Disneyland Hotel. This hotel has a Victorian theme – it looks a lot like the Grand Floridian or the Hotel del Coronado in San Diego.
It was very pretty inside – high ceilings, fairly ornate, but lots of glass and light, so it felt open and bright despite the gray sky outside. The lobby was not as large as the Grand Floridian, but was still several stories tall. Once we saw the Tokyo Disneyland Hotel, we realized this was a mini-version of it.
Behind the hotel was a great Mickey Maze. It was big enough so adults could have a fun time as well as the kids. Several of the kids in our group played a bit one morning.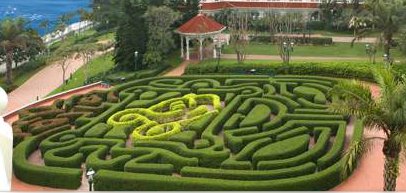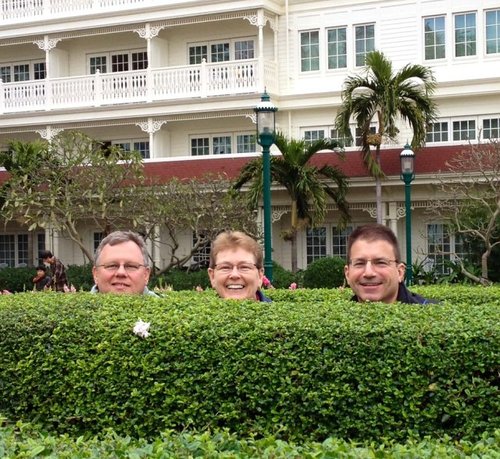 The rooms had robes and slippers (you could take the slippers with you), a safe, small refrigerator as well as a Snow White and the Seven Dwarfs bathroom mirror and toiletries.
Here's a video of the interior and one of the rooms.
The hotels are on the opposite side of Hong Kong Disneyland from the main entrance used by day guests arriving by train, bus, and private car. There is a shuttle bus that runs between the hotels and the main entrance, but we didn't use it, because there was a beautiful walking path from the Hong Kong Disneyland Hotel to the park entrance.
It was a wide, dedicated walkway, very park-like, with benches and fountains, banners, and topiaries. Most of the times we walked it we had it to ourselves – we saw maybe 25 other people the entire time. And Lee and I never saw anyone else on the sidewalk between the Disneyland Hotel and the Hollywood Hotel. The walk from the park entrance to our hotel was about 15 minutes. When the weather is hot I can understand why people would want to use the bus, though.
Lee and I enjoyed our stay at Disney's Hollywood Hotel, and we would stay there again. The Hong Kong Disneyland Hotel was very nice, too, and I think we also would have been happy there. It's a little more luxurious, with a corresponding higher price. Though I thought the per night cost of both hotels was lower than a comparable Disney hotel here. The Hong Kong Disneyland Hotel is a deluxe hotel, more like the Grand Floridian or Grand Californian, but the price was less. Disney's Hollywood Hotel is a little harder to classify, since it was much nicer than a WDW Moderate hotel and had a somewhat higher price, but was still a lot cheaper than the American Deluxe hotels, or its next door neighbor.
In Conclusion
That's right, I'm finally done! But had a few things I wanted to share as I finish this up.
I really loved Hong Kong Disneyland. It's such a beautiful park – so like Disneyland, and so NOT like Disneyland. It was charming and familiar and utterly different all at the same time. I was very comfortable there and I didn't feel like I was halfway around the world (at least until I looked at restaurant menus).
I haven't yet been to the Paris parks, but otherwise I've visited all of the currently open Disney parks…Hong Kong Disneyland is definitely in my top 4, maybe top 3. For Magic Kingdom type parks it's second only to Disneyland in California. Would I love it as much on a hot and crowded summer day? No…but I don't love any Disney park on a hot and crowded summer day. I won't even VISIT my favorite park (Epcot) during the summer months.
Price wise I think you get a lot more value for your (Hong Kong) dollar than you do here – park tickets and Disney accommodations were both significantly cheaper. Though food was more expensive, I thought souvenirs were slightly less. (Someone pointed out to me that souvenirs certainly SHOULD be cheaper – most of them are made in China so they have a lot less distance to travel! 🙂 )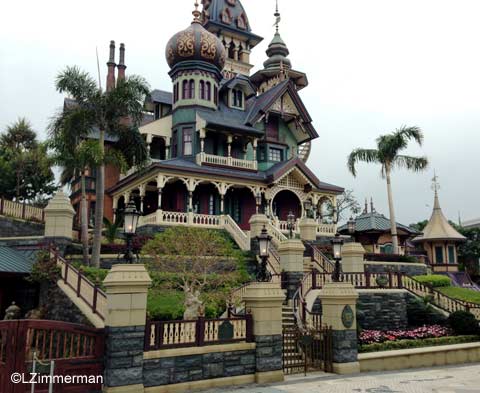 If you're a Disney fan who likes to travel then I highly recommend visiting this park – if nothing else you must see Mystic Manor! And while you're there…do give my regards to Lord Henry and Albert.
GÇŽn xiè nín de yuè dú – Thank you for reading!