To all who come to this photo trivia game, Welcome! Along the way, the photos can make us relive memories and see details Walt's Imagineers put into everything we love in Walt Disney World!
We have a couple big holidays approaching:
Happy Hanukkah! May this truly be eight days of light!

The US is celebrating Thanksgiving this week. I'm going to be sappy right now, so if that's not your thing, skip to below:
I'm very thankful to be here on AllEars because I've made wonderful friends who have shared such magical fun and heartwarming moments with me.
And I'm so thankful for you, Players. When Barrie Brewer left this game that she created and made it so loved, you could have left because I'm not a photographer like her or post it differently. But so many of you stayed and even take my breath away when you say it's part of your week, how you share it with friends and family. That's amazing! So thank you, Players!
—————— Sappy Stuff Ends Here ——————
I'm also thankful that I LEAVE FOR WALT DISNEY WORLD IN 8 DAYS! And pumpkin pie. I LOVE pumpkin pie! Also stuffing and green bean casserole; give me those 3 things and I have my perfect Thanksgiving dinner. Oh and mashed potatoes and cranberry sauce. That I eat after watching the Macy's parade and before I watch "Miracle on the 34th Street". 🙂
From last week: Challenge #306: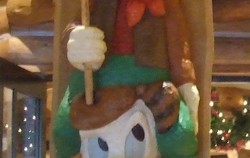 And here's the answer:


Copyright © Erin Blackwell
It's the totem pole at the Wilderness Lodge Mercantile at, of course, The Wilderness Lodge, one of top three faves! It features Mickey, Goofy, Donald who got stuck holding up the other two, and the Lodge's mascot, Humphrey the Bear, who doesn't care if he's on the bottom. He just rolls with things.
Humphrey the Bear is also in the Canada pavilion wallpaper on the Official Disney Parks Blog; because Humphrey rocks, that's why!
Cindy Jett, seriously? That's a thing? Rub Humphrey's nose for a magical vacation? How did I not KNOW that?! (Adds Humphrey on the must do list for trip,)
John Bickers, you served your country for an entire career! Now what are you going to do? "We're going to the Wilderness Lodge!" Right?! Did you make the mistake my family made? Where you plan all these things to do at night…. right after you relax a bit in the hot tub. Yeah, that'll turn you into one non-moving guest who just watches the geyser go off the rest of the night. LOL
Alan Mize, you never even stepped foot in the Lodge? Never? Ever? Oh Alan, Alan, Alan. Here's my advice: go have dinner at the Whispering Canyon Cafe. Ask for ketchup. You're welcome.
Annie Snodgrass, get your boyfriend to the screen…. is he there? HI!! You don't know me but I am pretty much known as a voice of reason and wisdom anywhere you go. (stop giggling, Players! You're going to blow this for Annie!) Now you look like a smart man, so you know that at least 2 nations of the world have celebrated giving thanks in the past month. You know what's important to give thanks for? A person who cares about you, say like your girlfriend. In a recent poll of best and smartest boyfriends in the world of how to show that girlfriend how thankful you are to have her in your life, do you know the number one answer was? Taking her to the Wilderness Lodge in Walt Disney World for Valentine's weekend; coincidentally, it's my number one answer too. No, there's no other answers. So as you give thanks, remember these details: Annie and 407-WDISNEY. I bet you can even get free dining. That is a lot to give thanks for.
Back to the game!
Kristi Strembicki was the first to send in the correct answer! Congratulations to Kristi and all our winners this week! Julie Wickware, Wayne Beck, Donna Frank, Daniel Record, Renee, Christina R, Mary Beth Tarbet, Kris Nixon, Tricia Petty , Leach Family, Jen Cerce, The Kahle Family , Sharon Pierce, Ed Elder, Paula Massarelli, Linda Ranatza, Carol Ney, Andrea Kruszewski, Becky Norman, Kerri Coggins, Danielle Ciotti Harsley, Theresa Rucando, Linda Scrivano, The Kertes Family, Chris Connors, Patty Carty, Tina G., Kerrie Hogan, Jim &Lorie Sonnen, Me, Colette Stanton, Betsy Silvestri, Nicolle Clement, Caroline Kaplonski, Gina Smith, Belicia Cullen, Axel Beer, Judy Simonsen, Paul Dickson, Scott Cullen, Theresa Lucotti, Josh Carney, Kelly Deleon, Joe Calomeni, Virginia Pierce, Tina Santacroce , Fiona Knight, Elaine Kleinhenz, Maureen Handy, Cherie Trahan, Phyllis, Charis Barron, Matt Carrera, Sheryl Hicks, Tommy Montgomery, Leann Rogers, Robert Wescovich, Nmshuler, Lisa Ewins, Pat Morin, Mary Ann Lamay, The Gunnels Family, Josh Weiss, Kathleen Thornton, Zach Szymko, Mark Culwell, Elizabeth Salcido, Jennifer Rowell, Jim Riddle, Ken Clark, Kim Skanes, Beth Mcmeekin, Jennc, Maryann Eckenrode, Jim Vandenberghe, Robin, Julie And Kody Rider, Pat Schwier, Robert Hildebrandt, Chuck Sands, Team Hill, Mark Weaver, Donald Leblanc, Chris Nichols, Andrew Linnemann, Gina Shaw, Cindy Carrigan, Valerie Doucet, Beth Heffren, Jack Lynch, Wendy, Robin Fitts, Matt Wildey, Thomas Mangano, Angeel Diven, Lindsay Coram, Wendy Beaudoin, Jacquelyn Law, Tanya Hinnes, Deb Ragno, Melissa Thomas, Debbie Desimone, Al Desimone, Kye Layton, Lindsay Koren, Stephanie Peterson, Amber Slifer, Jennifer Harmon, Cindy Blagg , Amanda, Tinkerbell Wells, Nan Amor, Chris Kelly, Nancy, Brittany Jaynes, Walter Fletcher, Maggie Biederman, Chris Horne, Al Ganter, Kara Cummings , Gerald Skanes, Roger B Porter, Rebecca Smith, Jason And Melinda Lenz, Maggie Klotz, Paul Knott, Cynthia Hennessy, Elizabeth Howarth , Jason Hocker, Kristi Jack, Wendy Markwood, Luis Rodriguez, Tony Lliteras, Mike O' Brien, Kerry A., Craig Livingston, Liz Moreau, Dawn Bach, Eileen Rice, Darryl, Karen Schlumpf, Herb Miller, Mickey Eckert, John Agnew, Pollyanna Buff, The Tisdale Family, Paul Moore, Claire Gregory, Heather Long, Katherine Reeve, Barbara Remele, Sherri Pell, Craig, Brian Gallant, Brian Mcwithey, Dee Dee Kenney, Joan Lindley, Chris, Gretchen, And Katie Barnes, Stuart Hale, Cindy Pink, Melissa Such, Les Whitten, Derek Letort, Nathan York , Wendy Barney, The Parker Family but most of all Nikki who Helped, Noah Schweizer, Carla C, Rex Biederman, Ashley Collins, Janie Gilarno, The Pearsall Family, John &Rhonda Nottell, Kenny, Pam Vanaustin, John Bickers, Linda College, Lee Anastasi, Ellie Argaluza, Louise Barton, Barclay Bakkum, Carol Collins, Paul Newbiggin, Hobbes And Snorky, Bethany Angermaier, Clay Anthony, Elizabeth Johnston, Joe Derecola, Brian Miller, Cathy Derecola, Mike Mondoux , Kristen Rice, Demetrios Makres, Nathalie Periard, Andrew Swiatowicz, Chris Schrider, Sharon Gilbert, Ed Suscreba, Janie Starks, Tom Koval, Tim Johansen, Andrea Weedmark, Stacey Kelsall, Donna Currier, Erin Hammer, Amy Miller, Steve Morin, Charlie Gilbert, Jen Eacret, Michelle Palazzo, Melissa Littman, Audra Miller, Kevin Miller, Kathleen Bousquet, Mike Walter, Loren Agostino, Andy Hickey, Rob Hepler, Evald Olson, Susie Howard, Robert Graham, Heather Pedulla, Laurie, Derek Carty, Karen Adamakis, Annie Snodgrass, Trina Noggle, Joann Scheerer, Chris Thomas, Diane Furtado, Team Bonnie Sue, Kara Jones, Ruth Senecal, Morgan M., Jenny Stoneburner, Bethann Bohn, Madison Hovan, Victoria Cobb , Vicki Edwards, Suzanne Denham, Reagan Herman, Mildred Popp, Larry Sprenkle, Blake Schmidt, Alex Popek, Mandy Letort, Kirsten Miller, Vicki Shearman, Gallagher Family, Gabriella, Terry And Matthieu, Michelle Darabaris, Michelle Darabaris, Vera And Izzy Williams, Dave Kanigowski, Emily Berge, Sandy Kanigowski, Carolyn Como, Suzanne Sevier, Doug Olson Family, Randi Balch, Jonathan Thomas, Michelle Kutch, Hunter Armstrong, Laura V., Jim Finley, Hillary Waldroop, Jeff Blank, Karen Ramirez, Terry Blair, Jodi Cook, Lee Deroia, Phoebe Speiser, Wayne Chadourne, Kathy Love, Tom Donnelly, Cheryl Costello, Melesia Love, Al Sandal, Susan Doucette, Candy Sandal, Michele Mongeon, Karen Smith, Lois Lynch, Karen Costa, Andrew Pettit, The Holmes Family, Brenda Hawk, Heather Hynes, Dee Riccio, Alison Rosenberger, Zachary Ott, Christopher Hall, Melody Odonnell, Amanda Campbell, Maureen Tavrell, Terry Fleming, Erin Loring, Jeremy Reichelt, Dennis Loring, Amy Fleming, Beth Josuweit, Lisa Zitek, The Hutchinson Family, Scott Sangston, Anastasia Macneil, Christina Rotella, Leigh Mertz, Dennis Bratnik, Karrie Duffey, Mike Gillardi, Matt Holley, Dana, Carri Marotto, Angela Johnson, Vicki Britt, Mary Greger, Kelly Smith, Matt Petty, Team Meeker, Dallas Hamilton, Wayne Rogers, Emily Hudson, Brian Richmond, Ainsley Poe, Fran Rendulic, Jillian Secord, Randy Thomas, Kelly T, Greg Berg, Jeff Finger, Duskin Henard, Rob Blundin, Glenda Lane, Art Hutchinson, Carrie R, Michael Dale Pennington, William Sharp, Paula B, Ron Harper, Kirk Hardy, Judy Wuchter, Judy Wuchter, Diane Ramos, Mike M., Nate, Gail States, Judy Dakota, Mike Haeberle, Wendy Palmquist, Holly, Holls43, Lori Rienhardt, Ann Muckle, Katie Bray, Walter N. Clark, Sophia Clifton, Brian Grabowski, Davida, Michelle Boykin, Schuyler Stewart, Alan Mize, Nicole Benoit, Matthew Jadro, Marie Seilus, Mandy Moreira, Debbie Horvath, April Ramey, Dayna Guay, Ronald Delorey, Adam Inlander, Billie Jean Albolino, Michael Utesch, Brandon Hillenburg, K. Ball, Kerry Mccaffrey, Karen Hotchkiss, Kim Wolfe, Sharon Leitgeb, Heidi Goodhue, David Ballard, Peggy Saeger, Jane Johnson, Joseph M. Zafia, John Paul Carnell, Mark A. Santora, Tricia Noble, Robin Meredyk, Judith Franken, Jackie Graebel, Marie Vanacore, Nathaniel Clements, Lynn Torre, Shirley Garcowski, Anita Jodouin, Maja K., Brandon Emerson, Peter Boguszewski, John Torre, Cindy Jett, Betsy Dross, Lindsay Morris, Mike Hulse, Susan Ernst, Jullie Pudem, Patti Mccaffrey, Les Stewart, and Agnes Ciotti. Each of you are entered in this month's winners' drawing.
_____________________________________________________ _____________________
Challenge #307 Where in the world is this?
Back into the parks, Players!

Do you know? Do you have a guess? Please send in your answer, before the end of the day on Thursday, November 28th, by clicking on the blue box below. Please do not post answers using the Feedback Form link at the bottom of this post.
See you next week, Players!


_______________________________________________________________________
Everyone who sends in a correct answer to a Where in the World Challenge this month will be entered in a drawing at the end of the month for some special AllEars® goodies!