When people are planning a Disney vacation, they concentrate on where they are going to stay, which parks to visit and when and what to eat. That last one is the reason the All Ears Menu Section is so popular. I remember sending restaurant menus to my youngest daughter to see if she approved. The next best thing was finding photos of the meals online.
Photographing food at Disney is very popular judging by the Tweets and FaceBook postings I see daily. I know it is something Lisa and I do on every trip and in (almost) every restaurant. So, this week, that is our subject: Food. Like these sweet treats I found at the Trail's End Restaurant Buffet in Disney's Fort Wilderness Campground & Resort for breakfast.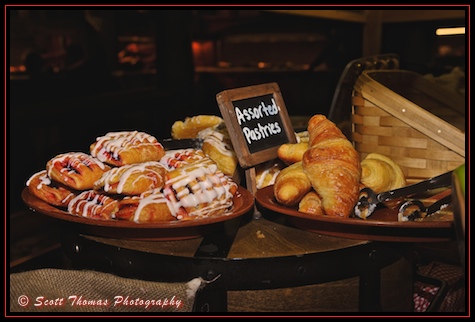 Yummy breakfast pastries at Trail's End Buffet.
Nikon D700/28-300VR, 1/60s, f/8, ISO 200, EV +0.3, 48mm focal length, rear-sync flash.
Lisa will be here on Thursday to share her mouth watering Disney Pic of the Week on Food.