Wow, what an exhausting and exciting Day 1 of the three-night Disney Fantasy preview cruise has been.
Because tomorrow is our day at sea, and I'm not at all confident that we'll have internet available to us, I thought I'd give you all a few highlights of the day and share some photos.
If you're familiar with the Disney Dream, the Fantasy's sister, you'll already know what a beautiful ship she is. I was impressed all over again at not only the size, but the grandeur of this ship — from the sweeping staircases to the twinkling crystal chandeliers, everything about the Fantasy is BIG.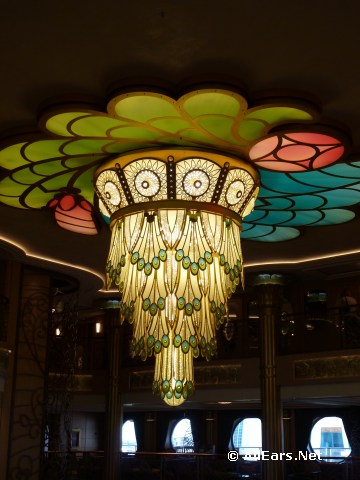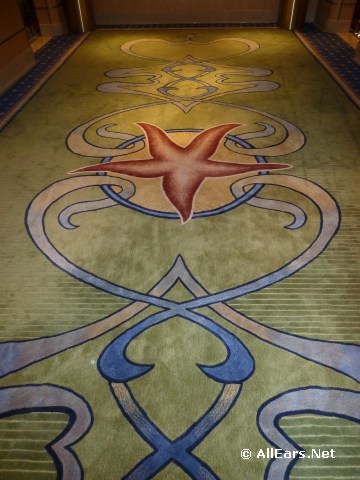 We ate lunch at the buffet in the Enchanted Garden, which to the best of my memory, is identical to the restaurant of the same name on the Disney Dream.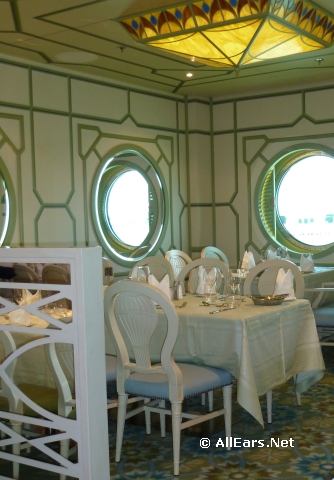 After lunch, I explored all the kids' areas on the ship. The "it's a small world" nursery was essentially the same as the nursery on the Dream, a very cozy place for the littlest voyagers (3 months to 3 years old). The Oceaneer's Club and Lab were also very similar to those on the Dream, but I really did enjoy Andy's Room there, featuring a grumpy looking Mr. Potato Head.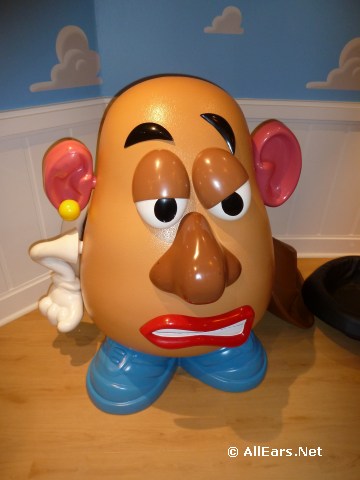 I also made sure to check out the Edge, the area specially designed for "tweens" agse 10-14, and the Vibe, for older teens 14-17. I have to admit, I so enjoyed the "vibe" of the latter, that I almost didn't want to leave… but they told me that being a teenager at heart didn't count, so I out had to go! But look how cool it is: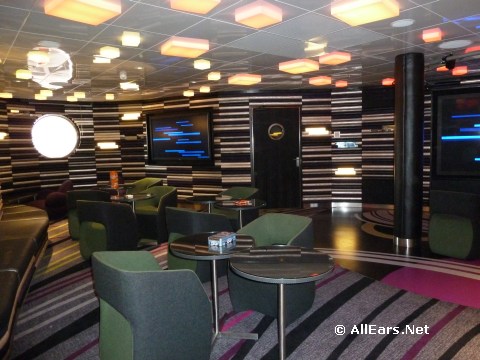 After our muster drill, we went up on deck to watch the Sail Away Party. Disney's Karl Holz was on hand to toast us as we finally set sail.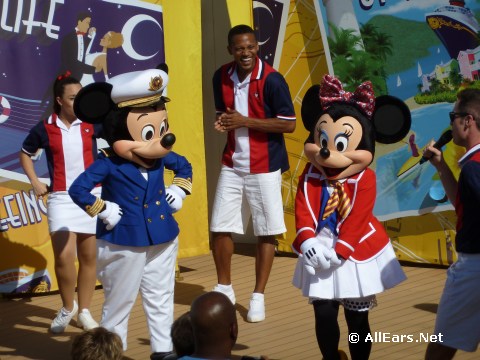 Our dinner tonight was at the Animator's Palate, which I had really been looking forward to. If you've
read about the new technology in play here, you'll know that diners are asked to create their own character, which is then magically transformed into a cartoon before your eyes. I don't want to give up too many spoilers here, but I will say that it was an absolutely delightful presentation. I'm no artist, I guarantee you, but you can see my little red creation on the right here: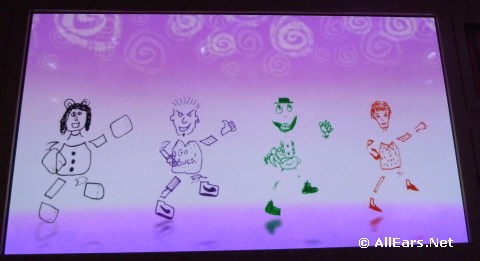 So cute, really. And the food was pretty good, to boot. In fact, I had both of the vegetarian dishes (slight ordering mix-up — the waitstaff is still working out the kinks!) and they were outstanding. Worth special mention was the Farro Stew, which also featured hazelnuts, green beans and radish, and a hint of lemon juice.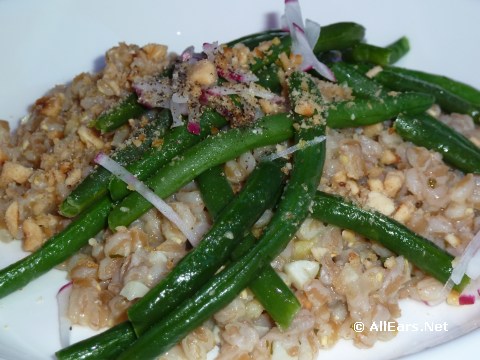 We closed out the evening with a viewing of Wishes, a brand new show. Sorry no photos allowed.
Well, seems like it's taking longer and longer to load photos, and I keep getting disconnected and error messages, so I'm going to publish this now and hope you can see it. If you want to see more photos, you can take a look at those I posted earlier today to my Twitter account HERE. And be sure to follow Deb Wills and me, and the AllEars.Net Twitter acounts — we'll be posting more whenever we're able to:
@AllEarsDeb = http://twitter.com/AllEarsDeb
@dcdeb_allears = http://twitter.com/dcdeb_allears
@AllEarsNet = http://twitter.com/AllEarsNet
I promise you that we have lots more photos and facts to share in the coming days, if the internet gods smile on us and keep us connected. Otherwise, it'll have to be after we're home! Ciao for now!