Before I begin, I want to let you all know that I am hosting 2 meets at Disneyland on Wednesday, February 29th. These events will take place during Disney's One More Day in celebration of Leap Year. You can sign up via Facebook. RSVPs are not necessary but help with estimating how many people I should anticipate. I hope to see you there!
7:30am The Early Birds – Adventureland
Meet at the tiled court near the Jungle Cruise exit. We'll enjoy an attraction that's open early.
9:00pm The Night Shift – Tomorrowland
Meet against the wall between Star Tours and the gift shop, The Star Trader.
Betwixt visits to Mickey Mouse's home (Disneyland) and his favorite vacation spot (Walt Disney World), one can catch up to him and his pals at a Disney on Ice performance. Each touring show has a different theme.
I enjoyed Dare to Dream this past Friday at TD Garden in Boston, MA. Three stories are condensed to create one show; The Princess and the Frog, Cinderella, and Tangled. Prior to the start of each tale, Mickey, Minnie, Donald, and Goofy get things rolling with a brief summary, playfulness, and some snazzy New Orleans jazz-inspired outfits. The show closes with a huge production number including fireworks, and a plethora of Disney couples.
Photography without flash and videotaping are allowed for personal use. Lighting is low and often times characters are only semi-spotlighted or skate through projections or colored gels. When multiple ice skaters are on the floor, the difference between those in spotlights and those in overall lighting tends to differ by 1 to 2 stops. For instance, the spotlight skaters might register at f8 with lots of light while someone under general lighting reads f5.6 (the lens needs to open up to compensate for less light) on the camera's meter.

This is a fine example of how varying the lighting is at the show. My camera was set to Shutterspeed Priority at 1/320 and my ISO was 1250. Pattern Metering, which read many points in the image, set the aperture at f4.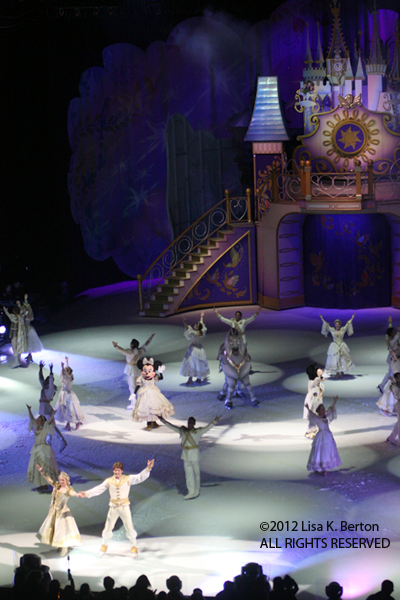 Again, we see variations in how brightly lit some skaters are compared to others. Those magenta and purple gels make people darker.
The basics for photographing action in low light using SLR manual controls are:
1. Use a fast ISO such as 800 or higher.
2. Open the aperature as much as you can. The lower the number (f2.8, f3.5) the more light is allowed through the lens.
3. Shoot fast! Action requires a fast shutterspeed. If 1/125 doesn't cut it, go faster and try 1/250 or 1/500.
4. Keep your camera focused on the subject and follow him/her with the camera (stay in your seat) as she/he moves.
5. Poise that index finger and keep it pressed half-way down on the shutter button so the camera keeps focusing and you don't lose that split second when you take the photo.
6. Try continous shooting and high continuous shooting. You'll grab a fast series of images.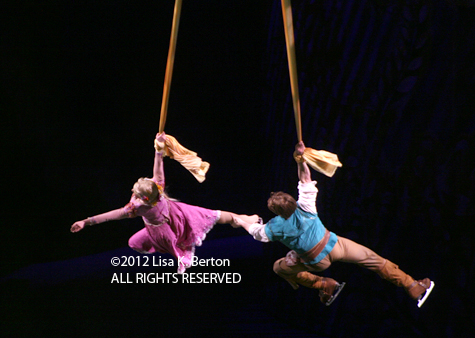 As soon as I saw the material drop from above, I knew they were going to take off flying. I changed my setting to high speed continuous and fired about 4 shots in 1 second.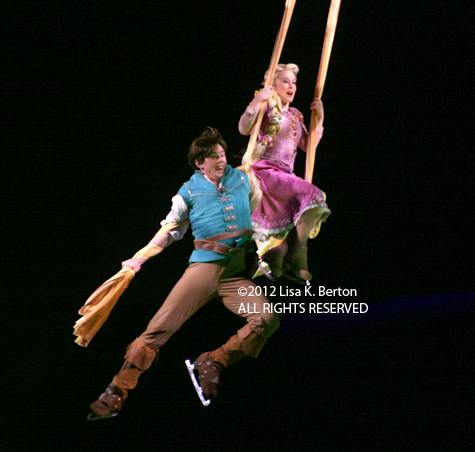 7. Give your moving subject room within the frame. You never know when an arm or leg might swing out. You can always crop the photo later.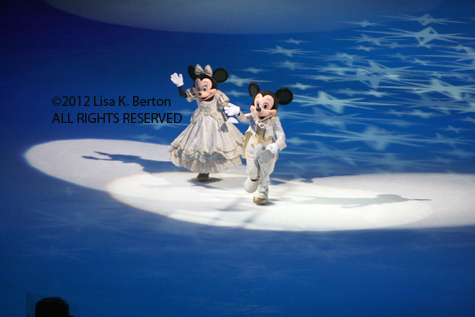 This is the original image. Yes they're a bit small in this shot but that's okay because it's in focus.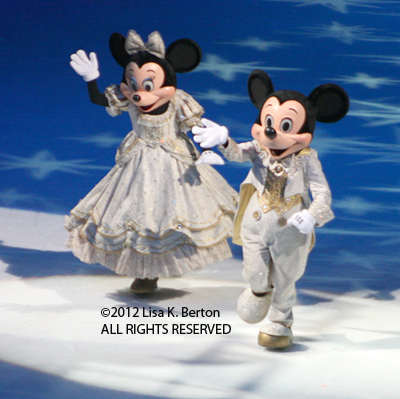 Voila! An action shot of Minnie on one foot (although it'd be nice to see part of her left leg).
The same can be said for those using point and shoot cameras with a few added notes. Keep the camera at eye level and lock your elbows against your sides. You need to hold the camera steady. Holding the camera above your head is not only loose and shakey but you're now blocking the view of those sitting behind you.

Standing on a stable, Tiana gives folks a chance to grab a great shot of her under bright lighting.
1/250, f4.5, ISO 1250
All images were taken with a Canon EOS 30D and Canon 75-300mm USM lens. Images of The Princess and the Frog were taken about 15-20 away from the ice. All others were taken from a suite on the 5th floor.
Media tickets were provided by Feld Entertainment and TD Garden.
You can find me on Facebook.