My wife Carol and I have been Disney fans for decades, but did you know that our dogs, Zak and Blue, are Disney fans too? They just love to head to Disney's Fort Wilderness Resort and Campground with us. It's a very pet-friendly place. It's Disney's only pet-friendly resort.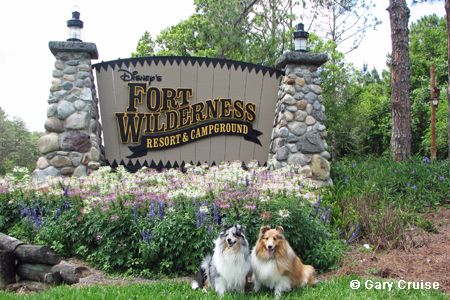 The 788 campsites are arranged in "loops"; each loop is a road which exits the main road and contains twenty or more campsites. When we first started visiting our favorite campground there were only a few "pet-friendly" loops, but now seven of the twenty camping loops welcome pets. And it's not just dogs, there are plenty of cats and we've also seen some unexpected pets such as parrots there.
We often see dogs or cats laying on the dash of motor homes as we walk past. Some folks even bring collapsible dog runs with them and set them up on their site so the pets are not tied all the time.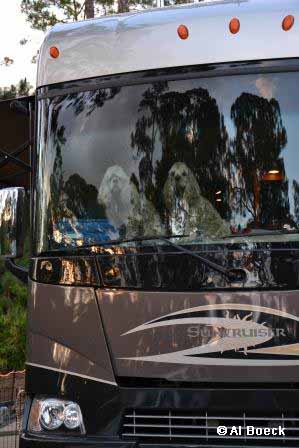 Naturally there are rules, but they all make perfect sense. Pets must be leashed and controlled and you must "pick-up" after them. There are areas set aside for "pet walks" and there are areas, such as around the comfort stations, where pets are not allowed. These areas are all well marked.
Is there a fee for pets who camp with you? Yes, Disney charges $5.00 per day if you camp with pets. That is a flat fee; it is not $5.00 per pet. The one fee covers all your pets. What do you get for your five dollars? Quite a bit . . . it really is a bargain! The pet facilities are excellent.
The pet walk areas near each of the pet-friendly loops are spacious and scenic. Most of them run beside one of the canals that criss-cross the campground on their way to Bay Lake. There are handy bag dispensers at the entrance to the pet walk area and a few more located along the walk. Most people are conscientious and pick up anything the little dears leave behind.
Fort Wilderness has plenty of wildlife to keep your pet's attention. We've encountered squirrels, armadillos, turtles, deer, wild turkeys and even a few small gators! Fortunately the dogs didn't notice the gators!
The off-leash doggie park, called "Waggin' Trails", is a fairly recent addition and it has become a favourite for our pups! It is located beside the 300 camping loop and opened in 2010. Our boys just love to head over and romp with their new BFF's. There's always someone new for them to play with.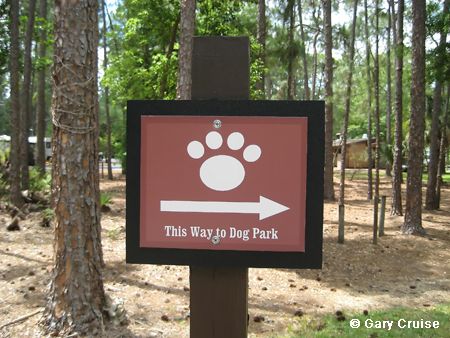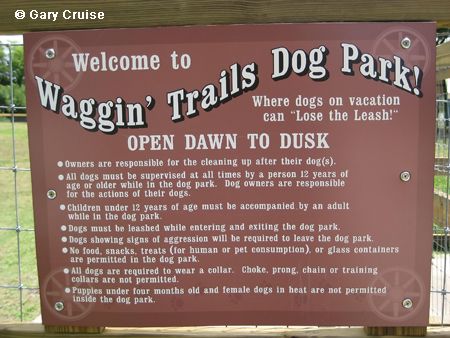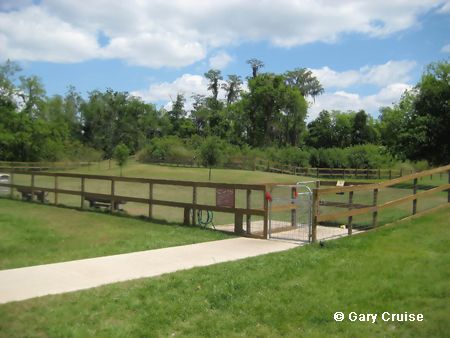 Zak and Blue just love Fort Wilderness because they get so much more attention there than they do at home. While we are at "The Fort" we tend to walk them more than we normally do and they really enjoy their time along the canals and at Waggin' Trails. Of course they also enjoy just walking around whatever loop we are camped in. There are always new scents to sniff and other dogs to meet. Many of the other pet owners come out to chat with Carol and I so the pets have a visit too! Often there are extra cookie treats for them as we make our way around the loop.
Zak and Blue really enjoy riding on the golf carts we rent. The first few times on a cart they were both nervous but they've learned that a ride on the cart often means a trip to the dog park and now they are anxious to hop aboard. Sometimes there's too much activity for the dogs and they just can't keep up!
What they really enjoy though are the "extra special" activities. The dogs have enjoyed some unique experiences over the years; they never know quite what to expect next.
A few years ago there was a special "Pet Day" at Downtown Disney and we took Zak and Zoë.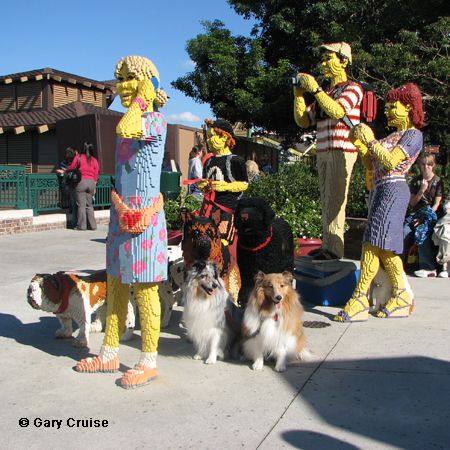 They loved meeting Santa Claus who was waiting beside The World of Disney Store to meet four-legged Disney fans!
In years past we would sometimes take the dogs to the theme parks and leave them in the kennels which were conveniently located near the entrance to each park.
This gave the pups a great opportunity to mingle with their favourite Disney characters.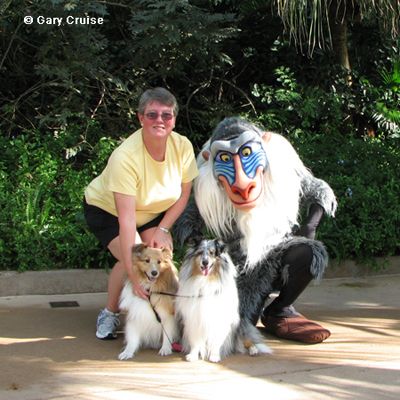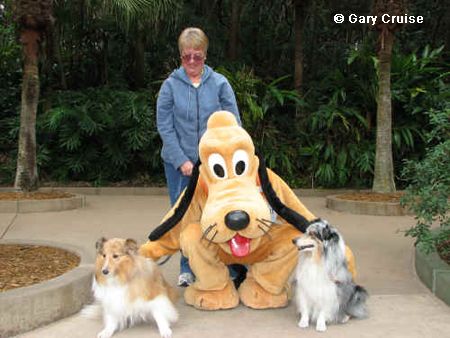 They have even gotten to meet some of our good friends from the Disney fan community.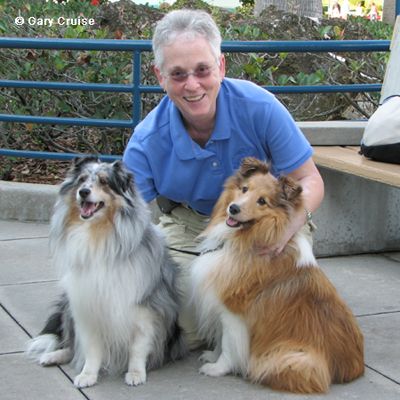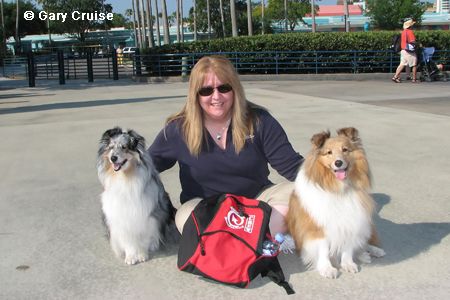 The kennels at each park were closed recently and kennel services are now provided by Best Friends Pet Care from their new location on Bonnet Creek Parkway across from Port Orleans Riverside. They offer a full slate of services including grooming and pampering!
The highlight of the year for pets at Fort Wilderness has to be the annual "Pet Costume Parade" held on Halloween. It's a blast for the four-legged participants and the two-legged ones as well. There are usually about one hundred dogs and two or three very wary cats.
The pets parade past the judging table beside the Waggin' Trails park and then stroll through the 300 loop where adoring crowds of campers applaud them.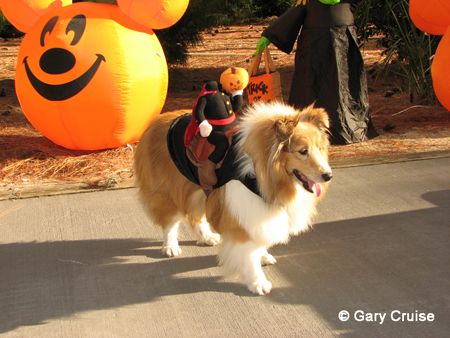 The parade ends inside the off-leash park where prizes are awarded in a variety of categories.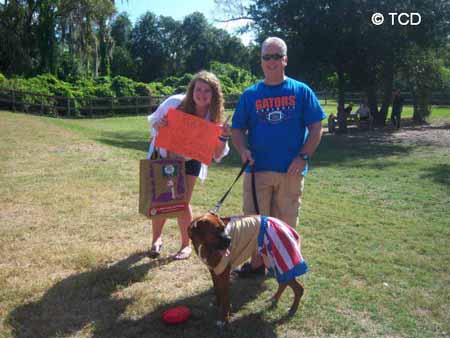 Zak and Blue have a howling good time at the Costume Parade!
Having the dogs with us changes our vacation experience in a very positive way too! When we fly down to WDW and stay in some other Disney resort we tend to spend long hours in the parks. We head out early and stay late, trying to cram as much as we can into every day. Having the boys with us forces us to take a break and attend to their needs. So when they're along we normally spend the morning at a theme park and then head back to The Fort for the afternoon. After spending time with the dogs and relaxing for a while we head back to a park for the evening. It's so much more relaxed for us . . . we savour the Disney experience rather than try to cram it all in! Aaah – so nice!
So if you think you might like to treat your dogs to a Disney vacation, it's easy to do. Make a reservation at Fort Wilderness and come join us.
Zak and Blue would be happy to show your pets around their favorite place!