So if the official Disney conventions turn out to not fit either your schedule or your budget, another very good alternative is the annual, fan-organized, DisneyanaMania convention which took place this year on July 12-16.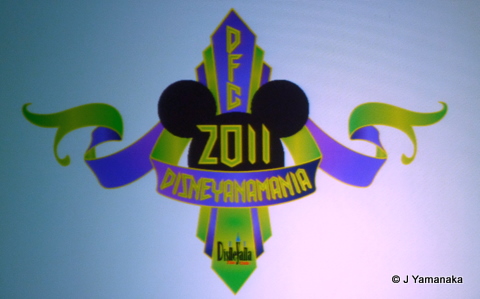 I was able to attend last year, and even though this year the convention attendance was slightly smaller, the programming was no less full of impressive speakers and content. It started off Tuesday night with a welcome dinner, celebrating this year's 45th anniversary of "it's a small world," with honored guests Alice Davis and Maggie Richardson, niece to Mary Blair.
The next day's panels started in the afternoon, following their annual fundraising brunch for Ryman Arts (a non-profit organization providing free art education to talented aspirants.) The Dueling Jims Hill and Korkis started it off with "WDW I Can Do It Better Than You," a good-natured competition of anecdotes.
Roger LaRoque and Nick Farago followed with a talk on "Historical Postcards."
And the day ended with a panel and autograph session featuring four Disney-related authors: Don Peri, who wrote "Working With Disney," a series of interviews with people who worked directly with Walt; Professor Andi Stern, who wrote "Why We Love Disney," a scholarly work on the history and appeal of the Disney Company; Nancy Temple Rodrigue, who wrote the Hidden Mickey series–fictional novels that begin with a lost diary detailing clues and a trail Walt left throughout Disneyland; and of course, Jim Korkis, with his recent book "The Vault of Walt."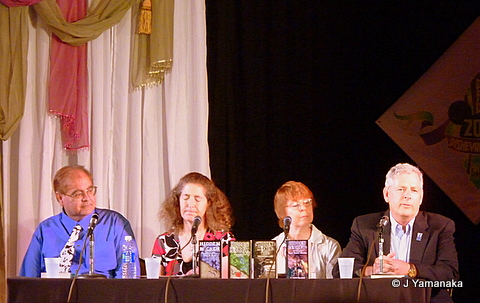 The next morning, Kevin Kidney gave a great presentation on the behind-the-scenes process of putting together the new Soundsational parade and some of the new products he and Jody Daily have created for WDW's 40th anniversary this year.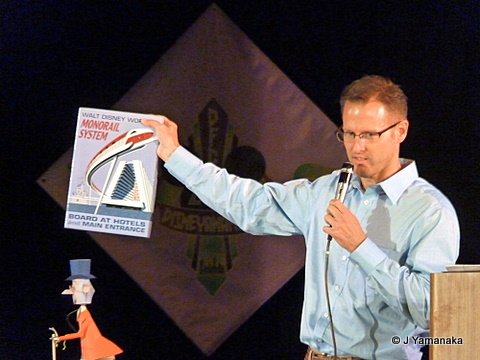 ("Where does he get those wonderful toys?")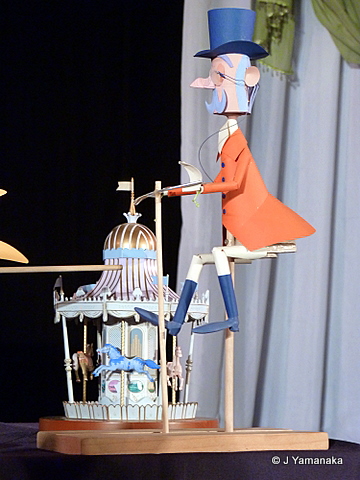 "Tasty Crunchies and Munchies and Novelties too," presented by Karlos Siqueros, Manager of Food and Beverage Concept Design for the Disneyland Resort, showed us a preview of some of their promotional merchandise, edible and otherwise, in the works for the upcoming holidays and spotlighting some of their recent attractions.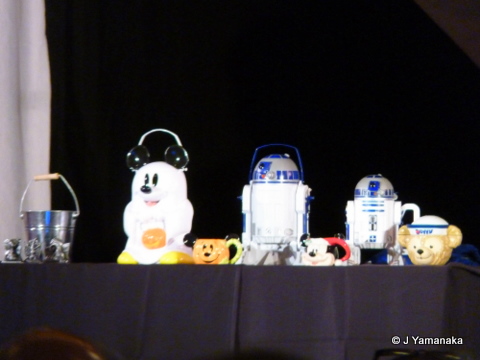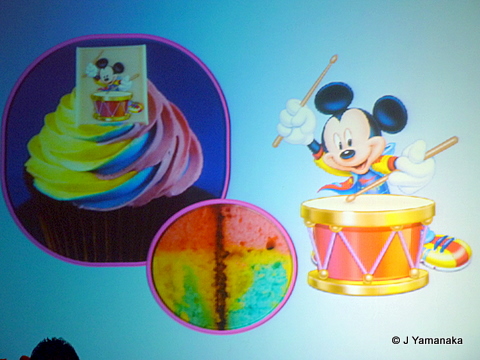 Ron Miziker, past Director of Entertainment and Show Development for Disney, shared some of his stories about planning and producing all the programs for the opening of WDW.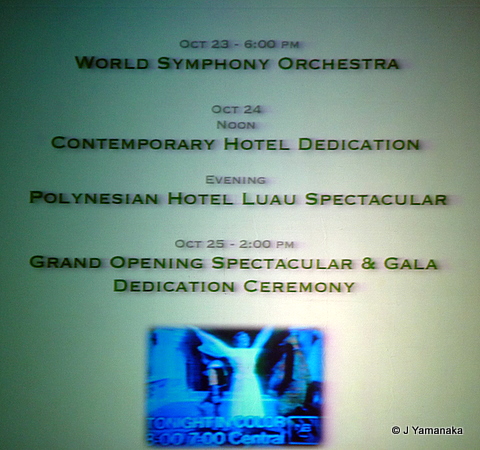 A World Symphony Orchestra with members from 85 countries was assembled for the occasion, with other performers such as Bob Hope involved in the three day celebration. Miziker went on to produce many more Disney shows, including the opening day broadcast for EPCOT Center, which apparently involved many colorful contretemps with Dick Nunis and Danny Kaye.
A voice panel was up next, with character voices Bill Farmer (Goofy,) Tony Anselmo (Donald,) Bret Iwan (Mickey,) and Creative Director Ben Hoppe. After a brief discussion on how they got into the business of Disney voiceover, they gave a demonstration on dialogue looping with a short cartoon segment.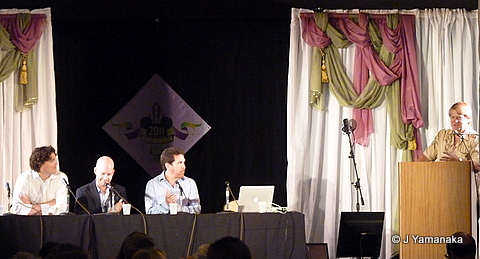 Jerry Beck and Charles Solomon then closed out the afternoon with an Animation Critics Panel, discussing some of the history behind Disney animation.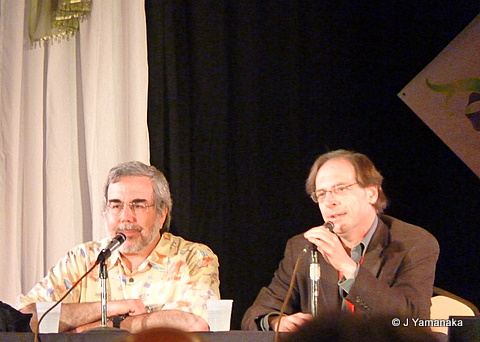 But the evening was still young! That night was the Celebration Banquet, with special guest Susan Egan (of Broadway's Beauty and the Beast and the animated classic Hercules.)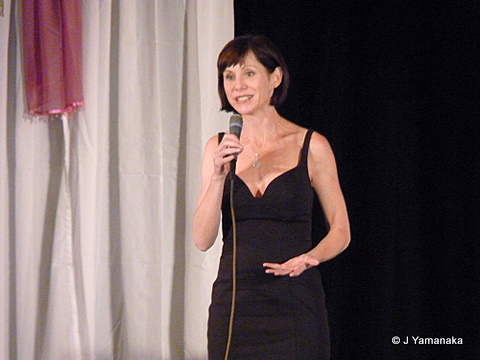 After relating some of the high (and low) points of getting and creating the role of Belle on Broadway, she sang some of her characters' signatures songs and was then presented with the Disneyana Fan Club Legend Award.
The next day, which was the last one for presentations, started off with Bob Garner, writer, director, and producer of many documentaries and specials on both Disneyland and WDW. He showed us clips from some of them, including some nostalgic commercials he did for the Matterhorn, and related some of his memories working with Walt and with Nunis.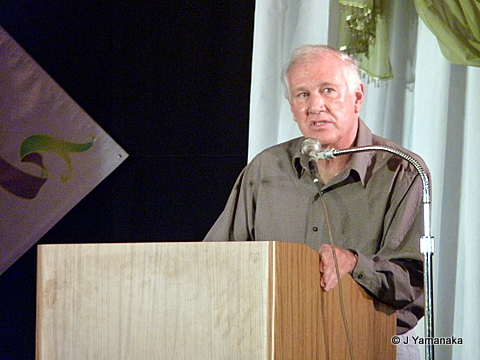 Mark Henn, the "Ladies Man" of Disney Animation (6/10 Official Disney Princesses to his name) discussed various topics of his career with Disney throughout the resurgence of Animation in the Ashman/Menken era, and present projects, such as the latest Winnie the Pooh movie.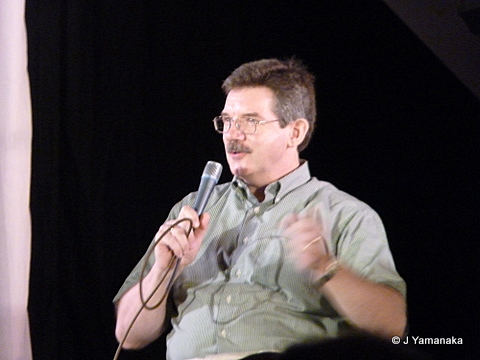 The final formal presentation of the weekend was by Eddie Sotto, former Imagineer, who talked a little about how he started out in Imagineering and some of his work developing Main Street for Disneyland Paris. This is him now…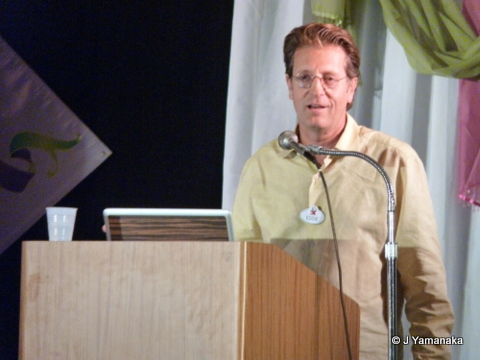 …and this is him then.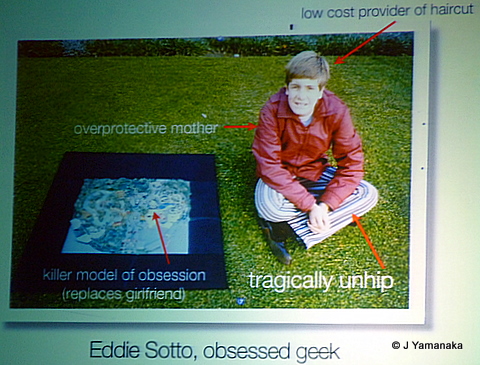 He was a phenomenally entertaining speaker, and I highly recommend taking any opportunity you get to hear him. Of course, one place you can always hear him is in Disneyland, where (to name a few,) he does various voices on the party line phones and upstairs offices on Main Street, and in Adventureland as Shrunken Ned and the Genie machines.
One of the highlights of every Disneyana Convention is the annual Legends Luncheon, in which Legends awards are presented to a few deserving Disney dignitaries. After a video honoring some of the recently lost Legends, awards were given to Animator Eric Goldberg and Imagineer Kevin Rafferty.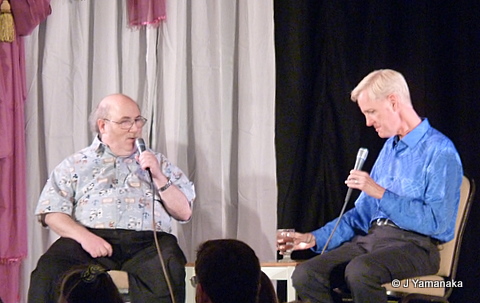 Rafferty was also recently featured by California Tourism in one of several promotional videos they did of prominent California residents.
In all, it was an entertaining and informative collection of presentations and presenters topped off with their annual All Disneyana Show and Sale where a number of the speakers were present signing books and Mickey's of Glendale were selling company-exclusive items. Virtually any type of souvenir you could think of was up for purchase.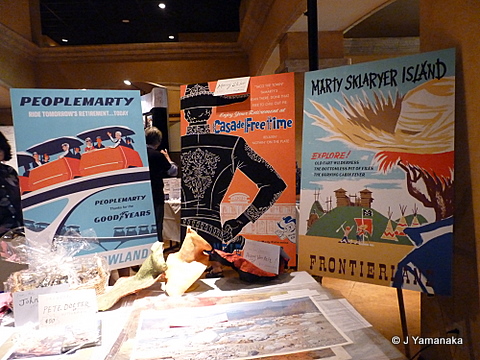 While this was definitely the smallest convention I attended this summer, it definitely had a competitive amount of programming and the advantage of having no lines whatsoever for seating. If one of your primary interests is getting to meet Disney personalities, this was certainly your best bet as virtually every speaker had either a signing or a short meet-and-greet following their talk.
If you're interested in finding out more about the convention, the club has put together a video sampler of the weekend:
You can also get more information from their website, http://disneyanafanclub.org/