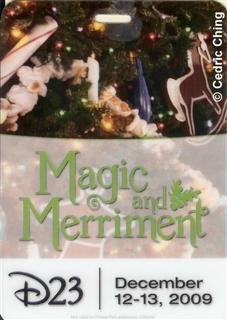 Guest Blogger Cedric Ching is back! This time he has an extensive review of the D23
"Magic & Merriment" event held at Walt Disney World. The first two D23 events at WDW were the "Flowers & Fireworks" in May and the "Sip & Stroll" in October.
D23's "Magic & Merriment" celebrated their first holiday season with two days of exclusive festivities.
Among other things, these festivities included the following:
— a special "Holidays Around the World" presentation to start off the weekend (Saturday)
— guaranteed seating for the 5pm Candlelight Processional (Saturday)
— a private dinner on the set of Lights! Motors! Action! with dessert at the Studio Catering Company (Saturday)
— a private presentation of the history of the Osborne Family Spectacle of Dancing Lights (Saturday)
— lunch and entertainment at the Diamond Horseshoe Saloon (Sunday)
— a tour of the Cinderella Castle Dream Suite (Sunday), and
— entry into Mickey's Very Merry Christmas Party and access to a D23 Hospitality area (Sunday)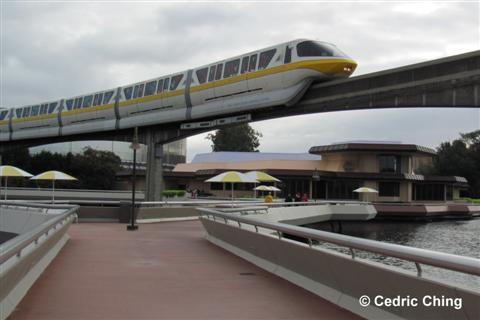 Check-In for the Magic & Merriment was a two-step process. Guests first stopped by Will Call window just out and to the right of Epcot's main gates to received our complimentary park tickets, as well as an itinerary for the weekend and complementary Disneyquest tickets. Then, it was over to the Odyssey Center, inside the park, where D23's Jeffrey and Joanna handed us a large envelope with everything else we would need.
Inside the Odyssey Center, we signed up for our Cinderella Castle Dream Suite tours on Sunday and were offered the option to purchase a special carrying case for our Twenty-Three magazines (offer not available online). We were also given a copy of Pam Brown's "Culinary Confessions of the PTR Divas" cookbook, just like at the Sip & Stroll event.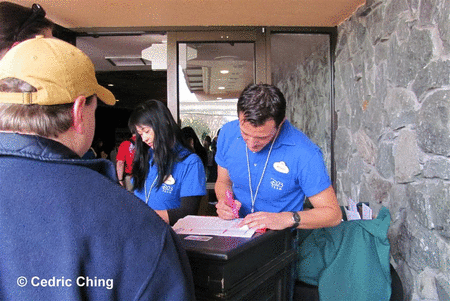 The room was set up with rows of chairs in the center and large tables along the sides. In the back there were multiple beverage stations — this time offering hot cocoa in addition to water, sodas, and coffee — along with some decorations.
Before the presentation, I was able to spread out the contents of our envelopes: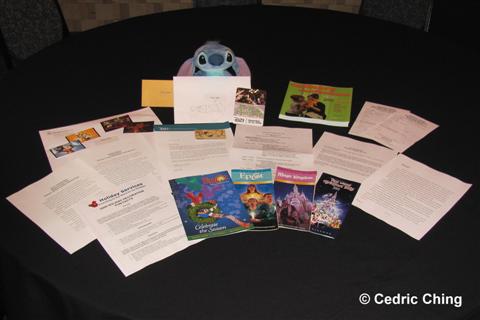 — our D23 Magic & Merriment lanyard/credentials
— a welcome letter from Steven Clark, Head of D23
— an itinerary of the Magic & Merriment activities
— biography sheets of each of the morning's speakers
— a Holiday Services trivia sheet
— a set of park maps and event programs
— our complementary 1-day, 1-park theme park passes and Disney Quest tickets
Vanessa Rosas, one of the two 2009 Walt Disney World Ambassadors, welcomed all of the guests to D23's Magic & Merriment to start off Saturday morning's "Holidays Around the World" presentation. This was fitting, as her counterpart Clay Shoemaker had opened the D23's Sip & Stroll event.
First, Vanessa introduced Becky Cline, the Manager of the Walt Disney Archives and part of the development team for D23. Becky sent greetings from Steven Clark, who had family commitments (read: "triplets")., then joked that while Steven was often referred to as the "Father of D23", she had become known as its Fairy Godmother, a title she quickly demonstrated as she surprised everyone with Mickey Santa hats. She then quickly shared that her favorite Christmas tradition was the Candlelight Processional and that she has been able to participate in the event on both coasts.
Next, Jeffrey made some quick Mousekeeping announcements which included the note that the guests for this event represented 25 states plus Canada.
Lisa Borotkanics, Manager of Disney's Holiday Services, was the next to present. She had a slideshow with trivia about the holiday decorations found around the parks and resorts areas.
A couple items she focused on were the large Mickey Mouse wreath at the Contemporary Resort and the concept of "Icon Trees". The wreath on the side of the Contemporary measures 31′ tall and 38′ wide, making it the largest wreath on property (Note: the smallest wreath is 8″ wide and can be found on an igloo at Winter Summerland). As for the "Icon Trees", these are trees put out by Holiday Services that are at least 18′ in height — there are 27 Icon Trees on property. The Contemporary not only has the distinction of being the only resort to host an icon tree but also of having the tallest at 70′. Because this pole tree uses LEDs, lighting it requires no more energy than three household hair-dryers. Also of note, all of the trees her department puts out are artificial and are recycled after their 5-6 year lifespan. And before she was finished, Lisa surprised each guest with a packet of Epcot and Magic Kingdom FastPasses.
Next, Vanessa introduced a couple guys with "sweet" jobs, Stefan Riemer, Master Pastry Chef at Disney's Yacht and Beach Club, and Erich Herbitschek, Master Pastry Chef at Disney's Grand Floridian Resort & Spa.
Each chef talked about the gingerbread display at their respective resorts — Chef Stefan described the Gingerbread Carousel at Disney's Beach Club Resort, and Chef Erich, the Grand Floridian's Gingerbread House — and while one chef was presenting, the other decorated a small gingerbread house.
Chef Stefan told us how European traditions have influenced the way they build gingerbread today. For one thing, both he and Chef Erich take after the Europeans, who prefer to use honey in their recipe, which makes their gingerbread more moist, while Americans prefer molasses, resulting in a crispier cookie. Also, Europeans typically start making gingerbread right after Easter, and both chefs start their gingerbread preparations in early summer.
This year marked the 10th Anniversary of the Gingerbread Carousel at Disney's Beach Club Villas, and to reflect the year and the anniversary, Chef Stefan used 2009 gingerbread pieces on the carousel and placed ten hidden mickeys in and around the 8-foot-tall display. Chef Erich and his team at the Grand Floridian begin preparations in June, not only to cover their 17-foot-tall gingerbread structure, but to provide the over 36,000 baked items they sell each season, which are all hand-made. Another mentioned, was that each year, each Resort Gingerbread House had their own character pin — Beach Club (Chip and Dale), Boardwalk (Stitch), Contemporary (Mickey), Grand Floridian (Minnie), and Epcot [American Adventure] (Goofy) — I believe all of these pins were sold out by the time of this event.
At the end of their presentation, all of the M&M-ers were treated to either a gingerbread cookie or sugar cookie. The back of one of the cookies was marked with some stars; that person got to take home the gingerbread house Chef Stefan and Chef Erich had been decorated.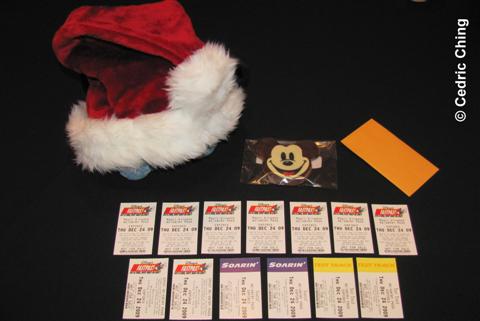 The chefs were the last presenters, but before the morning session came to an end, D23's Fairy Godmother had one more surprise for us — with a "Mele Kalikimaka", Santa Stitch came running up the aisle. Guests were able to get their picture taken with him before heading out to roam the parks, and that was the end of the morning session. The next scheduled M&M event was the Candlelight Processional at 5pm.
I didn't immediately head out. Instead, I stuck around the Odyssey Center and took some pictures of Holiday Stitch with the D23 Team.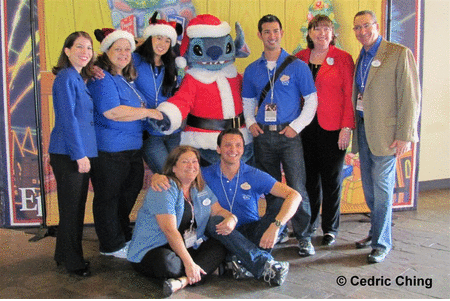 Afterwards, I left with Sandi (a D23 member I met during the Sip & Stroll) towards Disney's Hollywood Studios. She was trying to catch a Disney artist signing while I wanted to check out the holiday displays at the Epcot Resorts, so I accompanied her as far as Disney's Boardwalk. Here are some pictures from the resorts:
With the rest of the free time, I made a tour of the World Showcase. I also walked to the parking lot to drop the cookbook off at the car (quite a number of M&M-ers had the same idea). And I went back to D23 Hospitality Suite (Odyssey Center).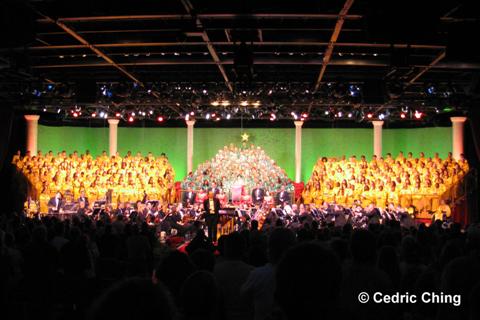 For the Candlelight Processional, D23 had reserved the last two rows for M&M-ers. It was truly a luxury not having to stand in line, which would've been quite considerable. Chita Rivera was wonderful as the guest narrator. Her love for this tradition was apparent as her face would light up at certain songs.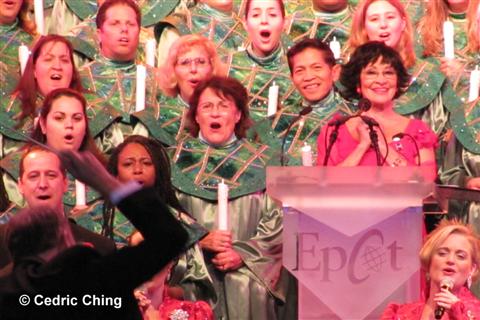 There was no mention of "D23" or "Magic & Merriment" at this performance, but I suppose that was understandable given the season. Still, D23 was represented as Mark, an M&M-er who is also a Disney cast member, made it into the show, which was cool to see.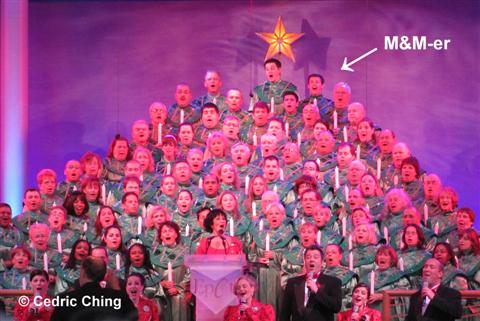 After the show, we waited until most of the theatre cleared before we were led behind the American Adventures to a fleet of buses waiting to take us to Disney's Hollywood Studios for the rest of Saturday's M&M activities.
The buses dropped us off beside Walt's private jet on the Backlot Tour, and as we walked underneath the bleachers, excitement filled our eyes as the Lights! Motors! Action! set came into view — the red carpet rolled out, tables and chairs set up, and a bright D23 welcome on the large billboard television screen.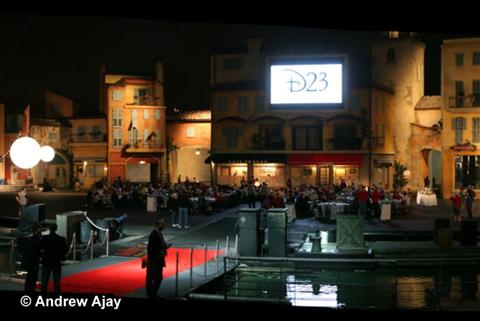 Dinner was presented in buffet style to offer us more variety and to let us eat as much as we cared to eat. There were identical selections on each side of the set plus a carving station towards the center. The food was an array of hot meats and savory seasonal sides:
Buffet Line:
– European Greens with Heirloom Tomatoes, Euro Cucumbers, Carrots and Olives
– Yukon Gold Potato Crusted Lobster and Crab Pie topped with Aged Cheddar
– Sage Roasted Turkey Breast with Gravy
– Sweet Potato Mash with Toasted Marshmallows
– Carrots with Dill (actually, some sort of delicious, moist chicken breast)
– Hot Grilled Seasonal Vegetables with Acorn Squash
– Thyme Roasted Pork Loin with Apple Dressing and Cranberry Jus
– Balsamic Roasted Beets with Citrus and Arugula
– Pomegranate Vinaigrette, Stilton Blue Cheese Dressing, Watercress Ranch Dressing
– House-made Bread of the Day, Butter
Carving Station:
– Crushed Peppercorn Strip Loin of Beef with Sundried Tomato Tarragon Sauce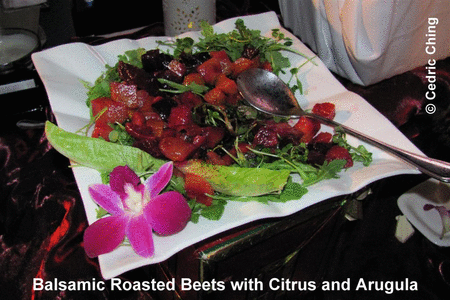 In addition to the usual beverage station, there was an open bar (which again, was very good deal for those who can and choose to partake). The food really showcased what Disney catering was capable of, and the food that I had was absolutely delicious.
As for entertainment, there was a photo op with Santa Mickey.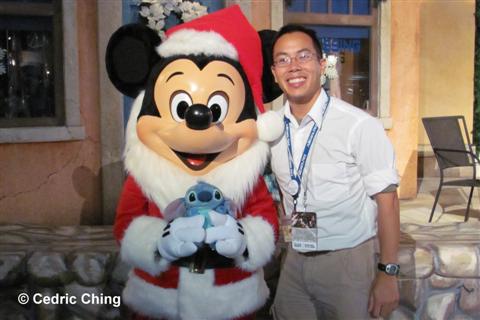 But for the most part, everyone was just walking around the LMA set taking close-up pictures of Everything.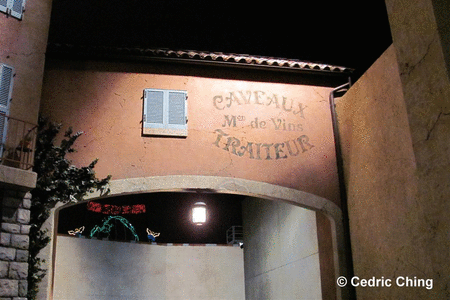 When dinnertime was over, we were all escorted from the LMA set, through the backlot, to Toy Story Midway Mania! for some exclusive ride time. While in line, we shared strategies for unlocking easter eggs, and many of us were able to ride twice before it was time to head over to the dessert event.
Our private dessert party was at the Studio Catering Company (the counter service area beside the Honey I Shrunk the Kids playground). There, an array of mousse-filled chocolate shell cup desserts and an impressive selection of gourmet cheeses were laid out — not to mention the couple bread pudding options!
Desserts:
– White Chocolate Cups filled with Dark Chocolate Mousse with Chambord Drizzle and Lady Finger
– Pumpkin Mousse with Rum Drizzle and Sunflower Seed Brittle
– Variety of Artisan Cheeses served with Chutney, Dried Fruit, Berries and Breads
– Pecan Honey Granola Bread Pudding with Bourbon Caramel
– Butterfinger Bread Pudding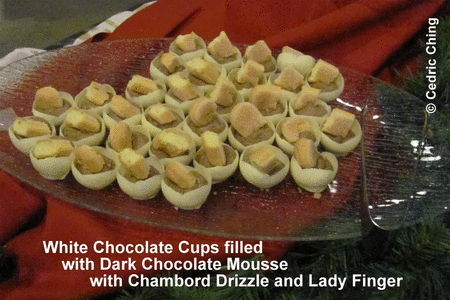 This was a quick stop, as our next activity was around the corner, the Osborne Lights presentation.
John Phelan, Show Director at Walt Disney World, was told us the story of how The Osborne Family Spectacle of Dancing Lights came to be. Asides from what Disney fans already knew…
from the Disney World website:
"The Osborne Family Spectacle of Dancing Lights started modestly in Arkansas as a single home's annual display. Every year, Jennings Osborne and his family set up an elaborate collection of holiday lights and over the years, the collection of lights grew, and grew… and grew!"
… we got to learn about Jennings Osborne's generosity and excitement with sharing this magic: "He didn't want any money. He was just tickled to death to be there," John mentioned. John described Jennings as a "quiet and reserved man but he loves to do things in giant and grand ways," and gave us the example of when he and his men made their initial visit to Arkansas, and Jennings had a limo waiting at the airport and then at dinner, treated them to literally everything on the menu.
A couple of extra note-worthy pieces of trivia from the presentation:
— There is "Halloween cat" display that Disney workers initially found mixed in with the Christmas lights; as tradition, it's relocated to a different part of the street each year.
— The nativity scene (found next to the Monsters Inc Meet & Greet entrance) is a set that the Osbornes actually purchased at Epcot years before the ideas of the Osborne lights came about.
Here's a picture of John Phelan (right) with his crew chief John Wright:
John's presentation ran a little long, so we were only treated to a couple musical selections, but we all still had a spirited time wandering the lighted streets with the falling "snow" and looking for hidden mickeys and the Halloween cat.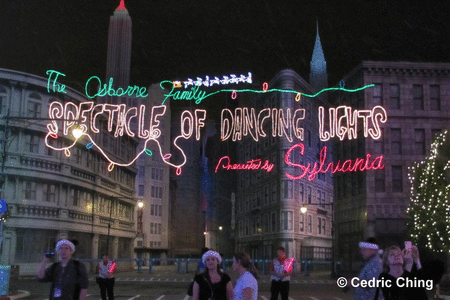 [To watch John Phelan's presentation, you can check out Jeremy Marx's YouTube videos (4 parts):

Before boarding the buses back to Epcot (and Downtown Disney for guests staying at Disney resorts), each of us was handed an exclusive D23 ornament.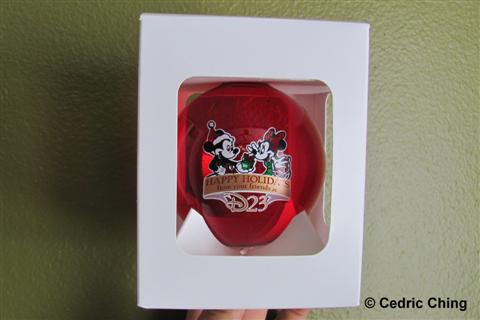 And with that, Day 1 of D23's Magic & Merriment came to an end.