Guest Blogger Jeff Onorato is back, this time with a review of Epcot's Tutto Italia!
Like many loyal patrons, I lamented the loss of L'Originale Alfredo di Roma Ristorante when I heard the news of their closure back in 2007. When it was announced that the restaurant would be quickly re-opening in a new incarnation, I was intrigued to see what changes where in store. The Italy pavilion was a favorite lunchtime spot for me when visiting Epcot's World Showcase.
When Alfredo's contract with Walt Disney World Resort expired, the Patina Group was selected to fill the void left behind. In addition to Tutto Italia, the Patina Group also manages several restaurants on the West Coast, including Disneyland's Tortilla Jo's, Naples Ristorante, and Catal.
Second only to Canada's Le Cellier restaurant, Alfredo's was arguably one of Epcot's most popular restaurants. Their Fettuccini Alfredo was a favorite among park visitors. Naturally, when I heard that the restaurant would be changing management I was curious to see how the new establishment would live up to the reputation set by its former occupants.
Translated, Tutto Italia means "anything/everything Italy' in English. I visited for the first time during a trip to Walt Disney World in early December and was pleased to see that they do live up to their name. All of the staples of a traditional Italian menu can be found here: Pasta, Fish, Chicken, Veal, Lamb, and a wide variety of appetizers. Fettuccini Alfredo was not on the menu on the day of my visit.
Cosmetically, not much has changed since the new management took over. In fact, no visible changes were made to the outside of the restaurant with the exception of new signing.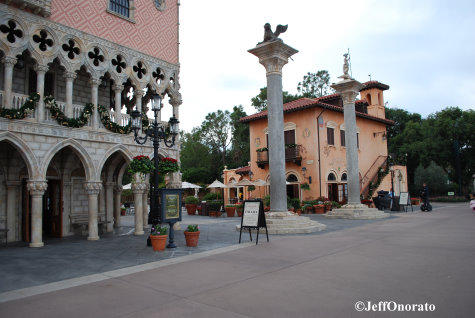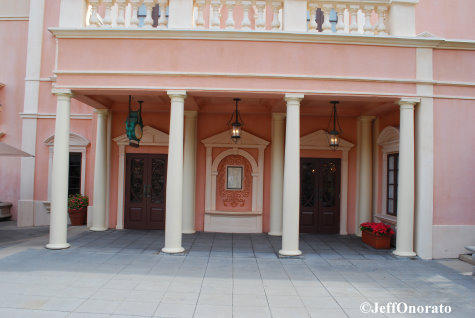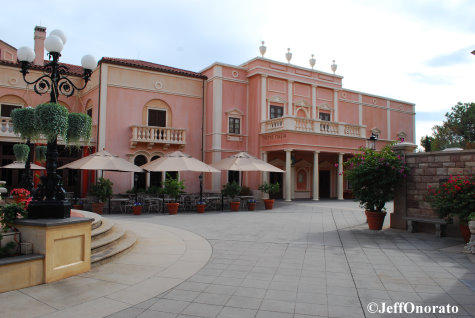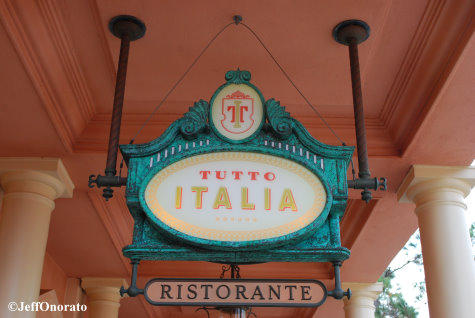 Tutto Italia continues to offer outdoor seating, and there is a separate host podium outside for guests wishing to dine alongside the plaza. I enjoy eating outdoors here on a sunny day. All of the tables have umbrellas and offer picturesque views of Italy.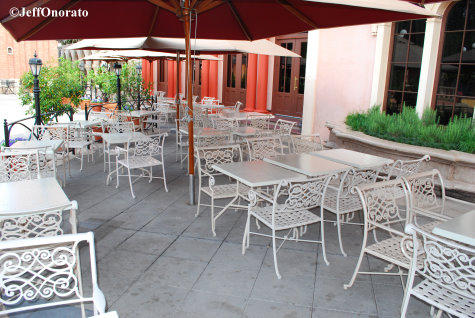 For this visited I opted for indoor seating. Again, there were no major changes to be found. The lobby area and interior of the restaurant look just as they did before. I did immediately take notice of one alteration – the absence of the pasta kitchen. The machines previously used to make the pasta in-house where nowhere to be found, and decorative bowls of fruit where in place.
In-house Pastry Chefs created the amazing holiday sculpture on display in the lobby throughout the Holiday Season. The attention to detail in this tiny Italian village is astounding. I thought the candy-cane fence and gondolas were a nice touch.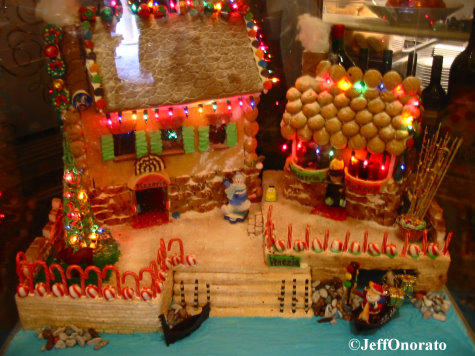 After checking in at the host stand, I was quickly escorted to my table within a minute or two. My reservation was for 12:00 and the restaurant was about 75% full at that time of day.
Murals of Italy's Masqueraded carnival performers still adorn the walls within. Exquisite glass chandeliers hang from the ceilings, and the restaurant still has its old-world European renaissance charm fully intact.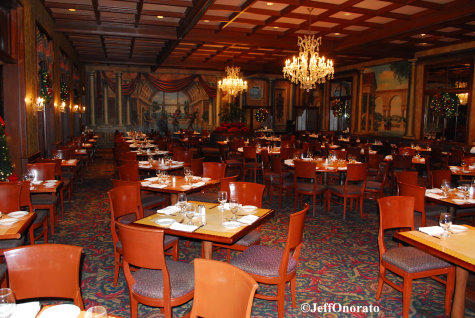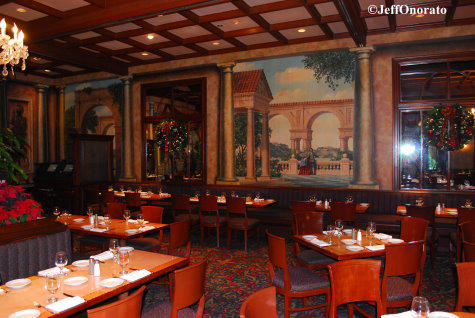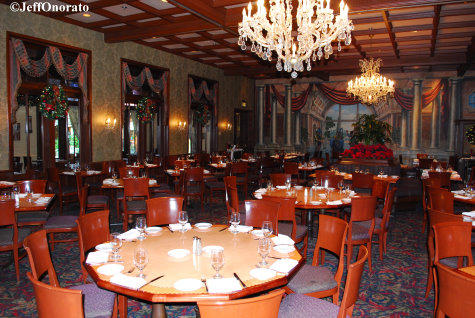 Each table is under the care of both a Server and their assistant. After being seated, a basket of bread and olive oil is served to welcome you. No butter is presented, as it is not customary to do so in Italy. When in Rome, does as the Romans do.
I found the service here to be very good. My server was very friendly and seemed more than happy to answer any questions I had about the menu. A children's menu is also available, and I recommend this restaurant for birthday celebrations – the wait staff gathers together to sing "Happy Birthday" in Italian.
Food was presented at a nice pace, and I did not feel hurried despite the restaurant being busy. Drink refills were readily available, as was the side of parmesan cheese I requested. It is not automatically offered here.
For my appetizer, I chose the Melanzana Alla Parmigiana. This consisted of baked eggplant, melted mozzarella, tomato sauce, and parmesan cheese. The eggplant was sliced very thin and the tomato sauce had a nice zing to it. It was topped off with Basil which helped to bring out the flavor of the other ingredients.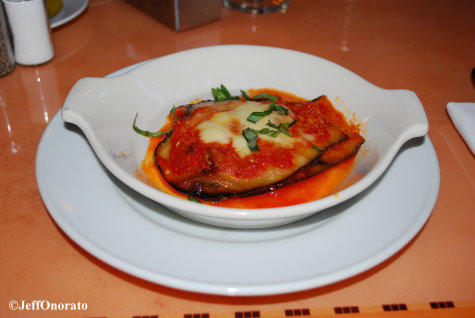 For my Entrée I had the Tagliatelle Alla Primavera. This included fettuccini egg pasta, broccoli, peas, mushrooms, sweet cherry tomatoes, and a very light cream sauce.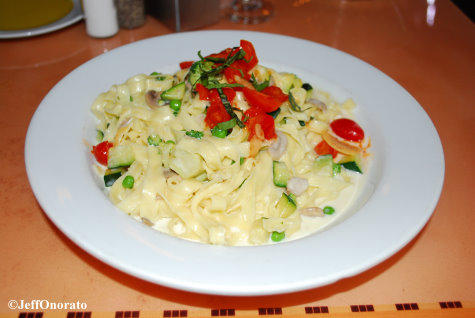 As is the case with many pasta dishes, the meal was very filling. However, I found the portion size served at Lunch to be especially large. This would definitely have been enough for two people to share. Everything was freshly prepared. I could actually see steam still rising up off of the plate. The sauce was perfect – not at all rich or overpowering.
For dessert I had the Gianduja, which is a chocolate and hazelnut layered cake topped with whipped cream and raspberry sauce. This is a chocolate lover's dream. The cake itself was very rich however the whipped cream and raspberry sauce helped to bring things down a notch.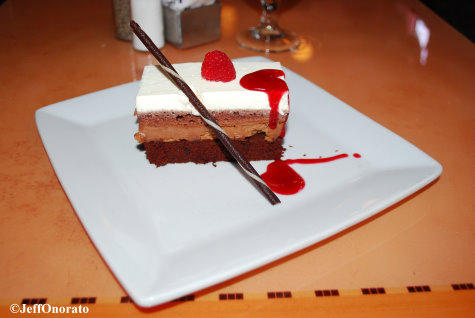 I was most impressed by the food and service at Tutto Italia. I went in fearing that the recent changes would tarnish my opinion, but am glad I kept an open mind and gave it a try. From what I found, there is still a lot to love here. I plan to stop in again the next time I am on a "tour of Italy".
Related Links:
Tutto Italia Lunch Menu
Tutto Italia Dinner Menu
Tutto Italia Children's Menu
Readers Rate and Review Tutto Italia!
About Jeff: I am 33 years old and from Gettysburg, PA. By day I work in the Accounting Department of a Newspaper Publishing Company. My first visit to WDW was at the age of 2, and have been back around 35 times since then. I often travel solo to WDW, as well as with family. I make good use of my Annual Pass, and trek to Orlando about 5 times per year to visit my favorite travel destination. My favorite resort is the Polynesian, but have stayed at all of the WDW resorts at least once. In fact, my favorite aspect of visiting the Walt Disney World Resort is trying out the different Resorts and Restaurants. I also enjoy the many restaurants and sampling different foods that I normally would never try at home! (such as Escargot at the France pavillion).
Read Jeff's other blogs: