MouseFanTravel President Beci Mahnken is back with another Adventure by Disney blog series.
To date she is a veteran of 4 Adventures By Disney trips, more then 50 cruises including 18 with Disney and countless Walt Disney World and Disneyland adventures. Read her blog on the London and Paris Adventure by Disney. Here is her blog on the Backstage Magic Adventure!
This time, she and her husband Chris travel to Ireland on "The Emerald Isle" Adventure.
This 7 night Adventures by Disney begins in Dublin before it crosses the Emerald Isle with stops in Killarney and Shannon. Experience the mirth and magic along the sweeping coastal cliffs, over the verdant rolling hills and among the ruins of ancient castles.
My Journey to the Emerald Isle
Even vacation planners need a vacation every now and then to recharge. I enjoy experiencing new destinations and all they have to offer. A few years ago I was able to try an Adventures By Disney trip and found it was just the right combination of structure and "me time" so I have gravitated towards them for my own R&R. This is my fourth ABD trip and my husband Chris was the deciding factor on where to go this time – The Emerald Isle. Most likely for the Guinness, but I'm sure there must be other reasons for the choice and I'm looking forward to seeing all Ireland has to offer.
Of course you can't fly half way round the globe without a stop in one of my favorite cities – London. So twist my arm, we decided to go three days early in hopes of easing the pain of flying eight time zones East.
Flight Dynamics
Friends have said that flying to London isn't too bad when they're leaving from New York or Washington DC, but from Seattle it takes slightly over nine hours, and packing into a tiny seat with no leg room is not the most relaxing way to travel. So to increase the odds of showing up refreshed and ready to go, we cashed in a chunk of frequent flyer miles and treated ourselves first class on British Airways. Nine hours in my own personal relaxation pod that is truly a wonder of multitasking design. The pod provides a seat that allows for a few feet of private space, features a pop up TV and the ability to seat two for dinner by way of a slide out table. When you are ready for a bit of rest, it converts to a lay flat bed and British provides comfy PJs and slippers to take home.
After about an hour in the air, dinner was served. Not the peanuts and chips bags, but a nice selections of appetizers including a lobster salad and mushroom risotto, followed by beef, fish or chicken entrees. If you ever get a chance to fly international first class, take it. Even if you're just going to turn around and fly home, it's worth it because the flight experience becomes a destination in its own right. It's great to know you can actually use frequent flier miles for something useful, but the trick is to book as soon as the date is available
London – Day One
We arrived in London late Wednesday morning and after passport control and baggage reclaim, we were met by our driver who took us straight to our hotel. Knowing we only had a couple of days I looked for a hotel that was within walking distance to some of the spots I wanted to see. I found one located right around the corner from the front gates of Buckingham Palace. It was a very interesting boutique hotel called 41. You enter and are escorted by the staff up to the 5th floor of the hotel where you are seated at the check in desk and provided with a complementary drink of your choice while the staff checks you in and introduces you to the amenities in the lobby-common room-sitting area. By the time we had finished the check-in process and made it two doors down to our room, our luggage was waiting for us in our unique loft room.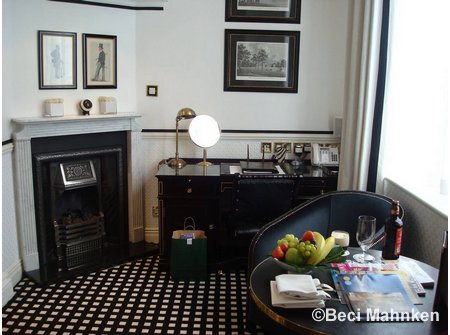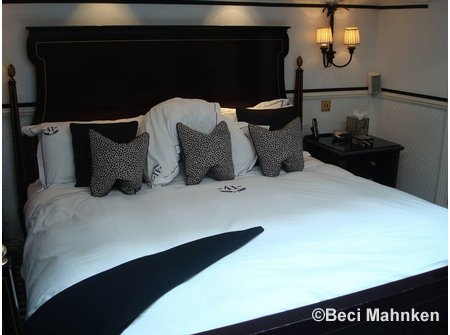 The room was like a small apartment with a sitting area, desk and fireplace on the first floor and a staircase leading to the bedroom and bathroom. The hotel offers a continental breakfast and honor bar during the day that turns into a 'raid the pantry' theme at night where they set out snacks and goodies to munch on before you retire for the night. Yummy!
They say the best way to beat jet lag is to get out and walk a bit for to exercise your legs while staying awake until the local bed time, so we headed out to do just that. First stop, of course, was just round the corner to Buckingham Palace. I'm never sure if it's more fun to watch the other people there or the limited action of the guards as they do their out and backs while tending to their duty until they are relieved. This time we lucked out as a small group of guards came out and marched in perfect order to the main gate where they each picked up what was obviously a very heavy music stand. Not quite the changing of the guard, but it was nice to see them doing some tidying up around the place. The Queen was in residence that day after all.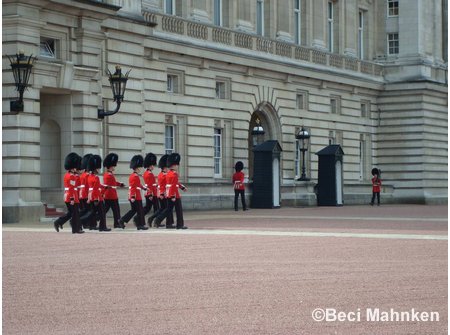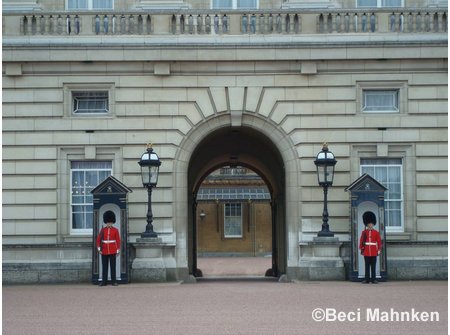 From there we decided that we would stroll over and see the other neighborhood palace at Kensington, so we headed off across Hyde Park. A bit more than half way into what is an incredibly long city park is the Prince Albert Memorial. This incredible structure was put up by Queen Victoria when her husband, Prince Albert died. It's a beautiful memorial from a woman who was obviously devastated by the loss of her Prince and an interesting stepping stone on the way to Kensington Palace where Victoria grew up. She was very nearly a prisoner of her mother and step-father. Quite a fascinating and very true story – ya just can't make this stuff up!
The palace was the home of many of the Kings and Queens of England, including King George III, the last King of America. Kensington was also the home of Princess Diana and the two princes before her death in 1997.
By the time we finished Kensington it was just past 9:00 AM pacific time, we had been up all night long, and we were really starting to really feel the jet lag. We decided to head over to Piccadilly Square to get some dinner so we joined the eastbound rush hour commute and crammed ourselves into a train full of people on their way home. Five stops later we were above ground and looking for some dinner. Piccadilly and the theater district are great fun and a highly suggested place to go for an evening.
TIP: The London Underground, or Tube, is a wonderful way to get around the city and seeing the sites for a very reasonable cost. Less time spent in the city traffic is more time to soak in the sites!
Missed an entry? Here's the link to the entire Emerald Isle Blog to date!