Barrie, Lisa and myself would like to welcome you to a new feature here on the Picture This! Photo Blog. One of the things you told us you wanted to see in the survey we conducted back in April was more theme park photography. In response, we are going to post three Disney Pic of the Week entries, one from each of us, every week. To add even more interest (we hope!), each week will have a theme for us to follow and subjects will not be limited to just Walt Disney World but any Disney property or event in the world.
I get the honor of introducing the first Disney Pic of the Week theme which is (drum roll, please)…Epcot's Flower & Garden Festival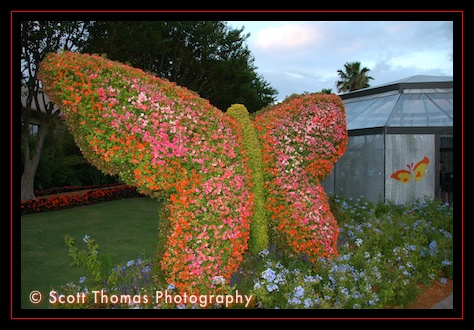 Butterfly topiary at Epcot's Flower & Garden Festival.
Nikon D70/18-200VR, 1/60s, f/3.5, 200 ISO, -0.3 EV, 18mm Focal Length
This butterfly topiary was just outside the entrance to Minnie's Magnificent Butterfly Garden during Epcot's Flower & Garden Festival in 2007. It was very late in the day and I used my camera's onboard flash to add just a bit more light to bring out the colors of the topiary's flowers.
Oh, I almost forget. Disney Pic of the Week's will be published on Tuesday, Thursday and Saturday.