MouseFanTravel President Beci Mahnken was part of the first ever Adventures by Disney Backstage Magic Tour!
Here is Day 2 Continued:
Lights, Camera, Adventure! -the Afternoon Update
I am in serious danger of dating myself here, but some of my earliest memories were of my best friends – Bert, Ernie, Big Bird, and of course Kermit the Frog. I was an only child and found Sesame Street to be a welcoming environment of folks who always had a smile for me and where I learned all the basics like how to count while not being scared of vampires, sing my ABCs, and giggle at the funny guy who couldn't seem to carry 12 banana cream pies no matter how hard he tried. My mom found it to be the perfect babysitter for an hour each afternoon when she needed a break from the little angel in the house.
With all this nostalgia running through me, I was very happy to hear that Jim Henson Studios was one of the tour stops. Little did I know just how special it was going to be or how it would touch me.
After the Jimmy Kimmel adventure we boarded the bus for our 5-10 minute journey around the corner and down the street to the studio that Charlie Chaplin built. Yes, you read that right! The studio was actually built in 1917 by Mr. Chaplin who filmed several of his classics there including Gold Rush, and the Great Dictator. Charlie sold the studio in 1957 and owners have included Red Skelton and CBS.
Several of the original buildings are still in place and the site was designated a Historical Cultural monument. In 1999 the Henson family purchased the lot and as the pictures below illustrate, they have ensured Charlie's legacy remains including a Kermit stature at the top of the gate sporting a top hat and tails.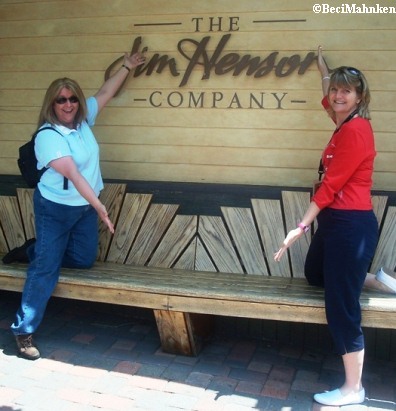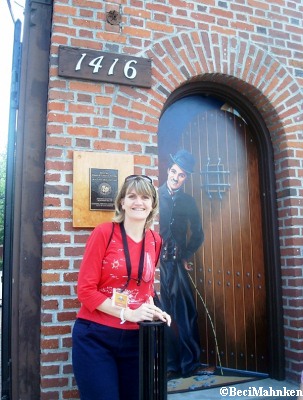 Once we passed through the guard gate and had a chance to look around the main courtyard. Even though the studio sits on a busy street the craziness that is LA seemed to melt away and a peaceful tranquility comes across you in these surroundings. There are several buildings that make up the complex including the main offices, administration, a production facility, state of the art recording studios where "We are the World was recorded, and yes, the creature shop!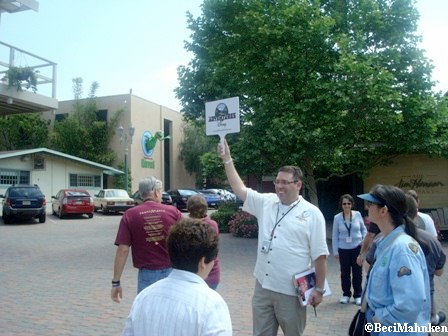 We divided into to groups and were on our way to explore this gem. While the studio does offer limited tours, it is a working facility and does not have the usual 'walk up – on the hour tour schedule' you see with other area attractions. To get the kind of access we had was truly amazing!
The first stop was a small theater where we viewed a video make just for the Adventures By Disney tours which featured a couple of real characters – Bobby Vegan (a pig) and Samson Knight (a bull).
They provided an overview of the history of the facility. We moved to the main reception lobby where they have glass cases displaying many of the awards and accolades they have received over the years. On the opposite wall is a large picture of the man himself – Jim Henson. This became a very popular picture spot so we could tip our hat to the genius behind all the muppet magic.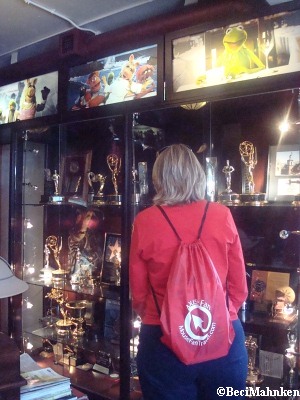 Then it was time for the much anticipated creature shop! But not before our cameras and cell phones were locked away so none of the excitement would leave the grounds before their time.
We approached a plain looking building and as the doors opened we could see desks and tables filled with animatronics and puppets in various states of production. There is so much Muppet eye candy in this room, it's a shame we have to rely on our memories because I'm not sure I can do it justice.
My eyes went right for the oversized highchair with a baby dinosaur sitting in it. Anyone remember those famous words "Whos the baby?". ABC ran Dinosaurs from 1991 to 1994 and this little critter was front and center. There were also several characters from the movie "Cats and Dogs" including a few of the little Dobermans who were so good at taking orders and Mr. Tinkles who still sits on his cushion not doing much of anything because the material used to make up his jaw is a little worn. Other items on display – more like hanging around in plain site – included a couple of the tin shoulders from the Sam Eagles Grand finale of Muppet Vision 3-d and what looked like a model used in the David Bowie ala-muppet classic, Labyrinth.
We met Mike Oosterom who is a master puppeteer and actor who has an impressive body of work including the infamous Groundlings improv group. He is also part of the Helson alternative troop called Puppet Up (www.puppetup.com) which is an uncensored comedy show made just for us older kids that already know our ABCs.
Mike gave us a demo of how they work with puppets which isn't anywhere as easy as it sounds. Some of these are impressive marriages of art of technology requiring anywhere from 2 to 6 people to operate all the elements of the figure. He provided a hands-on demonstration of the challenges of working with the puppet and keeping an eye on the video monitor. Truly amazing!
We were able to view Brian Henson's office who now conducts the company business from his late father's office space. There were so many figurines, awards, and memorabilia that you could be occupied for hours looking at each piece. Then we were lucky enough to watch some green screen production work for an upcoming PBS series 'Sid the Science Kid' set to air Sept 2008.
We enjoyed a nice lunch in the beautiful Southern Californian weather and just before our tour ended, Mike joined us in the courtyard with one of his Puppet Up friends. Each person in the group had an opportunity to get a pic and interact with the star herself.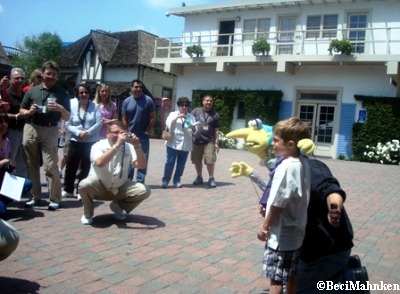 I was very bummed when it was time to depart. This was truly a highlight for me and its only DAY 2!

As we boarded the bus, our guides informed us that they had a little surprise for us – with the caveat that we understand how special this is because the next portion of the trip will not always be on the Backstage Magic Tour due to scheduling reasons. So we got lucky this time!
Hmmm, after experiencing 2 other Adventures by Disney trips I can tell you, that always means something cool. And this time was no exception.
We were headed to Griffith Park. The die hard Disney folks out there will remember this is the site of the carousel where Walt would take his daughters to enjoy a day in the sunshine and helped to inspire him to dream up Disneyland so families would have a place to play together. But if you are thinking that's where we were going, you'd be wrong. Unfortunately the carousel wasn't actually open that day, but some very special folks volunteered their time to open up another special place in the park where we could bask in inspiration.
Since 1999, Griffith Park has also been the home of Walts' Barn which is also known as 'The Birthplace of Imagineering'. The barn was originally built by Walt in 1950 and was surrounded by his own 1/8th scale railroad on his property in Holmby Hills. It was his private workshop that he considered his personal 'happy place'.
The railroad was named Carolwood Pacific Railroad, after the street on which he lived. He operated the railroad until 1953 when Disneyland became his priority. It was his love of the train was the inspiration for the trains that now run the parameter of the parks today.
When the family sold the house in Holmby Hills, Walts family made arrangements to move the barn to the Los Angeles Live Steamers facility in Griffith Park as Walt was a charter member of the train enthusiasts club. In addition, that would mean the barn would always be surrounded by the trains that Walt loved so much.
We toured the barn which is a treasure-trove of Walt history including his personal workbench, tools, trains, and even one of his pork pie hats.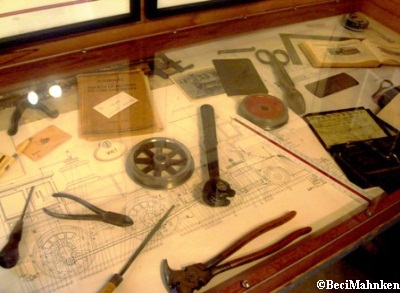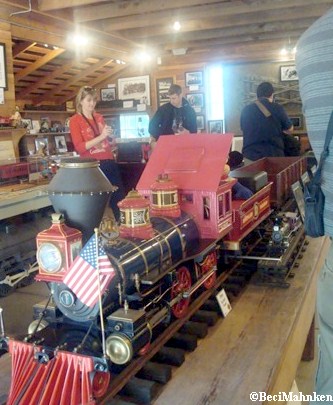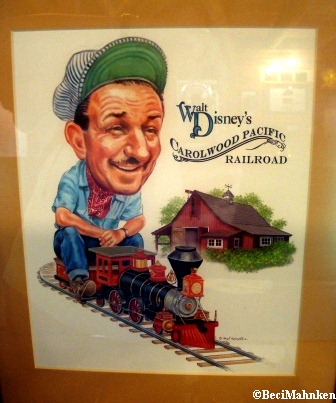 After the tour, we had the opportunity to ride one of the trains! Below you see our Adventures By Disney Guides ready for their turn. Many of use elected to ride twice!
We boarded the bus for the trip back to the hotel where everyonetimen their own. Many went to Jimmy Kimmel Live, others hit the town to have dinner in one of the many restaurants in the area.
Tomorrow… Imagineering!
Read Beci's Entire Backstage Magic Blog!
Beci Mahnken is the President/CEO of MEI & MouseFanTravel.com . To date she is a veteran of 3 Adventures By Disney trips, more then 40 cruises including 16 with Disney and countless Walt Disney World and Disneyland adventures. Read her blog on the London and Paris Adventure by Disney.