The 3 night cruise really is over way too quickly. Only 2 full days on the ship and those fly by.
The reasons to do a 3 night cruise would be:
It's over a weekend (less time off from work)
It's short if you aren't sure about cruising.
I can't see any other reason to do it. I think it was my last 3 night cruise for a long time.
Today is Castaway Cay day. The water was very rough and it took the Captain a good long while to get the ship docked. Also, because a weather system was coming later in the afternoon, it was announced we'd be leaving the island earlier than usual.
Sometime go up on Deck 9, port side, and look down to Deck 8. There is a small area where the Captain will steer the ship into a dock. It's quite fascinating especially when you realize he's using a "joystick" to maneuver the boat.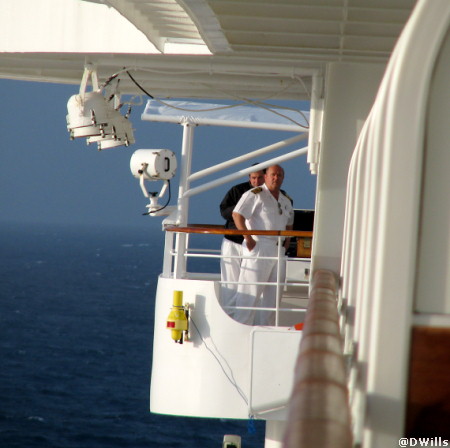 Masayo and Mamoru headed out early to go snorkeling.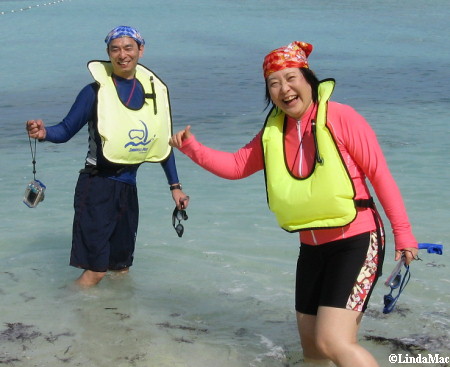 Beci, Linda Mac and Linda Lou joined them at Serenity Bay, adult beach.
Here is Linda Mac enjoying a cool beverage.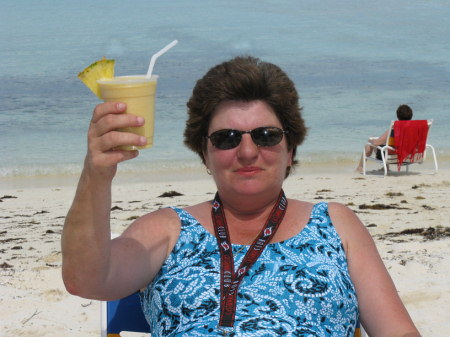 I decided to do a training walk for my Avon Walk for Breast Cancer. I walked a good bit of the trails on the island but it was getting increasingly hotter and more humid. After 2 hours, I finally decided I had enough. I saw some neat views along the way, but didn't have a camera with me. Take a walk down the bike trails sometimes…. it was lots of fun.
I headed back to the ship to shower and get lunch. I enjoyed sitting on my balcony and just relaxing. Maybe I just should have called this the Balcony Cruise.
As more and more clouds rolled in the skies got darker and darker. Soon the rain began, and it was quite hard. I then looked out and saw everyone from the island trying to get back to the ship. It was quite a site. I even found all my friends walking back as well.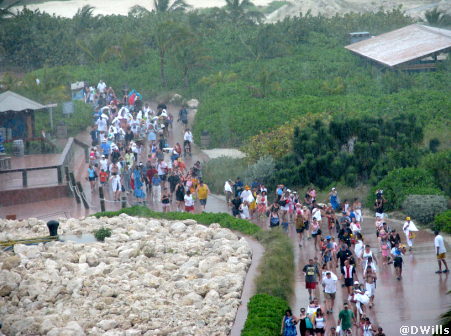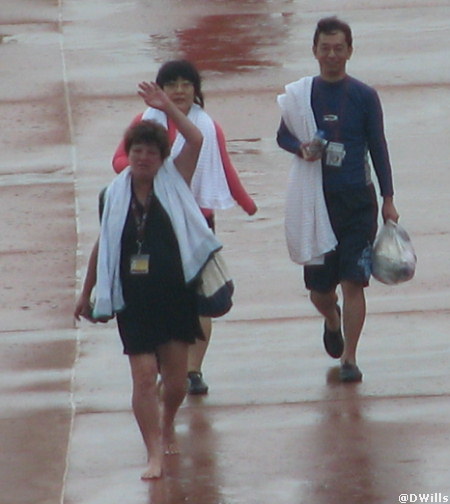 We decided to go see the Disney Dreams show this evening, so everyone got ready and met at the Walt Disney Theatre.
On our way, we found Goofy in his tux in the atrium. Masayo is such a Goofy fan so we stopped and took pics of Masayo and Mamoru with the man!!!!
Our final dinner was in Animator's Palete.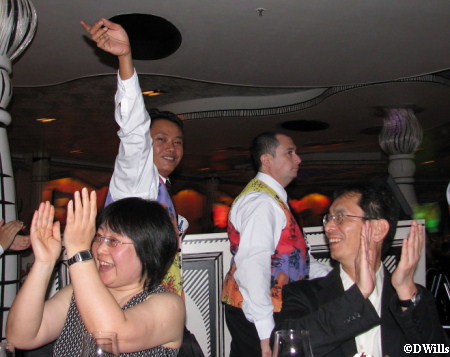 All too soon, we had to get back to our cabins, finish packing and call it a night.

It was a WONDERful cruise, just way too short…..aren't they all?!
Related Links:
Navigators from the 3 Night Cruise