November 2018 Walt Disney World Bits and Bites
Feature Article
This article appeared in the October 30, 2018 Issue #997 of ALL EARS® (ISSN: 1533-0753)
Editor's Note: This story/information was accurate when it was published. Please be sure to confirm all current rates, information and other details before planning your trip.
= = = = = = = = = = = = = = = = =



STEP BACK IN TIME
= = = = = = = = = = = = = = = = =
by Joan L. Feder
AllEars® Staff Writer
Join us on our monthly journey into the past exploring the history of Walt Disney World and the Walt Disney Company. This month we look at some fun facts from Mickey Mouse's first 90 years in anticipation of his birthday on November 18.
1. Mickey almost wasn't his name!
Walt's first star, Oswald the Lucky Rabbit, was a big success. The distributor decided that he could make more Oswald cartoons without Walt's help. The distributor already owned the rights to Oswald, and hired away most of the Disney staff. Walt had lost everything. On the train trip home, Walt came up with a new character, a mouse named Mortimer. According to most accounts, Walt's wife Lillian thought that name was too pretentious. Thankfully, Walt listened, and his new creation was rechristened Mickey.
2. Steamboat Willie wasn't Mickey's first cartoon.
The first two Mickey shorts, Plane Crazy and Gallopin' Gaucho, were silent. Neither of them was good enough to find a distributor. For the next cartoon, Walt decided that adding the new innovation of synchronized sound could make Mickey a star. Steamboat Willie premiered at New York City's Colony Theater on November 18, 1928, and was a smash hit.
3. Mickey didn't speak for his first eight appearances.
While the earlier cartoons had sound and music, Mickey didn't speak until 1929 when in The Karnival Kid, he shouts, "Hot Dogs!" His voice was provided by composer Carl Stalling, best known for his work on Warner Brother's Looney Tunes/Merrie Melodies shorts. After that, Walt Disney provided Mickey's voice for many years.
4. Mickey married Minnie, kinda.
Wayne Allwine voiced Mickey from 1977 until 2009. He married Minnie's voice actor, Russi Taylor, in 1991. They were named Disney Legends in 2008.
5. Mickey's birthday wasn't always November 18, 1928.
In 1933, Walt set Mickey's birthday as October 1, 1928, the day that work began on his first cartoon. That date changed frequently over the ensuing decades. In 1978, Dave Smith (Walt Disney Company's original archivist) determined that Mickey's birthday was the day he made his first public appearance. Steamboat Willie premiered on November 18, 1928, and that has been THE date ever since.
Miscellaneous Mouse Facts
— Walt Disney was awarded an honorary Oscar for creating Mickey in 1932.
— Mickey was nominated for 10 Academy Awards, winning once, in 1942, for Lend a Paw.
— In 1978, Mickey became the first cartoon character with a star on the Hollywood Walk of Fame.
— Mickey is a very popular write-in candidate in elections. It happened first in New York's 1932 mayoral race. Mickey tied with Al Capone with one vote apiece. Since then, he has been written in repeatedly worldwide. It got so bad that in 1987, Georgia made it illegal to vote for Mickey Mouse in state elections.
— According to Time Magazine, Mickey has one of the most recognized faces in the world. He even beat out Santa Claus!
These are just some of the reasons Mickey remains a fan favorite, and will stick around for generations to come.
RELATED LINKS
'Mickey's 90th Spectacular' to Air on ABC on Nov. 4
Mickey's 90th Celebrations at Disney Parks Worldwide
Vera Bradley Announces Special Print for Mickey's 90th
Mickey's 90th Anniversary Coffee Blend by Joffrey's
Mickey Mouse's Official Birthday Portrait
Mickey Mouse Club Merchandise in Honor of Mickey's 90th Anniversary
= = = = = = = = = = = = = = = = =



HIDDEN MICKEYS ALERT
= = = = = = = = = = = = = = = = =
Steve Barrett, author of the Hidden Mickeys Field Guide books and webmaster of HiddenMickeyGuy.com, recently enjoyed finding the following images at Walt Disney World. Check them out the next time you visit!
1. Disney's Pop Century Resort. This photo shows the third of three classic Hidden Mickeys etched into the tile floor of the food order area of the Everything Pop Food Court. It's on the left side of the order area (as you enter), in the outer part of the winding queue for the leftmost food serving station. I had to slide one of the queue posts over a bit to uncover the image. (Thanks to James Girard, and Matthew Flaherty).
2. Disney's Pop Century Resort. On the map/directory signs standing at different spots along the walkways to the guest room buildings, a classic Hidden Mickey symbol sits in the collection of symbols for the Lobby in the enlarged map for Classic Hall. This classic Mickey is the symbol for the Disney Vacation Club Information Center. (Thanks to James Girard).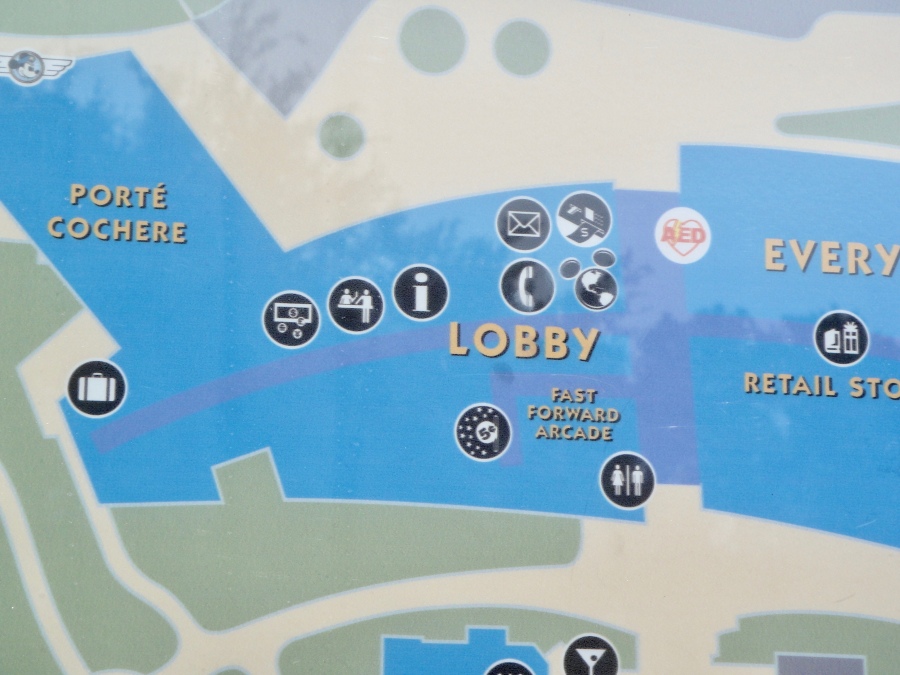 3. Disney's Animal Kingdom, Zuri's Sweets Shop. A Hidden Mickey has returned! The tiny Mickey figurine was Lost (actually just disappeared behind the scenes) for many months. A Cast Member told me that it was removed for cleaning and repainting and then returned to its rightful place in a small display on a shelf high on the wall inside the shop. You'll spot it to your right if you face the order counter. Sometimes Lost Hidden Mickeys do magically reappear!
=-=-=-=-=-=-=-=-=-=-=-=-=-=-=-=
You can find an archive of past Hidden Mickey Alerts HERE.
And check out our latest Searching Disney with Steve blog, in which Steve is contemplating possible finds in the Magic Kingdom.
= = = = = = = = = = = = = = = = =



MONTHLY REMIND-EARS
= = = = = = = = = = = = = = = = =
Through Nov. 12: Epcot's International Food and Wine Festival! This culinary extravaganza includes the nightly Eat to the Beat concerts.
Nov. 1-4: Wine and Dine Half Marathon Weekend.
Nov. 8: Mickey's Very Merry Christmas Party begins!
Nov. 18: Epcot's Festival of the Holidays begins.
Nov. 22.: Candlelight Processional begins with Chita Rivera as celebrity narrator.
Nov. 22: Thanksgiving Day. See our roundup of where to eat on Thanksgiving. We'll be adding to it as we get more details.
Check our Events page for a full schedule of upcoming events.
-=-=-=-=-=-=-=-=-=-=-=-=-=-=-=-=-=-=-
Resort-Wide
Disney Skyliner construction:
Walt Disney World is in the process of creating a new transportation system, Disney Skyliner, which will give you a bird's-eye view of the resort while traveling via gondolas. During this time, construction noise will be seen or heard throughout the resort, but noise should not be heard from Disney hotel rooms between dusk and 9 a.m.

The Walt Disney World Monorail system is undergoing ongoing refurbishment. As a result, normal service and/or routes may be modified. Alternative transportation options will be available during this time.
Rafiki's Planet Watch temporarily closed on October 20. It is scheduled to reopen in Spring 2019.
Star Wars: Galaxy's Edge —
Work is underway on the 14-acre Star Wars-themed land at Disney's Hollywood Studios that was announced during the 2015 D23 EXPO. It was recently announced that Galaxy's Edge will open at Walt Disney World in Late Fall 2019.

Star Wars: A Galaxy Far, Far Away — This show has been suspended temporarily while the stage is being worked on. No reopening date has been announced.

Tatooine Traders located at the exit of Star Tours: The Adventures Continue is still undergoing refurbishment, both inside and out. The shop is open during this renovation.
Liberty Square Riverboat closed for refurbishment on January 8, 2018. No reopening date has been announced.

Tom Sawyer Island in Frontierland is closed for refurbishment. No reopening date has been announced.
The entire resort is undergoing a major room refurbishment that will continue until late 2018.
The Uzima Springs Pool and Pool Bar are closed for refurbishment through Dec. 4, 2018. During this time Samawati Springs Pool and Maji Pool Bar at Kidani Village will be available. Brief rides via shuttle transportation will be provided to and from the pool during this time.
Art of Animation Resort is currently undergoing some general refurbishment projects. During this time, the resort will be in full operation with all amenities available, including dining, merchandise and recreation locations. It is possible that construction may be seen or heard, but noise should not be heard from guest rooms between dusk and 9 a.m. No end date for these projects has been announced as yet.
A small portion of Stormalong Bay Pool is closed now through Fall 2018 to make way for new cabanas. The remainder of the area will remain in full operation.
The resort room "hard goods refurbishment" at Coronado Springs has been extended to continue throughout summer 2019.

The Dig Site, home to The Lost City of Cibola Pool, volleyball court, playground, Iguana Arcade and Siestas Cantina, is being refurbished now through mid-December 2018. While this work takes place, the resort's three leisure pools, dining and merchandise locations, and other amenities are available.

A new on-the-water bar and grill called Villa del Lago will open at Disney's Coronado Springs resort in 2019, along with the previously announced new 15-story tower that is currently under construction.
Disney's Old Key West Resort is undergoing a wholesale refurbishment, which is expected to be completed in 2019. You can see some photos of refurbished rooms HERE.
Tambu Lounge is closed for expansion and refurbishment work now through early November 2018.
Pop Century resort rooms are currently undergoing refurbishment, with work expected to be completed by Summer 2018. In addition, there are a number of other refurbishment projects going on around the resort, but all amenities are available.
The leisure pools at Alligator Bayou will be undergoing refurbishment through Fall 2018. During this time, while one pool is closed, the feature pool, Ol' Man Island, and four other leisure pools will be available.

Also, the rooms at Port Orleans Riverside are being refurbished now through early 2019.
The Yacht and Beach Club Convention Center is undergoing expansion and renovation throughout 2018. No end date has been specified.
Blizzard Beach closed Oct. 28 for its annual refurbishment. It is scheduled to reopen Jan. 5, 2019, at which time Typhoon Lagoon will close for its refurbishment.
-=-=-=-=-=-=-=-=-=-
A complete list of known rehabs can be found HERE.
= = = = = = = = = = = = = = = = =



MAGICAL MOMENTS
= = = = = = = = = = = = = = = = =
Each month, we like to share a few heart-warming Magical Moments brought to us by the amazing Disney cast members!
Kelly Jeanne: My parents and I took my niece and her friend (both age
9) to Disney World for their first visit. We dined at California Grill
for our first night. I had mentioned when I made the reservations that
it was the kids' first visits and that we had some birthdays as well.
When we sat down, in the center of the table was a ton of Mickey head
confetti. In between the appetizers and entrees, our waiter came over to
the girls. He told them that they needed to go with him for a very
important phone call. When they returned a few minutes later, they were
super excited and happy. They said Goofy had called to wish them a Happy
First Visit and a Welcome to Disney World. Our waiter and the staff who
arranged that surprise made our night.
Linda S.: My husband and I were staying at All Star Music and when walking back from breakfast one morning we were privileged to meet the general manager, Kristin, the manager of Housekeeping, Reggie, and a gentleman in landscaping (we can't remember his name, so sorry). We commented on how nice everything was, cleaner, friendlier everything was great. That evening we received a special early anniversary gift from the GM. How delighted and surprised we were! This is our favorite place to visit. Special thanks to everyone at All Star Music from check-in to dining.
Kari S.: We are DVC owners and have become accustomed to staying at the deluxe resorts. When we surprised my son with a last-minute 16th birthday trip to Star Wars Galactic Nights, everything was booked except for All Star Sports. My son was disappointed. However, our stay couldn't have been any further from disappointing! When we were nervous about getting to Disney Springs in time for a reservation using the bus, the bellman helped us with other options and even went to his manager to see if there was a magical way to get us there quickly. When my son's eczema flared, I asked a Mousekeeper for lotion, and she said they don't provide it anymore. When we came back from breakfast, though, there was a bag with hydrocortisone cream in it! When we were leaving, I had some gift cards to use toward our bill. It took a while to change it from our credit card to the gift cards. I was worried about missing our bus to the airport, so I told the cast member not to worry about a printout of our receipt. Before the bus got there, she came out to find me with the receipt! We felt genuinely cared for at All Star Sports and can honestly say that guests receive a deluxe experience regardless of where they stay.
-=-=-=-=-=–=-=-=-=-=-=-=-=-=-=
EDITOR'S NOTE: Did you know that you can turn the tables and create a Magical Moment for your favorite cast member on Twitter? Simply send a tweet to @WDWToday with the hashtag #castcompliment and they'll make sure your cast member gets some special recognition for making your day Magical!
We just bet you have a story to tell about an unforgettable moment during your Disney vacation! Please send your favorite memory for inclusion in a future AllEars® via our Contact Us page. Thank you all for sharing!