TOURING
AT A GLANCE...
--Animation Academy
--Courtyard Gallery
--Sorcerer's Workshop
--Art of Animation Gallery
--Turtle Talk with Crush
Disney Junior Dance Party!
Five & Dime
Red Car News Boys
Red Car Trolley
--Francis' Ladybug
Boogie
--Princess Dot Puddle
Park
Wilderness Explorer
Ceremony
Inside Out Emotional Whirl (Coming in 2019)
Jessie's Critter Carousel (Coming in 2019)
ENTERTAINMENT
SPECIAL EVENTS
OTHER THEME PARKS
Flik's Fun Fair

Disney's California Adventure
Introduction | Attraction | Dining | Shopping | Interesting Facts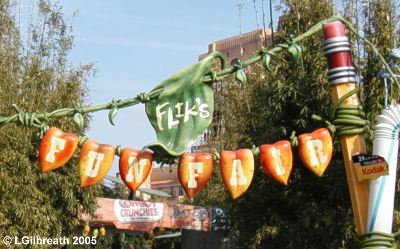 INTRODUCTION
What if an ant tried to build his own amusement park? What kinds of rides would he design, and how would he landscape and decorate? Flik's Fun Fair answers all of those questions! Since ordinary building materials weren't available to him, Flik has come up with some very creative uses for everyday items like pie plates and umbrellas in the construction of his rides.
While this area contains a variety of attractions designed to appeal to younger guests, kids and adults will enjoy the opportunity to look at the world from a bug's point of view. Everything here appears oversized, like the huge four leaf clovers that provide shade and the bug lamps that are mounted on very tall drinking straws. Kids will have fun with the various kid-sized rides, and older visitors should enjoy some of the Imagineers' creative touches, like the use of discarded Chinese food take-out containers.
ATTRACTIONS
Flik's Flyers is a whimsical balloon ride that goes up and down and around.
Francis' Ladybug Boogie - take a gentle spin aboard a ladybug.
Heimlich's Chew Chew Train - Miniature train ride with Heimlich the caterpillar as he forages for food - enjoy the sights and smells!
Princess Dot Puddle Park - Water play area with giant hoses and sprinklers.
Tuck 'n' Roll's Drive 'em Buggies - Classic bumper car ride. Driver must be at least 48" tall, passengers at least 42". Riders should be in good physical condition.
TOURING TIPS
All queues are wheelchair/ECV accesible, but guests must transfer into the ride vehicles.
The closest restroom is next to Flik's Fliers - in a "tissue box"!
KIDS AND CHARACTERS
Flik's Fun Fair is designed for kids, especially younger kids who might be intimidated by or not tall enough for many of the park's other attractions.
There are water play areas in Flik's Fun Fair and A Bug's Land, so bringing a dry change of clothes might be something to consider.
Flik and Atta make appearances in front of the attraction It's Tough to be a Bug
PLACES TO DINE
There are several snack carts in Flik's Fun Fair, but otherwise the closest dining is in the Bountiful Valley area.
Bountiful Valley Farmer's Market- Chicken and fish strips, salads. Outdoor seating at picnic tables.
Sam Andreas Shakes - Shakes with various toppings, ice cream cones.

Restaurants At A Glance
Menus From the Disneyland Resort
PLACES TO SHOP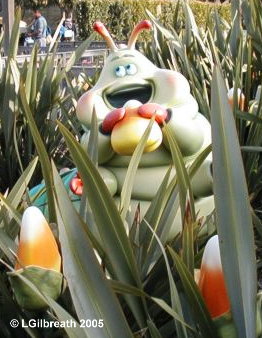 P.T. Flea Market - Disney pins and pin accessories.
INTERESTING FACTS
Flik's Fun Fair opened on October 7, 2002. It's 1 1/3 acres.
Be sure to take a look at some of the "materials" used to decorate the area and construct the rides. Among other things, there's parts of "Woody's Cowboy Crunchies" cereal boxes, "Casey Jr." cookie boxes, and Chinese food take-out containers.
Look up and try to spot the one four-leaf clover overhead.
John Lasseter of Pixar worked with Disney imagineers in creating "a bug's land".

If you have comments or tips to share with others about touring Disney's California Adventure, please email us. Thank you.