TOURING
AT A GLANCE...
--Animation Academy
--Courtyard Gallery
--Sorcerer's Workshop
--Art of Animation Gallery
--Turtle Talk with Crush
Disney Junior Dance Party!
Five & Dime
Red Car News Boys
Red Car Trolley
--Francis' Ladybug
Boogie
--Princess Dot Puddle
Park
Wilderness Explorer
Ceremony
ENTERTAINMENT
SPECIAL EVENTS
OTHER THEME PARKS
Disney's Electrical Parade
Disney's California Adventure
Introduction | Attraction | Touring Tips | Kids/Characters | Interesting Facts
"Ladies and gentlemen, boys and girls, Disney proudly presents our
spectacular festival pageant of nighttime magic and imagination in
thousands of sparkling lights and electrosynthomagnetic musical sounds:
Disney's Electrical Parade!"
INTRODUCTION
Disney's Electrical Parade, a slightly modified version of the popular Disneyland Main Street Electrical Parade, premiered at Disney's California Adventure on July 4, 2001. The current version of the parade, with several new floats and enhancements to existing floats, premiered on June 12, 2009. The 20-minute nighttime parade features spectacularly lit floats and characters from classic Disney movies like Pinocchio, Cinderella, and Pete's Dragon, accompanied by a bouncy synthesized musical soundtrack that will have guests humming along.
ATTRACTION
The parade route starts near the Orange Stinger in Paradise Pier, and runs through the Golden State area and around Sunshine Plaza before exiting at the gates next to the entrance to the Hollywood Backlot.
The new Tinker Bell float leads off the parade, with Tink herself suspended in a balloon over an enchanted fairy garden. An illuminated train driven by Goofy, pulling a huge drum, follows. The words on the drum alternate between "Disney's Electrical Parade", "A California Classic", and "Presented by Sylvania".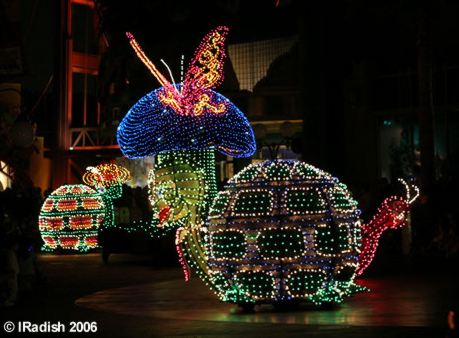 Characters from Alice in Wonderland are next - whimsical individual vehicles, like turtles, snails, and bumblebees, spin their way down the parade route, the caterpillar smokes his pipe, and a beautiful butterfly atop a mushroom flaps her wings. The White Rabbit walks alongside and consults his watch, and Alice, atop another mushroom, speaks to the crowd while the Cheshire Cat fades in and out.
Cinderella's mice, exquisitely dressed as coachmen, herald her arrival in her brilliantly lit pumpkin carriage. The Fairy Godmother walks beside her, waving her wand. Behind the coach a group of courtiers carry a sparklingly lit canopy and underneath it the guests at the ball promenade and dance. In the ballroom the prince waits with the glass slipper.
It's off to Neverland when Captain Hook's pirate ship sails into view. Thousands of colored lights outline the ship, its sails, rigging, and crowsnests. Peter Pan and Captain Hook do battle on deck, while Smee trails along behind in his very own rowboat.
Heigh-ho, heigh-ho, the dwarves' mine train is next in show! Dopey drives the mine train, filled with glittering diamonds and jewels. Snow White and some of the dwarfs walk alongside.
New to the parade in 2009 is the Diamond Mine float, where several of the dwarfs are hard at work.
Another new parade unit follows, as Pinocchio revels in the debaucheries of Pleasure Island, with its larger-than-life clowns and games.
Pete and his large green dragon, Elliott are next. From his seat on Elliott's neck Pete waves and talks to parade watchers. Elliott blows smoke, but then the lights go out and he disappears.
The final float, "To Honor America", features a huge rippling American flag, with patriotic drums, fireworks overhead, and a bald eagle sitting on the back of the float. Amber lights outline the wings, in an elaborate pattern that looks like feathers.
TOURING TIPS
Disney's Electrical Parade takes about 20 minutes to pass by. The parade can be cancelled because of weather conditions, such as rain or high winds. Listen for an announcement over the loudspeaker or check with a Cast Member along the parade route.
Viewing spots: The parade can be viewed very well from most spots along the parade route. Due to the on-going construction in the Paradise Pier area the viewing areas there are limited. There is some seating available at the Golden Vine Winery and the Pacific Wharf that will offer a view of the parade while dining.
KIDS AND CHARACTERS
Disney's Electrical Parade is a favorite of many - young and old alike.
There are many Disney characters that walk the entire parade route and will sometimes pause to greet guests along the way - if this is of interest be sure to arrive early enough to claim a front row spot.
INTERESTING FACTS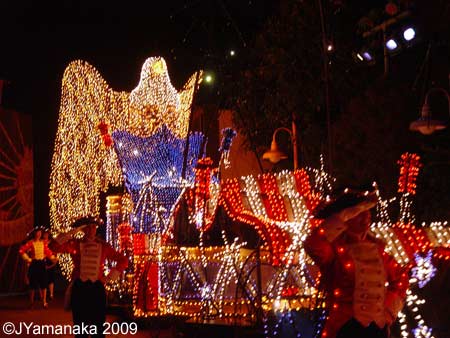 Disney's Electrical Parade originally premiered at Disney's California Adventure on July 4, 2001. The current version of the parade premiered on June 12, 2009. The original Disneyland Main Street Electrical parade premiered on June 17, 1972.
The parade went on hiatus twice between its debut in 1972 and its Disneyland farewell in 1996. In 1975-76 it stepped aside for America on Parade, and in 1983-84 it was pre-empted by Flights of Fantasy Parade.
At the time of the parade's final performance at Disneyland in 1996, it had been performed almost 3,600 times for more than 75 million guests.
The Main Street Electrical Parade is a lasting tribute to longtime Disneyland entertainment Director Bob Jani and Jack Wagner, former "voice of Disneyland," who are credited with developing the concept for the parade.
The theme music, Baroque Hoedown, was written in 1967 by Gershon Kingsley and Jean-Jaques Perrey and was discovered by Jack Wagner, the longtime "voice of Disneyland." Disney themes are superimposed over the original piece, which in its current version was re-recorded with new audio technology to give it a richer sound.
The electronic sound of the parade was originally created by Paul Beaver, a pioneer in the world of synthesized music, and was updated in 1977 by Don Dorsey. Don Dorsey also directed IllumiNations: Reflections of Earth at Epcot.
There are 9 parade segments: Tinker Bell, train and drum, Alice in Wonderland, Cinderella, Peter Pan, Snow White, Pleasure Island, Pete's Dragon, and Patriotic Finale. There are more than 80 performers. The pirate at the wheel of Captain Hook's ship is actually steering the float. Other driver/performers are Goofy, Cinderella's coach driver, Smee, and Dopey.
There are about 500,000 lights - many of them new LED lights, which use 25% of the power of incandescent bulbs. Spread across the 17 floats are almost 10,000 new "pixie dust" lights.
There are 11,000 lights on the dancers' costumes alone. Thanks to the LED technology, most are powered by one battery pack instead of two.
All of the floats are battery-powered. More than 500 batteries supply power for lighting, propulsion, audio and special effects.
Approximately 5 miles of wire is used throughout the floats.
The tallest float in the parade is the Cinderella clock tower, 18.5 feet tall.
The "Fireworks Finale" float contains 7 cars and is the longest at 118 feet.
If you have comments or tips to share with others about touring Disney's California Adventure, please email us. Thank you.