Restaurant Info
Restaurants
At-a-Glance
Dinner Shows
Special Dining Events
Dining Discounts
Recipes
Hoop Dee Doo
Musical Revue Cornbread
Trails End - Fort Wilderness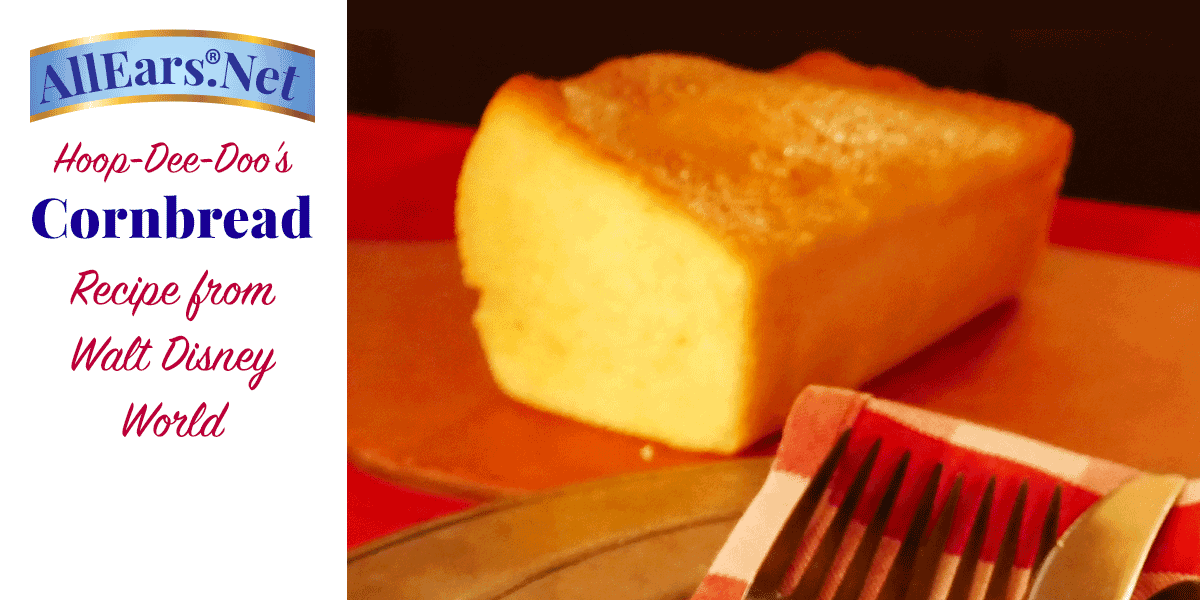 Get our FREE recipe booklet,
Popular Disney Recipes from Walt Disney World,
filled with the top 11 requested Disney recipes, clear directions, and photos!


To get the recipe booklet, simply subscribe to our free weekly newsletter and we'll e-mail the recipe booklet download link to you immediately.


Ingredients:
3/4 cup cornmeal
1 1/4 cup sugar
1 1/2 tsp salt
1 T. baking powder
1 3/4 cup flour
1/2 cup vegetable oil
1 cup milk
2 eggs


Method of Preparation:
1. Blend flour, cornmeal, salt, baking powder and sugar in a mixing bowl.
2. In a separate bowl, blend milk, eggs, and oil with a mixer.
3. Using that same mixer, slowly add the blended liquid to the dry ingredients prepared in step 1, mixing just enough to incorporate the wet and dry ingredients.
4. Spray a 9 x 13 baking pan with nonstick food spray and pour the batter into the pan, spreading evenly.
5. Bake in a preheated oven at 375 degrees for 20 - 25 minutes. or until golden brown.
6. Allow to cool.