April 2018 Walt Disney World Bits and Bites
Feature Article
This article appeared in the March 27, 2018 Issue #966 of ALL EARS® (ISSN: 1533-0753)
Editor's Note: This story/information was accurate when it was published. Please be sure to confirm all current rates, information and other details before planning your trip.
= = = = = = = = = = = = = = = = =



STEP BACK IN TIME
= = = = = = = = = = = = = = = = =
by Joan L. Feder
AllEars® Staff Writer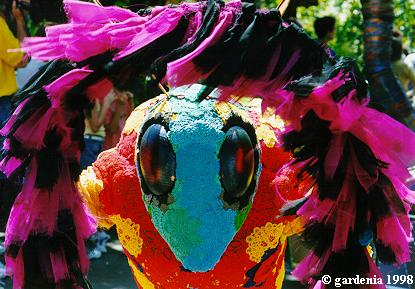 We hunt through our archives for this monthly featurette, which looks at the history of Walt Disney World and The Walt Disney Company. This month we look back 20 years to the opening of Disney's Animal Kingdom and its first parade, the March of the ARTimals.
When the Animal Kingdom opened on April 22, 1998, the hub of the park was known as Safari Village (now Discovery Island). Then, as now, it was home to the Tree of Life and It's Tough to be a Bug! For the first year or so, it was also the starting point of the Animal Kingdom's inaugural parade, the March of the ARTimals.
This parade was intentionally very different from the others at Disney World. There were no Disney characters in it at all. The floats and costumes were designed by Rolf Knie, a Swiss artist. The backstory was that the residents of Safari Village were putting on a carnival, with costumes celebrating animals created by its resident artisans. The costumes were fanciful artists' impressions of the animals. For example, the elephants' trunks were actually musical instruments, like a tuba or trumpet.
Originally titled the March of the Animals, the parade started in Safari Village, near Pizzafari, and went through the village, along the perimeter of Asia, and past Dinoland USA. It was a short procession, running for about 15 minutes. The parade featured five floats, and creatures of all sorts, ranging from bumblebees to lions.The soundtrack included instrumental versions of songs about animals, including Three Little Fishes, Tiger Rag and the Itsy Bitsy Spider. In an interesting twist, guests could see the faces of the costumed cast members; they wore makeup instead of being obscured behind mesh.
The first float introduced the name of the parade. It was followed by walking seahorses and fish. The next float featured a crooning frog in a striped coat and straw hat, singing in ribbity gibberish. Stilt-walking performers dressed as giant birds were next. The flight of the bumblebee float featured a hysterical queen being tickled by her minions. A lion, playing a xylophone made of antelope bones, followed behind the musical elephants. A giant spider preceded the final float that showcased its web.
The end result was a quirky parade that was too avant-garde for most guests. After a few months, Disney attempted to make the whimsical intent of the parade more clear by changing its name to the March of the ARTimals, as well as adding a storyteller and more live music. Unfortunately, the parade still did not catch on, and it ended on June 5, 1999.
Did you get to see the March of the ARTimals? Was it a favorite or a flop? Let us know HERE.
RELATED LINKS:
ARCHIVES: March of the ARTimals
= = = = = = = = = = = = = = = = =



HIDDEN MICKEYS ALERT
= = = = = = = = = = = = = = = = =
Steve Barrett, author of the Hidden Mickeys Field Guide books and webmaster of HiddenMickeyGuy.com, brings you a few Hidden Mickeys at Walt Disney World that are worth experiencing in person.
1. Under the Sea – Journey of the Little Mermaid, Magic Kingdom. Many decent Hidden Mickeys can be discovered along the entrance and exit queues and on the ride. A friend spotted this image on Thanksgiving Day this year. Find three depressions in the rock below and to the left of the lantern. This image is to the right of the ornate Steamboat Willie image in the rocks on your right as you exit. (Thanks to Mitch Pernal.)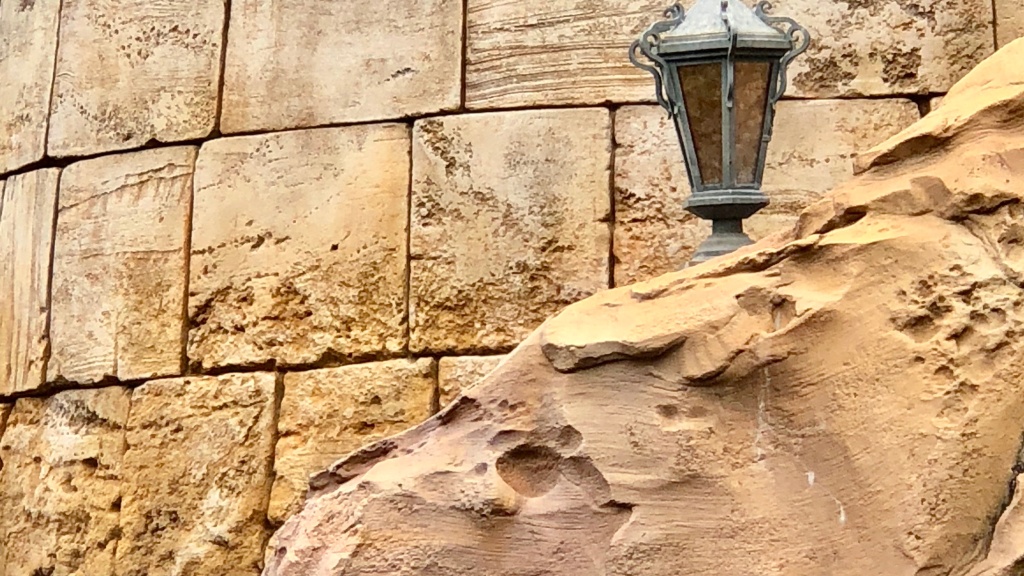 2. Living with the Land, Epcot. On the ride, after the aquaculture section, spot a large, classic Mickey-shaped vine frame (sometimes covered with vines, sometimes not) standing upright along the right side of your boat. (Thanks to Michael Doucette, Thomas Tyner, and Amelaia.)
3. Toy Story Mania! Disney's Hollywood Studios. As you exit from the third (newest) ride track, a faint, yellow full-body Mickey Mouse, facing right, is at the lower right of the last coloring book poster along the right wall of the exit hallway. At the top of the poster are the words "It's Fun to Take a Spin with Your Friends." (If you don't ride on the third track, you may be able to access this part of the exit hallway from outside the attraction.) (Thanks to Davis Reeves.)
=-=-=-=-=-=-=-=-=-=-=-=-=-=-=-=
You can find an archive of past Hidden Mickey Alerts HERE.

And check out our latest Searching Disney with Steve blog.
= = = = = = = = = = = = = = = = =



SOUVEN-EARS
= = = = = = = = = = = = = = = = =
by Kristin B. Ford
AllEars® Staff Writer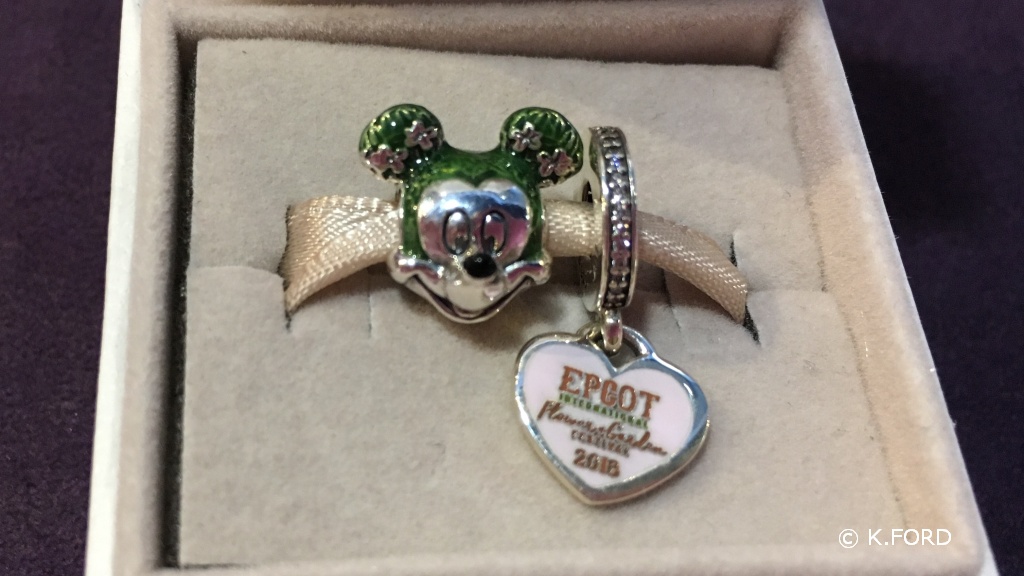 It's spring, so you know what that means: The Epcot International Flower and Garden Festival is taking place at Walt Disney World! There are two more months left in the festival — it ends May 28 — and plenty of time to shop all the great merchandise.
More than 75 items in four different design collections were created for this annual event. Orange Bird fans will want to check out the Mickey's Grove collection, while Figment Discovers items feature the purple dragon when he "unearths the unexpected." The Minnie's Farmhouse Flower Shop collection depicts Minnie Mouse with her cat Figaro, and the Fresh Epcot group offers bright spring colors.
As usual, some of the most anticipated items were the four festival Dooney & Bourke bags, one of which is a Walt Disney World annual passholder exclusive. Three were on the shelves on opening day – the Passholder Engineered Tote ($268), Small Shopper tote ($248) and Pouchette ($178). By the fourth day, the passholder tote in the pinky-purple color was sold out. Not for long, though, as it was restocked the following week. The fourth Dooney and Bourke, a wallet ($158), has since been released, as well.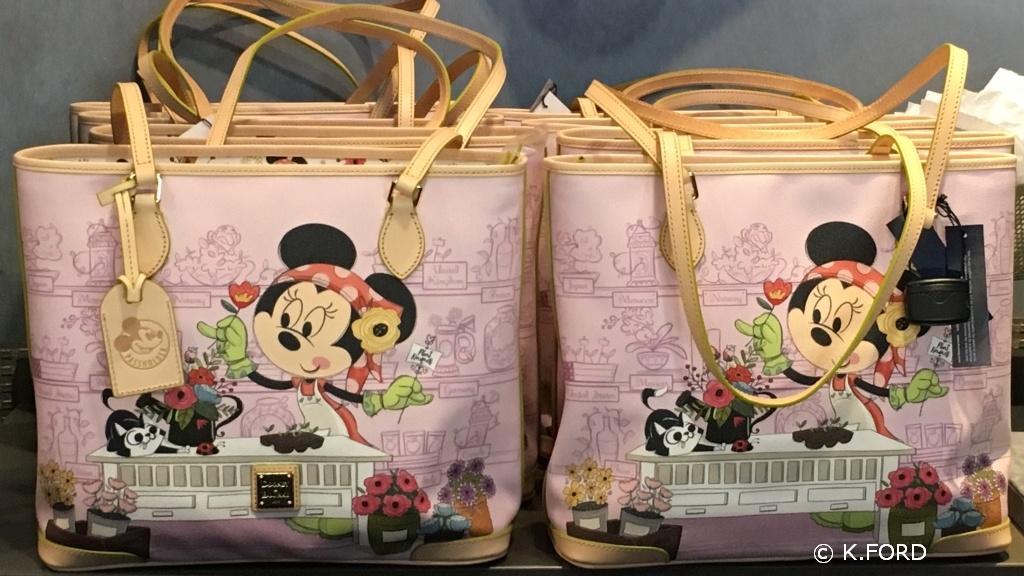 Other popular collectibles include two Pandora charms sold as a set ($125, shown above), and an Alex and Ani logo bracelet ($39.95). There are multiple Tervis Tumbers ($19.99) and a Tervis water bottle ($29.99) and a beautiful mouse ear headband adorned with silk flowers ($24.99) that would seem to take its inspiration from all the Etsy crafters.
One of the surprise Disney merchandise items is a tumbler that clearly is a new version of the insanely popular Beauty and the Beast light-up enchanted rose tumblers that debuted last year. The 2018 version ($14.99) is an identically shaped cup and domed lid with the same rose in the center, but this bloom is purple. The outside of the tumbler features the Flower and Garden Festival logo.
As for apparel, there are T-shirts galore, an apron ($26.99), a cap ($24.99), a women's gardening hat ($24.99), Limited Edition MagicBands ($32.99) and much, much more. The oh-so-popular Disney Spirit Jerseys are represented with a peach-colored jersey that says "Natural Beauty" on the back ($59.99).
Some of the Flower and Garden Festival merchandise is now available on the Shop Disney Parks app and shopdisney.com, and more is expected to be added. At Epcot, guests will find festival merchandise at the Port of Entry shop near the entrance of World Showcase and at Mouse Gear.
Happy shopping — leave no stone unturned!
EDITOR'S NOTE: You can find a video overview of the Festival Merchandise, along with additional photos HERE.
= = = = = = = = = = = = = = = = =



MONTHLY REMIND-EARS
= = = = = = = = = = = = = = = = =
Through May 28: Epcot International Flower and Garden Festival. See "News Bites" below for more details.
April 1: Easter Sunday, a special pre-parade will make its way down Main Street, U.S.A., that will feature Mr. & Mrs. Easter Bunny, Daisy Duck, Thumper & Ms. Bunny, White Rabbit, Yellow Rabbit, Clara Cluck, Hippos, Ostriches, Dancing Chicks and the Azalea Trail Maids from Mobile, Alabama.
April 19 – 22: Star Wars Half Marathon – The Dark Side 2018
April 22 – May 5: Party for the Planet/20th Anniversary Celebration — As part of this celebration, the new attraction UP! A Great Bird Adventure will debut, and the park will offer animal encounters, family-friendly activities, specialty desserts, Tiffins Talks, and more.
Check our Events page for a full schedule of upcoming events.
-=-=-=-=-=-=-=-=-=-=-=-=-=-=-=-=-=-=-
Resort-Wide
Disney Skyliner construction: Walt Disney World is in the process of creating a new transportation system, Disney Skyliner, which will give you a bird's-eye view of the resort while traveling via gondolas. During this time, construction noise will be seen or heard throughout the resort, but noise should not be heard from Disney hotel rooms between dusk and 9 a.m.
Flights of Wonder closed December 31 to make way for a new show, UP! A Great Bird Adventure, which is set to open at Disney's Animal Kingdom on April 22, 2018. This new experience will offer guests the chance to see Senior Wilderness Explorer Russell and his furry friend Dug from the Disney-Pixar film UP! as they discover species of birds from around the world in their newest adventure at the Caravan Theater.
Star Wars: Galaxy's Edge — Work is under way on the 14-acre Star Wars-themed land at Disney's Hollywood Studios that was announced during the 2015 D23 EXPO. It's set to open sometime in 2019.

Toy Story Land — Construction is under way for the new Toy Story Land that will open in Disney's Hollywood Studios on June 30, 2018.
Liberty Square Riverboat closed for refurbishment on January 8, 2018. No reopening date has been announced.
Kringla Bakeri og Kafe in the Norway Pavilion closed February 26, so that seating and overall shop space can be enlarged. While it's closed, a temporary kiosk called Midnattssol is open to sell the spot's most popular items (including School Bread). No reopening date has been announced.
Duck Pond Pool is closed for refurbishment through Spring 2018.

The entire resort is undergoing a major room refurbishment that will continue until late 2018.
Art of Animation Resort is currently undergoing some general refurbishment projects. During this time, the resort will be in full operation with all amenities available, including dining, merchandise and recreation locations. It is possible that construction may be seen or heard, but noise should not be heard from guest rooms between dusk and 9 a.m. No end date for these projects has been announced as yet.

Big Blue Pool closed for refurbishment in mid-January 2018. A reopening date has not been announced.
Through Fall 2018, Old Port Royale Food Court, Shutters at Old Port Royale, Cabana Pool Bar and Calypso Trading Post will be undergoing refurbishment. A variety of dining options will be available for all meals. Centertown will serve breakfast and dinner. Grab 'n' Go options will be available in three island markets: Aruba, Jamaica, and Martinique.

In addition, buildings in Barbados and Martinique islands are being demolished to make way for new construction, the Disney Riviera Resort.
The resort room "hard goods refurbishment" at Coronado Springs has been extended to continue throughout summer 2019.
Disney's Old Key West Resort is undergoing a wholesale refurbishment, which is expected to be completed in 2019.

Turtle Pond Pool, Turtle Shack Snack Bar and Flying Fish Gameroom will be unavailable from April to early July due to refurbishment. The resort's Sandcastle Pool, which features a waterslide, kiddie pool and a variety of dining and recreation locations, will be open.
Pop Century resort rooms are currently undergoing refurbishment, with work expected to be completed by Summer 2018. In addition, there are a number of other refurbishment projects going on around the resort, but all amenities are available.

Bowling Pin Pool is closed for refurbishment through May 2018.
Rooms at the resort are undergoing refurbishment, including a soft goods refurbishment, through late Spring 2018.
The Yacht and Beach Club Convention Center is undergoing expansion and renovation throughout 2018. No end date has been specified.
Portobello Country Italian Trattoria at the Disney Springs Landing closed last year. Terralina Crafted Italian is due to open on that site in Spring 2018.

World of Disney at Disney Springs Marketplace will be "reimagined" this year, starting in mid-February. Work will be completed in phases so guests can continue shopping during construction. Shops in Town Center at Disney Springs, such as Ever After Jewelry Co. or The Disney Corner carry select merchandise during renovations.
-=-=-=-=-=-=-=-=-=-
A complete list of known rehabs can be found HERE.
= = = = = = = = = = = = = = = = =



MAGICAL MOMENTS
= = = = = = = = = = = = = = = = =
Each month, we like to share a few heart-warming Magical Moments brought to us by the amazing Disney cast members!
Tom F.: Having just returned from our trip to the Most Magical Place on Earth, I have to share a Magical Moment. While at Hollywood Studios, we were trying to find the best place to stand for the Star Wars fireworks show as my 12- and 10-year-old nephews are huge fans. As I was walking in front of the theater, I struck up a conversation with a cast member, Michael from NJ… Monmouth University, to be exact. After he had introduced himself to us and most especially to his "Jedi Buddies" (my nephews), he told us that he has this amazing ability to share Disney Magic. With that being said, he wanted us to enjoy the Star Wars show from the VIP section right in front. We were amazed at what an awesome offer and what a delight it was for my nephews. We had such a great time enjoying the show in our secluded little VIP section. It made the night that much more special. So thank you to Michael from NJ from the Larsens in PA!
Jennifer V.: We once again had a "magical" moment on our last WDW trip (seems like we have at least one each time we go)! My niece lost her Minnie ears somewhere between rides and lunch. She said she "sat them in the wheelchair" and we were sure we would never see them again. We save and save for our vacations and I just really didn't have another $30 in the budget to get another set of ears. She was upset, but we were trying to be realistic that she would not see them again. She went back to the lunch line and asked a cast member if any had been turned in. The cast member asked if we had a picture — which we did. She studied it for a minute and then said "I'll be right back." We watched her walk away out of the restaurant and towards one of the gift shops. A few minutes later the cast member returned with the "lost" ears. My niece was estatic. I told my niece it was a good thing that someone found them and turned them in, but I'm pretty convinced that she was gifted a new set of ears from that gift shop. Thank you Disney for great service and wonderful cast members. Pretty simple gestures can mean the world to someone!
Janis B.: Recently spent some time at Old Key West trying to escape some of the Northeast winter. While there, my family sent flowers and a gift through Disney Floral. It was trash and towel day and my housekeeper asked about it. I told her it was my birthday. I left for the day and when I got back to my room there were birthday balloons and a bag from the housekeeping staff. From the type of bag it was I assumed it was snacks from the store. Imagine my surprise when I found a beautiful scarf! This really made my day!
-=-=-=-=-=–=-=-=-=-=-=-=-=-=-=
EDITOR'S NOTE: Did you know that you can turn the tables and create a Magical Moment for your favorite cast member on Twitter? Simply send a tweet to @WDWToday with the hashtag #castcompliment and they'll make sure your cast member gets some special recognition for making your day Magical!
We just bet you have a story to tell about an unforgettable moment during your Disney vacation! Please send your favorite memory for inclusion in a future AllEars® via our Contact Us page. Thank you all for sharing!
-o-o-o-o-o-o-o-o-o-o-o-
Editor's Note: This story/information was accurate when it was published. Please be sure to confirm all current rates, information and other details before planning your trip.