Star Wars Celebration, the Lucasfilm convention devoted to all things Star Wars, took place in the windy city of Chicago this year, with its usual star-studded panels and coveted merchandise.
One of the bigger panels was an early look at the upcoming Disney+ program "The Mandalorian," which will be the first ever live-action Star Wars series.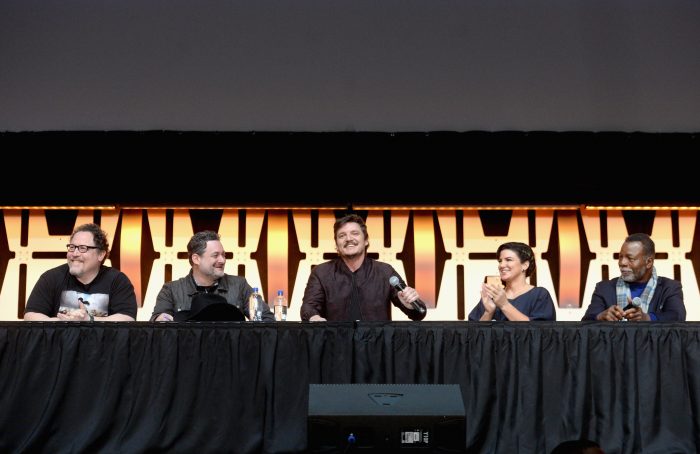 [The panel begins at 16:00]
To introduce the panel, writer/executive producer Jon Favreau and director/executive producer Dave Filoni were joined by executive producer Kathleen Kennedy who expressed her enthusiasm for the project and all the participants.
Highlights from the panel:
Favreau and Filoni met at Skywalker Ranch while working on separate projects.  Favreau let Filoni be the first person to see "Iron Man," and Filoni let Favreau be the first person to see "Clone Wars."
Favreau volunteered to do a voice for "Clone Wars"–a Mandalorian, named

Pre Vizsla

.  (Mandalorians are his favorite characters.)
The concept for "The Mandalorian" stems from Favreau's fascination with what happens after the Empire falls and the celebrations wind down.
"The Mandalorian" is set after "Return of the Jedi" and shows the types of events and characters that spring up until the rise of the First Order.
The hope was to get back to some of Lucas' original influences and imagery from genres like old westerns and samurai films.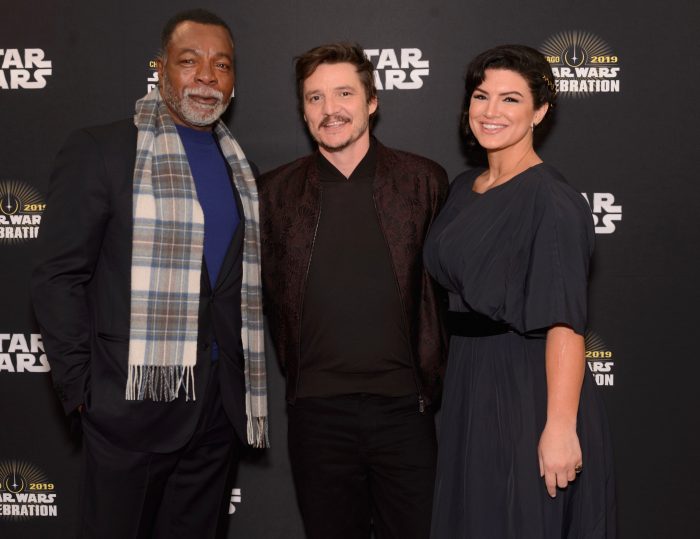 Pascal on what it's like to be "The Mandalorian:"  "JUST LOOK AT THE IMAGE!  That's what it's like!  Fantasy fulfillment!"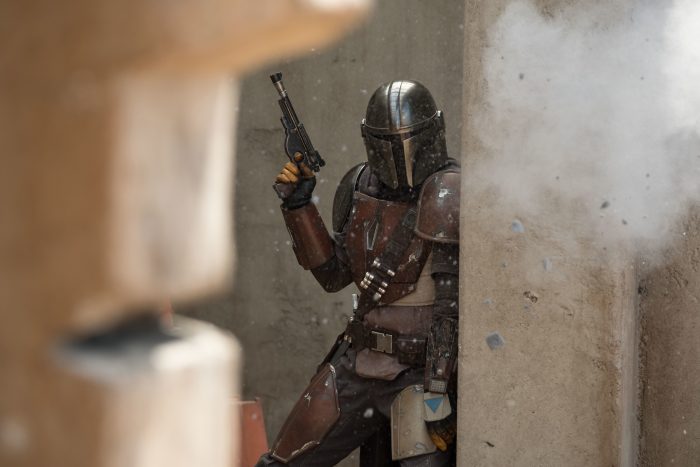 Pascal:  "The Mandalorian is a mysterious lone gunfighter from the outer reaches of the galaxy.  Some might say he has questionable moral character…And he's a badass."
Carano on Cara Dune:  "She's an ex-Rebel shocktrooper…a bit of a loner…and I have a bit of trouble reintegrating myself into society.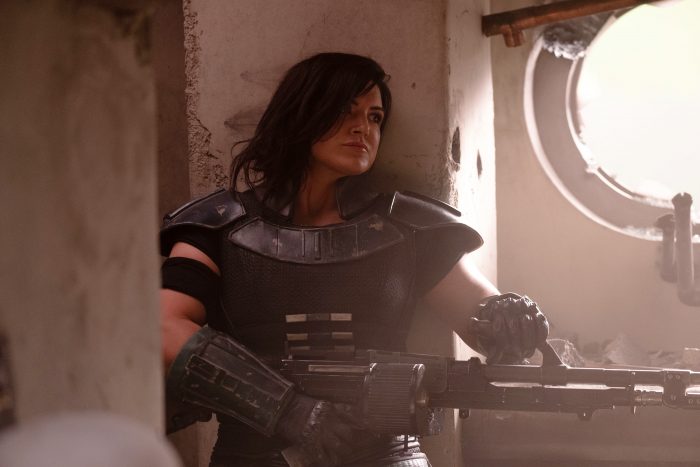 Weathers on Greef Carga:  "He is a guy who is running a group of bounty hunters…there seems to be a lot of kind of nefarious people–even if they're good people, there are kind of nefarious sides to them, right?  So he's looking for someone to go after a product that he wants to bring to a client that's worth a lot and that's very valuable, and guess who he finds?  He finds a bounty hunter named 'Mandalorian.'  And the 'Mando' is a guy that he figures can get the job done, so he hires this guy, sends him out there and…the Mando does what needs to be done."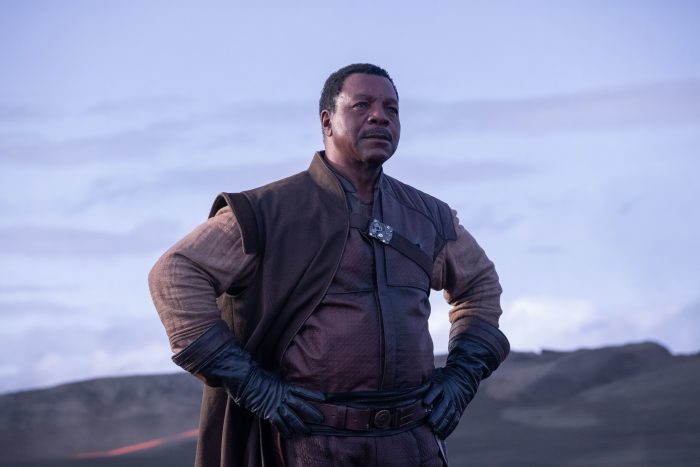 Favreau and Filoni on finding stormtroopers:  "We had our production meeting and we realized after seeing the set that we didn't have enough stormtroopers to make enough impact."
Filoni:  "You can never have enough stormtroopers."
Favreau:  "And there were only so many stormtrooper uniforms that we had and we were concerned that it would not do the trick for the storytelling."
Filoni:  "But I know a bunch of stormtroopers."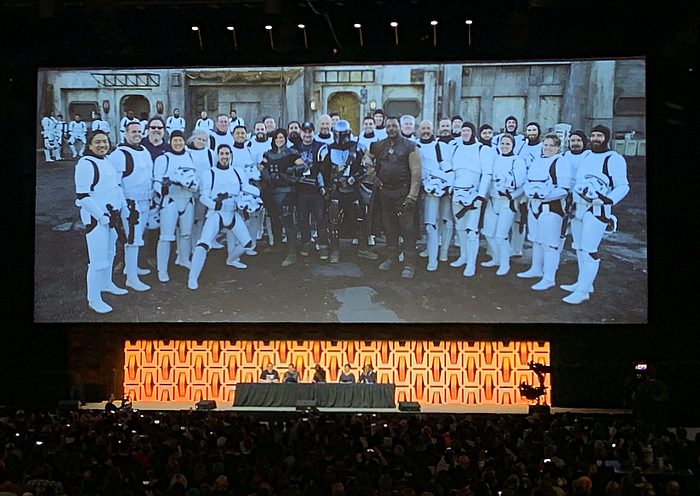 Pascal on what influences he drew on to portray The Mandalorian:  "He's got a lot of Clint Eastwood in him.  I called Jon directly and was like what do you want me to watch what do you want me to absorb what do you want me to take in for this and it was a lot of Sergio Leone, Akira Kurosawa…"
"When Jon asked me to come in and meet with him about 'something Star Wars'…they invited me into the room, and Dave was there and it was wall-to-wall story illustrations of this series…you wouldn't believe what I was seeing.  I was born in '75, so I'm a product of a Star Wars imagination.  I was shaped by these movies.  And I'm seeing all of this and I'm like what do you want me to do?  Who am I going to be?  Who do you want me to audition for?  The bug?  Or the robot?  And he's like 'you're The Mandalorian.'"  [Collapse]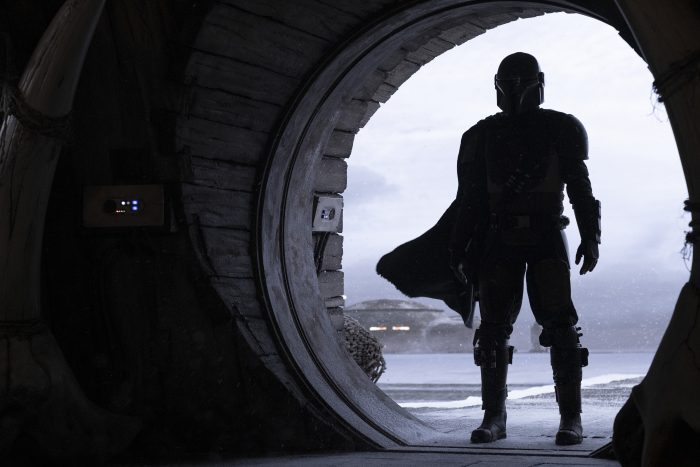 "The Mandalorian" series will premiere on Disney+ on November 12, 2019.
Be sure to follow @allearsnet on Instagram and Twitter!
Check out our YouTube Channel for reviews, news, information and more!
Click below to subscribe to the AllEars® newsletter so you don't miss any of the latest Disney news!