To all who come to this photo trivia game, Welcome! Along the way, the photos can make us relive memories and see details Walt's Imagineers put into everything we love in Walt Disney World!
I want to apologize again for tech issues I had in the last couple weeks. I think we have it fixed, but if you notice that you gave the right answer but didn't get listed with the winners, please let me know.
Here are the winners of the #557 Challenge!
Emma Ramsey was the first to send in the correct answer! Congratulations to Emma and to all our winners this week!  Ken Savage, Bob Carr, Ken Russell, Megan Krainski, Smoosher, Hannah Masters, Sandie Albrecht, Claire Gregory, Michael O'Brien, Mickey Eckert, Terry Harris,  Jeff Blank, The Gallagher Family, Team Hill, Steve Heraly, Arlene Vicek, Cheryl Costello, Joseph M. Zafia, Deb Ragno, The Gunnels Gang, Karen O Brien, Jim Finley, Linda Hoffman, George Mundy Jr., Melissa Haeberle, Rebecca Keenan, Michael Haeberle, Linda Ranatza, Sue and Ed Adams, Cheryl Chambers, Jodie S., Deborah Vido, Maureen and Warren Handy, Pensacola Glenn, Jessica, Bob Hendrix, Karen Bellamy, Barry Sklenar, Kathleen Bell, Cindy Harding, Shirley Garcowski, Steve Knapp, Chris Kelly, Sandie Albrecht, Donald Purney, Douglas Southworth, Dee Dee Kenney, and The Patterson Family!
Now for Challenge #558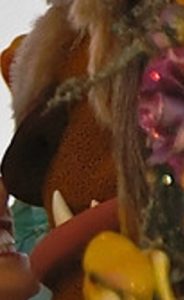 And here's the answer: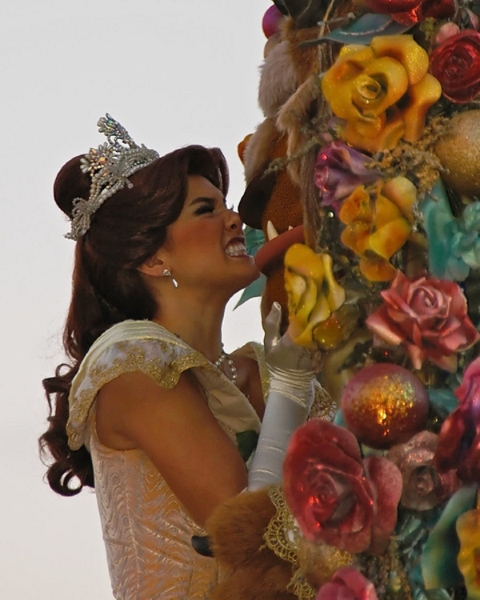 It's Belle and the Beast in the Magic Kingdom Festival of Fantasy Parade. Look at her wicked grin as she rubs noses with him! That's why I used this photo!
Evanna Huda was the first to send in the correct answer! Congratulations to Evanna and to all our winners this week!  Diane Curfman, Beth McMeekin, Karen Ramirez, The Gunnels Gang, Sue and Ed Adams, Claire Gregory, Jessica, David Racker, Ken Savage, Grumpy's Groupies, Emily Hudson, Andreas Beer, Team Hill, Kim Hogan, Evanna Huda, Andy Hickey, Adolph and Kimberly Timm, Janet T Thorn, Tammy Warmouth, Smitty, Sandie Albrecht, Laurie Walker, Lori Rienhardt, Joseph M. Zafia, Jim Thompson, Deb Ragno, Joe Maguire, Al & Kerry Ganter, Megan Krainski, Chris, Gretchen, and Katie Barnes, Steve Knapp, Joseph Zebron,
Robert Wescovich, Maureen and Warren Handy, Melissa Haeberle, Michael Haeberle, Theresa Maradei, Megan Reilly, Dominick Scavone, Katherine Every, Belicia, Scott C.,
Arlene Vicek, Tess, MaryAnn Romagnano, Kelly Sessions, Sands Family, Jim Finley, Wendy T Faler, Jessica Redding, Andrew Carrieri, AlexAndrea Moskowitz, Jasmine
Scott, Nicole Trosen, Hillary Waldroop, Deborah Weber, Chris Kelly, Team Bonnie Sue, Jeff Blank, Todd Allen Seemann, Linda Ranatza, Jenna Marks, Larnet Lancaster,
Cindy H, Rebecca Keenan, Mark Hardy, Matt Cofone, Jason, Cindy Macko, Gloria Martin, Shelly Borella, Ruth Woodhouse, Cynthia House, Liz Laura, Brian Gallant, Stacie
Huang, Vicki Britt, misjamiemarie, Terry Harris, George Mundy Jr., John Paul C, Barclay Bakkum, Jodie S., Donald Purney, Jackie Graebel, Nancy C, Kelly Albright,
Sandy Ceplecha, Kyra, Cheryl Costello, Laura Bingaman, Jane Johnson, and Cheryl Chambers!
Again, if you're missing from the above list, please let me know!
_______________________________________________________
Challenge #559 Where in the world is this?
Want a toughie? If yes, look below. If you feel you had not difficulties flung at you lately, still look below and read these hints: it's a different look in an original attraction; keyword b _ _ _ s. Not the Alfred Hitchcock kind.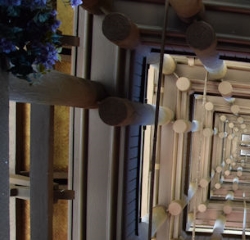 Do you know? Do you have a guess? Please send in your answer before the end of the day on Thursday, October 25th, by clicking on the blue box below.
Please do not post your answers on this blog post.
See you soon, Players!

_____________________________________________________________________
Everyone who sends in a correct answer to a Where in the World Challenge this month will be entered in a drawing at the end of the month for some special AllEars® goodies!