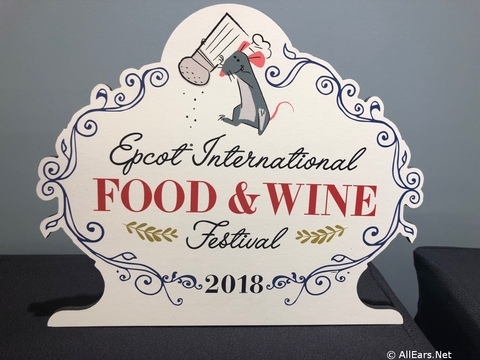 This year's Epcot International Food and Wine Festival starts in less than three weeks, on August 30, and runs for 75 days, until November 12. Today, Disney gave the media a taste of what to expect during this annual eating extravaganza.There's new food, new events, new entertainment, and new merchandise galore.
Let's start with a look at the main event — the food! There was a lot of focus at the preview on the Global Marketplaces (food booths) that will be located in Future World — The Cheese Studio, Wine and Dine Studio, Active Eats, Earth Eats, Flavors from Fire — although several other country marketplaces were represented as well.
The Cheese Studio, which will once again be located along the rose walk that connects the Imagination pavilion in Future World with World Showcase, will have a Maple Bourbon Boursin Cheesecake with maple bourbon cream, caramel and pecan crunch.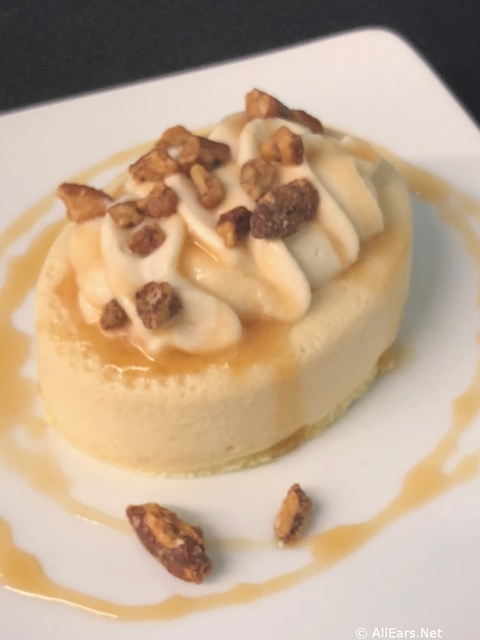 Its nearby neighbor the Wine and Dine Studio will feature a savory new Butternut Squash Ravioli with brown butter vinaigrette, parmesan cheese and pumpkin seeds.
Returning to the Flavors from Fire marketplace this year is the Chocolate Picante, a dark chocolate mousse flavored with cayenne pepper and chili powder, accompanied by fresh mango. We loved this lightly spiced chocolatey morsel last year and are glad to see it back.
Flavors from Fire will also have a new Charred Chimichurri Skirt Steak on a smoked corn cake with pickled vegetable slaw and cilantro aioli.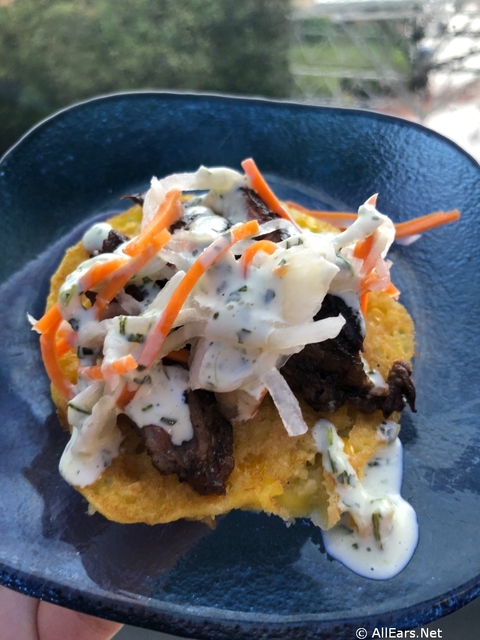 The Brazil Marketplace will be serving up a traditional seafood stew known as Moqueca, made with scallops, shrimp, and white fish in a coconut-lime sauce with steamed rice. We could do without the green pepper in this dish, but suppose we're in the minority.
New at the Islands of the Caribbean marketplace is a jerk-spiced chicken lollipop — seemed to be a take on the ever-popular lamb chop lollipop found at the Australian booth in years past.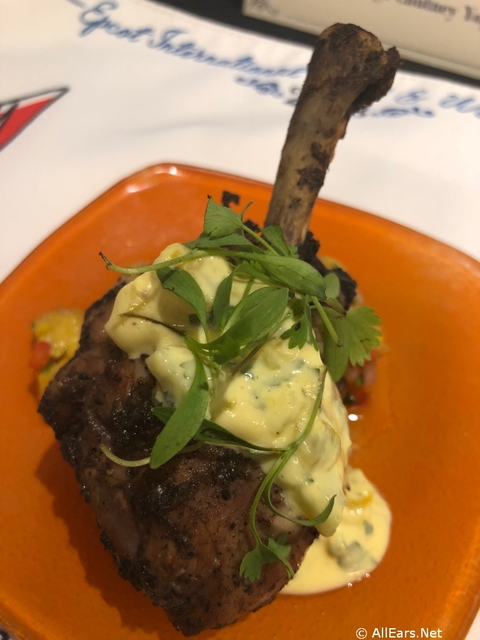 Active Eats will have little Energy Bar Bites that are a mixture of chocolate, nuts, dried fruit and dates, topped with coconut. Lots of our favorite things rolled into one. Yum.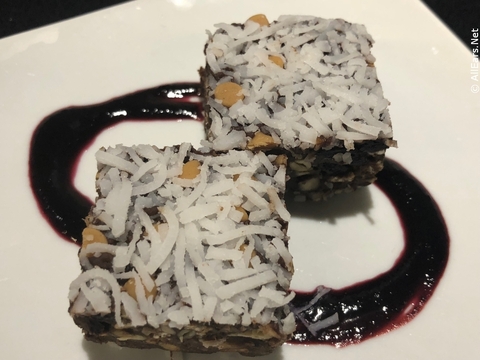 Over at Earth Eats there will be a special slider that's sure to be a crowd-pleaser: steakhouse blended beef and wild mushrooms with brie cheese fondue, arugula, truffle and blue cheese potato chip on a brioche bun.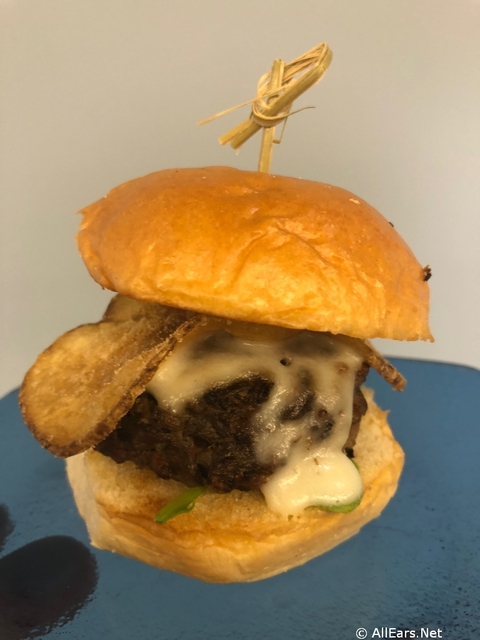 Hops and Barley marketplace, well-known over the years for its lobster roll, offers up a New Brunswick Slider this year — slow-braised beef brisket with horseradish cream and crispy fried onions on a potato roll with pickled vegetables.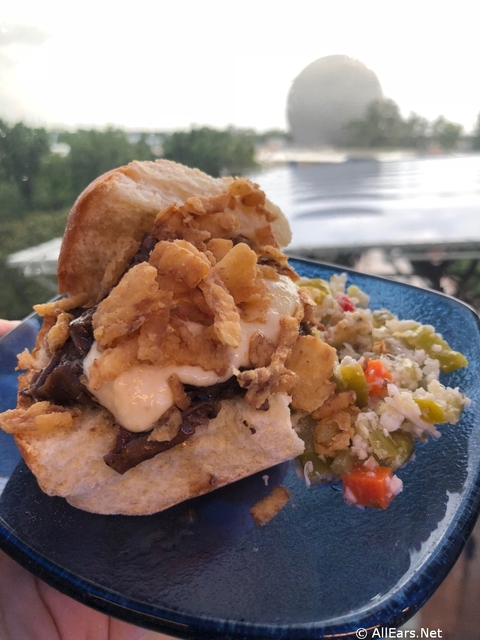 You may have read that Taste Track, the kiosk over near Test Track in Future World, will be serving up festival offerings this year. While on the solid side Taste Track will be featuring a variety of croissant donuts, they'll have one new drink sure to appeal to those with a sweet tooth: The Pancake Milkshake — vanilla ice cream with butter extract, maple syrup, whipped cream, sprinkles, pancake, and a splash of strawberry puree.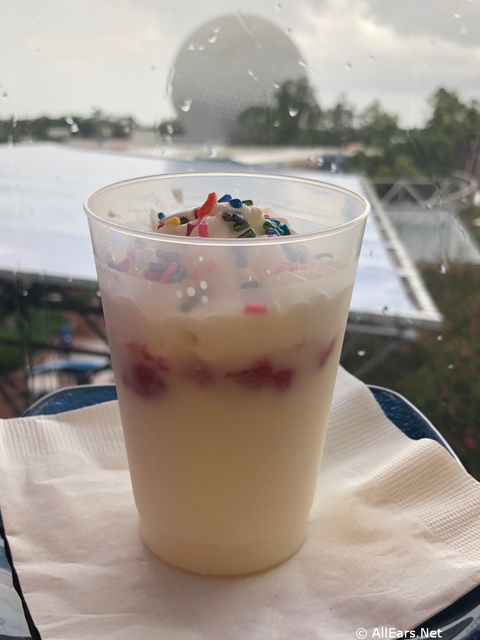 Taking up residence within the Festival Center this year is the Shimmering Sips Mimosa Bar, which will be mixing up a number of variations on the popular orange juice + champagne theme. The Madras Mimosa featured below displayed a little spicy heat.
New at the Ireland booth will be a Guinness Baileys Shake — think this will be one popular item this year. Who doesn't love the creamy chocolate of Baileys?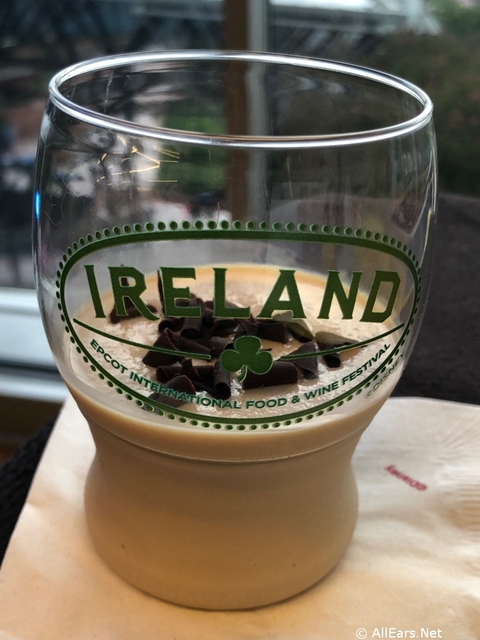 The popular Light Lab, with its glow-in-the-dark tricks, returns this year and brings with it an RGB (that's Red-Green-Blue) Beer flight: Playalinda Brewing Co.'s Red Cherry Tart, GrassLands Brewing Company's Green Kiwi Blonde, and M.I.A. Beer Company's Blue-berry Golden Ale. Not a beer-drinker so can't really say how it tasted, but it did make a pretty picture.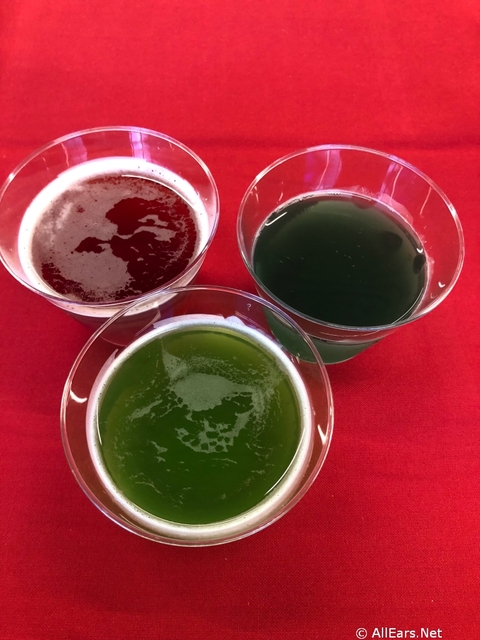 You'll be able to keep track of all these items as well as all the many activities happening around Epcot during the festival with this handy passport, sporting that cute stylized image of Chef Remy that is decorating a lot of the festival merchandise this year.
Speaking of merchandise, this year's new Food and Wine Festival merchandise and much more will be featured in our next blog. Stay tuned!
Don't forget: You can see the full list of menu items that will be served at the Global Marketplaces HERE. We've even pulled out the vegetarian and wheat/gluten-friendly items into their own separate list for you HERE.