Chicken Guy!, a new collaboration between celebrity chef and TV personality Guy Fieri and restaurateur Robert Earl, opened tonight (Aug. 3) at Disney Springs.
Chicken Guy! is a fast-casual chain dedicated to serving chicken tenders paired with more than 20 types of sauce. The AllEars.Net Team had a chance to preview the restaurant just a day ago and was able to sample some of the food, as well.
The restaurant's decor is bright and light with clean lines.
Patrons can place their order in line, then are given a buzzer to let them know when their food is ready. There are both indoor and outdoor seating available.
As the name implies, the restaurant features chicken prepared in a variety of ways. There are chicken tenders, fried (hand-pounded and breaded fresh daily) or the less heavy option, grilled.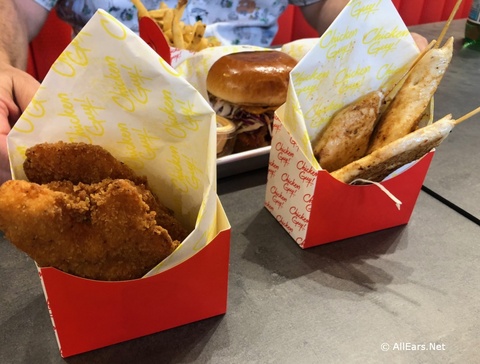 There are also a variety of sandwiches, like the Sauce Boss (below).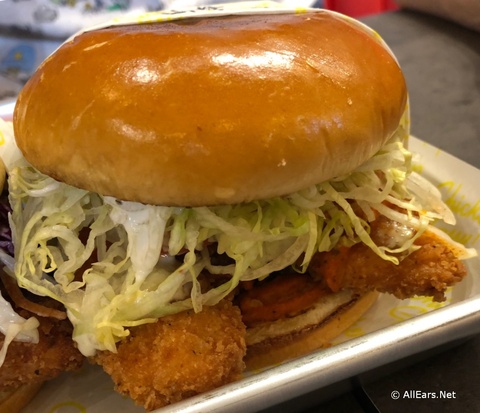 One of the key differences that sets Chicken Guy! apart is that you can customize your chicken with your choice of two of the more than 20 sauces on offer — from spicy, like Sweet Sriracha BBQ and Peri Peri, to milder dips like Bleu Cheese or Honey Mustard.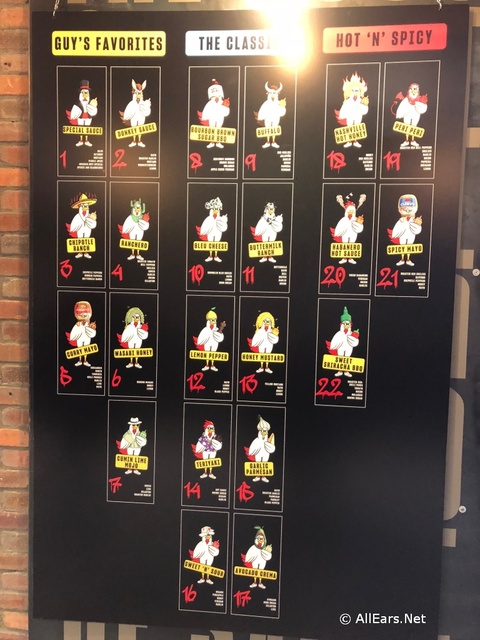 Among the sides are macaroni and cheese, fried pickle chips, and Fieri's trademark seasoned "Guy's Fries."
Salads are available for those who are looking for something a little lighter. But for those who want to really indulge, there are two frozen treats for dessert, including the Cinnamon Apple (below), vanilla soft-serve with Cinnamon Toast Crunch and Apple Jacks cereals topped with whipped cream.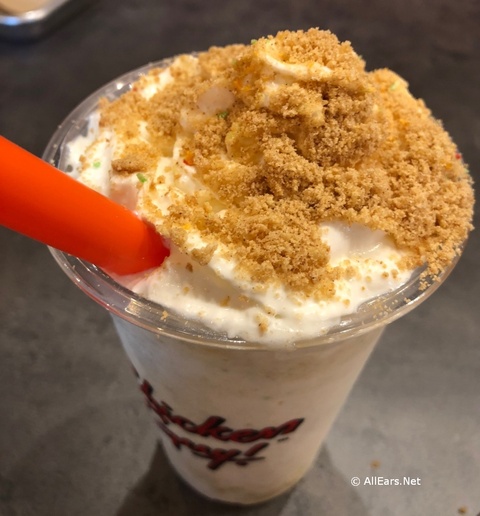 There is also a Kids' Menu that offers chicken tenders, grilled cheese, and mac and cheese.
As is common for brand-new non-Disney restaurants, Chicken Guy! does not yet accept the Disney Dining Plan, but that may change once it has had a chance to get better established.
For the full menu, see our Chicken Guy! page.