Celebrity chef and TV personality Guy Fieri and restaurateur Robert Earl today announced their collaboration that will bring a new dining concept to Walt Disney World. Chicken Guy!, a fast-casual chain dedicated to serving chicken tenders paired with more than 20 types of sauce will launch its Disney Springs flagship location this summer.
The menu at Chicken Guy! will feature all-natural, fresh chicken tenders, sourced from antibiotic-free, never-frozen chicken that will be hand-pounded and breaded fresh daily. The tenders will be brined in fresh lemon juice, pickle brine and buttermilk, and infused with fresh herbs, then grilled or fried and presented in sandwiches, on skewers, or in meal-sized salad bowls. Side dishes will include Guy Fieri's fries, macaroni and cheese, fried pickles and fresh slaw. Chicken Guy! will also offer two Flavortown Frozen Treats: Triple Double Ice Cream, a large cup of ice cream that combines triple chocolate and double mint, and the Cinnamon Apple, a cup of vanilla soft serve ice cream smothered in Cinnamon Toast Crunch & Apple Jacks cereal.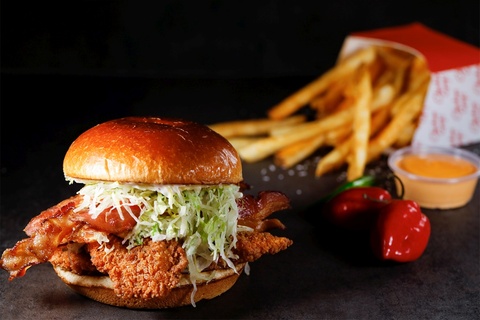 Earl, who is founder and chairman of Planet Hollywood, worked with Fieri, host of a number of popular food-related television shows like "Diners, Drive-ins and Dives," when redesigning the menu for Planet Hollywood last year. The pair decided to put their heads together once more to come up with the Chicken Guy! concept.
Chicken Guy! will be located right next door to Planet Hollywood in the heart of Disney Springs, and promises a whimsical design, innovative packaging, and both indoor and outdoor seating.