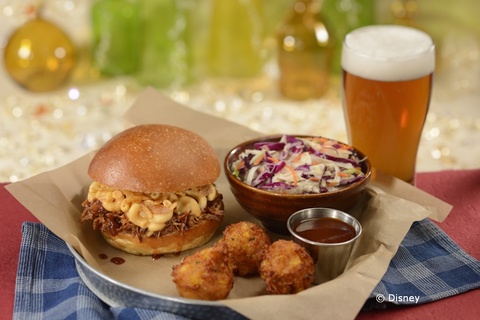 The Diamond Horseshoe in Magic Kingdom's Frontierland will debut an all-new menu next week, on May 23.
On the a la carte menu there are new sandwiches, such as Carved Beef Brisket Sandwich with creamy coleslaw served on a brioche bun; Creamy Turkey Salad Sandwich on multigrain bread with lettuce and tomato; Grilled Chicken Thigh Sandwich with BBQ mayo, lettuce, tomato and onion served on a Kaiser roll; and BBQ Pulled Pork Sandwich with mac and cheese and crispy onions served on a brioche bun. You can also get the Mac and Cheese alone, with bbq pulled pork, crispy onions, and green onions.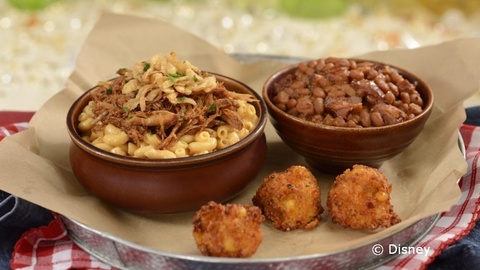 There will be several platter options, which are served with your choice of two sides and cornbread: Carved Beef Brisket Platter, the Smoked BBQ Pulled Pork Platter, the Grilled Chicken Thighs Platter. There's even a Vegetable Platter with a choice of four sides.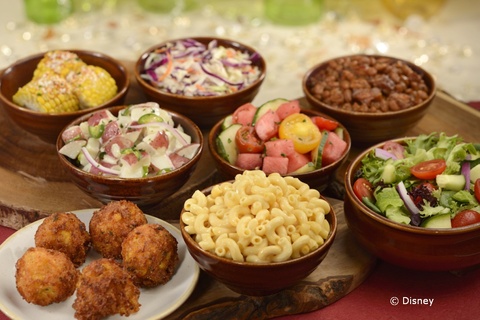 Sides offered include Potato Salad with grilled onions and a serrano dressing; Creamy Coleslaw with red and green cabbage; Jalapeno Cheddar Corn Bread with honey chipotle butter; Mac and Cheese; Corn on the Cobb with cheese; Corn Fritters, paprika, lime, and cilantro; BBQ Baked Beans; House Salad; or Watermelon Salad.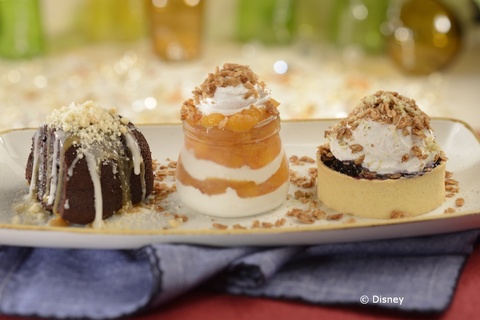 Featured on the dessert menu: Buttermilk Chocolate Cake with bourbon glaze, Peaches and Cream Cheesecake with streusel topping, and a classic Blueberry Cobbler with lemon and mint cream and oat topping.
You can also order some of these items as All-You-Care-To-Enjoy appetizer, entree, and dessert platters. The Appetizer Platter includes Mixed Green Salad, Watermelon, Cucumber, and Tomato Salad, Potato Salad, and Jalapeno Cornbread. The Entree Platter has hearty helpings of Carved Beef Brisket, Smoked BBQ Pork, and Grilled Chicken Thighs accompanied with Mac and Cheese, Corn on the Cobb, Creamy Coleslaw, and BBQ Baked Beans. The Dessert Platter has the Buttermilk Chocolate Cake, Peaches and Cream Cheesecake, and Blueberry Cobbler.
As recently announced, Diamond Horseshoe will also offer a limited range of American beers and wines for those age 21 and over.
The Diamond Horseshoe is open daily for lunch and dinner from 1 p.m. to 7 p.m. You can make your reservations online or by calling (407) WDW-DINE or (407) 939-3463.