Like Disney Parks, Disney Cruise Line creates magical experiences for the Christmas holiday. These cruises are called Very Merrytime Cruises and they take place on its ships in November and December. Although most passengers book these cruises well in advance, there still are cabins available this month!
I was fortunate to have sailed on the Disney Fantasy during its first Christmas season; my family and I traveled at the beginning of December 2012. We discovered that each of the Very Merrytime cruises offers:
** Holiday decorations that are beautifully themed to each area of the ship. The lobby is elegant, with its giant tree and bountiful garlands. Other trees are whimsically designed to coordinate with their location. For example, the tree outside Animator's Palate has miniature paint palates. Cast members onboard the ship are even wearing red-and-white winter scarves as they greet the guests.
** King Triton's Tree Lighting. On the first night of each cruise in December, the three-deck-tall Christmas tree in the grand lobby is the star of "King Triton's Tree Lighting" ceremony. We were fortunate to see the first such performance on the Fantasy on Dec. 1. A child is chosen from the audience to help MIckey Mouse and Minnie Mouse use the powers of the sea to bring the tree to life. Other children were selected to help throw confetti from the deck above the ceremony. The tree lighting is a short ceremony that takes place on Deck 3 and the grand staircase. Passengers can gather in the lobby or along the railings on Decks 4 and 5 to view the festivities.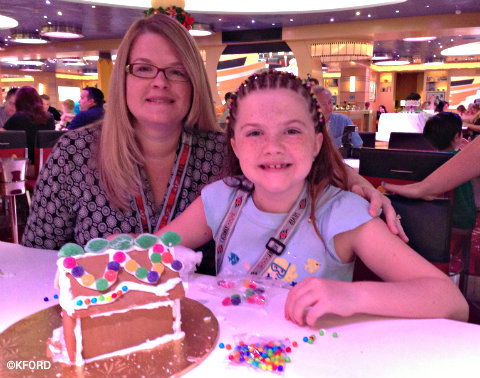 ** Making gingerbread houses. It's impossible to miss the giant gingerbread house that has been constructed in the lobby on Deck 3. It smells delicious, and the sweet details are exquisite. Apparently, it's also a little too much temptation for some of the younger passengers who attempt to sneak a taste. A cast member told me that they have to make repairs about twice per week during the holiday season. Guests ARE encouraged, however, to eat the gingerbread houses they make during a special session held in Animator's Palate. In part, that's because passengers cannot take such food items off the ship when they return to port. To participate, guests must sign up for the traditional holiday activity held on one sea day during each cruise. The activity is limited to one gingerbread kit per stateroom, though the number of people working together is not restricted.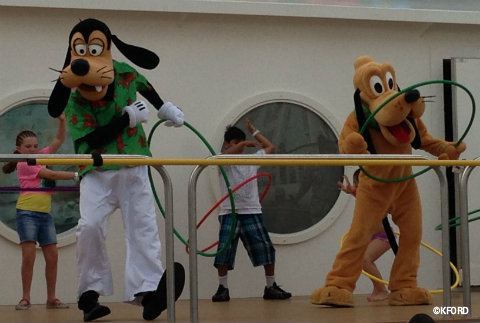 ** Deck the Deck Tropical Holiday Party. Passengers are invited to a Deck the Deck Tropical Holiday Party on Decks 11 and 12 — the pool and recreation areas near Donald's family pool. During this late-afternoon event, the characters appear on stage decked out in their holiday attire and they interact with selected children. The party kicks off with Chip and Dale hosting a limbo competition and continues with hula-hooping with Goofy and Pluto, a pass the coconut game with Lilo and Stitch, and dancing with Mickey and Minnie.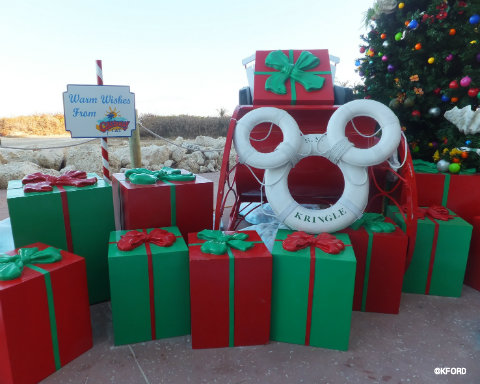 ** Castaway Cay. Although there weren't holiday activities per se on Castaway Cay, there is a nice photo opportunity on the pier for families wanting to capture a Christmas or winter image — and snow has been known to fall. Plus, you can mail your Christmas cards from the post office on the island.
For those whose cruises include December 24 and 25, there are additional activities to look forward to. Here's what you can expect on Christmas Eve and morning:
** Performers singing Christmas carols around the ship
** Religious services, including a midnight Catholic Mass, are offered.
** Containers of milk and cookies are available after dinner on Christmas Eve for children to leave out for Santa Claus.
** Santa and Mrs. Claus meet guests.
** Hot chocolate and cookies served in the atrium.
** Gifts for kids. In past years, the presents have been Disney Cruise Line calendars.
** Disney Parks Christmas Day Parade is shown on FunnelVision screen over the pool.
Sailing on a Disney Cruise Line ship is a memorable experience for most, but the holidays make it even more special. Tell us about your favorite onboard holiday experiences in the comments.