With Disney-Pixar's "Cars 3" hitting theaters next week, fans of Lightning McQueen and Tow Mater may be wondering where they can meet the popular characters at Disney Parks. If that is a major consideration for your family vacation, then it's time to head to the West Coast where Disneyland boasts the only Cars Land to be found in Disney Parks.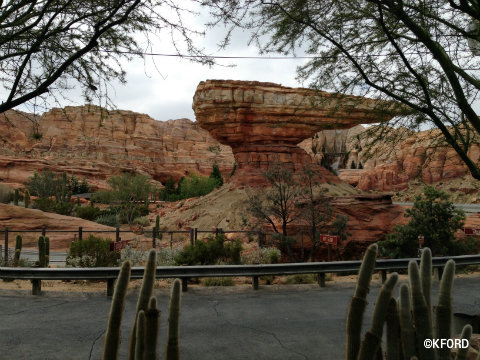 Quite frankly, even if the "Cars" characters aren't your favorites, this collection of rides, restaurants and stores and more will wow you. That's because stepping into Cars Land truly feels like you are stepping into Radiator Springs — and the canyons are breathtaking. My family and I visited Cars Land in Disney California Adventure for the first time in 2015 and just loved hanging out there. The signature attraction is Radiator Springs Racers, which could be compared to Test Track at Walt Disney World. The majestic red rocks that form the backdrop of the ride are a big part of what makes the area so immersive, and you can enjoy the view from many vantage points, including dining al fresco at Flo's V8 Café.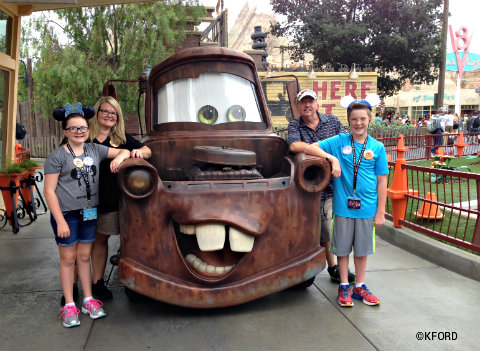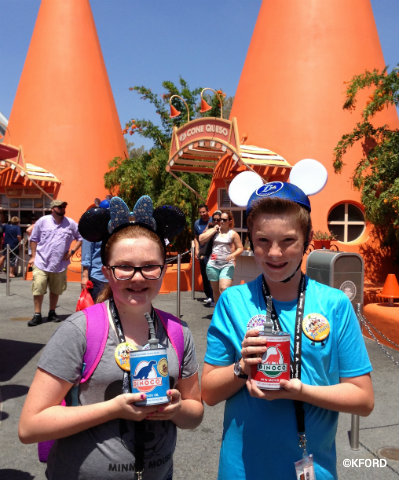 My family and I also really enjoyed stopping by the Cozy Cone Motel almost every day for a snack, usually a frozen drink or soft-serve ice cream, and soaking up the atmosphere. Plus, there are two other "Cars"-themed rides, Mater's Junkyard Jamboree and Luigi's Rollickin' Roadsters. Be sure to allow plenty of time to visit Cars Land — both during the day and at night. Seeing the area lighted at night is amazing and a totally different feel than the daytime experience. (You can read more of my family's tips here.)
If you are planning a visit to Walt Disney World this summer, your little ones still can find the beloved "Cars" characters, but the experience will be immersive in a different way.
Previously, children and adults could actually ride in Lightning McQueen at stock-car speeds at the Walt Disney World Speedway. My daughter did just that and you can read about her experience here. However, since that time, the racetrack has been torn down to make room for other projects. There also used to be meet-and-greets with "Cars" characters at Hollywood Studios, but those ended when large sections of that theme park were closed for the Star Wars and Toy Story lands construction.
So, where does that leave a "Cars" fan in Orlando? Turning the wheel and heading to the Art of Animation hotel. One entire section of this hotel is devoted to the "Cars" franchise, and there are life-size reproductions of many of the familiar places and faces outside.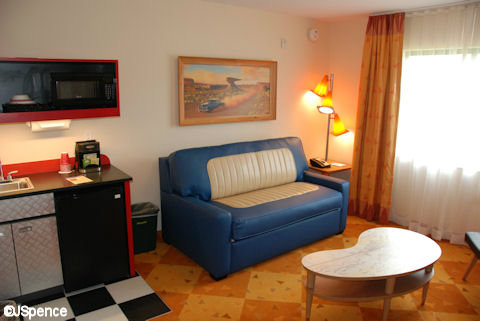 Inside, if you choose to stay in the "Cars" suite, which sleeps six people, just about everywhere you look you will see "Cars" memorabilia. From the dining room table that converts to a Murphy bed to the traffic one lights to the black-and-white checkerboard floor, these suites will thrill any "Cars" fan. The "Cars" suites sleep six people and have a separate master bedroom, a kitchenette and two full bathrooms. There is a small pool located in this section of the hotel and it features the four traffic cones from the Cozy Cones motel. (Guests can choose to sit in lounge chairs inside the cones when they want shade.) The pool's theme is reinforced with the building facades facing the pool painted like desert landscapes.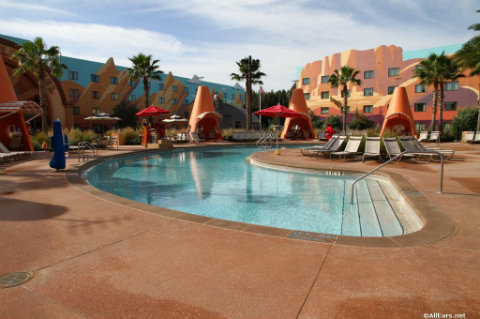 Although the suites and the pool are for the exclusive use of guests registered at the hotel, the restaurant and the hotel grounds are open to everyone — and there is enough to see and do to make it worth your while to stop by if you have a diehard "Cars" fan in your family.
First, little ones might get a thrill from having breakfast, which is served from 7 to 11 a.m., in the Landscape of Flavors quick-service restaurant. That's because they can choose Cars-themed waffles for breakfast, something that is unique to this location. Usually, there also are sweets that depict "Cars" characters for sale, as well, if you don't make it for breakfast and want a treat for your little one.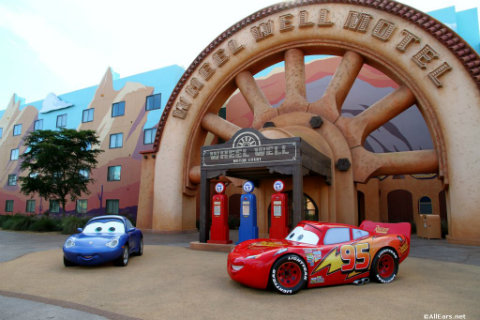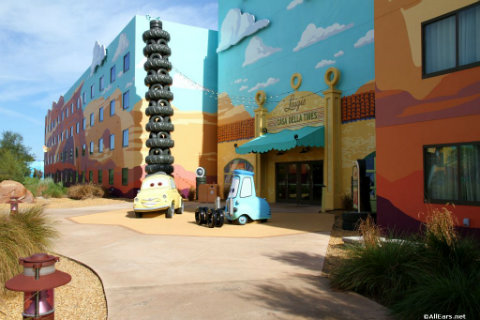 Afterward, take a walk outside through the "Cars" wing. Guests will see scenes from the movies, such as Luigi's Casa Della Tires, Sarge's Surplus Hut, Wheel Well Motel and Tow Mater's Garage, come to life outside the buildings. They can take photos with life-size models of Lightning McQueen, Tow Mater, Sally, Flo, Ramone, Sarge, Fillmore, Luigi, Guido and more. This is as close to a meet-and-greet with "Cars" characters thatyou will get at Walt Disney World right now. But who knows what will be added to promote the movie? "Cars 3" debuts in theaters on June 16.