If you've visited Walt Disney World, chances are you enjoyed a Mickey waffle for breakfast at some point. And if you did, I'm guessing you fell in love with the iconic food, like so many of us have.
The folks at Walt Disney World know how beloved their Mickey waffles are and have expanded the number of locations where they can be found. For years, the only way to see those magical waffles appear on your breakfast plate was to dine at a table-service restaurant. Now, however, Mickey waffles are on the menus at many quick-service restaurants, too. In fact, I'd say it's probably more unusual to find a restaurant on Disney property that doesn't serve Mickey waffles than one that does. (Still, to be sure, you can check all Walt Disney World menus on AllEars.Net.)
But what happens when vacation ends and it's time to head home, where Mickey waffles are not as readily available?
For years, my family has tried to replicate that unique deliciousness in our kitchen. We have gone through three waffle irons in the process! We all have been happy with the results, though the waffles were not quite the same as the ones served at Walt Disney World. They were not quite as thick or crispy, which I think we can attribute to both the waffle iron and the waffle mix.
Now, however, we have discovered that we can buy the actual waffle mix that is used at Walt Disney World: Carbon's Golden Malted Pancake & Waffle Flour. This patented mix, which was created 80 years ago, is made of high-quality wheat, flour and cornmeal blended with premium malt and natural flavorings.
My family and I tried making Mickey waffles with Carbon's Golden Malted Pancake & Waffle Flour this past weekend, and we definitely noticed a difference in the finished product. It started with my son walking into the kitchen saying, "It smells like Walt Disney World in here!" The Golden Malted mix also created a crunchier waffle than we were used to in the same waffle iron that we always use. That texture and the sweet flavor definitely created Mickey waffles that were the closest we have come to what is served at Walt Disney World.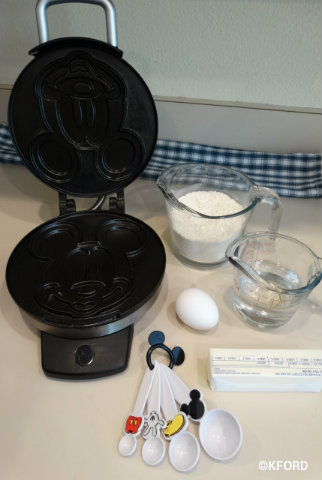 Making the waffles was simple, too, and not any more involved than other mixes we have used. Here's what you will need:
1 cup Golden Malted Flour mix
1 egg
5 ounces water
2 Tablespoons melted butter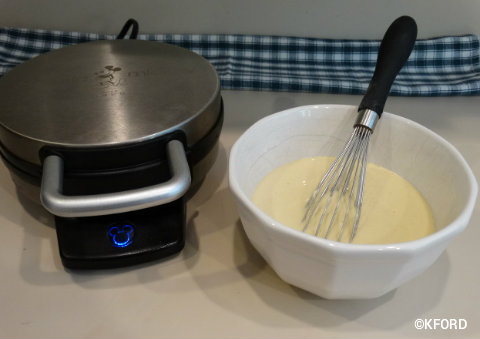 Directions:
Beat eggs and liquid together.
Add flour and mix well.
Stir in melted butter and mix thoroughly.
Ladle onto hot waffle iron and remove when golden brown.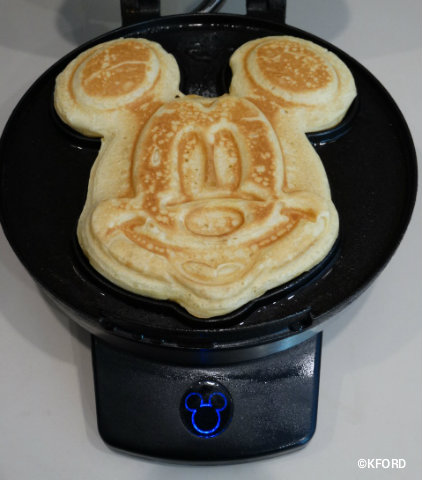 Carbon's Golden Malted Pancake & Waffle Flour can be purchased online. A 33-ounce canister normally costs $14.99, but it is 25 percent off right now during the Mother's Day sale. Golden Malted has a number of products and if you place an order that totals more than $49, shipping is free.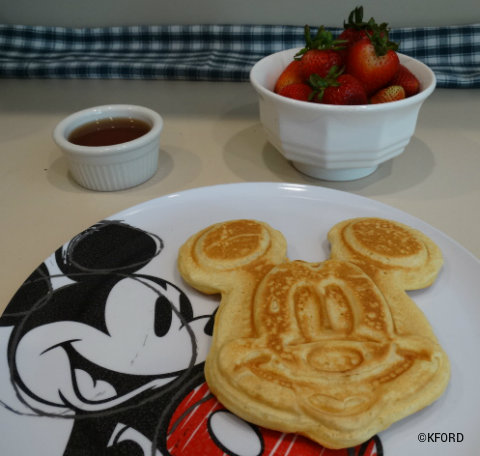 DISCLAIMER: I received a sample of Carbon's Golden Malted Pancake & Waffle Flour for the purpose of reviewing it. This did not affect my story; my opinions are my own.