runDisney announced new races on Thursday — and there is no limit on the number of participants, although there still is a deadline to register. Runners and walkers now can sign up for virtual races that are scheduled to begin next month.
If you've never heard the term "virtual race," it refers to a race that can be run in any location, even as part of another actual race. Basically, the participant chooses the pace (walking, jogging, running) and the location (inside, outside, on a treadmill or not).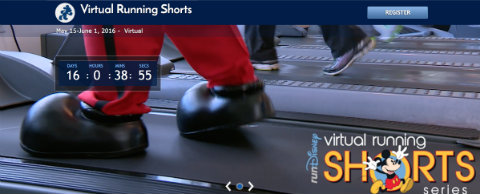 runDisney is offering participants the opportunity to bring some of the magic of its popular races to their hometowns with its new Virtual Running Shorts Series. The series includes three separate 5Ks and a challenge to complete all three 5K races in specified time frames:
** Yellow Shorts 5K — must be completed between May 15 and June 1. Register now through May 31.
** Red Pants 5K — must be completed between June 5 and 18. Register now through June 17.
** White Glove 5K — must be completed between June19 and 30. Register now through June 29.
Virtual Running Shorts Series — all three races totaling 9.3 miles must be completed in each race's timeframe. Register now through May 31.
Each 5K costs $39 per person, and the series challenge is $142. So what do you get for that entry fee? Every registration includes a virtual bib and a Mickey finisher medal. The series challenge comes with each of the individual medals plus a fourth medal and a tumbler. Each individual medal represents one of Mickey's iconic fashion staples, and the challenge medal features Mickey sporting his complete ensemble.
No finishing time is required for the races in the Virtual Running Shorts Series. As with other runDisney 5K races, participants must be at least 5 years old to register, and everyone must sign waivers online during the registration process.
The new runDisney races benefit The Leukemia & Lymphoma Society, an organization that fights blood cancers. The Leukemia & Lymphoma Society also was the celebratory charity of Walt Disney World Marathon Weekend, meaning it can use the races as both a platform to create awareness and to raise funds for research.
The official runDisney blog states: "Virtual races are becoming more and more popular in the running world with the ease of participating from anywhere. As runDisney continues to grow, we will look for more opportunities to stay connected with our runners as well as introduce a healthy and active lifestyle to new audiences."
Do you agree — are the new runDisney virtual races good motivators to train? Or is the cost too high when you haven't stepped foot on Disney property? Tell us in the comments why you think these races are a positive or negative addition to the runDisney portfolio.