Family-friendly, enjoyable for solo travelers, and kitschy fun for friends, the various All-Star Resorts at Walt Disney World are considered value resorts given they're priced lower than the rest of the on-property accommodations. Themed from top to bottom, inside and out with ginormous character icons, toys, athletic gear, musical instruments, and more, All-Star Resorts are a great place to take photos.
Take a day off between parks and visit a resort you've never been to or simply take the time to wader around the one where you are staying. Everything is there for your enjoyment, especially the gift shop.
My photo comes from All-Star Movies and the Toy Story themed buildings. As someone who spent years taking portraits of first thru eighth graders, this shot cracks me up. It looks like Woody's school photo, complete with Rembrandt lighting.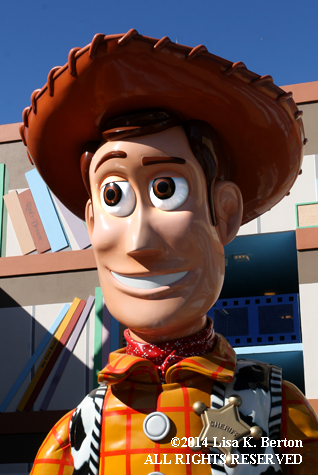 Rembrandt lighting is when one half of a face is in shadow and there's an upside down triangle of light under the eye.
Hurry back for Scott's take on things this Thursday.
Come on over and "Like" my Facebook page or follow me on Twitter, my handle is lisano1.